Soyrizo, or soy chorizo, is a meat-free alternative to the popular Mexican/Spanish chorizo and is great for a vegan diet.
It's made by adding spices to textured soy protein, which makes it extremely flavorful and has less fat than regular chorizo while still offering high levels of protein.
You will be able to find it in Trader Joe's and many other grocery stores, try looking for it in the tofu section!
If you're looking to make some plant-based meals with soyrizo, you're in luck because we've got some of the best soyrizo recipes that you can try right here!
Soyrizo Recipes
Get ready for your next party with these wonderful potato and soyrizo skillet nachos, dressed with a delicious chipotle cilantro sauce that's just irresistible.
The mix of potatoes, bell peppers, onions, cilantro, avocado, jalapeño, and soyrizo makes this an amazing Mexican delight and it's easy to make!
The oven will be doing all the work, from roasting potatoes to warming the nachos, so anyone can easily whip up this delicious treat anytime.
You just can't get enough of this tasty dish and be prepared because you'll be receiving a lot of compliments!
Vegan, meatless, and gluten-free, these soyrizo potato tacos are perfect for a healthy Mexican night!
Potatoes are seasoned with cumin, oregano, and chili powder to add additional depth to the flavor, and when mixed with sautéed chorizo, they just taste amazing.
Fill those tortillas with lettuce, tomatoes, guacamole, and the soyrizo potato mixture and they are ready to be served!
Warm up the tortillas in a skillet for the best taste!
Serve up these amazing-looking soyrizo-stuffed mushrooms and they'll be gone the moment you put the tray down!
Making use of grilled portobello mushroom caps as the base, they are stuffed with tasty ingredients to build a tower that creates a visual feast.
Fresh spinach, crushed tortilla chips, cherry tomatoes, roasted pepitas, guacamole, and a filling made of soyrizo and pinto beans are stacked carefully to form these tasty bites.
No one can resist these delicious babies with their vibrant colors!
This vegan copycat version of the popular Taco Bell's Crunchwrap Supreme is the perfect comfort food and it's really simple to make.
Layers of vegan meat filling made with soyrizo and corn, dairy-free queso and sour cream, tomatoes, lettuce, and small crispy taco shells are wrapped in a larger soft tortilla to make this delicious wrap.
There is just so much texture and flavor in each bite, which makes it really satisfying and tasty.
You just can't stop at one with its amazing vegan Crunchwrap Supreme!
It's one of the easiest soyrizo recipes that we love!
Mix things up with this fantastic vegan soyrizo pasta that combines soy chorizo with bell peppers, jalapeño, onion, tomatoes, kale leaves, and dry pasta.
It's packed with awesome flavors and vegan bouillon helps to add loads of depth to make this dish incredibly tasty.
All the ingredients come together in an absolutely delicious dish that is both hearty and wholesome.
Garnish with some fresh cilantro and it's ready to be served!
Tantalize your taste buds in one of our favorite soyrizo recipes with this smoky Soyrizo Southwest Burger that is oh-so-yummy!
Vegan ground meat is mixed with soyrizo, vegan Worcestershire sauce, dried onion, and garlic to form the burger patties, which are then coated with an eclectic spice blend.
The patties are grilled to perfection before being assembled and then topped with a delicious avocado mix that fully complements the burger.
You'll be hard-pressed to only eat one of these tasty burgers!
Sweet potato and soyrizo make for a perfect pairing in this soyrizo taco recipe that you'll definitely love.
These tacos are crispy and flavorful, and it's simple to make as the filling only consists of 4 ingredients!
Soyrizo, sweet potato, and cheddar cheese are pulsed in a food processor and then combined with refried beans to form the filling, which is then scooped onto the tortilla before baking.
Garnish with cilantro and serve with guacamole, sour cream, and lime wedges for maximum enjoyment!
If you want to add some Spanish flair to your next meal, check out this delicious paella recipe that uses soyrizo and quinoa!
A variety of spices, including saffron threads, paprika, and thyme, are added and they give so much depth to the flavor and make this dish extremely tasty.
Soyrizo, quinoa, chickpeas, artichokes, and mushrooms come together in this soyrizo recipe to create a wonderful plate of paella that you'll find yourself making time and again.
Gluten-free, vegetarian, and only requiring 30 minutes to cook, there's so much to love about this sweet potato hash soyrizo recipe.
This mouth-watering hash is perfect for a hearty breakfast and is excellent to pair with a piece of tortilla.
Onion, peppers, and garlic lend their aromatic attributes to the sautéed sweet potato and soyrizo, and a delicious hash is formed.
Add some eggs and cheese on top, and garnish with freshly chopped cilantro to complete this fantastic dish!
Everyone loves a good breakfast burrito, and that's what you get in this vegan breakfast burrito recipe.
It's one of the most delicious and easiest soyrizo breakfast recipes to make!
With its high protein content, soyrizo is the perfect ingredient to use for a nutritious breakfast.
Tofu scramble, nutritional yeast, canned black beans, potato, spinach, and soyrizo combine to create a great-tasting filling that is used in this wrap.
Once assembled, serve the burrito with your favorite sauce for an awesome breakfast!
Give the classic tacos a twist with this vegan soyrizo taco salad recipe that lays everything out on the plate for you.
Making this salad is easy, all you need to do is sauté the onion, bell pepper, garlic, and jalapeño, then add soyrizo and canned tomatoes.
Crunch up some tortilla chips and serve them all on a plate, along with romaine lettuce and black beans.
Add some yummy salsa, cilantro, sour cream, and grated cheese to complete this delicious taco salad!
Have a taste of the Middle East with this creamy hummus soup that's so delicious, you'll be gulping it down in no time!
This Israel-styled extra smooth hummus soup is rich, creamy, and tastes amazing.
It's topped with a gremolata made from olive oil, crispy fried soyrizo, cucumber, lemon juice and zest, and parsley.
Add some crunchy, salted chickpea to finish off the soup and enjoy this delightful soyrizo recipe!
Almost nothing can come close to the comfort of munching on delicious quesadillas, and we have just that in this addictive soyrizo potato hash quesadilla recipe.
These street taco-sized tortillas give the perfect filling-to-tortilla ratio and that translates to an awesome good time when we snack on these.
They're extremely flavorful and can easily be made vegan by using vegan cheddar cheese.
This will soon become one of your staple soyrizo recipes!
Fusing classic food in both Mexican and American cultures, we have this fantastic vegan soyrizo mac and cheese that will surely delight your taste buds.
Vegan cheese is made by blending strained cashew, potatoes, onion, garlic, nutritional yeast, and other seasonings.
Soyrizo is cooked till nice and crispy, and when mixed with homemade vegan cheese and cooked pasta, this amazing dish is complete.
Creamy and delicious, just how we like our mac and cheese to be!
Time to get creative and make this delicious soyrizo and spinach hash brown waffle, paired with hot sriracha sauce that makes a winning combination.
This tasty savory waffle is made with a mixture of eggs, cheese, soyrizo, garlic, green onions, spinach, and hash browns.
Cooked in a waffle iron till hot and crisp, it's a mouth-watering dish that you just can't wait to enjoy.
Savor this delightful waffle and dip it into a simple blend of sriracha sauce and maple syrup for a burst of flavor.
This is one of our favorite soyrizo recipes to make!
At Glorious Recipes, we have our favorite soyrizo potato taco recipe that we find to be absolutely delicious. It's plant-based, vegan, and easy to make!
Yield: 6
Vegan Soyrizo Potato Tacos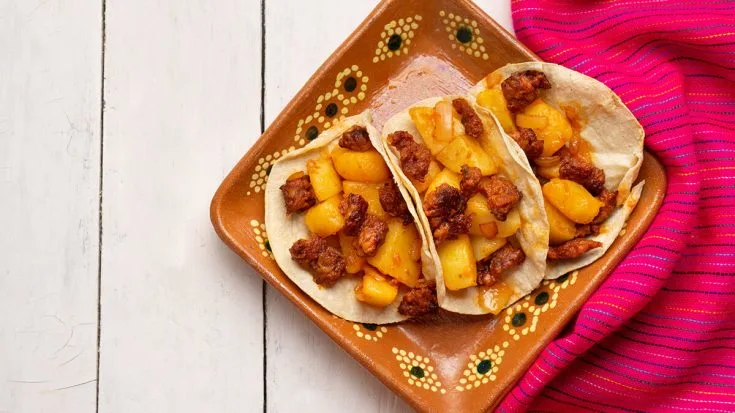 This quick and easy Vegan Soyrizo Potato Tacos recipe will leave you wanting more because it's just so delicious! Whether you're vegan or not, you've got to try it!
Ingredients
12 oz Soyrizo (see notes)
1½ lbs Yukon Gold potatoes
1 white onion, diced
6 corn tortillas
1 tbsp olive oil
salt, to taste
pepper, to taste
Instructions
Peel the potatoes, then dice them into small pieces. Dice the onion as well.
Add the potatoes into a saucepan and cover them with water and add a pinch of salt. Heat till boiling, then let it simmer and cook the potatoes for at least 10 minutes until they are tender to the fork. Set the potatoes aside.
Add oil to a skillet over medium heat. Add onions and cook till translucent. Remove soyrizo from the outer casing and add to the skillet. Break them up and cook for around 8 minutes.
Add the potatoes to the skillet and continue cooking and mixing for around 3 minutes.
Warm some tortillas and scoop the soyrizo potato mixture on them. Enjoy!
Notes
You can find Soyrizo in most grocery stores in the tofu or faux meat section. The outer casing is not edible so it has to be removed before cooking.
Nutrition Information:
Yield:
6
Serving Size:
1
Amount Per Serving:
Calories:

300
Total Fat:

11g
Saturated Fat:

2g
Trans Fat:

0g
Unsaturated Fat:

9g
Cholesterol:

0mg
Sodium:

520mg
Carbohydrates:

40g
Fiber:

6g
Sugar:

2g
Protein:

14g
Nutrition information is only an estimate and can vary depending on ingredients used.
Which of the soyrizo recipes have you tried so far?
Let us know in the comments below!
For more plant-based and vegan alternatives, check out Chicken of the Woods, JUST Egg, Pumfu, Impossible Meat, or Puffball Mushrooms for more ideas!
Share on your favorite social media platform and tag us @GloriousRecipes – we can't wait to see what you have made!