Mayocoba beans go by many names and they are also known as Peruvian beans, canary beans, and Mexican yellow beans.
They are a great source of protein, iron, and fiber, making them a great ingredient to incorporate into your meal plans.
These beans have a mild buttery flavor and creamy texture, and you're sure to love how fantastic they taste!
From soups to stir-fries, we've got you covered with some of the best mayocoba beans recipes that you can easily try at home!
Treat your family to a hearty meal with this fantastic soup that's amazingly delicious and filled with incredible ingredients!
With a mix of potatoes, carrots, celery, tomatoes, onions, mayocoba beans, and other seasonings, this is a soup that's extremely delicious with a flavor that's loaded with depth and complexity.
It's very nutritious thanks to all the vegetables used and it makes for a comforting meal on a cold and chilly day.
With how easy it is to make, you'll love how tasty this soup is!
If you're looking for a simple but terrific side dish, you've got to check out this Buttery Mayocoba Beans!
Requiring only 5 basic ingredients, this is as easy as it can get!
It's ridiculously straightforward to whip up and all you need to do is add the beans, garlic, onion, salt, and water to a pressure cooker and let the appliance do all the work for you.
Complete the dish with a garnish of cotija cheese and you'll have a delicious side dish to enjoy with little effort!
This sautéed dish is absolutely delicious and makes for an excellent addition to any meal!
It's a lovely combination of beans, spinach, and aromatics, with red wine vinegar and thyme imparting their fragrance to make this dish extra tasty.
This vegetable side dish is incredibly easy to make and with how delectable it is, it's definitely one of our favorite mayocoba beans recipes!
Garnish with a little Parmesan cheese before serving to enjoy an awesome meal!
Keep it simple by cooking mayocoba beans in an Instant Pot and you'll have an amazing dish ready within an hour!
Along with water, salt, onion, baking soda, and oregano, the beans are cooked in the Instant Pot until tender and it's just so easy to make.
It's essentially a set-and-forget recipe and you'll come back to creamy beans that taste marvelous.
Give it a try and you won't regret it!
This slow cooker mayocoba bean recipe makes an exceptional soup that's loaded with great flavors and nutrients!
It's a delightful medley of vegetables that include beans, parsnip, celery, onion, and garlic, all cooked and simmered in vegetable broth until meltingly tender.
Once fully cooked, the mixture is puréed to achieve a smooth consistency and it's an absolute treat.
A simple garnish of scallion and sour cream is enough to elevate this dish further and make it superbly tasty!
If you love spicy food, you'll want to check out this splendid recipe that makes an awesome dish!
Made by sautéing a mix of beans, green chiles, garlic, onion, and other spices, then simmering in water until the beans become tender, this is an easy dish that even beginner home cooks will have no trouble with.
It's fragrant and tasty with an addictive kick that makes this dish super satisfying, and you can easily serve it along with your other favorite protein to make it a wholesome meal.
There's nothing not to like about this simple and delicious side dish!
In what is one of our favorite mayocoba beans recipes, a lovely assortment of ingredients come together to create an absolutely amazing dish that you definitely don't want to miss out on!
With a soup base made by simmering a mix of tomatoes, salsa verde, refried beans, green beans, and green chilies, plus seasonings that include ranch seasoning mix and chili powder, this is an extremely flavorsome dish that's sure to satisfy any appetite.
Add mayocoba beans and posole into the mix, and you have an exceptional meal that's incredibly hearty.
A simple topping of shredded cheese makes this even more irresistible!
Expand your side dish selections with these Stewed Mayocoba Beans that are super delicious and sure to whet your appetite!
There's no lack of flavor in this dish with ancho chili, jalapeños, chicken stock, aromatics, and other lovely ingredients used to simmer the beans until extremely flavorful.
It might be simple to make but it's deceptively tasty and you've got to try it to believe it!
Serve with other main courses for an easy but wholesome meal!
Amplify your next meal with this fantastic salad that tastes out of this world and is sure to tantalize your taste buds!
The highlight of this dish is the amazing dressing that's made with a blend of olive oil, vinegar, coriander, cumin, salt, and sugar.
Drizzled over mayocoba beans and grilled vegetables, this salad is extremely delicious and the perfect accompaniment to any protein for a sumptuous meal.
Simple to make and delicious, just how we like our recipes to be!
Whip up an awesome meal with this stunning dish that tastes absolutely divine and you're sure to love it!
This dish involves tender mayocoba beans smothered in an extremely flavorsome Romesco sauce that's made with lovely ingredients that include Roma tomatoes, bell peppers, garlic, onion, roasted almonds, and garlic chili sauce.
Every mouthful of these beans is incredibly delightful and filled with flavors that meld really well together.
You'll be licking every drop of the terrific sauce with how tasty it is!
Add some cultural richness to your meals with this excellent Peruvian Beans and Rice dish that you definitely need to add to your rotation!
It's essentially a rice pancake that consists of rice, beans, aromatics, and spices, pan-fried until nicely browned with a delightful texture and flavor.
Paired with a salsa criolla, this is an amazing dish that's quick and easy to make, perfect for an awesome weeknight dinner!
This simple mayocoba beans recipe is a must-try in our books because it's so delicious!
Impress your friends and family with this Peruvian Mayocoba Bean Bowl that's crazy delicious and is sure to captivate your taste buds!
It's a lovely marriage of beans, lentils, quinoa, Swiss chard, and carrots, all simmered in an exceptional roasted pepper sauce until extremely flavorful.
The roasted pepper sauce is made by blending roasted red pepper, onion, garlic, lime juice, and other lovely ingredients, and it tastes absolutely heavenly.
It's one of the best-tasting mayocoba beans recipes that we've ever tried!
This fabulous bean soup is super easy to whip up and it's extremely hearty and comforting!
Made by simmering a mix of roasted bell pepper, onion, chipotle, garlic, green chiles, beans, and oregano in vegetable stock, this dish is loaded with great flavors that combine really well together.
The mixture is then blended to create a thick soup with ham added for extra flavor and texture, making it an incredibly appetizing dish.
Complete this awesome soup by garnishing it with Mexican crema, cilantro, and avocado cubes!
Shake things up and try out this superb baked mayocoba beans recipe that you'll definitely want to keep handy!
Instead of cooking the beans on a stovetop, the oven is put to good use instead and the result is amazing!
Sautéed garlic and onion are combined with beans and water before being baked in the oven until the beans become tender, after which the mixture is mixed with chorizo.
Completed with a simple garnish of cotija cheese and cilantro, this is a simple dish that's really delightful!
If you love rich and bold flavors, you've got to check out this splendid curry that's sure to stimulate your senses!
With turmeric, cumin, coriander, chili peppers, ginger, and other spices added to make this curry, you're guaranteed an extremely flavorsome dish and it's not difficult to make at all.
The spices are sautéed to turn them into a fragrant paste before being mixed with water, beans, and other ingredients to turn it into a tantalizing curry.
Serve with a bowl of white rice to enjoy a simple but tasty meal!
Ramp up your next meal with this fantastic stir-fry that's superbly tasty and an absolutely mouthwatering delight!
Mayocoba beans, fenugreek leaves, and radish are stir-fried along with a variety of spices that include mustard seeds, turmeric, cumin, asafoetida, and curry leaves, creating an extremely flavorsome dish that you're sure to fall in love with.
It's super delicious and makes for an excellent side dish that you can serve with a bowl of white rice and other protein to turn it into a complete meal.
Give it a try and you'll not be disappointed by the great flavors of this terrific dish!
Skip the store-bought version and make your own refried beans with one of the easiest mayocoba beans recipes that you can try!
It's really simple to make and all you need to do is simmer the beans with onion in vegetable broth before adding a mix of spices at the end to give them some depth to the flavor.
Once the beans are cooked, all that's left is to mash them plus a quick pan-fry and it's done!
Serve it as a tasty side dish or incorporate it into other Mexican dishes such as tacos and burritos!
This bean dip is so easy to whip up and it tastes absolutely wonderful with a creamy texture that's extremely satisfying!
Made by blending cooked mayocoba beans, olive oil, garlic, lemon juice, smoked paprika, and salt, this just can't get any easier.
This dip pairs amazingly well with crackers and you can even use it as a spread for bread!
Try pairing it with other ingredients and you might just find your new favorite combination!
Savor an awesome meal with this bean stew that's hearty, flavorsome, and incredibly delicious!
It's a delectable combination of tender mayocoba beans, tomato, carrots, potato, aromatics, and meatballs, all cooked and simmered in water and a variety of seasonings.
The vegetables and meatballs provide all the protein, fiber, and nutrients that you need to keep your day going, making it superbly wholesome.
With how easy it is to whip up, we have no doubts that this will quickly become one of your favorite mayocoba beans recipes!
For another incredibly delicious comfort food that you can make, check out this Canary Beans and Pork Neck Bones Soup!
Pork neck bones and a variety of spices that include cumin, oregano, thyme, and garlic powder help to impart their fragrance to make the soup extremely flavorful and tasty.
Add beans and other vegetables into the mix, and you have yourself an exceptional soup that's perfect any day of the week!
This palatable soup might just become your go-to comfort food after the first sip because it's just that delicious!
At Glorious Recipes, we have our favorite Refried Mayocoba Beans that we absolutely adore and they taste heavenly! Check out the recipe below!
Yield: 4
Refried Mayocoba Beans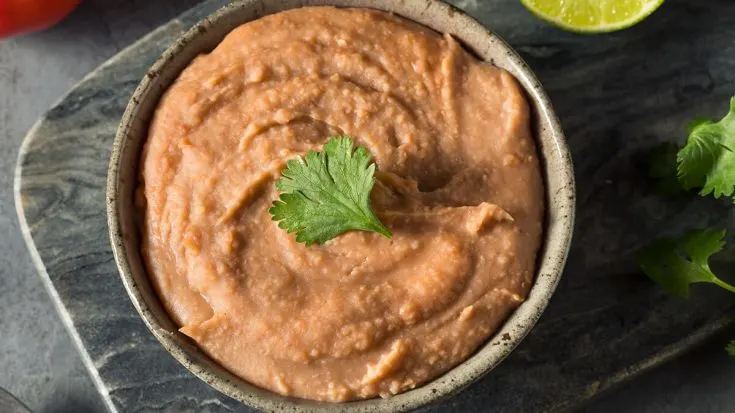 Make your own delicious refried beans with mayocoba beans and you'll never go back to store-bought versions again!
Total Time
3 hours
5 minutes
Ingredients
2 cups dried mayocoba beans, rinsed
64 oz vegetable broth
1 yellow onion, chopped
pinch of salt
2 tsp garlic powder
2 tsp cumin
1 tsp chili powder
water
Instructions
Add beans, broth, and onion to a 3.5 qt pot. Bring the mixture to a boil, then lower the heat to a simmer and cook for around 3 hours or until the beans become tender. Top up with water if required to prevent the mixture from drying out. For the final 15 minutes of cooking time, add the remaining seasonings and stir well.
Remove from heat and let the mixture cool for 10 minutes before blending or mashing to desired consistency. Adjust seasonings to taste.
Add a touch of oil to a skillet over medium heat. Add bean mixture and pan-fry for around 5 minutes while continuously stirring. Serve and enjoy or use it for other Mexican dishes!
Nutrition Information:
Yield:
4
Serving Size:
1
Amount Per Serving:
Calories:

176
Total Fat:

2g
Saturated Fat:

0g
Trans Fat:

0g
Unsaturated Fat:

1g
Cholesterol:

0mg
Sodium:

1437mg
Carbohydrates:

31g
Fiber:

10g
Sugar:

4g
Protein:

10g
Nutrition information is only an estimate and can vary depending on ingredients used.
Which of the mayocoba beans recipes have you tried so far?
Let us know in the comments below!
For more awesome vegetable recipes that you might like, check out the following:
Sunchoke
Golden Beet
Grape Tomato
Kelp Noodles
Daikon
Baby Eggplant
Roma Tomatoes
Savoy Cabbage
Honeynut Squash
Banana Peppers
Share on your favorite social media platform and tag us @GloriousRecipes – we can't wait to see what you have made!