Empress gin cocktails make for visually striking beverages that look good and taste even better!
The unique ingredient that separates Empress gin from its counterparts is butterfly pea blossom, which gives it a stunning and intriguing indigo or purple color.
With such a distinctive tone, it's not difficult to create impressive-looking cocktails.
It's also a very useful color-changing gin because once you add different liquids to the mix, you can see the color morphing from one to another.
From indigo to blue to even light pink, the possibilities are endless!
Break out the bottle for special occasions or if you just want to add some flair to your usual cocktail recipes!
Here are 20 of the best Empress gin cocktails that you can easily try at home and we've also included our favorite in the recipe card below!
If you want a cocktail that turns heads, you'll need to check out this stunning Starry Night Granita!
From a pale yellow slushy to a deep violet color, the mix of fresh orchard pear, violet syrup, and Empress Indigo gin creates a beautiful gradient that is definitely Instagram-worthy.
Honey is blended with pear to add some sweetness to the drink and it tastes absolutely delicious and refreshing.
Finish off by garnishing with some orange zest to add even more color and contrast before serving!
With such a dazzling look and simple recipe, we're sure you'll enjoy making this regularly!
This aptly named Garden City cocktail is well-balanced with its citrus flavor and sweetness, making it a delightful and tasty drink!
Citrus notes are contributed by grapefruit and lemon, with the tart flavor giving the drink a refreshing twist.
Lychee simple syrup is used for its fragrant and vibrant sweetness that helps to balance out the sourness of the citrus fruits.
Layered on top is the beautiful Empress gin that transforms the drink into a beautiful and impressive cocktail!
Inspired by sweet violet flowers, Amethyst Meadow is a fantastic cocktail that uses ingredients that further emphasize the beautiful violet color!
Homemade blueberry syrup, crème de violette, and Empress gin all impart their distinctive shades of purple in this drink.
Together with egg white and lemon juice, the ingredients are shaken and strained into a chilled glass before serving.
The violet theme is accentuated with a final garnish of violet and blueberries.
It's no wonder why this beautiful and tasty drink is one of our favorite Empress gin cocktails!
Level up your bartending skills with this milk-washed Clarified Saturn, a twist on the classic cocktail that tastes super smooth and delicious!
The spiced flavor of Falernum, plus the fruitiness of passionfruit syrup and lemon combine to create an extremely bold and flavorful cocktail that is really enjoyable!
Half of the Empress gin is reserved and added after the filtration process, which helps to retain the amazing botanical notes of the gin and maintain the vibrant violet color.
This is a delightful cocktail that is perfect for a relaxing evening!
A unique take on the classic cocktail, Empress Mai Tai is a wonderful drink that everyone can enjoy!
The nutty and citrusy flavors of orgeat combine well with the tropical flavors of triple sec and lime juice to create a tasty cocktail that is perfect to hit the beach with.
With the addition of Empress gin to this classic cocktail that traditionally uses only rum, we have a pretty violet drink that tastes flowery, nutty, and fruity all at the same time!
Try it once and it'll quickly become your favorite Mai Tai variation!
Enjoy a classy drink with this exceptional Floral Club cocktail that you'll definitely fall in love with!
With a combination of dry vermouth, Empress Indigo gin, crème de violette, lavender syrup, and lime juice, topped with foamy egg white, this drink tastes really refreshing with hints of floral and citrus notes.
Empress gin adds a lovely shade of purple that makes it a headturner and it's sure to be the center of attention at any party!
Garnish with a lavender sprig to complete this alluring look of this amazing cocktail!
Give a unique twist to a classic cocktail in this Frozen Bee's Knees that's as outstanding as its name!
Traditional Bee's Knees is a simple extension of the usual Gin Sour, with honey replacing sugar, along with the other 2 common ingredients in gin and lemon juice.
This Empress gin recipe takes it one step further by blending the drink with crushed ice until it's frosty.
The resulting cocktail is brilliant, delicious, and perfect for cooling down during the summer season!
In what is one of our favorite Empress gin cocktails, you can make a beautifully layered cocktail that tastes as good as it looks!
This fantastic drink has 3 layers, with the bottom red layer made by crushing mixed berries in a Collins glass before adding crushed ice.
The second translucent layer is created by pouring coconut water into the glass.
The final top layer is simply made by slowly pouring Empire gin to create a blue layer sitting on top of the coconut water.
Finished with a garnish of edible flowers and mixed berries, this is a wonderful cocktail that everyone can enjoy!
If you love the smell of the aromatic lemongrass, then you've got to check out this amazing Lemongrass Mule cocktail!
Just as the name suggests, lemongrass syrup is a main component of this fantastic drink and it's combined with Empress gin, lime juice, and ginger beer to create something truly delectable.
Completed with a garnish of mint leaves, starfruit, and cucumber ribbon to add some visual flair, this is a cocktail that looks incredible and tastes impeccable.
You can be sipping on this all day long and not get sick of it because it's just that good!
Turn the classic Shirley Temple mocktail into a tasty alcoholic cocktail with an Empress makeover!
Grenadine and lemon juice remain a mainstay in this variation while the usual ginger ale is replaced by Empress gin and the fizz is provided by lemon-lime soda.
With violet and red hues, a Shirley Temple variation has never looked more beautiful than this Empress gin cocktail here.
Don't forget to garnish the drink with a cherry on top to complete the lovely presentation!
For a simple and refreshing cocktail, check out this Empress Gin Mule which requires only 3 main ingredients to concoct!
With a spicy flavor coming from ginger beer and a crisp tartness from lime juice, the two combine to form an incredibly pleasant taste that makes this drink absolutely mouthwatering.
Adding Empress gin is just icing on the cake with its beautiful purple hue and delightful botanical notes!
You'll definitely be making this on a regular basis because of how delicious it is and how simple it is to make!
Originating from Waikiki Beach in Hawaii, the Royal Hawaiian takes on a modern spin with this Empress gin recipe!
Combining pineapple juice, fresh lemon juice, gin, and orgeat makes for a truly tropical and refreshing drink.
The classic cocktail traditionally uses uncolored gin mixed throughout the drink but in this modified recipe, Empress gin is layered on top for an absolutely gorgeous gradient!
It's so beautiful and tasty that we're sure this will quickly become your go-to tropical drink!
Some days call for a quick and simple recipe and GG's Delight is definitely one that you'll need to add to your bar rotation!
This easy-to-make cocktail not only tastes delicious but also looks incredible, thanks to the beautiful color of Empress gin.
Combining Empress gin, ginger liqueur, and orange bitters creates a stunning indigo hue, and garnishing with an edible flower really completes the presentation for a classy drink1
We love the simplicity and minimalistic style of this drink and it's easily one of our favorite Empress gin cocktails!
Give everyone's favorite childhood drink a twist and a spin with this Frozen Lavender Lemonade recipe!
This is actually a variation of Empress Lavender Lemonade, which itself is a modern cocktail take on the popular lemonade drink.
Using honey and lavender cordial helps to add an excellent floral flavor to the drink, which is accentuated by Empress gin's botanical notes.
Together with bergamot liqueur and some ice, this blended cocktail makes for a delicious and refreshing cocktail!
Sweet and tangy, the Blackberry Mint Royale is the perfect drink to enjoy on a warm and sunny day!
Muddled blackberries and blackberry liqueur give this cocktail a bold and dark purple color, and the taste is delightful with a minty aftertaste and hints of floral fragrance.
The splash of sparkling wine helps to bring the flavors to the forefront and the resulting drink is one that can be enjoyed anytime and anywhere!
This Empress gin cocktail is great for unwinding in the evening after a long day's work!
If you want a refreshing and easy to make cocktail that you can enjoy any time of the day, you've definitely got to check out this recipe!
With only 2 ingredients required to concoct Light The Beam, this is as easy as it gets!
Lemonade and Empress gin come together in this terrific cocktail that brings out the botanical and citrus notes, creating a drink that's an easy crowd-pleaser.
It's so delicious and we just love the taste profile of this cocktail that's perfect for a relaxing afternoon!
Enjoy a refreshing take on classic Negroni with this excellent cocktail that you definitely don't want to miss out on!
This drink features a delectable combination of Empress Indigo gin, Luxardo Bitter Bianco, and dry vermouth, creating a well-balanced cocktail that tastes absolutely divine.
Empress gin shines with its botanical notes and contributes to the beautiful blue hue that's incredible mesmerizing, perfect when you want a drink to impress!
There's no reason not to like this tasty and sophisticated cocktail!

Featuring an impressive gradient from dark to light blue, Respect Your Elder is a delightful cocktail that tastes as good as it looks!
This cocktail features homemade blueberry reduction that involves cooking blueberries and honey in a saucepan over heat and then straining the mixture out.
After that, it's all about layering with blueberry reduction, Empress gin, elderflower liqueur, and soda water!
Keeping in line with the color theme, blueberries are used for garnishing to finish off the cocktail before enjoying!
With how delectable it is, we've no doubts that this will quickly become one of your favorite Empress gin cocktails!
Sip on this fragrant, floral, and refreshing variation of Tom Collins with the delicious Cucumber Rose Collins!
The cocktail is colored a pretty pink, thanks to honey rose syrup, which is made by heating rose water and honey in a saucepan.
Empress gin, cucumber slices, and lemon juice are added along with honey rose syrup before being shaken and strained.
It's completed with a garnish of rose and cucumber ribbon before serving for a great visual presentation!
This is one of those Empress gin drinks that you'll want to keep handy because of how tasty and beautiful it is!
Make a tropical delight with this Pineapple Orange Punch that's been given the Empress treatment to make it superbly tasty!
It's a lovely marriage of Empress gin, pineapple juice, orange juice, orange zest, cloves, ginger, cranberries, orange slices, and pineapple slices, all mixed together for a day and left to let the flavors meld.
The aromatics help to provide additional depth to the cocktail and it's a heavenly blend that you just can't get enough of!
You definitely have to try this for your next post-dinner drink!
At Glorious Recipes, we have our favorite Empress Lavender that we absolutely adore and it tastes heavenly! Check out the recipe below!
Yield: 1
Empress Lavender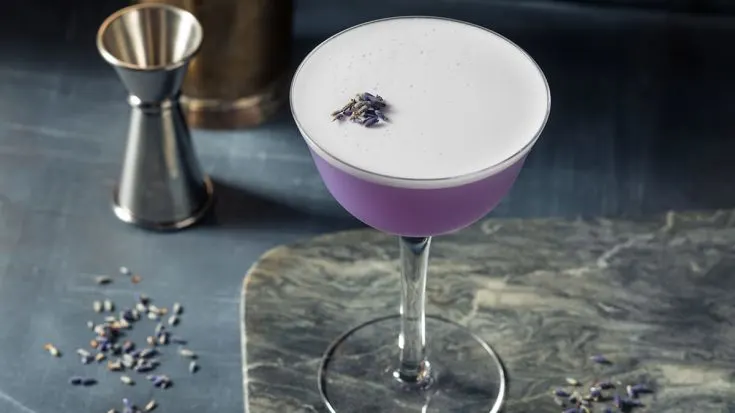 Enjoy a beautiful and delicious drink with Empress Lavender, a cocktail filled with floral and citrus flavors, and a tasty egg white foam sitting on top. Elegant and classy.
Ingredients
1½ oz Empress gin
½ oz Curaçao
½ oz homemade lavender syrup (see note)
¾ oz freshly-squeezed lemon juice
1 egg white, large
ice
dried lavender (garnish)
Instructions
Add all the ingredients except ice and dried lavender into a cocktail shaker. Shake vigorously for at least 60 seconds.
Add ice into cocktail shaker and shake well for 15 seconds.
Strain into glass and garnish with dried lavender.
Serve and enjoy!
Notes
To make the lavender syrup, you'll need 1 cup water, 1½ tbsp of dried lavender, 1 cup sugar, and 2 tsp of butterfly pea flower tea. Add water and dried lavender into a saucepan and bring to a boil, then reduce heat to let it simmer before adding sugar. Stir well to make sure the sugar is dissolved then let it continue to simmer for another 10-15 minutes. Remove saucepan from heat and add butterfly pea flower tea. Stir and let it steep for 5 minutes. Strain into a jar and let it cool before use. This makes around 16 servings and can be stored in the refrigerator for a week.
Nutrition Information:
Yield:
1
Serving Size:
1
Amount Per Serving:
Calories:

214
Total Fat:

1g
Saturated Fat:

1g
Trans Fat:

0g
Unsaturated Fat:

0g
Cholesterol:

0mg
Sodium:

53mg
Carbohydrates:

20g
Fiber:

1g
Sugar:

17g
Protein:

3g
Nutrition information is only an estimate and can vary depending on ingredients used.
Which of the Empress gin cocktails have you tried so far?
Let us know in the comments below!
For more alcoholic recipes, check out the following:
Crème de Violette Cocktails
Soju Cocktails
RumChata Drinks
White Tea Shot
Goya Coquito
Vodka Sour
White Gummy Bear Shot
Jungle Juice
Liquid Marijuanas Drink Shot
Crown Royal Peach Recipes
Share on your favorite social media platform and tag us @GloriousRecipes – we can't wait to see what you have made!