If you're on the lookout for amazing recipes to make delicious meat-free and soy-free food, you're in luck.
Pumfu opens up a host of possibilities to create tasty food with simple recipes, and we've got some of the best Pumfu recipes right here!
And if you're unsure about what Pumfu is, read on as we introduce this game-changing meat and tofu alternative that's going to alter how you cook.
What Is Pumfu
Pumfu is a certified non-GMO plant-based protein made from organic pumpkin seeds, and has a texture just like regular soy-based tofu (for Original Pumfu), except that it's entirely soy-free, gluten-free, and nut-free!
It's versatile, high in protein, and suitable for those with soy allergies, as well as those on vegan and keto diets.
This is an excellent product for those who want a nutritious meat substitute that's soy-free and should definitely fall into consideration as a main ingredient.
Types Of Pumfu Products
Pumfu now has 4 main products available:
Original Pumfu: Main tofu substitute that has a similar texture and takes on flavor easily like regular tofu. Pre-pressed and contains 17g of protein per pack.

Pumfu Sausage Crumble: Seasoned and grounded to taste like Italian sausage. Contains 11g of protein per pack.

Pumfu Chorizo Crumble: Seasoned and grounded to taste like Mexican chorizo. Contains 11g of protein per pack.

Pumfu Sloppy Joe: Seasoned and grounded to mimic the taste of a sloppy joe with some savory sweetness. Contains 9g of protein per pack.
Frequently Asked Questions
How to cook Pumfu?
Pumfu is just like your regular tofu, just that it's soy-free and made with organic pumpkin seeds.
In normal tofu, you would have to press out the water before you cook it so that it absorbs all the spices and sauces instead of the water that comes in the package.
With Pumfu, it comes pre-pressed, which is awesome as it saves time and there's no need to press manually before cooking.
You can easily substitute tofu in any recipe with Pumfu and it will still taste great!
What is the shelf life of Pumfu and how long can it last?
Stick to the expiry date for each Pumfu package but once opened, it should be consumed within 5 days.
How do we store Pumfu?
Pumfu has to be kept refrigerated at all times.
Where is Pumfu sold?
Pumfu can be found in selected grocery stores. Check if there is one near you over here. You can also order them online directly!
Pumfu Recipes
Here are 10 of the best Pumfu recipes that you can make at home and we've also included our own favorite version in the recipe card below!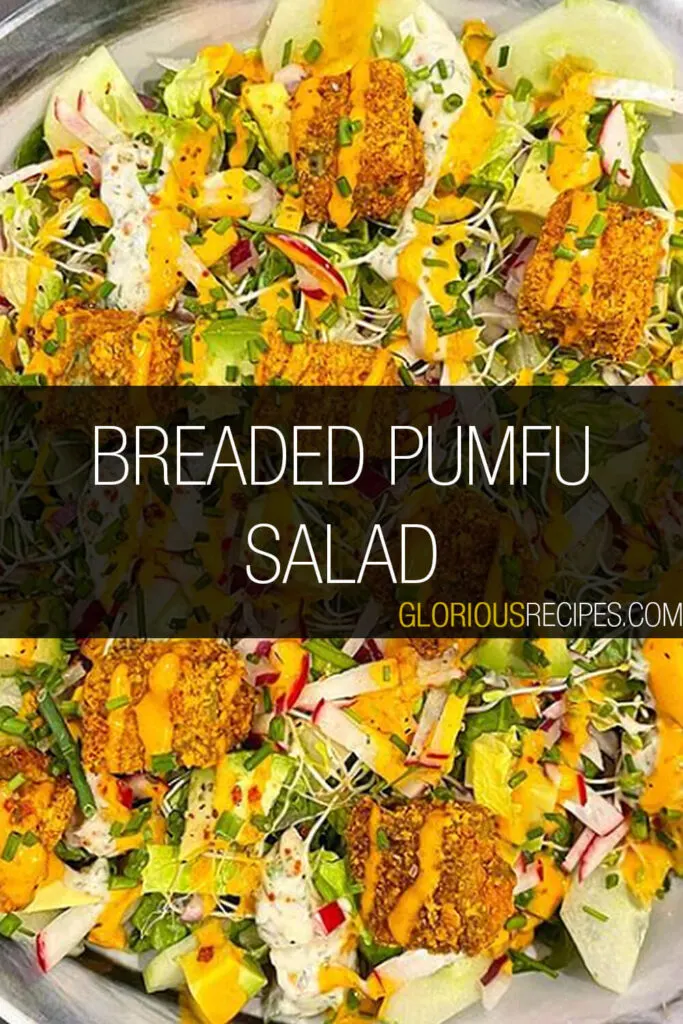 Bring on the crunch with this delicious breaded Pumfu salad, complete with romaine lettuce and delicious ranch dressing!
Pumfu is breaded and baked with a variety of spices, so it remains healthy and tasty.
And what's more, the homemade ranch dressing is dairy-free, mayo-free, and full of flavor!
Made by combining dairy-free plain yogurt, almond milk, and a variety of herbs and spices, the ranch dressing definitely adds plenty of depth and complexity to the flavor.
Assemble everything in a big salad bowl and savor this amazing salad!
Refuel your body with this healthy and nutritious bowl of broccoli, quinoa brown rice, and golden Pumfu, drizzled with a savory sesame ginger sauce.
The tofu substitute is versatile and flexible, taking on the sweet and tangy sauce to great effect and elevating the entire dish to the next level.
Both broccoli and Pumfu are only lightly sautéed and seasoned with salt and pepper, making this a healthy meal that still tastes really delicious.
It's such a quick and easy recipe that everyone can attempt with confidence!
Coconut aminos-marinated crispy Pumfu and fragrant aromatics come together with healthy vegetables to create this delicious lettuce wrap recipe.
Bell peppers, carrots, broccoli, and edamame provide the crunch and texture in this wonderful dish, with onion and garlic adding additional flavor.
A squeeze of lemon juice helps make the entire dish really refreshing, and everything is served on lettuce boats which makes for an interesting presentation.
Plenty of greens and plenty of taste, just how we like our healthy meals to be!
A one-pot recipe that you can make in less than 30 minutes, there's everything to love about this delicious stir-fry.
Turmeric and curry powder combine to create an extremely flavorful dish and it's brought to the forefront by the fragrant aromatics.
Organic coconut yogurt helps to provide a creamy consistency and the result is a rich, bold, and delicious plate of vegetables and faux tofu.
With probiotics, healthy spices, and loads of nutrients, do yourself a favor and try out this recipe!
If a wholly vegan, plant-based, and healthy breakfast burrito sounds good to you, you've got to check this out as it's one of our favorite Pumfu recipes.
With Bragg's liquid aminos standing in as the soy sauce substitute and nutritional yeast providing the cheesy flavor plus loads of additional nutrients, some might say this tastes better than a regular burrito!
Adding vegan cheese into the mix just sweetens the deal along with Pumfu, bell peppers, and onion to provide the aromatics and texture.
This is a tasty burrito that we would be happy to eat any time of the day!
Fancy some Thai-styled lettuce wrap to spice up your next meal?
Thai curry paste is whisked together with yellow mustard in this wonderful recipe to create a spicy mustard sauce and bring in some Asian flair.
Pumfu is coated with a variety of sauces and cooked till flavorful together with garlic, ginger, and vinegar.
Lettuce wraps are assembled with homemade sweet sauce, spicy mustard, and cooked Pumfu, then topped with sesame seeds and carrots to create a super tasty meal!
In this amazing recipe, Pumfu is used to make healthy vegan bacon that's protein-packed, soy-free, and plant-based.
They're marinated with spices and maple syrup to impart a maple smoky flavor to them, just like regular smoked bacon.
Bake them in the oven till they're crisp and they're good to go!
Pair it with JUST egg to complete this wholesome and delicious plant-based breakfast meal!
Serve up a hearty breakfast with this simple scramble recipe that you can make in less than 20 minutes.
Spiced and crumbled Pumfu is mixed with aromatics and vegetables, then sautéed in a skillet to create an extremely fragrant, flavorful, and delicious meal.
It's full of protein and fiber, plus it's topped with freshly chopped tomatoes for a refreshing taste.
Pair it with bagels or toasted bread and enjoy a wholesome breakfast!
In this quick and easy recipe, Kohlrabi noodles are combined with hot, golden Pumfu and sautéed edamame, accompanied by a sesame ginger sauce to create an absolutely tasty dish.
With only 4 ingredients required, you can whip up this delightful dish in no time!
No complex sauce or long marination is required as everything is seasoned to taste with salt and pepper, which makes this perfect for a quick and tasty meal when you are in a rush for time.
Plus, it looks and tastes really good so don't give this a miss!
One of the simplest Pumfu recipes but one of our favorites as well, this easy air-fryer recipe will churn out crispy Pumfu that tastes so good, we just can't stop eating it.
It's first cut into bite-sized pieces and marinated in a bowl of seasoning before being tossed into the air-fryer to let it do all the work.
That's how easy it is.
Serve it as a side dish, appetizer, or snack on it all day long because it's so addictive!
At Glorious Recipes, we have our favorite Vegan Almond Butter Pumfu recipe with green beans and it's totally vegan, plant-based, gluten-free, and dairy-free! Check out the recipe below!
Yield: 4
Vegan Almond Butter Pumfu Stir-Fry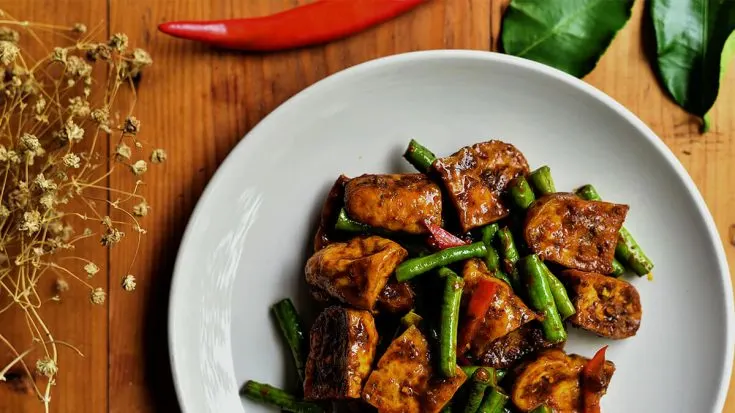 This healthy Almond Butter Pumfu Stir-Fry tastes so delicious that you can't believe it's so simple to make! It's also vegan, plant-based, gluten-free, and dairy-free.
Ingredients
2 Original Pumfu (8 oz)
4 tbsp sesame oil (to divide into 2x 2 tbsp to be used separately)
4 tbsp almond butter
8 tbsp tamari lite
4 tbsp lime juice
6 tbsp maple syrup
4 tsp garlic chili sauce
2 lb green beans, chopped
4 red chilies
Instructions
Preheat oven to 400°F (or 200°C) and bake Pumfu for 15 minutes till slightly crispy.
While Pumfu is baking, add to a mixing bowl the following: almond butter, tamari lite, lime juice, maple syrup, chili sauce, and 2 tablespoons sesame oil (remaining will be used later). Whisk and combine well.
Once Pumfu has finished baking, add to marinade sauce and marinade for 5-10 minutes. We want the Pumfu to absorb the sauce. Stir occasionally.
Heat a skillet over medium heat and add Pumfu but reserve the marinade. Cook for around 5 minutes until browned. Remove from skillet to a plate.
Add remaining 2 tablespoons of sesame oil to skillet and green beans. Cover for around 4 minutes till green beans are tender from the steaming. Remove cover and turn up the heat slightly. Add chilies and continue cooking for a couple of minutes. Remove from skillet and add to Pumfu.
Serve with steamed rice and enjoy!
Notes
If not going for a gluten-free diet, you can substitute tamari with regular soy sauce.
Nutrition Information:
Yield:
4
Serving Size:
1
Amount Per Serving:
Calories:

417
Total Fat:

23g
Saturated Fat:

3g
Trans Fat:

0g
Unsaturated Fat:

19g
Cholesterol:

0mg
Sodium:

1126mg
Carbohydrates:

49g
Fiber:

10g
Sugar:

30g
Protein:

11g
Nutrition information is only an estimate and can vary depending on ingredients used.
Which of the Pumfu recipes have you tried so far?
Let us know in the comments below!
For more vegan and plant-based recipes, check out Hubbard Squash, Silken Tofu, Chicken of the Woods, JUST egg, Soyrizo, Impossible Meat, or Puffball Mushrooms for more ideas!
Share on your favorite social media platform and tag us @GloriousRecipes – we can't wait to see what you have made!