Smoked cod is an excellent fish to serve up during mealtime with its superbly well-balanced flavor.
The white flaky flesh of cod is mild-tasting, which works really well to absorb all the smoke, seasoning, and sauces.
With so many possibilities to create delicious food, we're excited to share with you 10 simple smoked cod recipes that you can make at home!
Smoked Cod Recipes
Make a classic Spanish tapas with this easy smoked cod fritters recipe that is perfect for snacking or serving as an appetizer.
Smoked cod, grated onion, and potatoes combine to form these small bites, seasoned with lemon zest and chopped dill.
Egg and flour hold them all together, and they are fried till crisp and golden brown.
Dip them into some Tiger sauce or Bitchin' sauce for maximum flavor, or you can enjoy them on their own as well!
For some quick and easy, warm comfort food, check out this simple recipe that combines smoked cod and cannellini beans.
The fish is poached in a poaching liquid made up of water and white wine, infused with the herbal notes of parsley, bay leaves, peppercorns, and celery.
Cannellini beans are mixed together with the cod fish, parsley, and chives, then seasoned to taste.
Garnish with additional parsley and squeeze a lemon in before serving up this delicious dish!
It's such an easy smoked cod recipe, we know you'll definitely make it time and again!
Challenge yourself and impress everyone with this smoked cod recipe straight from a Michelin-starred chef.
Many wonderful ingredients are used here, but it's not complicated once you break it down to each part.
Worthy to be on the menu of a fine-dining restaurant, this lemongrass-infused cod fish is served on a plate with caramelized compressed cucumbers, seaweed-potato gnocchi, mussels, and sea vegetables.
Amazing cucumber ketchup is spooned onto the dish and everything combines to create a luxurious and delicious meal.
This is the perfect dish to mark any special occasion!
Inject some Middle Eastern flair into your next meal with this incredible smoked cod recipe.
A variety of spices impart their aroma into a warm tahini sauce, which is mixed with grapefruit and lemon juice, then poured over lightly smoked cod to create an exceptional dish.
Onions and clementines lend their sweetness and add an additional layer of flavor to the fish.
This resulting dish is nutty, flavorful, and one of our favorite smoked cod recipes!
If you want some warm and comforting food, check out this smoked cod and whisky chowder that is perfect for a cold and rainy night.
The fish is poached in a pot of milk, along with a host of spices that include bay leaves, thyme, rosemary, and peppercorns, and the resulting flavorful liquid is not wasted as it's used as soup stock.
Sautéed shallots, garlic, leeks, and sweet corn are added to the chowder, plus diced potatoes, from which the starch will help to thicken the soup.
Whiskey is added towards the end for the taste and to ensure it doesn't fully burn off during the cooking process, which provides a nice warm kick.
Poaching smoked cod in milk gives a very nice and creamy flavor which helps to elevate the dish with this simple step.
Bay leaf and thyme help to impart their herbal notes, while onion, boiled potatoes, and crisp bacon bits help to complete the dish.
The milky poaching liquid is strained and used as a sauce to pour over the smoked cod, and everything comes together to create an amazing meal.
If you are unfamiliar with this dish, don't worry as rarebit doesn't contain any rabbit at all.
The rarebit sauce is made with a combination of butter, flour, milk, Worcestershire sauce, grated cheddar, and mustard.
Smoked cod fillets are placed in a tray with garlic butter, tomatoes, and spinach seasoned with salt, pepper, and nutmeg at the base, then topped with rarebit sauce and grated cheese.
The oven will do the rest of the work and once it's baked to perfection, this delicious dish is ready to be served!
Whip up a tasty meal with this handy smoked cod recipe that is perfect for a simple but nutritious meal.
The fish is covered with milk and cream, then baked with sliced potatoes and butter in the oven.
Baby peas are cooked and blended with milk and cream to create an amazing purée that fully complements the cod fish.
Divide and plate the cod with a spoonful of pea purée on top, then finish by sprinkling some black pepper!
This is one of our favorite smoked cod recipes and we highly recommend everyone to try it.
Rich and creamy smoked cod combines with roasted garlic, grainy mustard, shallots, and pickles in this recipe to create a fantastic dip that goes really well with homemade bread, chips, and crackers.
Sour cream and lemon juice lend their tanginess while dill, tarragon, and chives help to add additional depth to the flavor.
It's an amazing dip that you can use to complement many other dishes and you're definitely going to love it!
Make a bowl of smoked cod soup in this simple recipe that is perfect for a cozy weeknight dinner.
Garlic and paprika give the soup a delightful aroma and a splash of vermouth is added to bring some warmth to the dish.
Chickpeas, tomatoes, spinach, and bite-sized cod provide additional nutrition and texture to the tasty soup and it's finished off with a garnish of freshly chopped parsley on top.
At Glorious Recipes, we have our favorite smoked cod recipe that makes delicious tacos, complete with mango salsa and cilantro for a burst of flavor in every single bite! Check out the recipe below!
Yield: 4
Blackened Smoked Cod Tacos with Mango Salsa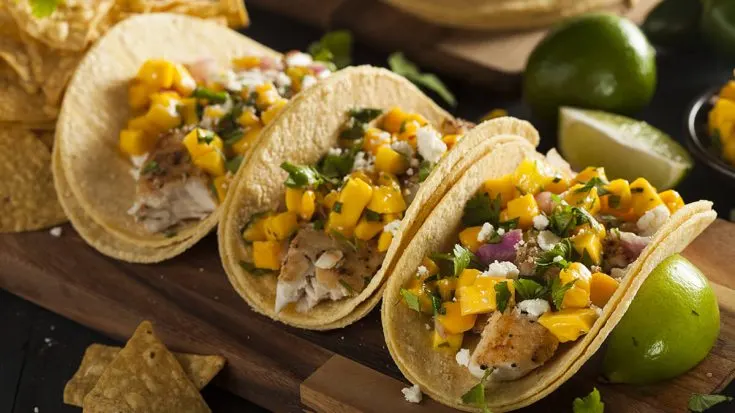 Dig into these delicious smoked cod tacos, complete with mango salsa and cilantro for a burst of flavor in every single bite!
Ingredients
1 lb smoked cod fillets
8 corn tortillas (6-inch)
1 tbsp smoked paprika
1 tsp cayenne pepper
1 tsp ground cumin
1 tsp dried oregano
1 tsp garlic powder
1 tsp dried thyme
1 tsp sea salt
1/2 tsp freshly ground black pepper
1 tbsp butter, melted
½ cup mango salsa
½ cup cilantro, freshly chopped
½ cup feta cheese
8 lime wedges
Instructions
Combine smoked paprika, cayenne pepper, ground cumin, dried oregano, garlic powder, dried thyme, sea salt, and black pepper in a bowl and mix well.
Preheat oven to 400°F (200°C). Place smoked cod fillets on a baking sheet over a baking tray. Brush with melted butter, then coat the top with seasoning mix. Bake for 8 to 10 minutes. Flake fish with forks into smaller pieces.
Warm tortillas on the skillet or microwave, per package instruction. Divide fish evenly onto each tortilla, then add mango salsa on top. Sprinkle crumbled feta cheese.
Garnish with cilantro and squeeze lime wedges. Serve and enjoy!
Nutrition Information:
Yield:
4
Serving Size:
1
Amount Per Serving:
Calories:

368
Total Fat:

10g
Saturated Fat:

5g
Trans Fat:

0g
Unsaturated Fat:

4g
Cholesterol:

87mg
Sodium:

894mg
Carbohydrates:

43g
Fiber:

9g
Sugar:

7g
Protein:

33g
Nutrition information is only an estimate and can vary depending on ingredients used.
Which of the smoked cod recipes have you tried so far?
Let us know in the comments below!
For more fish recipes, check out Tuna Tartare or Salmon Bites recipes to serve as appetizers, or try your hand at some amazing Albacore Tuna, Blackfish, Yellowtail, Tilefish, or Cobia recipes!
Share on your favorite social media platform and tag us @GloriousRecipes – we can't wait to see what you have made!