Chicken of the woods are mushrooms that have a similar texture as chicken when cooked and are great as a meat substitution, especially if you're on a vegan or vegetarian diet.
They have a mild flavor and can easily be used in many recipes and cooking methods to create wonderful dishes.
Whether you like it fried, sautéed, or baked, we've got you covered with some of the best chicken of the woods recipes that you can try at home!
If you're looking for an easy chicken of the woods recipe that you can make for a quick, simple, and delicious meal, you've got to check out this piccata recipe!
The mushrooms are dredged in a flour mixture seasoned with salt and combined with vegan cheese before being cooked in a skillet.
The sauce is a delightful mix of lemon juice, capers, wine, and vegan butter, providing so much flavor to the dish.
Add your cooked pasta and toss to coat well before serving this tasty dish!
Enjoy some delicious chicken-fried mushrooms with this simple recipe that's handy for a tasty meal and it's also versatile enough to swap with other ingredients!
Mushroom pieces are dipped in a flour mixture, which is a basic mix of paprika, cayenne powder, salt, and pepper.
The trick here is to use the flour-egg-flour method, meaning to dredge the mushrooms in the flour mixture, then in beaten eggs, then once again in the flour mixture.
This will ensure a good, nice crust that is not soggy and is a good technique to know when you want to fry other items as well!
Along with garlic and thyme, the mushrooms are fried until golden brown and they're done!
Indulge in fantastic hashbrowns with mushrooms that are tasty and great for filling up the tummy!
Onions, carrots, and celery are sautéed in butter before the mushrooms and sherry are added to the skillet to cook until they are fragrant.
Parsley and chives help to provide additional depth to the flavor and lemon zest makes the dish really refreshing.
Add boiled potatoes to the mix and fry till crispy before enjoying this delightful dish!
Savor a warm bowl of comforting cream of mushroom soup with this amazing chicken of the woods recipe that you'll definitely love!
The texture of the soup is creamy and velvety, and it tastes like chicken and mushroom at the same time, giving it a unique flavor.
Combine that with garlic, celery, carrot, and thyme, and you'll have a bowl of extremely flavorful soup that's super delicious.
This creamy mushroom soup is the perfect comfort food during a cold and rainy day!
Enjoy a fully plant-based sandwich that's delicious, extremely flavorful, and just so irresistible with this exceptional chicken of the woods recipe!
The mushrooms are first dipped in JUST egg before being coated with a seasoned flour mixture including many herbs such as sage, dill, and thyme to give plenty of depth to the flavor.
There will be no oil splatters because these breaded mushrooms are cooked in an air fryer before being assembled
Use your favorite buns and toppings to make this fantastic sandwich!
Brioche buns, lettuce, tomatoes, and cucumbers with ranch sauce are our go-to for this!
Inject a little Mexican flair to your next meal with these vegan fajitas that are mouth-watering and simple to make!
Aromatics such as onions and garlic impart their fragrance to the flavor along with bell peppers, and they are sautéed or stir-fried until cooked before being seasoned with spices.
The mushrooms are then added to absorb all that flavors and juices to make them extremely flavorful.
Heat up the tortillas and start assembling with the filling in the center, plus any of your favorite toppings such as salsa or sour cream to complete this amazing dish!
Mix it up with a traditional Italian way of cooking the mushrooms in this quick and easy recipe that you definitely need to add to your lunch or dinner rotation!
Thinly-sliced garlic is slow-cooked in oil to let all the garlic flavors infuse into the oil while not burning the garlic, then the rest of the ingredients are added to impart their flavors and form the sauce.
Garlic cloves are rubbed and melted into bread to make garlic toasts, which pair exceptionally well with the mushrooms and sauce.
The combination is just amazing and you'll be hooked after the first bite!
Inspired by Indian cuisine, this vegan alternative to the regular butter chicken takes on a twist by replacing the main ingredient with chicken of the woods mushroom.
This dish is extremely flavorful with many strong spices being used such as curry powder and garam masala, ensuring a burst of flavors with every single bite.
Smothered with butter and the spice mixture, the mushrooms are super tasty and the sauce is made all the more delicious with coconut cream and tomato paste added to make it rich and creamy.
Pair it with fragrant steamed rice for an unforgettable meal!
Dig into these decadent deep-fried mushrooms that taste so good and addictive that you just can't stop after the first bite!
The mushrooms are dipped and coated first in a spice-seasoned flour mixture, then into beaten eggs, before finally being coated with seasoned breadcrumbs.
Garlic, cayenne, basil, and oregano are used for the seasoning, giving the mushrooms loads of flavor and depth.
Once they are deep-fried to perfection, eat with your favorite dipping sauce or try out the amazing Tiger sauce and Bitchin' sauce!
Grace your taste buds with delicious mushroom risotto and check out this amazing chicken of the woods recipe!
The mushrooms are sautéed with onions in butter before the rice is added and cooked together.
White wine is slowly added to the pan to let the mushrooms and rice fully absorb, and stock is also added after that to add even more flavor.
Once the rice is cooked till al dente, grate some Parmesan cheese for an authentic risotto experience and savor this wonderful dish!
If you need something new and delicious for the next Taco Tuesday, you've got to try out this fantastic taquitos recipe!
The mushrooms are left to simmer with a variety of spices and stock, ensuring they are tender and flavorful with every bite before being removed to mix with lime juice and shredded cheese to form the filling.
Tortillas are rolled tightly after being filled and then baked until fully cooked.
Serve with homemade pico de gallo, guacamole, sour cream, and feta cheese for the ultimate indulgence!
This simple mushroom sandwich is so flavorful and delicious that it's easily one of our favorite chicken of the woods recipes!
Cut mushrooms are soaked in buttermilk before being dredged in a seasoned flour mixture containing smoked paprika, garlic powder, salt, and pepper.
They are then deep-fried until crispy and dipped into a homemade buffalo sauce on both sides.
The final step is to assemble the sandwich by placing pickles and mushroom cutlets on toasted buns, and topping with ranch dressing, chopped scallions, and the top buns!
So delicious!
Try out this baked chicken of the woods recipe for your next meal and you'll be surprised at how good it tastes and how simple it is to make!
The mushrooms are dipped into a sour cream mix that gives plenty of flavor with ramp leaves, eggs, salt, and peppers before being coated with sesame seeds and breadcrumbs.
All that's left to do is add some butter around the sides and let the oven do the remaining work.
Once baked, it's time to enjoy this amazing dish!
Level up your cooking skills by making this delicious saltimbocca for your next meal!
Traditionally made with veal, this recipe gives it a tweak and replaces the meat with mushroom instead.
Prosciutto slices are draped over the mushrooms along sage leaves and secured with toothpicks.
They are then cooked and seared in a hot pan, making everything really crispy and delicious.
The sauce is then made by adding shallots, deglazing with Madeira wine, and finally adding chicken stock and butter.
Drizzle the sauce over the mushrooms and enjoy this great-tasting dish!
For a wonderful vegan burger that's flavorful and tasty, check out this chicken of the woods recipe!
The mushrooms are simmered in nut milk and seasoned with smoked paprika, cumin, liquid smoke, vegan Worcestershire sauce, salt, and pepper, giving it loads of flavors.
Vegan burger patties are made by mixing the mushrooms, beans, brown rice, walnuts, and breadcrumbs before pan-searing in a pan and baking in the oven to fully cook them.
Assemble the burgers with vegan cheese, tomatoes, lettuce, burger patties, and your favorite dressing to enjoy this sumptuous meal!
At Glorious Recipes, we have our own favorite Fried Chicken of the Woods Nuggets recipe that we find to be absolutely delicious and perfect for a mid-day snack! Check out the recipe below!
Yield: 4
Fried Chicken of the Woods Nuggets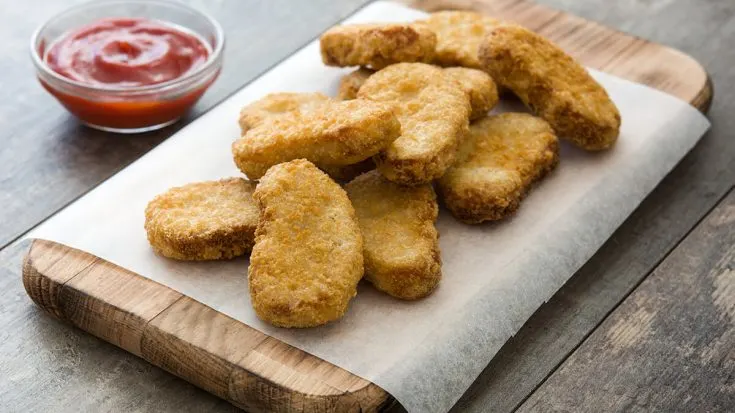 Enjoy tasty bites with this amazing Fried Chicken of the Woods Nuggets recipe that's perfect as an appetizer or side dish! Pair with your favorite dipping sauce for maximum taste!
Ingredients
1 lb chicken of the woods, cut into desired size
1 large egg
⅓ cup milk
1½ cup all-purpose flour, divided into 1 cup and ½ cup
1 tsp garlic powder
½ tsp baking powder
½ tsp sea salt
½ tsp smoked paprika
½ tsp regular paprika
½ tsp onion powder
½ tsp chili powder
½ tsp black pepper
⅛ tsp mustard powder
oil, enough to cover mushrooms when frying
Instructions
Add ½ cup of flour into a bowl. This will be bowl 1.
Add egg and milk into another bowl. Whisk and mix well. This will be bowl 2.
Add 1 cup of flour and the remaining dry ingredients (except oil) into another bowl. Mix well. This will be bowl 3.
Dredge the chicken of the woods mushroom pieces in bowl 1, dust off any excess flour, then dip in bowl 2, and finally bowl 3. Dust off any excess powder. Place them on a drying rack or separate bowl until they are ready to be fried.
Add oil to a frying pan or fryer and heat until it reaches 350°F (or 177°C). Start frying the mushrooms until golden-brown and crispy. Flip once after a few minutes. Once perfectly fried, remove to a cooling rack.
Let them cool for a few minutes before serving with your favorite dipping sauce! Enjoy!
Notes
You can add breadcrumbs to bowl 3 if you prefer a different texture.
Nutrition Information:
Yield:
4
Serving Size:
1
Amount Per Serving:
Calories:

372
Total Fat:

20g
Saturated Fat:

5g
Trans Fat:

0g
Unsaturated Fat:

13g
Cholesterol:

155mg
Sodium:

463mg
Carbohydrates:

15g
Fiber:

1g
Sugar:

1g
Protein:

31g
Nutrition information is only an estimate and can vary depending on ingredients used.
Which of the chicken of the woods recipes have you tried so far?
Let us know in the comments below!
For more vegan and plant-based recipes, check out Pumfu, JUST Egg, Soyrizo, or Impossible Meat for more ideas!
And don't miss out on King Oyster Mushroom, Lobster Mushroom, Lion's Mane, Chanterelle, Enoki Mushroom, and Puffball Mushroom for more mushroom recipes!
Share on your favorite social media platform and tag us @GloriousRecipes – we can't wait to see what you have made!