If tasty homemade bread sounds excellent to you, then you've definitely got to check out Zojirushi bread maker!
This simple appliance takes your baking skills to new heights and you get to enjoy the mouthwatering flavors of delicious white bread and exquisite artisanal creations in the comfort of your home.
With a wide array of settings, you have full control over the breadmaking process and you're only limited by your own creativity!
From Hokkaido milk bread to pizza dough, we've got you covered with some of the best Zojirushi bread maker recipes that you can easily try at home!
Try your hand at making this Light Sourdough Bread that has the perfect texture and flavor for an amazing sandwich!
It involves making a sourdough starter before adding a combination of lemon juice, apple cider vinegar, flour, salt, and yeast.
The slight tanginess and chewiness of this sourdough bread make it incredibly enjoyable and you'll find that it's great as an everyday bread for all kinds of fillings.
Breakfast will never be the same again once you've tried this fantastic bread!
We all know the benefits of whole wheat bread but if you want the best of both worlds in terms of taste and nutrition, check out this Half and Half Bread!
With whole wheat flour and white bread flour used, the baked bread is a great compromise between white bread and whole wheat bread.
It doesn't have as coarse a texture as full whole wheat bread and serves as a good introduction for those that have been eating white bread all their lives.
Give it a try and you'll not be disappointed by its great flavor!
Enjoy a terrific meal with this Honey Wheat Bread that's super easy to make and smells absolutely amazing!
This soft bread is made with whole wheat flour and honey so you know you're getting a nutritious and delicious bread that the whole family will definitely love.
It's perfect for a power-packed breakfast or light lunch, and you can even serve it as a simple starter with butter.
With how tasty it is, this is definitely one of our favorite Zojirushi bread maker recipes!
Yes, you can even make pizza dough with the Zojirushi bread maker!
Made simply by adding a combination of warm water, olive oil, bread flour, cornmeal, yeast, salt, and sugar, then setting the machine to the dough cycle, this is a hassle-free way to get your homemade pizza dough.
You can easily tweak this recipe to get other variations such as adding garlic powder and Italian seasoning for a garlic-herb crust!
Skip the store-bought pizza dough the next time and make your own instead!
This Zojirushi bread maker recipe makes an incredible bread that smells as good as it tastes, and it's definitely a must-try in our books!
Using Earl Grey tea instead of water when baking the bread gives it a mouthwatering aroma that's sure to make you salivate.
Other lovely ingredients used in the making of this bread include tea leaves, milk, flour, and butter, and you'll love how the final bread turns out.
This is a delicious bread that's easy to make and is sure to be a hit with the crowd!
Treat yourself to this exceptional Cinnamon Pecan Sour Cream Coffee Cake that's superbly tasty and is sure to whet your appetite!
It's easy to make with the bread maker machine and once all the cake ingredients are added and the kneading cycle is completed, all you need to do is top the batter with sugar, cinnamon powder, and chopped pecans.
Let the cake finish baking and you'll have an outstanding coffee cake that you can serve for high tea, dessert, or even breakfast!
This cake is a great way to showcase the versatility of the Zojirushi bread maker machine!
Spruce up your next meal with this excellent French Baguette that's super easy to make and requires only 5 ingredients!
Bread flour, water, butter, salt, and yeast are all it takes to make the dough in the bread maker machine but due to the length of the baguettes, they are baked in the oven instead.
With a crusty exterior and fluffy interior, this is a marvelous bread that you'll definitely be making time and time again.
Spread some butter on top or serve with a mix of balsamic vinegar and olive oil for a simple dip!
You can't go wrong with banana bread and this easy Zojirushi bread maker recipe cuts down on the hassle and cleaning up required!
Everything is done in the baking pan of the bread maker, which means no extra bowls to wash and it's just incredibly simple to make.
Once all the ingredients are added to the bread maker, the cake setting is used to mix everything up and you'll have fresh banana bread at the end of the baking session.
Easy and delicious, just how we like our recipes to be!
This Hokkaido Milk Bread is one of our favorite Zojirushi bread maker recipes because it makes an amazingly delicious bread that's perfect in almost every way!
It has a sweet, milky, and buttery flavor that's exceptionally well-balanced, and the light and fluffy texture makes it an instant crowd-pleaser.
This bread tastes fantastic on its own but you can incorporate it in sandwiches for a terrific meal or spread some homemade jam for a delightful breakfast.
Give it a try and you'll understand why it's such a popular staple in Asian bakeries!
Level up your baking skills with this Lemon Cake that's crazy delectable and it's sure to tantalize your taste buds!
This sweet and tangy cake makes for a superb tea-time treat and it's incredibly addictive with how delicious it is.
Topped with a glaze made by combining lemon juice and powdered sugar, this is a delightful cake that's just irresistible.
You'll find it difficult to limit yourself to just one slice because it's just that good!
Get a taste of this fantastic Buttermilk Bread that's soft and incredibly delicious!
The secret ingredient used in this recipe is, of course, buttermilk and it helps to impart a slight tanginess that helps to make the bread really tasty.
It also helps to make the inside of the bread moist and tender so you have soft and thoroughly enjoyable bread that you'll want to eat every day!
Finish off by baking the dough in your oven for an even texture or let the Zojirushi bread maker machine do all the work if you want to keep it simple!
You'll want to keep this recipe handy for Halloween because this themed bread looks fabulous and taste out of this world!
With ingredients such as walnuts, orange peel, cinnamon, and allspice, you know you're guaranteed an awesome sweet treat and when you add chocolate frosting into the mix, this bread is just irresistible.
Decorate with strands of marshmallows, sugar sprinkles, and plastic spiders to really set the mood for the holiday!
Make this for the next Halloween and be prepared to be showered with loads of compliments!
Ramp up your sandwich game with this Japanese Sweet Potato Bread that's made with one of our favorite Zojirushi bread maker recipes!
Japanese sweet potato purée adds a new dimension to the flavor profile of the bread and it's definitely a welcome addition because the bread tastes absolutely heavenly.
It's a breeze to make with the bread maker because all you need to do is add the ingredients to the baking pan and you'll come back to a wonderful loaf in a few hours.
You might just have a new favorite bread after your first bite because it's just that delectable!
Mix things up a little and try making pretzels with your Zojirushi bread maker instead!
The dough is made in the bread maker with a lovely combination of beer, flour, sugar, salt, butter, and yeast, after which the dough is shaped and baked in the oven.
It's a versatile recipe and you can sprinkle pepperoni, sun-dried tomatoes, and cheese before baking the pretzels to create different flavor combinations.
The sky is the limit so let your creativity go wild!
Fill your house with an amazing aroma by making this Cinnamon Raisin Loaf that smells great and tastes absolutely exceptional!
Made with a delectable combination of cinnamon, flour, sugar, milk powder, and other ingredients, this bread is incredibly delicious for something so easy to make.
The cinnamon scent will make you jump in excitement as you wait for the baking process to be completed and you'll be devouring every slice with how tasty it is.
You can eat this every day and never get tired of it!
At Glorious Recipes, we have our favorite Simple White Bread that we absolutely adore and it tastes heavenly! Check out the recipe below!
Yield: 1
Simple White Bread - Zojirushi Bread Maker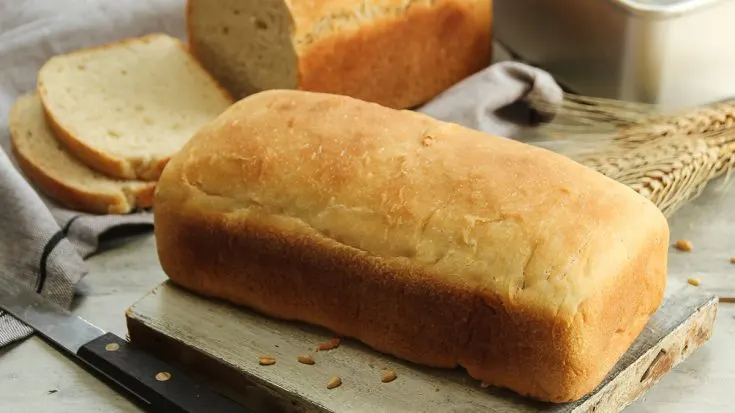 It's easy to make your own white bread with a Zojirushi bread maker! Homemade bread has never tasted this good!
Cook Time
3 hours
40 minutes
Total Time
3 hours
45 minutes
Ingredients
1⅓ cups water
4¼ cups bread flour
4 tbsp sugar
2 tbsp dry milk
2 tsp salt
2½ tbsp butter
2 tsp active dry yeast
Instructions
Attach kneading blades.
Follow the order of the ingredient list and add them to the baking pan (water first, yeast last). Make an indentation in the center of the flour before adding the yeast. Make sure the yeast does not touch any of the liquids.
Insert the pan into the bread maker and shut the lid. Start the machine and select "Basic Bread - Regular", "Regular Basic", or "Course 1", depending on your machine model. Select desired crust and press start.
Once baking is completed, remove the baking pan with oven mitts and shake the loaf out. Let it cool for around 20 minutes before slicing. Enjoy!
Nutrition Information:
Yield:
30
Serving Size:
1
Amount Per Serving:
Calories:

87
Total Fat:

1g
Saturated Fat:

1g
Trans Fat:

0g
Unsaturated Fat:

0g
Cholesterol:

3mg
Sodium:

165mg
Carbohydrates:

16g
Fiber:

1g
Sugar:

2g
Protein:

3g
Nutrition information is only an estimate and can vary depending on ingredients used.
Which of the Zojirushi bread maker recipes have you tried so far?
Let us know in the comments below!
Be sure to also check out Sure-Jell recipes for some homemade jams and jellies that you can spread on the tasty bread!
If you own a Hamilton Beach Bread Maker, we've got you covered as well over here!
Or take it a step further and use your freshly made bread with a Sandwich Maker!
For more awesome recipes that you might like, check out the following:
Stuffed Crescent Roll
Triscuit
Mini Donut
Share on your favorite social media platform and tag us @GloriousRecipes – we can't wait to see what you have made!