Pork cutlets are a great option when you want a hearty meal and they taste absolutely divine with a tender interior and crispy exterior!
From katsu to schnitzels, they are a mainstay in many different cuisines and there's a very good reason for that.
They are incredibly versatile and can easily be paired with various sauces and seasonings to turn them into a culinary masterpiece!
Get ready to indulge in the wonderful flavors of pork cutlets as we've got you covered with some of the best pork cutlet recipes that you can easily try at home!
Enjoy a classic Japanese pork cutlet dish with this Miso Katsu that's amazingly delicious and incredibly easy to whip up!
Coated with flour, eggwash, and panko breadcrumbs, these cutlets are fried until beautifully golden brown with a super satisfying crispy exterior.
The cutlets are drizzled with a miso sauce that's made by combining miso paste, mirin, soy sauce, and sugar, creating an absolutely heavenly dish that's just irresistible.
Turn it into a complete meal by serving them on top of shredded cabbage and a bowl of Japanese rice!
For one of the easiest pan-fried pork cutlet recipes that you can try at home, check out this fantastic Pork Milanese!
This Italian classic involves dredging pork cutlets in eggwash and coating them with a blend of panko breadcrumbs, garlic powder, Italian seasoning, and Parmesan cheese before pan-frying them until crispy.
Taking under 20 minutes from start to end, this is the perfect quick and easy dish for an awesome weeknight dinner!
You'll love how hassle-free and simple it is to make this Pork Milanese!
Try your hands at making this Pork Schnitzel that's popular in Germany and a great addition to any meal!
It's really easy to make as well and all you need to do is season tenderized cutlets with a basic combination of salt and pepper before coating them with flour, eggwash, and regular breadcrumbs.
Pan-fried until golden brown, these crispy pork cutlets taste incredible for something so simple and straightforward to make.
Serve with your favorite carbs and veggies to enjoy a wholesome meal!
Expand your cooking repertoire with these easy Parmesan Pork Cutlets that you'll definitely want to keep handy!
The cutlets are first soaked in milk to tenderize the meat before dipping them in beaten eggs and coating them with a mix of Parmesan cheese and homemade breadcrumbs.
They are then fried in a skillet until crispy with a beautiful golden exterior that looks incredibly appetizing.
Squeeze a lemon over them before serving them for a simple but tasty dish that you're sure to enjoy!
If you love both pork and cheese, you've got to check out this wonderful pork cutlet recipe that combines the two to create an exceptional dish!
Featuring pork cutlets wrapped around mozzarella cheese, then coated with breadcrumbs and fried until crispy and delicious, this is a decadent indulgence that's sure to satisfy any appetite.
It's a heavenly combination of cheesy goodness and satisfying crunch that makes this such a remarkable dish.
With how tasty it is, this fantastic Cheesy Pork Katsu is sure to be a crowd-pleaser!
Katsu Sando is a Japanese pork cutlet sandwich that's perfect for a light lunch or as a snack any time of the day!
It's a delectable combination of bread slices, pork cutlet, tonkatsu sauce, mustard, and lettuce with everything assembled into a compact sandwich.
This dish is great for those that are constantly on the move but still want to enjoy delicious meals that are easy to prepare!
It's also perfect for using any leftover tonkatsu from the previous night's dinner!
We have no doubts that this will quickly become one of your favorite pork cutlet recipes!
Mix things up a little and try making this Korean Pork Cutlet that you definitely don't want to miss out on!
Crispy cutlets are paired with a flavorsome demi-glace sauce that's made with beef broth, Worcestershire sauce, tomato paste, bay leaf, and other lovely ingredients to create an absolutely mouthwatering delight.
It's filled with tons of incredible flavors and makes for an impressive dish that's easy enough to whip up any day of the week.
You might just have a new favorite dish after your first bite because it's just that delicious!
Add some cultural richness to your next meal with these Traditional Polish Pork Cutlets that are juicy, tender, and just oh-so-yummy!
The cutlets are first soaked in a mixture of milk and onion to tenderize and infuse some flavor into the meat before they are sprinkled with a basic seasoning of salt and pepper.
They are then dredged in flour, beaten eggs, and breadcrumbs before being fried until beautifully golden brown.
To experience an authentic Polish meal, serve the meat with chicken soup and mashed potatoes!
Treat yourself to an exceptional dish with these Sesame-Crusted Pork Cutlets with Crispy Shallots that taste out of this world!
Coated with a mixture of sesame seeds, panko breadcrumbs, salt, and pepper, the cutlets are then pan-fried until crispy and golden brown.
They are combined with shallot rings that have been fried until crispy as well and this is the secret ingredient that adds tons of flavors to the dish.
Add spinach and a honey-miso dressing into the mix and you have an awesome meal that's sure to be a hit with the crowd!
Cooking Japanese pork cutlets, or tonkatsu, is not difficult and it's made even easier with the help of an air fryer!
Dredged in a mixture of flour and egg, then coated with panko breadcrumbs, the cutlets are placed in a preheated air fryer and baked until they are fully cooked with a tender interior and crispy exterior.
No more worrying about oil splatters on your stovetop and this simple air fryer pork cutlet recipe will likely get you to make delicious pork cutlets more often since the cleanup is minimal!
It's also one of the healthier pork cutlet recipes since it's not deep-fried so you can feel less guilty about indulging in it!
Grace your taste buds with these Fried Pork Cutlets that are paired with an extremely flavorful thyme gravy to create an outstanding dish!
The cutlets are coated with a mix of flour, onion powder, garlic powder, cayenne powder, and other lovely ingredients, so you know you're in for a real treat even before cooking the meat.
The thyme gravy is a mix of dried thyme, tabasco sauce, flour, milk, salt, pepper, and oil, and it goes really well with the cutlets.
Everything comes together really quickly and you'll be enjoying a sumptuous meal before you even know it!
Savor a splendid dish with these Latvian Pork Cutlets that are crazy delectable and super easy to whip up!
Fried cutlets are paired with an extremely flavorful mushroom cream sauce that helps to add depth and complexity to the flavor of this dish and it's thoroughly enjoyable.
Lemon juice and fresh dill impart their distinct fragrance to elevate it further, making the cutlets extra tasty.
Taking under 30 minutes to make, this is an ideal dish to add to your weeknight dinner rotation!
Amplify your next meal with this Pork Katsu Curry that tastes absolutely divine and is sure to tantalize your taste buds!
This dish is a lovely combination of crispy pork cutlets and a mix of potatoes, carrots, and onions in Japanese curry.
There's just something really comforting about Japanese curry that hits all the right spots and you'll be amazed by how delicious this is.
Serve with white rice and a garnish of scallions to maximize your enjoyment of this wonderful dish!
Sign us up for this fantastic Pork Piccata that's quick and easy to make, and it tastes absolutely exceptional!
The highlight of this dish is the flavorsome lemon caper sauce that adds loads of delightful flavors to the dish and it's made by combining butter, garlic, lemon juice, vermouth, chicken broth, capers, and parsley.
The sauce fully complements the pan-fried cutlets and you'll be resisting the urge to lick every drop of the amazing sauce.
Make this for your next meal and be prepared to be showered with plenty of compliments!
With how delicious it is, this definitely makes it to our list of favorite pork cutlet recipes as well!
Give an instant upgrade to regular breaded pork cutlets with this simple recipe that transforms the dish from good to great!
By adding fresh herbs, such as rosemary, thyme, and oregano, to panko breadcrumbs and coating the cutlets with the mixture, they have a fragrance and flavor that makes them super delicious.
It's a simple tweak but the final dish is one that you'll be craving regularly and with how easy it is to make, it might just become a staple in your family!
Give it a try and you'll be pleasantly surprised by how easy and tasty it is!
Fire up your grill and try out this excellent grilled pork cutlet recipe that makes incredibly tender and flavorful meat!
Marinated in a mixture of soy sauce, sugar, water, basil, and onion powder, the meat is filled with tons of delightful flavors even before cooking it.
A simple sprinkle of salt, pepper, and coriander is all it takes to make the meat extra tasty and it's grilled until fully cooked.
The flavors are perfectly balanced and you'll love how simple it is to make this pork tenderloin cutlet!
Get ready for a terrific dish with these French Onion Pork Cutlets that are superbly tasty and sure to delight your senses!
It's a lovely medley of tender cutlets, caramelized onions, melted Gruyère cheese, and an extremely flavorsome sauce made with brandy, garlic, and beef stock that helps to tie everything together.
This dish is absolutely delightful with great flavors and textures that the whole family is bound to enjoy!
Serve with toasted bread so that you can mop up all that delicious sauce and not let it go to waste!
If you love rich and bold flavors, you've got to check out these exceptional Grilled Indian Pork Cutlets that taste absolutely heavenly!
Marinated in a mixture of yogurt, garlic, ginger, red chilies, lemon juice, garam masala, ground cayenne, ground cumin, and other lovely spices, you know you're guaranteed flavorful meat at the end.
The cutlets are then grilled until perfection and you'll be devouring moist, juicy, and tasty meat before you even know it.
This dish is full of depth and complexity and it's great for refreshing your meal options!
Katsudon is an extremely popular dish in Japan and it's essentially a pork cutlet rice bowl with egg and onion.
It's a delectable combination of ingredients, such as kombu, mirin, soy sauce, and chicken bouillon powder, that help to make it a well-balanced dish loaded with tons of umami flavor.
This mouthwatering delight is an absolute treat that's easy to make and is sure to please with its incredible flavors.
There's nothing not to like about this katsudon that's easily one of our favorite pork cutlet recipes!
Satisfy your meat cravings with baked pork cutlets in the oven that are tender yet crispy and tastes absolutely delicious!
The cutlets are coated with a mix of mayonnaise, paprika, chili powder, milk, garlic salt, and panko breadcrumbs before being baked until a beautiful golden brown color is achieved.
They are paired with roasted vegetables and drizzled with salsa verde to create an appetizing dish that's incredibly hearty and wholesome.
With how wonderful it tastes, this dish is definitely one that you don't want to miss out on!
At Glorious Recipes, we have our favorite Japanese Pork Cutlets With Miso Sauce recipe that we absolutely adore and they taste heavenly! Check out the recipe below!
Yield: 6
Japanese Pork Cutlets With Miso Sauce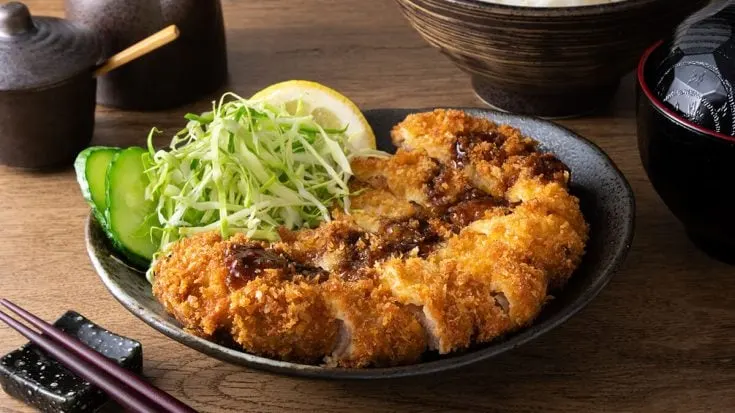 These Japanese Pork Cutlets are easy to make and taste exceptional with a flavorsome miso sauce that adds tons of umami flavors!
Ingredients
Pork Cutlets
6 pork cutlets, about 1-inch thick each
salt and black pepper, to taste
all-purpose flour
2 large eggs, beaten with 4 teaspoons cold water
panko breadcrumbs
vegetable oil
Miso Sauce
⅓ cup miso paste
¼ cup mirin
2 tbsp soy sauce
2 tbsp granulated sugar
Instructions
Prepare the cutlets by pounding them in between 2 food wraps until they are around ⅓-inch each. Season with salt and pepper to taste, on both sides. Set flour, beaten eggs, and panko breadcrumbs in separate dishes to prepare for dredging.
Add all the miso sauce ingredients to a small saucepan over medium heat. Stir until the sugar is fully dissolved but don't let the mixture come to a boil. Once the sauce has thickened slightly, remove saucepan from heat and set it aside.
Add around 2-inch of oil to your fryer or a large wok and let it come to 375°F (190°C). In the meantime, dredge cutlets in flour, then eggs, then panko breadcrumbs. Shake off any excess before proceeding in each step.
Once the oil is hot enough, fry the cutlets in batches for 3 minutes before flipping and frying for another 3 minutes until they are golden brown and fully cooked through. Place cooked cutlets on a wire rack to let them drain and avoid absorbing any excess oil.
Slice the cutlets and drizzle miso sauce over them before serving. Enjoy with shredded cabbage and a bowl of white rice!
Notes
Excess miso sauce can be kept refrigerated in an airtight container for around 5 days.
Nutrition Information:
Yield:
6
Serving Size:
1
Amount Per Serving:
Calories:

672
Total Fat:

32g
Saturated Fat:

8g
Trans Fat:

0g
Unsaturated Fat:

22g
Cholesterol:

132mg
Sodium:

1273mg
Carbohydrates:

55g
Fiber:

3g
Sugar:

11g
Protein:

38g
Nutrition information is only an estimate and can vary depending on ingredients used.
Which of the pork cutlet recipes have you tried so far?
Let us know in the comments below!
For more awesome pork recipes that you might like, check out the following:
Korean Pork Belly
Thin Pork Chop
Linguiça
Canned Ham
Canned Pork
Pigtail
Ham Hock
Ring Bologna
Pork Jowl
Share on your favorite social media platform and tag us @GloriousRecipes – we can't wait to see what you have made!