The sandwich maker will be your new favorite kitchen tool once you realize how versatile, convenient, and effortless it is to make delicious meals!
Whether it's for a quick breakfast or satisfying lunch, you have the option of making endless varieties of sandwiches, toasties, jaffles, cakes, and even eggs with this amazing appliance.
From sweet French toast to classic ham and cheese sandwiches, we've got you covered with some of the best sandwich maker recipes that you can easily try at home!
Enjoy an incredible breakfast with this Strawberry Stuffed French Toast that's absolutely delicious and super easy to make!
With a flavorful cream cheese spread combined with fresh strawberries, the bread slices are dipped in a mixture of egg and milk before being cooked in the sandwich maker.
Served with maple syrup and powdered sugar, this is a decadent indulgence that you just can't miss out on.
It's a simple sandwich maker recipe that brings something different than the usual savory treats!
These Pillow Cakes are the perfect mid-day snack along with a cup of coffee or your favorite tea!
With the addition of vanilla essence to impart a rich and fragrant flavor, these cakes are soft, fluffy, spongey, and an absolute sweet treat that is super delightful.
Drizzle a little honey or syrup before serving for maximum enjoyment of these simple bites!
Who knew making cakes with a sandwich maker can be so quick and easy?
Everyone loves pizzas and now you can enjoy all those wonderful flavors packed into a sandwich that's really simple to make with minimal ingredients required!
Get your favorite bread out and top them with shredded Mozzarella cheese and pepperoni slices before placing them in the sandwich maker to cook.
Once done, serve with your favorite pizza sauce for dipping and you'll be amazed at how tasty these sandwiches can be for something so easy to make!
You can easily upgrade your meal by using homemade bread instead!
Did you know that you can also make omelets with your sandwich maker?
This simple sandwich maker recipe is a handy one to ensure you utilize the capabilities of your appliance to their fullest and it's incredibly easy to make.
All you need to do is whisk your eggs along with your favorite omelet toppings before adding the mixture to the sandwich maker to cook.
Great topping options include onion, tomatoes, bacon, and green onions!
It's super versatile and you can make different flavored omelets every single time!
This is one of our favorite sandwich maker recipes because not only are these potato sandwiches vegan-friendly, but they are also really flavorful and delicious!
The filling is made with a combination of potatoes and peas spiced with chaat masala, cumin, turmeric, and pepper, ensuring plenty of great flavors that blend together really nicely.
Every bite is bursting with incredible flavors that you just can't get enough of, making them an addictive treat that's great any time of the day.
Give it a try and you'll definitely not regret it!
Treat yourself to lovely cakes that are light and fluffy with this simple recipe that's perfect for a tea-time dessert!
Made with a combination of flour, eggs, baking powder, oil, sugar, and vanilla essence, these cakes are super satisfying and it's amazing how easy it is to make.
Dust with powdered sugar to complete these delightful sweet bites or drizzle chocolate sauce over them to enjoy an incredible dessert!
There's nothing not to like about this quick and simple sandwich maker recipe!
If you need a tasty after-school snack for the kids, you've got to check out these fantastic Spaghetti and Cheese Jaffles!
It's a straightforward recipe that anyone can make and all you need to do is apply a spread on the bread and top it with spaghetti and cheese before toasting.
You'll have a cheesy delight that the kids will definitely love and it's a great way to fill their bellies in the middle of the day while dinner is still cooking.
Make sure to add them to your snack rotation because they are so easy to make and taste wonderful!
Grace your taste buds with these Eggless Lemon Pillow Cakes that are a breeze to make with a sandwich maker and they taste absolutely fantastic!
The tanginess from the lemon juice is balanced by the sweetness of the sugar, making this a delectable delight that's perfect for an awesome mid-day snack or tea-time dessert.
Give it an upgrade with your favorite toppings and you'll be enjoying an amazing bite in no time at all!
Icing sugar, chocolate sauce, and maple syrup all make great topping options to level up these cakes and keep them tasty and refreshing!
Savor a classic favorite with this easy Grilled Ham and Cheese Toastie Sandwich that's sure to be a crowd-pleaser!
Buttered bread slices are topped with ham and cheese before being cooked until a beautiful golden brown color is achieved with a crispy texture.
It's incredibly simple to make and the key to making a great sandwich with few ingredients is to use the best quality ham and cheese that you have available.
This sandwich makes for the perfect comfort food and you'll definitely be craving this now and then!
Expand your breakfast selection with these fantastic Sausage Pancake Sandwiches that are a mouth-watering delight and taste incredible!
Breakfast sausages combine with pancake batter to create an ingenious sandwich maker recipe that's so simple and definitely a must-add to your breakfast rotation.
Serve with maple syrup for an extremely flavorful meal that's loaded with all the energy you need to get your day going.
It's a quick and easy breakfast recipe that's sure to please the whole family!
Amplify your next meal with these fantastic Pepperoni Pizza Grilled Sandwiches that taste out of this world and you just cannot believe how easy it is to make them!
The filling is made with a combination of pizza sauce, turkey kielbasa, pepperoni, shredded cheese, and a seasoning of onion and garlic powder.
Once the filling is combined and spread on bread slices, they are cooked in the sandwich maker until crispy and browned.
It's superbly delicious from the very first bite and we have no doubts that this will quickly become one of your favorite sandwich maker recipes!
For an easy, convenient, and quick fix for a tasty meal, you've got to check out this Chili Dogs Sandwich recipe!
Canned chili dogs, grated cheese, and diced onion come together to create a filling that's flavorful, comforting, and super satisfying.
It makes for an awesome impromptu snack that can be whipped up in no time at all and the great taste means it's sure to be well-received.
With how delicious it is, you'll be making a second serving right after the first bite!
This kid-friendly fun snack is sure to be a hit with the young ones and you can even turn it into a family activity because it's really easy to make!
Strawberry essence is used to give the cakes a light and fragrant flavor that's delightful and food coloring is added to bring a spark to the visual presentation.
Once the colored batters are added to the sandwich maker, they are given a swirl for a marble effect using a toothpick and then left to cook until done.
You'll end up with pretty and colorful cakes that are light and tasty at the end of it!
Dig into these wholesome Avocado and Baked Bean Jaffles that are hearty and extremely delicious!
With a combination of avocado slices, bacon strips, baked beans, and bread slices dipped in whisked eggs, they are incredible sandwiches loaded with nutrition and great flavors.
You get all the vitamins and minerals from one of the superfoods, avocado, and you get all the delectable flavors of bacon and beans, creating a fantastic treat that's just irresistible.
Try it the next time you fire up your sandwich maker and you'll be pleasantly surprised by how good they taste!
Impress your friends and family with these Chicken Veggie Pockets that are filled with delightful ingredients and taste amazingly delicious!
The combination of shredded chicken, carrot, bell peppers, green onions, green chilies, and cheese ensures a wholesome snack that's loaded with incredible flavors.
It's a creative way to make something different with the sandwich maker and also a great way to keep your snacks varied.
Serve hot with ketchup on the side and snack away!
Try your hands at making a fantastic dessert with these Oreo Cake Triangles that are perfect for those with a sweet tooth!
The cakes are soft, moist, and extremely delicious with a topping made from fresh cream, icing sugar, butter, and crushed Oreo cookies.
Making a sweet dessert with a sandwich maker is super easy and you'll be munching on these tasty cakes in no time at all.
If you love the flavor of cookies and cream, you'll love these tasty Oreo cakes!
Upgrade your regular sandwich or toastie with this simple recipe that makes it a nutrient-dense and delicious meal!
The simple combination of beef tomato, feta cheese, and avocado is loaded with vitamins, essential minerals, and great flavors that make it a joy to eat any day of the week.
Add some greens on the side to make it into an even more nutritious meal that's light yet satisfying for an awesome lunch or breakfast.
It's one of the easiest sandwich maker recipes that you definitely need to add to your meal rotation!
Indulge in an amazing sweet treat with these toasties that are incredibly delicious and will definitely tantalize your taste buds!
The pears are caramelized in the skillet with butter and brown sugar until they soften before being added to slices of white bread along with Gorgonzola cheese.
The sweetness from the pears is balanced by the savory and earthy flavors of the blue cheese, creating a fantastic dessert that's oh-so-yummy.
You'll be hard-pressed to limit yourself to one serving because they are just that tasty!
At Glorious Recipes, we have our favorite Avocado and Bacon Sandwich that we absolutely adore and it tastes heavenly! Check out the recipe below!
Yield: 4
Avocado and Bacon Sandwich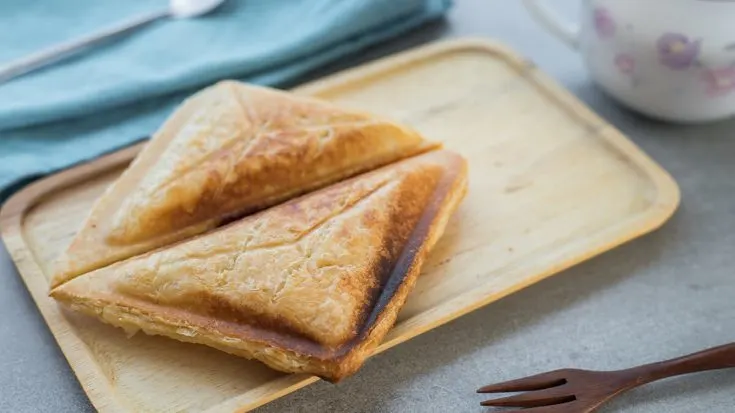 Enjoy an incredible Avocado and Bacon Sandwich that's perfect for a tasty breakfast or light lunch! It's so easy to make with a sandwich maker!
Ingredients
2 bacon strips
2 eggs, whisked
4 slices of bread
7 oz baked beans in tomato sauce (optional)
1 avocado, sliced
Instructions
Preheat sandwich maker.
Add bacon strips to the sandwich maker and position them at an angle to stretch across the triangles.
Dip 2 slices of bread into the whisked egg mixture and place on sandwich maker.
Spread beans onto bread slices if using. Add avocado on top.
Dip remaining 2 slices of bread into the whisked egg mixture and place on top to complete the sandwich and let it cook until golden and crispy, around 4 minutes depending on the machine.
Serve hot and enjoy!
Nutrition Information:
Yield:
4
Serving Size:
1
Amount Per Serving:
Calories:

280
Total Fat:

13g
Saturated Fat:

3g
Trans Fat:

0g
Unsaturated Fat:

9g
Cholesterol:

99mg
Sodium:

603mg
Carbohydrates:

32g
Fiber:

7g
Sugar:

7g
Protein:

12g
Nutrition information is only an estimate and can vary depending on ingredients used.
Which of the sandwich maker recipes have you tried so far?
Let us know in the comments below!
For more awesome recipes that you might like, check out the following:
Dash Ice Cream Maker
Dash Waffle Maker
Hamilton Beach Bread Maker
Oaxaca Cheese
Vitamix Soup
Korean Soup
Protein Bowl
Dried Cherry
Asian Pear
Smoked Duck
Share on your favorite social media platform and tag us @GloriousRecipes – we can't wait to see what you have made!