Mini donuts are the epitome of deliciousness and cuteness all rolled into one!
These bite-sized treats come in a wide variety of flavors and they are sure to brighten up your day with their irresistible sweetness and flavor.
They are perfect for an awesome breakfast, as a mid-day snack, or a post-dinner dessert, and basically any time of the day!
From classic chocolate to funky themed flavors, we've got you covered with some of the best mini donut recipes that you can easily try at home!
These vanilla-glazed mini donuts taste absolutely delectable and they make the perfect dessert for special occasions!
With vanilla extract, vanilla bean seeds, and buttermilk used in the making of the batter, the donuts are already extremely delicious by themselves when baked.
Topped with a simple vanilla glaze and sugar sprinkles, these mini donuts are going to be a crowd-pleaser with their classic flavor that's sure to be loved by everyone.
Add some food coloring to make beautiful variations of these awesome donuts!
In what is one of our favorite baked mini donut recipes, the donuts are coated with cinnamon sugar that adds plenty of amazing flavors to make them a mouthwatering delight!
It's super easy to whip up as well with common baking ingredients used to make the donut batter.
Once the donuts are baked, they are dipped in melted butter before being rolled in a mixture of sugar and cinnamon.
They are incredibly delicious and super addictive!
Once you start, you just can't stop!
Treat yourself to these fantastic Baked Buttermilk Frosting Mini Donuts that are amazingly delicious and are sure to satisfy your sweet cravings!
The frosting is made by combining powdered sugar, butter, heavy cream, and almond extract, and it goes perfectly well with the mini donuts to create a terrific sweet treat.
Add a little sprinkles on top and you have a dessert that looks good and tastes even better!
Give this recipe a try and you'll definitely not be disappointed!
Add a little fun to your next dessert with these Mini Donut Kabobs that are super adorable and really easy to make!
The donuts are spiced with cinnamon and nutmeg to add depth to the flavor, making them extremely delectable and thoroughly enjoyable.
The icing on top is made simply with a blend of milk, powdered sugar, butter, and vanilla extract, with food coloring added to create vibrant colors.
These kabobs are sure to be popular with both kids and adults alike!
Peanut butter and jelly is a combination that has withstood the test of time and this mini donut recipe is one that you definitely don't want to miss out on!
With a tasty peanut butter glaze on the outside and sweet strawberry jelly filling on the inside, these donuts are just irresistible.
You'll be salivating at the sight of these beautiful bites and they make for the perfect dessert or snack on any occasion!
Everyone will be gobbling these down and fighting for seconds with how delicious these mini donuts are!
Another classic flavor that's sure to be a hit with the crowd is these chocolate mini donuts that look incredibly appetizing!
It's a safe choice if you want an amazing appetizer or dessert to feed a large crowd because chocolate is one flavor that's sure to receive lots of love.
The chocolate glaze is a simple combination of sugar, water, and dark chocolate, and you'll be wondering how something so easy to make can taste so good.
You'll love how quick and easy it is to make these tasty donuts!
Enjoy a decadent indulgence with this fried mini donut recipe that makes terrific bites that are exceptionally yummy!
These delicious donuts are fried until beautifully golden brown, coated with cinnamon sugar, and filled with a mix of mascarpone cheese, Nutella, pumpkin pie spice, pumpkin, and yogurt.
It's a taste explosion in the mouth with every bite and you'll easily develop a craving for these donuts with how amazing they taste!
These donuts might just become your favorite dessert after your first bite!
If you love brownies and donuts, then you've got to check out these mini brownie donuts that combine the two into one splendid dessert!
Made with brownie mix, these donuts have a chewy texture that is extremely delightful and they are completed with a chocolate glaze to make them extra tasty.
It's loaded with chocolatey goodness that will satisfy any appetite and it's a great way to expand your dessert options.
This is one of those mini donut recipes that you'll definitely want to keep handy!
Amplify your next post-meal treat with these excellent Powdered Sugar Mini Donuts that have an amazing flavor and texture!
These donuts are baked until they are soft, fluffy, and moist before powdered sugar is used to coat every inch of these tasty pastries by shaking them in a bag.
It's unbelievably easy to make for something that tastes so good and it's definitely a recipe you'll want to try!
Whether you're using a mini donut maker or an oven, you're sure to enjoy the wonderful flavor of these donuts!
Pistachios go well with anything in our opinion and this simple recipe creates superbly tasty donuts with little effort!
With a pistachio glaze made with pistachio pudding powder, milk, and sugar, plus a topping of chopped almonds, these mini donuts taste absolutely heavenly.
It's the perfect combination of flavors and textures that make this such an irresistible sweet treat.
You'll have a very difficult time trying to limit yourself to just one serving!
Nutella is one of the world's most beloved hazelnut chocolate spreads and it's also one of those flavors that just can't go wrong!
These mini donuts are fried until crispy, filled with Nutella, and coated with cinnamon sugar to create a divine-tasting dessert that's crazy delicious.
Orange zest is used in the making of the batter to add something special and give a citrusy fragrance that helps to elevate this dish to another level.
You'll definitely want to give this decadent indulgence a try!
Small in size but big on flavor, these Mini Lemon Donuts definitely make it to our list of favorite mini donut recipes as well!
They are incredibly easy to make by using lemon cake mix and they are glazed with a mix of powdered sugar, milk, lemon juice, and purée strawberries.
With a well-balanced sweet and tangy flavor, these donuts are exceptionally appetizing and just irresistible!
They might not have a bold and heavy flavor like chocolate but they are definitely as palatable as the usual classic flavors!
Throw in some fun with these Confetti Cake Mini Donuts that are filled with bright colors and superb flavors!
Topped with vanilla icing and loaded with colored sprinkles, these glazed mini donuts are delightful sweet treats that are perfect for sprucing up holidays and special occasions.
They are baked and not fried, hence there's no need to deal with oily stovetops, and are incredibly easy to make.
There's beauty in its simplicity and they make for an awesome dessert, breakfast, or snack!
For colorful glazed mini donuts that are perfect for any occasion, look no further than this simple recipe!
With a batter made by combining flour, sugar, Greek yogurt, nutmeg, vanilla extract, and other lovely ingredients, the donuts taste fantastic with a subtle spiced flavor.
They are topped with a simple sweet glaze that can be easily customized for any festive occasion with the help of food coloring, making this a super versatile recipe.
Add colored sprinkles into the mix and you have vibrant and refreshing donuts perfect for an awesome party!
Get a taste of fall flavors with these Baked Apple Cider Mini Donuts that are superbly delectable and are sure to whet your appetite!
There's no shortage of familiar flavors with apple cider, nutmeg, and cinnamon used to make the batter.
Baked until they are golden, the donuts are then dipped in a mixture of melted butter and apple cider, and coated with cinnamon sugar that adds even more lovely flavors to the pastries.
These top-notch donuts are sure to satisfy any cravings!
Grace your taste buds with these crazy delectable Mini Baked Samoa Donuts that feature a phenomenal combination of flavor and texture!
Topped with a caramel glaze, coconut flakes, and chocolate drizzle, these donuts are incredibly toothsome with a burst of sweet flavors that come together really well.
You'll be popping these babies like no tomorrow because they are just that delicious so make sure to make a big batch!
Give it a try and you'll be pleasantly surprised by how good these donuts taste!
If you love the refreshing flavor of strawberries, you'll want to check out this awesome Strawberry Buttermilk Mini Donuts recipe!
Freeze-dried strawberries are the star of this wonderful pastry as they are used as part of the batter ingredients as well as a topping to complete the donuts at the end.
A strawberry glaze made with strawberry jam, buttermilk, and sugar is used to add tons of amazing sweet flavor to the donuts to make them superbly tasty.
This will surely make its way to your list of favorite mini donut recipes with how simple and delicious the donuts are!
Spice up your next dessert with these excellent Chai Latte Donuts that are sure to captivate your taste buds with their impeccable flavors!
With ingredients such as cardamom, cinnamon, ginger, nutmeg, and ground cloves used to make the batter, you know you're guaranteed a heavenly-tasting donut at the end.
Add a flavorsome cashew cream frosting into the mix and you have a dessert that tastes out of this world!
Completed with a dusting of cocoa and cinnamon powder, this is a donut you definitely don't want to miss out on!
It's easy to throw in some fun and colors to your mid-day snack or post-meal dessert with these Mini Funfetti Cake Mix Donuts!
Vanilla icing and rainbow sprinkles are the main ingredients that help to make the vibrant colors of the sprinkles pop out and set the mood.
It's a breeze to make with funfetti cake mix and you'll be enjoying delicious donuts in no time at all!
If you need a sweet treat that everyone will love, this is definitely one of the top contenders!
For a keto-friendly dessert that you can easily make with your air fryer, you've got to check out this simple recipe!
The batter is made with almond flour, coconut flour, psyllium husk, erythritol, and other lovely ingredients that are perfect for a keto diet and they are air-fried until golden and crispy.
They are then dipped in a mixture of erythritol and cinnamon to coat the donuts and they are incredibly tasty.
This low-carb, eggless, and gluten-free recipe is an absolute must-try especially if you're looking to increase your dessert options while on a keto diet!
If you have a mini donut maker, you'll want to try making these French Toast Mini Donuts that are super easy to whip up!
It's a delectable marriage of wheat flour, sugar, cinnamon, maple syrup, vanilla extract, and other delightful ingredients to create a simple but tasty sweet treat that's perfect for breakfast, light lunch, or a mid-day snack!
You can also opt to bake them in the oven so don't worry if you don't own a donut maker!
It's one of the easiest mini donut recipes so make sure to give this a try!
Discover an exceptional sweet treat that's super easy to make and tastes amazingly delicious!
These Pumpkin Spice Mini Donuts are made with a fantastic combination of pumpkin pie spice, cinnamon, puréed pumpkin, flour, sugar, and other ingredients.
They are extremely delectable and the cinnamon sugar coating serves to elevate the donuts to another level!
It's a terrific way to enjoy fall flavors all year round with these tasty donuts!
This mini donut recipe is a must-try in our books because the donuts look and taste absolutely fantastic, plus it doesn't require any baking at all!
The donut base is made by melting white chocolate chips and peanut butter together before pouring them into molds and then freezing them to let the donuts harden.
Food coloring and melted white chocolate work together to create different colored icing and the donuts are finished off with rainbow and chocolate sprinkles.
If you need a simple but tasty dessert to spruce up your party, these Candy Mini Donuts will definitely not disappoint!
Ramp up the cuteness level with these Star Wars Mini Donuts that are sure to steal the show at any party with their fabulous looks!
From stormtroopers to Ewoks, every donut is made with a delicious base and decorated until they become adorable miniatures of various Star Wars characters.
They are perfect for celebrating Star Wars Day and these themed donuts are bound to capture the hearts and bellies of all Star Wars fans.
With how amazing these donuts taste and look, we have no doubts that they will quickly become one of the most popular mini donut recipes!
Get ready for Halloween with these mini donuts that are super easy to make, taste amazing, and look absolutely outstanding!
Thanks to pumpkin pie spice, the donut base is filled with familiar fall flavors that you're bound to love.
Halloween sprinkles are used to set the mood with purple, black, and orange colored sprinkles on top of a contrasting vanilla frosting.
These mini donuts are the perfect sweet treat for an awesome holiday gathering!
At Glorious Recipes, we have our favorite Classic Chocolate Mini Donuts that we absolutely adore and they taste heavenly! Check out the recipe below!
Yield: 48
Classic Chocolate Mini Donuts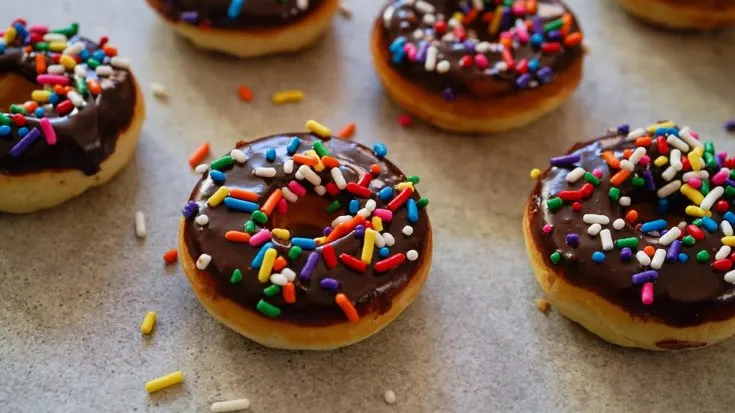 Indulge in these bite-sized mini donuts that are incredibly delicious and absolutely adorable!
Ingredients
Dough
25g fresh yeast
300g all-purpose flour
200g strong bread flour
60g butter, at room temperature
10g salt
80g sugar
2 large eggs
250ml milk
Chocolate Glaze:
2 cups confectioner's sugar
5 tbsp water
150g dark chocolate
rainbow sprinkles
Instructions
Crumble yeast directly into flour. Add butter by rubbing it into the mixture. Add salt and sugar, then eggs and milk. Knead for around 12 minutes.
Place dough in a bowl and cover with a piece of tea towel. Set aside in a warm area for around 2 hours.
Preheat your donut maker. If you're using an oven, preheat to 350°F (175°C).
Divide dough into 48 pieces of roughly equal size and roll them into balls after greasing your hands. Poke a hole in each. Spray your donut maker with cooking oil, then add dough to the machine. If you're using an oven, add to a donut pan.
Bake the donuts according to manufacturer's instructions, then remove and let the donuts cool on a wire rack. If you're using an oven, bake for 7-10 minutes.
In the meantime, melt chocolate using the microwave. Mix sugar and water together in a bowl, then add melted chocolate. Whisk well to combine.
Dip each donut into the chocolate glaze and top with sprinkles. Let them cool and set at room temperature.
Serve and enjoy!
Nutrition Information:
Yield:
24
Serving Size:
1
Amount Per Serving:
Calories:

190
Total Fat:

5g
Saturated Fat:

3g
Trans Fat:

0g
Unsaturated Fat:

2g
Cholesterol:

22mg
Sodium:

191mg
Carbohydrates:

33g
Fiber:

1g
Sugar:

16g
Protein:

4g
Nutrition information is only an estimate and can vary depending on ingredients used.
Which of the mini donut recipes have you tried so far?
Let us know in the comments below!
For more awesome dessert recipes that you might like, check out the following:
Mango Pie
Polvoron
Entremet
Asian Pear
Mulberry
Mini Bundt Cake
Ninja CREAMi
Yonanas
Dash Waffle Maker
Whipped Cottage Cheese
Share on your favorite social media platform and tag us @GloriousRecipes – we can't wait to see what you have made!