Grape tomatoes are tiny little gems that taste similar to regular tomatoes and offer a satisfying burst of flavor to your dishes!
Compared to cherry tomatoes, they are meatier and chewier with a balanced sweetness-to-acidity ratio so you don't need to be afraid of any overwhelming sweetness that can skew the flavor.
They are packed with antioxidants, vitamins, and essential minerals that are great for the body, making them the perfect ingredient to boost the nutritional profile of any dish!
From tasty salads to pasta, we've got you covered with some of the best grape tomato recipes that you can easily try at home!
Enjoy a fantastic side dish with these Garlic and Balsamic Grape Tomatoes that are superbly delicious and ridiculously easy to make!
It involves a simple sauté of tomatoes and garlic before a splash of balsamic vinegar helps to add depth and complexity to this terrific dish.
These tasty tomatoes can be served as is for the perfect accompaniment in any meal or incorporated into other wonderful dishes such as sandwiches or even salads!
You'll love how incredible they taste for something so simple to make!
This simple Caprese Salad is a must-add to your salad rotation because it's so easy to whip up and tastes absolutely delightful!
Featuring mozzarella pearls, grape tomatoes, and basil leaves with a dressing that's made by combining balsamic vinegar and olive oil together, this is as easy as it can get!
It's light, refreshing, and super tasty, making it perfect for an exceptional meal that you're sure to fall in love with.
With how delicious it is, this is definitely one of our favorite grape tomato recipes!
Based on a viral Tiktok recipe, this Baked Feta Pasta is an exceptional dish that's sure to whet your appetite!
Made by baking tomatoes and feta cheese before adding basil leaves, garlic, and al dente pasta, this is an incredibly simple but tasty dish that you just can't get enough of.
It's rich and creamy, and you can easily pair it with your favorite protein to turn it into a wholesome meal.
You'll definitely enjoy the wonderful flavors of this grape tomato pasta!
Savor a mouthwatering delight with these roasted tomatoes that tastes outstanding and takes little effort to make!
Grape tomatoes are roasted in the oven along with garlic, olive oil, sugar, salt, pepper, thyme, and oregano, and they are served on top of toasted crostinis for an amazing appetizer.
All the ingredients combine really well together and you end up with a dish that's filled with depth and incredible flavors.
You won't be able to stop popping these babies into your mouth because they are just too delicious!
Feast on impressive pan-fried chicken that's cooked to perfection and you only require a handful of ingredients to make it!
A simple seasoning of garlic powder, salt, and pepper is sufficient to make the chicken super tasty and it's combined with sautéed grape tomatoes, garlic, and basil to create a mouthwatering dish.
The chicken is extremely flavorful and it can be paired with any of your favorite carbs to make a wholesome meal.
Some excellent options include pasta, rice, and even homemade bread!
Make your next meal a little special with these splendid Green Beans with Bacon and Tomatoes that are incredibly tasty!
It's a delectable combination of green beans, onions, bacon, and grape tomatoes, all sautéed in a skillet until fragrant.
The bacon helps to provide a smoky flavor that elevates the vegetables to another level and the juices from the tomatoes make everything really delicious.
Give it a try and you'll definitely not be disappointed!
This is another grape tomato salad with fresh and vibrant flavors that you can try and it's absolutely amazing with how simple and delicious it is!
Roasted in the oven until sweet and juicy, the tomatoes are mixed with arugula, burrata, and basil, with olive oil, salt, and pepper as basic seasoning.
It's beautiful and extremely delicious, and the creaminess from the burrata makes this salad thoroughly enjoyable.
We have no doubts that this will quickly make its way into your list of favorite grape tomato recipes!
You'll want to keep this grape tomato recipe handy because it makes such a stunning pasta dish that's sure to captivate your taste buds!
This dish features penne pasta, prosciutto, zucchini, garlic, and tomatoes coated in a flavorsome creamy sauce that's made tasty with fresh herbs.
Every bite of this fantastic pasta will leave you smiling from ear to ear because it's incredibly delicious and makes for an awesome meal any day of the week!
You might just have a new favorite pasta dish after giving this a try!
Skip the store-bought salsa and make your own in merely 5 minutes with this simple recipe!
All you need to do is blend a mix of grape tomatoes, onion, cilantro, lime juice, garlic powder, cumin, jalapeños, and chili powder to create this delicious salsa.
It's superbly tasty and it's perfect for dipping with tortilla chips or using it as a topping in any of your favorite Mexican dishes!
There's nothing not to like about this quick and easy recipe!
Grace your taste buds with this marvelous pasta that'll make you salivate with its incredible aroma and it's just absolutely irresistible!
It combines some of our favorite ingredients together with shrimp, spaghetti, grape tomatoes, garlic, parsley, and Parmesan cheese to create a mouthwatering delight.
This dish is filled with impressive flavors that are exceptionally refreshing and it's sure to be a hit with the crowd!
Make this for your next meal and be prepared to be showered with loads of compliments!
For a quick and easy vegetable side dish, you've got to check out this terrific recipe!
Oven-roasted grape tomatoes and asparagus make for an amazing combination and it's such a simple but tasty dish that definitely has a place in any meal.
They are tossed in balsamic vinegar, garlic salt, and Parmesan cheese to add even more depth to the flavor and you'll love how incredible they taste!
This dish is sure to be a mainstay in the house with how easy it is to whip up!
Spruce up your next meal with this top-notch pasta dish that's crazy delectable and is sure to delight your senses!
This refreshing take on classic bolognese features ground beef cooked with tomato paste, thyme, and garlic, with red wine used for deglazing before combining the mixture with spaghetti, grape tomatoes, red wine vinegar, lemon juice, lemon zest, and olive oil.
The addition of olives and fresh basil at the end helps to enhance the pasta further, making it an even more sumptuous dish.
With how delicious it is, it's definitely a must-add to your meal rotation!
Treat yourself to a superb appetizer with these Caprese Stuffed Portobello Mushrooms that taste out of this world!
The mushrooms are brushed with garlic butter and then stuffed with a combination of grape tomatoes and mozzarella cheese balls before being grilled until the cheese has melted.
They are finished off with a topping of basil leaves and a drizzle of balsamic glaze to make them superbly tasty.
It's one of our favorite grape tomato recipes because these mushrooms are incredibly satisfying and delicious!
These Ricotta Crostini make for an amazing party appetizer and they are sure to be a crowd-pleaser with their excellent flavor!
Toasted baguette slices are topped with ricotta, prosciutto, and a sautéed mix of grape tomatoes, garlic, basil, thyme, and oregano to create this culinary masterpiece that tastes absolutely fantastic.
You'll be gobbling down these bite-sized crostini before you even know it because they are just that delicious!
Keep this grape tomato recipe handy because it makes such a delightful treat!
Discover an exceptional dish with this Kimchi Bibimguksu that's supremely tasty and is sure to tantalize your taste buds!
It's a cold noodle dish that's mixed with some of our favorite Asian ingredients such as gochugaru, sesame oil, and kimchi.
The addition of grape tomatoes, cucumbers, and eggs helps to boost the nutritional value of the dish, making it perfect for a hearty weeknight dinner.
Everything comes together really quickly and you don't have to wait long to enjoy a terrific meal!
Indulge in a splendid meal with this Baked Cream Cheese Pasta that's rich, creamy, and absolutely delicious!
It's straightforward to make and involves baking a combination of grape tomatoes and cream cheese coated with garlic, thyme, oil, salt, and pepper before stirring in cooked pasta, lemon juice, and basil.
This simple dish takes only 45 minutes to whip up from start to end, making it a great option for an awesome weeknight dinner.
Give this grape tomato recipe a try and you'll definitely not regret it!
In what is one of our favorite grape tomato recipes, ravioli is combined with delightful ingredients to create an absolutely mouthwatering delight!
Roasted asparagus and grape tomatoes, along with Kalamata olives and ravioli, are coated with an extremely flavorsome pesto sauce that helps to tie everything together.
The herbaceous flavor of the pesto sauce provides tons of depth and complexity to the dish and makes it super enjoyable.
Easy to make and delicious, just how we like our recipes to be!
If you're a seafood lover, you've got to check out this wonderful Baby Octopus dish that's incredibly impressive!
Baby octopi are sautéed with garlic, butter, paprika, oregano, salt, pepper, and lime juice to impart tons of delightful fragrance and flavor to the seafood, and the dish is finished off with a garnish of cilantro and grape tomatoes.
The octopi taste absolutely heavenly and they make for a fantastic side dish that definitely has a place in any meal.
It's a great way to introduce a little seafood to make your meals more awesome!
Sign us up for this brilliant Grape Tomato Bruschetta that's the perfect appetizer to start off an amazing meal!
Toasted baguette slices are topped with a mixture of grape tomatoes, red onions, ground cumin, and extra virgin olive oil to create this lovely dish and they taste absolutely divine.
It's incredibly easy to make with only a few main ingredients required and definitely a must-try with how delicious the bruschetta tastes.
You might need to worry about saving some room in your stomach for your main course because you'll be stuffing yourself full with this tasty bruschetta!
Sometimes, all you want is just a quick and easy recipe to put great-tasting food on the table and that's exactly what this Tuna Pesto Pasta recipe is all about!
Made with only 5 ingredients, this is a simple pasta dish that anyone can whip up and it tastes superb with little effort.
It's a lovely combination of fusilli, grape tomatoes, canned tuna, and Parmesan cheese with an extremely flavorsome pesto sauce coating everything to create a palatable delight.
Now you don't have to fret over what to serve for weeknight dinners!
At Glorious Recipes, we have our favorite Caprese Salad with Grape Tomatoes that we absolutely adore and it tastes heavenly! Check out the recipe below!
Yield: 4
Caprese Salad With Grape Tomatoes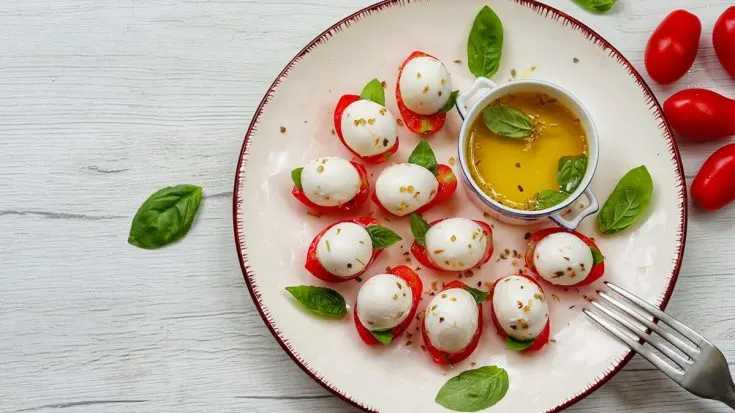 This Caprese Salad with Grape Tomatoes is filled with vibrant and refreshing flavors that make it such an appetizing delight!
Ingredients
¼ cup olive oil
1 tbsp balsamic vinegar
12 oz grape tomatoes, halved
8 oz mozzarella balls
1 cup fresh basil leaves
salt and pepper, to taste
Instructions
Make the dressing or dip by mixing olive oil and balsamic vinegar in a small bowl.
Add grape tomatoes to serving plates with sliced part facing up. Place mozzarella balls on top and garnish with basil leaves. You can either drizzle the dressing over or use it as a dip. If presentation is not important, mix all the ingredients in a bowl to coat well. Season with salt and pepper to taste. Serve and enjoy!
Nutrition Information:
Yield:
4
Serving Size:
1
Amount Per Serving:
Calories:

310
Total Fat:

26g
Saturated Fat:

9g
Trans Fat:

0g
Unsaturated Fat:

16g
Cholesterol:

45mg
Sodium:

435mg
Carbohydrates:

5g
Fiber:

1g
Sugar:

3g
Protein:

14g
Nutrition information is only an estimate and can vary depending on ingredients used.
Which of the grape tomato recipes have you tried so far?
Let us know in the comments below!
For more awesome recipes that you might like, check out the following:
Prickly Pear
Fonio
Roma Tomato
Dried Cherry
Asian Pear
Mulberry
Sour Cherry
Jello Jigglers
Kohakutou
Sure-Jell
Share on your favorite social media platform and tag us @GloriousRecipes – we can't wait to see what you have made!