If you're into wild game hunting, you might have some dove meat that you scored during your trip and wonder how to cook them.
Dove meat is dark, delicate, has very little fat on it, and tastes mild, which makes it easy and versatile to create tasty dishes.
From classic poppers to delicious crostini, we've got you covered with some of the best dove recipes that you definitely need to try on your next hunt!
Enjoy some dove schnitzels or cutlets with this simple dove recipe that combines dove meat, mushrooms, and onions together.
Smothered in a tasty mushroom gravy made with onions, mushrooms, sour cream, and stock, the thin cutlets are delightfully flavorful and super delicious!
Season with salt and pepper and garnish with freshly chopped parsley before serving up this wonderful dish.
Pair it with some rice, potatoes, or homemade bread for an awesome meal!
Make the ever-popular jalapeño dove poppers that are super delicious and should be one of the first baked dove breast recipes that you need to know!
Dove breasts are marinated to lock in the sauce so that every bite is bursting with flavor.
The jalapeños are sliced and stuffed with cream cheese and dove breasts before being wrapped with sliced bacon.
They are baked till the bacon is crisp and jalapeño peppers become soft.
Serve these amazing bites as appetizers and they are also great as finger food at parties!
With only three ingredients required, this is one of the easiest dove recipes that you can try!
But don't let the minimal ingredients fool you because these grilled doves are extremely delicious!
The dove meat is coated in oil and Cajun spice rub before letting it sit to soak up all the amazing flavors.
Then it's all about grilling the meat until slightly charred for that smoky taste we all love.
It's so tasty that you'll easily eat a few of these before you even know it!
Savor these fantastic pan-fried dove breast meat that's perfect as an appetizer or side dish!
Dove meat is dredged in buttermilk and a flour mixture seasoned with paprika, salt, and pepper.
They are added to a skillet and pan-fried until golden brown and that's when you know it's ready to be served!
Pair with your favorite dipping sauce or try them with the delicious Tiger sauce or Bitchin' sauce!
Give the classic jalapeño dove poppers a twist and try this variation that tastes as good, or maybe even better, especially if you love garlic!
Garlic instantly elevates any dish and with a roasted mashed garlic paste that's being used in these poppers, they are just irresistible.
Bacon is wrapped around Hatch chilies, jalapeños, garlic paste, and dove breast meat before being grilled to perfection.
You'll be popping these delicious bites non-stop once you get started!
If you fancy a change from the regular dove poppers, you've got to check out this dove nugget recipe!
The dove breast meat is soaked in milk to let it react with the enzymes due to the light acidity and that helps to tenderize the meat!
They are then double-coated in a flour mixture before being fried until crispy and golden brown.
Once the inside is cooked and the exterior is nicely fried, it's time to serve with your favorite dipping sauce!
Get your smoker out because this smoked dove recipe is great for whipping up a delicious meal!
Once the doves are soaked in brine, they are smoked over low heat for a couple of hours to infuse the smoky flavor and cook.
Homemade guajillo sauce is used to coat the meat, which makes it extremely flavorful and tasty.
The smokiness and chili sauce combines really well to give the dove meat an exceptional taste and it's easily one of our favorite dove recipes!
Dig into this grilled dove recipe that's super flavorful with a tasty homemade blueberry barbeque sauce!
It's a simple recipe and the barbeque sauce is really easy to make.
With mustard, cayenne, blueberries, and tomato puree among the ingredients being blended to make the sauce, you can be sure that it's going to turn out really good.
The dove is coated with the sauce and grilled till it's cooked, resulting in a nice purplish hue that looks so appetizing.
Serve with some veggies and carbs for a delicious and wholesome meal!
For an easy and straightforward roasted dove recipe, check out this simple way of cooking whole doves with butter and paprika.
Cooking the doves is easy as all you need to do is butter them up and season with salt, pepper, and paprika before cooking them on the grill.
They are served with a side of salad drenched in a honey vinegar marinade that makes this dish super wholesome.
You get your protein along with a dose of fruits and vegetables, making it a great addition to your wild game recipes!
Inject a bit of Japanese flair into your next meal with this amazing teriyaki wild dove recipe!
It's all about the sauce when it comes to a teriyaki dish and the homemade teriyaki sauce pairs really well with some grilled doves.
The sauce is made by combining and reducing a mixture of soy sauce, mirin, sake, sugar, and lime.
Dove meat is coated with the sauce and grilled until they are nicely cooked.
For a finishing touch, sprinkle some sesame seeds before serving!
This smoked dove recipe with prickly pear barbeque sauce works great with whole doves and is a great recipe to try out for your next meal!
The prickly pear barbeque sauce is made with a combination of onion, chiltepin chiles, tequila, prickly pear syrup, agave syrup, and lime juice.
Plucked whole doves are painted with the tasty sauce and grilled till it's cooked and the sauce has caramelized on the skin.
Every bite is so flavorful and you'll definitely get hooked once you take your first bite!
Stray away from the usual bacon-wrapped poppers and use your dove meat to make these amazingly delicious wontons that'll definitely blow your mind!
These wontons are stuffed with cream cheese and dove breast meat that's well-seasoned to provide all the tasty flavors!
Once wrapped, they are fried in a pan until they become crispy with a nice golden brown color.
Serve with lime and your favorite dipping sauce or try out the delicious Tiger sauce and Bitchin' sauce that pair really well with these wontons!
Add some flavor to your lean dove meat and try out this fantastic sweet and spicy grilled dove breast recipe!
It's a simple recipe that's great to add to your cooking rotation and it helps to keep your wild game meals refreshing.
Brush on the glaze that's made up of hoisin sauce, soy sauce, rice vinegar, ginger, garlic, and sesame oil, providing plenty of flavor to the meat.
Grill them to perfection and you'll be licking your fingers at the end of the meal!
Enjoy tasty fried dove breasts with one of the easiest dove recipes to get perfectly fried and crispy bites that you'll definitely love!
Dove breasts are double-dredged in egg and seasoned flour mixture to ensure they are well-coated before being fried in oil at a temperature of 375°F.
The temperature of the oil ensures that the dove breasts come out super crispy instead of soggy!
Serve with a side of salad to complete an awesome meal!
Making a tasty meal isn't difficult and with this easy recipe, you'll be enjoying a mouthwatering delight before you even know it!
Perfectly seared dove breasts are paired with an extremely flavorsome chimichurri sauce made by combining parsley, cilantro, red onions, radishes, jalapeños, lemon juice, and olive oil to create something truly amazing.
The herbaceous flavor of the chimichurri fully complements the meat and the combination is just perfect.
Pair with your favorite sides to go with the dove breasts to enjoy an easy but wholesome meal!
Pan-seared dove breast makes for a quick and simple meal that tastes exceptional with fried garlic and the infusion of flavor from fresh thymes.
Salted butter helps to enrich the lean dove meat and elevates the dish to the next level, enhancing the meat with some melted fats.
It's one of the easiest dove recipes that can be whipped up in 10 minutes and a must-try for all wild dove hunters!
Shake things up and pot-roast your doves instead of the usual grilling and frying to enjoy the wild game meat in a different way!
Cooked in a brown gravy that's well-seasoned, along with the addition of golden mushroom soup, the dove meat and vegetables are extremely flavorful and delicious.
These tender doves are best served with some greens and rice and they make a great meal that's easy to enjoy!
Pillsbury crescent rolls and dove meat make for an unlikely combination but these dove rolls are so delicious that you definitely have to give them a try!
The rolls are filled with dove meat, cheese, chili garlic sauce, and pineapple, resulting in an awesome bite that is spicy, sweet, and cheesy at the same time.
This combo works really well and the melted cheese just keeps you coming back for more.
Pineapple slices provide the tropical sweetness that complements really well with the dove meat and everything comes together to create a fantastic finger food!
Grace your taste buds with some dove crostini topped with a green tomato marmalade that makes this appetizer look really elegant and fanciful.
The sweet and tangy marmalade adds so much depth to the flavor and pairs exceptionally well with the pan-seared dove breasts.
Assembled on homemade cornbread triangles, these crostinis are delightfully tasty and are perfect to be served as finger food at parties for everyone to enjoy.
Take a page from the Middle East and cook up some kabobs with dove and fig!
Marinated in a sauce made with red wine, teriyaki sauce, and barbeque sauce, the dove breast meat is extremely flavorful and delicious.
Alternating between dove meat and fig halves on a skewer, they are cooked in the oven until done.
These delectable skewers are great with salads to make a wholesome lunch!
At Glorious Recipes, we have our own favorite Teriyaki Dove Breast Skewers that we find to be extremely flavorful and delicious! Check out the recipe below!
Yield: 12
Teriyaki Dove Breast Skewers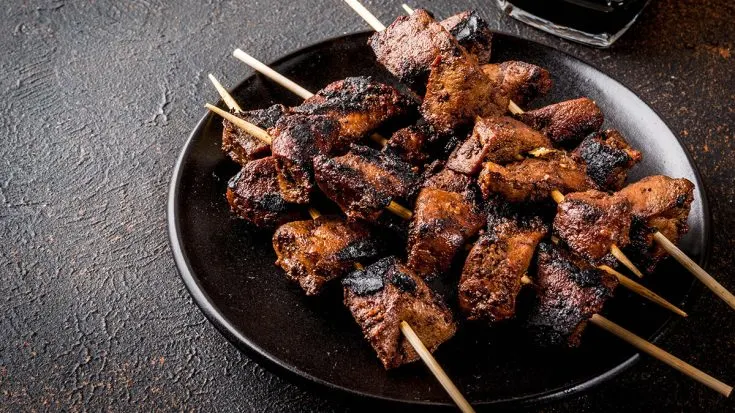 Enjoy these irresistible dove skewers coated with a teriyaki glaze and grilled to perfection! They are delicious and easy to make!
Ingredients
16 dove breasts
2 cloves garlic, minced
1 tbsp fresh ginger, minced
1 tbsp rice vinegar
¼ cup low-sodium soy sauce
½ cup water
3 tbsp light brown sugar
2 tbsp corn starch
1 tbsp honey
vegetable oil (for brushing)
salt, to taste
pepper, to taste
Instructions
Whisk garlic, ginger, rice vinegar, soy sauce, water, sugar, corn starch, and honey before adding to a saucepan and cook over low heat till it simmers. Once thickened, remove and set aside.
Prepare grill and set to direct cooking and high heat. If you are using the oven, set it to broil mode.
Brush dove breasts with oil and season with salt and pepper to taste. Brush grill with oil and grill breasts for 2 minutes. Baste and paint the meat with teriyaki sauce and flip them over. Repeat and cook till your desired doneness. If using the oven, paint the sauce over the meat and cook for 10 minutes, rotating and basting halfway through.
When the dove breasts are cooked and slightly charred, it's time to enjoy! Serve with more teriyaki sauce for dipping!
Notes
You can also marinate the dove in the teriyaki sauce for 1 to 4 hours if you want it to be more flavorful.
Mix things up and add your favorite veggies by alternating them on the skewers with the dove meat.
Nutrition Information:
Yield:
6
Serving Size:
1
Amount Per Serving:
Calories:

702
Total Fat:

41g
Saturated Fat:

11g
Trans Fat:

0g
Unsaturated Fat:

26g
Cholesterol:

343mg
Sodium:

651mg
Carbohydrates:

12g
Fiber:

0g
Sugar:

8g
Protein:

72g
Nutrition information is only an estimate and can vary depending on ingredients used.
Which of the dove recipes have you tried so far?
Let us know in the comments below!
Don't miss out on our Goose Breasts, Ground Bison, Quail, Pheasant, Elk Steak, and Ground Elk recipes for more wild game meat!
Or for more lunch and dinner recipes, check out Ground Veal, Blackstone Chicken, or Salmon and Shrimp for more ideas!
Share on your favorite social media platform and tag us @GloriousRecipes – we can't wait to see what you have made!