Yellowtail is meaty, delicious, and an excellent option for cooking an awesome meal when you're craving some seafood.
There are a few varieties of yellowtail, such as yellowtail amberjack (or yellowtail kingfish), yellowtail snapper, and Japanese amberjack.
They all taste really great and you can't go wrong with any of them when trying to add a fish to your next meal.
Whether you want it baked, fried, or served raw, we've got you covered with some of the best yellowtail recipes that you can try at home!
Indulge in this exceptional yellowtail crudo that's not only delicious but also a visual treat with its outstanding presentation!
This beautiful dish is made with raw fish marinated in mandarin orange juice, olive oil, and shallots, giving it a great flavor with every bite.
The rest is all about the plating, topping the fish with chives, gooseberries, edible flowers, and some greens for garnishing.
With this appetizer that fits right into a fine dining restaurant's menu, you'll definitely want to keep this yellowtail recipe handy for the next special occasion!
Fire up your grill and try out this amazing lemon-peppered yellowtail that's tasty and flavorful!
Yellowtail fish fillets are coated with coconut oil before they are seasoned with a homemade mixture of black pepper, lemon zest, salt, and red pepper flakes.
It's savory, tangy, and spicy all at the same time.
Serve them up with some sautéed spinach and onions for a delicious and wholesome meal, great for both lunch and dinner!
Coated with a homemade spicy Cajun seasoning and pan-seared to perfection, this yellowtail snapper is extremely tasty.
It's topped with a delicious mango avocado chutney, which adds sweetness and tang that perfectly complements the fish.
The Cajun seasoning is made with a combination of common spices and herbs that gives the fish so much depth to the flavor and you just can't stop after the first bite.
This dish is simple to make, tastes wonderful, and is easily one of our favorite yellowtail recipes!
Don't be intimidated by cooking whole fish because it's really easy with this oven-baked yellowtail recipe that you definitely need to try!
The fish is brushed with a tasty seasoning mix made up of butter, Italian seasoning, garlic powder, salt, pepper, and lemon juice.
There's so much flavor to the fish thanks to the seasoning and it makes this dish really delicious.
Prop the fish up with some lemon slices and let it bake in the oven until cooked before serving!
Enjoy this delectable yellowtail that's pan-seared to perfection, paired with a lemon caper cream sauce that goes extremely well with the fish.
Fish fillets are cooked in butter with continual basting to ensure the fish is cooked evenly without losing any moisture and it also gives a nice nutty flavor when done.
The lemon caper sauce is super flavorful and is an excellent addition to the mild-tasting yellowtail.
Pair it with al dente orzo and spinach to complete this amazing dish!
Dig into this delicious onion-crusted yellowtail that's super flavorful and a great addition to any lunch or dinner!
The fish fillets are coated with a mixture of fried and chopped onion rings, plus panko breadcrumbs, and then pan-seared till crispy.
They are topped with key lime butter and mango salsa, creating a dish that's sweet, tangy, and refreshing.
It's a delightful dish that's simple to make and tastes really good!
Keeping things simple usually yields great results and with this easy yellowtail recipe, you'll have tasty grilled fish in no time.
All you need to do is brush the fillets with lemon-juiced butter and grill them for 10 minutes until the fish is cooked through and the flesh is easily flaked with a fork.
Season with salt, pepper, and chopped herbs to impart additional flavor to the fish and it's ready to be served!
Cooking fish has never been easier!
Make this fried yellowtail taco for the next Taco Tuesday and you'll be glad you tried out this delightful recipe!
Dipped in a beer batter that's well-seasoned with salt, garlic powder, and cayenne pepper, the fish fillets are coated in panko breadcrumbs and fried till crispy.
The sauce, a wonderful mix of sour cream, herbs, and seasoning, is drizzled over the fish to give it even more flavor.
Garnish with some shredded cabbage and freshly chopped cilantro, then squeeze a lime over to enjoy these delicious tacos!
Serve up this yellowtail ceviche at your next party and you're guaranteed to receive plenty of compliments!
Marinated in a citrus mix of lime juice and olive oil, the sashimi-grade yellowtail is already delicious on its own.
Combine that with homemade chipotle avocado cream and black bean corn salsa, and you'll have a winning dish that everyone will enjoy.
Assemble all that on tortillas for an extremely tasty and flavorful ceviche!
For a simple yet delicious meal, you'll need to check out this roasted yellowtail recipe!
Potatoes, mushrooms, and yellowtail fillets are all roasted on a covered grill or oven and they are seasoned with only salt and pepper.
They are then topped with a homemade salsa verde that provides a flavor boost with all the herbs, resulting in a delightful dish.
It's easy to make and great for a light and nutritious meal!
Introduce some tropical Asian flair to your next meal with this terrific Orange Teriyaki Yellowtail that you definitely need to try!
The star of this recipe is of course the teriyaki sauce and it's extremely flavorful with a hint of orange flavor that makes it really refreshing.
It's used to baste the fish fillet, ensuring that the meat locks in all the flavor, and you can be sure that this dish is just going to turn out great.
Pair it with fragrant steamed rice for an unforgettable meal!
Lemon is excellent with seafood and helps to enhance the taste while basil provides additional depth to the flavor with its herbal taste.
When you combine the two together with creamy butter and well-grilled yellowtail, you get an exceptional dish that's super delicious!
Serving the fish with asparagus and quinoa makes for a wholesome and nutritious meal that everyone can enjoy.
It's a simple dish with great flavors and one of our favorite yellowtail recipes!
If you're looking for a superb appetizer that's mouth-watering and delicious, you've definitely got to check out this Yellowtail Crudo with Citrus and Avocado recipe!
Sashimi-grade fillets are tossed in a citrus mixture with lime juice, yuzu kosho, and fish sauce, making it really tasty.
An avocado mixture, made by mashing avocados, crème fraîche, garlic, serrano pepper, and lime juice, is spread across the plate, giving an excellent visual presentation and also pairs really well with the fillets.
Serve it with crackers to complete this amazing appetizer!
Enjoy tasty yellowtail skewers with this simple recipe to make awesome bites that you can serve as an appetizer, side dish, or just for a great mid-day snack!
Onions and peppers are soaked in a homemade vinaigrette which imparts spicy and herbal flavors, thanks to chili, rosemary, and thyme.
Along with the fish fillets, they are alternated on skewers and grilled until nicely cooked.
The vinaigrette is drizzled over the cooked skewers to make them even more flavorful and delicious!
For a fuss-free and easy dish that's great when you just want a simple meal, this baked yellowtail recipe definitely fits the bill.
Marinated in a homemade teriyaki sauce, the fish fillet is baked in the oven until fully cooked.
The teriyaki sauce is then drizzled over the fish before serving and this dish is excellent when paired with some rice and greens for a wholesome meal!
At Glorious Recipes, we have our favorite Blackened Yellowtail recipe that we absolutely adore. It's extremely flavorful and delicious! Check out the recipe below!
Yield: 6
Blackened Yellowtail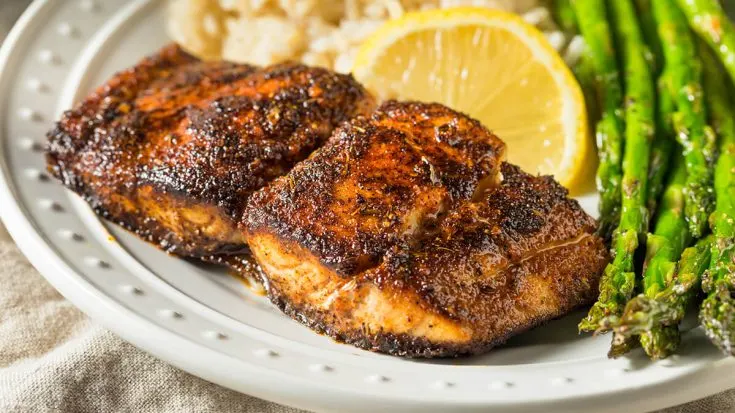 Well-spiced and delicious, enjoy this amazing restaurant-quality blackened yellowtail that you can make at home! Just be sure to cook it in a well-ventilated area or outdoors!
Additional Time
10 minutes
Ingredients
6 yellowfish fillets, about 4 oz each
1 tbsp paprika
2 tsp dry mustard
1 tsp cayenne pepper
1 tsp ground cumin
1 tsp black pepper
1 tsp white pepper
1 tsp dried thyme
1 tsp salt
1 cup unsalted butter, melted and divided
Instructions
Add all the 8 ingredients from paprika to salt into a small mixing bowl and combine well.
Place cast iron pan on stove or grill and heat until it's extremely hot, around 10 minutes.
While the cast iron pan is being heated up, add ¾ cup of butter to a shallow dish. Dip fillets in butter, flip to coat the other side, then sprinkle and pat the mixed spices onto each fillet.
Add fillet onto cast iron pan without overcrowding. Cook in batches if required. Pour 1 tsp of melted butter over each fillet and cook for about 2 minutes. We want the bottom to be charred. Flip the fillet and repeat by pouring melted butter and let it cook until charred.
Once cooked, remove to serving plates and enjoy!
Notes
There will be a lot of smoke so make sure you're cooking it in a well-ventilated area or outdoors. It's extremely delicious so it's really worth making it!
Nutrition Information:
Yield:
6
Serving Size:
1
Amount Per Serving:
Calories:

283
Total Fat:

31g
Saturated Fat:

19g
Trans Fat:

0g
Unsaturated Fat:

10g
Cholesterol:

81mg
Sodium:

394mg
Carbohydrates:

2g
Fiber:

1g
Sugar:

0g
Protein:

1g
Nutrition information is only an estimate and can vary depending on ingredients used.
Which of the yellowtail recipes have you tried so far?
Let us know in the comments below!
For more awesome fish recipes, don't miss out on the following:
Bluegill
Tuna Tartare
Sablefish
Coho Salmon
Albacore Tuna
Whole Tilapia
Tilefish
Smoked Cod
Blackfish
Cobia
Share on your favorite social media platform and tag us @GloriousRecipes – we can't wait to see what you have made!