Start your day right with some of the best chicken breakfast recipes that you can easily try at home!
Packed with protein and essential nutrients, nothing beats having chicken for a wholesome breakfast and it's so easy to vary the dishes to keep the meals refreshing!
From tasty breakfast sausages to delicious casseroles, you'll be spoilt for choices for your next breakfast!
Enjoy a fantastic breakfast with this chicken breakfast sausage recipe that'll definitely tantalize your taste buds!
With a mix of ground chicken, sage, oregano, paprika, onion powder, and garlic powder, the sausages are extremely flavorful and super tasty.
It's really easy to make, once the patties are formed and cooked in a hot skillet, they are ready to be served!
You'll be pleasantly surprised at how something so simple to make can taste so good!
If you're looking for a healthy and wholesome dish, this California Chicken Breakfast Burrito makes for an awesome eggs and chicken breakfast!
It's filled with nutrition and has all the carbs, protein, and fiber that you need in a healthy and well-balanced diet.
Scrambled eggs, chicken cubes, vegetables, and cheese form the filling and when wrapped with tortillas, they become a delightful treat that everyone will definitely love!
It's easy to make and tastes superb, perfect for a hearty meal!
Expand your cooking repertoire with this amazing breakfast casserole that's really easy to make!
Using frozen crescent rolls and popcorn chicken, everything comes together very quickly, and with the oven doing all the cooking, even beginner home cooks can make this with little effort.
Topped with cheese, egg, and milk in a baking dish, the casserole is baked until the egg is set and then it's given a glaze of honey to make it even tastier.
It's a simple dish that packs so much flavor and the whole family is definitely going to love it!
This breakfast chicken and waffles is a decadent indulgence that'll definitely fill your belly and satisfy any craving!
Chicken breast is coated in mayonnaise and crushed kettle chips before baking to achieve a super crispy and delicious crust.
The waffles are topped with the cooked chicken and a flavorful white pepper gravy that's made with butter, flour, milk, salt, and pepper.
With a garnish of scallion, everything comes together really well and it's one of our favorite chicken breakfast recipes when we want a delightful treat!
For the spicy lovers out there, you've got to check out this easy buffalo chicken frittata that's absolutely delicious!
With a seasoning of cayenne pepper, smoked paprika, and garlic powder, the meat is full of wonderful flavors and it's baked until fully cooked.
An egg mixture that includes hot sauce and garlic powder is added to a bowl, along with aromatics and shredded chicken, before everything is baked until the egg is set.
It makes for a hearty breakfast and you'll be enjoying this awesome frittata in no time!
Make an awesome chicken crêpe with this simple recipe that's perfect for a great breakfast!
With a filling of chicken, mushrooms, onions, tomatoes, cream cheese, sour cream, dill paste, and shredded cheese, you know there's going to be plenty of flavor in this.
Using Crepini makes short work of the whole process as you'll only need to sauté the fillings and wrap with a piece of Crepini before cooking until it becomes nicely browned all over.
It tastes amazing and you'll get hooked after the first bite!
For more Crepini recipes, check them out over here!
Give your regular breakfast chicken sausage patties a slight twist with this superb recipe that adds diced apples into the mix!
The apple chunks give a slight sweetness to the patties and complement really well with the other herbs, including sage, rosemary, and fennel, creating an amazingly delicious breakfast that'll definitely bring a smile to your face!
It's ridiculously easy to make and takes less than 20 minutes from start to finish to put tasty food on the table!
These breakfast chicken biscuits are absolutely delicious and one of the most amazing chicken breakfast recipes in our books!
With buttery layers, crispy chicken, and a honey-butter sauce, they are loaded with flavors that can brighten up anyone's day in an instant.
The chicken meat is seasoned with a variety of herbs and spices, and the sauce is also spiced with nutmeg, ensuring every bite is bursting with incredible flavors.
It'll be your go-to breakfast recipe once you've tasted these amazing biscuits!
Impress your friends and family with these smashing chicken Florentine crêpes that are absolutely delectable!
These savory crêpes are filled with a mixture of chicken, mushrooms, garlic, shallot, and spinach that are all drenched in a creamy sauce.
They are incredibly tasty and a topping of Parmesan cheese and freshly chopped parsley helps to enhance the flavor further.
It's a simple and elegant dish that you definitely have to try!
On days when you want a heavy breakfast to fill you up and give you all the energy you need for the rest of the day, check out this amazing fried chicken and pancakes dish that's sure to whet your appetite!
Marinated in buttermilk and hot sauce, and dredged in a flour mixture that contains smoked paprika, the chicken meat is full of wonderful flavors both inside and out.
It's paired with pancakes and a drizzle of maple syrup, honey, and hot sauce to complete this fantastic dish.
The looks, smell, and taste of this will make you crave it after you've had a chance to try it!
Having chicken breast for breakfast is one of the healthiest ways to get some protein in your meal and this recipe combines nutrition with great flavors!
Multigrain bread provides higher amounts of fiber as compared to white bread, and avocado is a superfood with tons of nutrients and healthy fat, a great alternative to mayonnaise.
Add them to grilled chicken breasts and melted cheese, and you have an awesome breakfast that's just mouth-watering.
It's one of the easiest chicken breakfast recipes and there's no reason not to try it!
If grilled chicken doesn't do it for you, this fried chicken breakfast sandwich will definitely scratch that itch for a hearty meal!
Chicken thighs that have been dredged in a seasoned flour mixture are perfectly fried and they combine with fried eggs and spinach to create an awesome topping that is sandwiched between 2 bacon and cheddar biscuits.
The sandwiches have great taste and texture and every bite is just pure delight!
Add some Mexican flair to your first meal of the day and enjoy delicious chicken breakfast tacos!
Seasoned with cumin, paprika, chili powder, oregano, and garlic powder, the chicken meat is cooked in a skillet until nicely browned and filled with familiar flavors that you'll definitely love.
The tacos are assembled with a filling of chicken, pico de gallo, avocado, cilantro, and lime, creating a fabulous dish that's perfect for an awesome breakfast!
They are easy to make and taste absolutely wonderful!
Dig into this superb Crack Chicken Quiche that's low-carb and keto-friendly!
With a filling of chicken breast, bacon, and creamy egg-ranch mixture, plus a topping of cheddar cheese, this quiche is loaded with great flavors that are bound to delight.
It's great for a simple but tasty breakfast meal and it has everything to give you all the energy you need to start the day right!
You can even freeze the leftovers so don't be afraid of making a big batch!
Get your dose of protein and veggies all packed in a muffin that's amazingly tasty with this fantastic recipe!
The buffalo sauce gives the muffins a spicy kick that's super addictive and if you love spicy food, these muffins make a great meal with how delicious it is!
Chicken, hot sauce, spinach, bell peppers, onions, and eggs come together to create delectable muffins that have loads of flavor and are baked to perfection in the oven.
This definitely adds some variety in the morning and helps to keep breakfast meals refreshing!
Indulge in this magnificent French Toast Fried Chicken Sandwich that'll turn breakfast into your favorite meal of the day!
Perfectly fried buttermilk chicken combines with brioche bread and a bourbon apricot chili sauce to create an incredible sandwich that'll definitely be in contention for a spot in your list of favorite sandwiches.
Every bite is bursting with great flavors and you'll be craving this tasty chicken sandwich every now and then!
It's a sinful delight but definitely one of our favorite chicken breakfast recipes!
Treat yourself to a simple but tasty chicken breakfast burrito with this amazing recipe!
It's incredibly easy to make and you'll be devouring these burritos within 20 minutes from start to finish!
With chicken, avocado, salsa verde, sour cream, cilantro, and Monterey Jack cheese, there is no lack of flavors to make it an enjoyable meal.
Everything is assembled in tortillas and you'll be resisting the temptation to have a second serving because it's just that delicious!
This one-pan chicken breakfast recipe is a convenient way to whip up a great-tasting meal with minimal clean-up and is a must-add to your breakfast rotation!
Chicken sausages, potatoes, and apples come together to create a tasty hash with each individual flavor combining really well with one another.
They are also given a basic seasoning with garlic powder, onion powder, basil, salt, and pepper to enhance the flavors further.
It's a simple dish with simple ingredients but still tastes fantastic and the whole family will definitely enjoy a wholesome meal!
Quesadillas make for great comfort food and they are perfect for a hearty breakfast to start your day feeling satisfied!
The chicken meat is well-seasoned with spices and when mixed with salsa, they become extremely flavorful with every bite.
Combine that with veggies, corn, cilantro, and cheese, and you have quesadillas so delicious that everyone will be fighting for the last slice!
These quesadillas are a great way of packing all that nutrition into a dish that's oh-so-yummy!
Try your hands at making this terrific chicken salad that combines amazing ingredients together to create an awesome dish!
There is great texture and flavors with chicken, grapes, pecans, celery, onion, and Greek yogurt combined together to deliver all the nutrition you need for a healthy meal.
Serve with lettuce or make it into a sandwich with some homemade bread and enjoy a hearty chicken breakfast!
At Glorious Recipes, we have our favorite Chicken Breakfast Quesadilla that we absolutely adore and it tastes heavenly! Check out the recipe below!
Yield: 5
Chicken Breakfast Quesadilla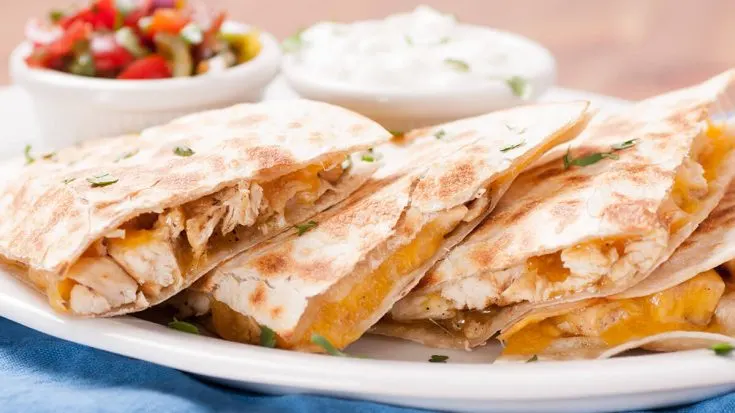 Enjoy a delicious chicken breakfast quesadilla that's easy to make and tastes heavenly!
Ingredients
½ lb chicken breast, diced
1 tbsp fajita seasoning (adjust to taste)
½ tbsp vegetable oil
½ onion, chopped
1 green bell peppers, chopped
1 red bell peppers, chopped
5 tortillas
4 oz shredded Cheddar cheese
4 oz shredded Monterey Jack cheese
½ tbsp bacon bits
Instructions
Mix chicken and fajita seasoning in a large bowl, then transfer to baking sheet and cook around 5 minutes in a preheated broiler until the chicken is no longer pink in the center.
Preheat oven to 350°F (or 350°C).
Add oil to a heated skillet or saucepan and cook onion, bell peppers, and chicken for around 10 minutes, until vegetables have softened.
Time to assemble. Add cooked chicken and vegetable mix, cheeses, and bacon bits to one half of tortilla. Fold in half and transfer to baking sheet. Repeat for remaining tortillas.
Bake them until the cheese has melted, around 10 minutes. Cut and serve immediately. Enjoy!
Nutrition Information:
Yield:
5
Serving Size:
1
Amount Per Serving:
Calories:

448
Total Fat:

21g
Saturated Fat:

10g
Trans Fat:

0g
Unsaturated Fat:

9g
Cholesterol:

81mg
Sodium:

689mg
Carbohydrates:

33g
Fiber:

3g
Sugar:

3g
Protein:

30g
Nutrition information is only an estimate and can vary depending on ingredients used.
Which of the chicken breakfast recipes have you tried so far?
Let us know in the comments below!
For more chicken recipes, check out the following for more ideas:
Hot Honey Chicken
Chicken Cobbler
Chicken Heart
Thin Sliced Chicken Breast
Diced Chicken
Chicken Tenderloin
Blackstone Chicken
Chicken and Shrimp
Chicken Keema
Share on your favorite social media platform and tag us @GloriousRecipes – we can't wait to see what you have made!