Get into the holiday spirit with some of the best Goya Coquito recipes that you can enjoy all year round!
If you love coconut or rum, you'll love Goya Coquito.
What's more, we have more than just the classic cocktail.
Read on and find out how to make a Coquito and other Coquito-inspired recipes that you definitely have to try!
What Is Coquito
Coquito is a traditional coconut-based Christmas cocktail and is also known as the Puerto Rican Eggnog.
There are 4 main ingredients in this delicious drink:
Rum
Cream of coconut
Coconut milk
Sweetened condensed milk
Many other flavorings and ingredients can be added to create unique variations of Coquito such as adding vanilla extract or cinnamon.
What Is Goya
Goya products can be found in many grocery stores and are widely used in Mexican, Spanish, and Caribbean cuisine.
With the exception of rum, the main ingredients that are used in making a Coquito can be found within the Goya product range, which is why their Coquito recipe is so popular.
Goya Coquito Recipes
Here are 10 of the best Goya Coquito recipes that you can easily make at home and we've also included the classic cocktail in the recipe card below!
For those of you that want a non-alcoholic version of the recipes below, just omit the rum and they will still turn out great!
Rich and creamy, this classic Coquito combines the best of both worlds with a refreshing coconut taste plus the thickness of eggnog.
This authentic Puerto Rican cocktail is loaded with coconut milk and cream of coconut, plus vanilla extract for that extra richness that makes this drink so delicious.
Ground cinnamon adds additional depth to the flavor and when everything combines together, it's an addictive drink that you just can't help yourself with!
Don't limit yourself to having it only during the Christmas season because we certainly won't!
Add a twist to the classic original Coquito and try out this recipe with an added ingredient, pistachio!
From ice creams to cakes, pistachio instantly makes everything taste excellent with its nutty flavor and it's no surprise that this Pistachio Coquito is just so delicious.
We love the pale green color of the drink and the final garnish with crushed pistachios makes for a fantastic presentation.
This is a drink that looks good and tastes good!
Chocolate goes well with everything Christmas and in this case, it's a great addition to the usual Coquito because now you have a rich, creamy, and chocolatey cocktail with a hint of coconut!
Cocoa powder is added to the original Goya Coquito recipe, along with the main ingredients of coconut milk, cream of coconut, sweetened condensed milk, evaporated milk, vanilla extract, ground cinnamon, and of course, rum.
The dark brown color of the cocktail can be garnished with whipped cream for a nice contrasting effect, topped with some cocoa powder or chocolate cookie crumble.
Don't miss out on this awesome chocolate cocktail!
Inject some caffeine into your Coquito with this simple recipe that's perfect for all coffee and alcohol lovers.
A strongly-brewed cup of coffee is added to the regular Coquito and the result is a delicious caffeinated cocktail that'll rock your world.
You can even use flavored coffee if you prefer and since coconut and vanilla are already part of the base recipe, any coconut or vanilla-flavored coffee will do great here.
Brew the coffee stronger if you want more kick out of the drink!
Nespresso coffee works great in this recipe!
Frappé lovers, rejoice!
The classic Coquito has been reimagined into a fantastic boozy frappé that's super delicious!
All the ingredients of the regular Coquito are added into a blender along with ice and mixed till everything comes out smooth and frothy, just like your favorite frappé.
Toasted coconut flakes surround the glass rim and every mouthful is filled with a fantastic coconut taste.
This will soon become our favorite go-to drink because it's just so tasty!
Have you ever tried a Goya Coquito ice cream?
It tastes just like the cocktail but in the form of a cool ice cream dessert!
The usual milk is substituted with whipping cream in this Goya Coquito recipe and mixed together with the other ingredients before being frozen and set.
Once done, a delicious sweet treat emerges from the freezer, and make sure to top it with some toasted coconut flakes for the ultimate indulgence!
Make these delightful rum-flavored Coquito cupcakes for your next dessert and you're bound to receive many compliments.
The cupcakes are filled with creamy coconut flavor and spiced with cinnamon to create an amazing sweet treat.
Paired with a delicious coconut rum frosting, they combine to form fantastic Coquito cupcakes that you just can't get enough of.
Garnish with raspberries or cherries before serving these wonderful treats!
Transform Coquito into a pie with this simple recipe that'll level up your dessert game!
Crushed cookie bits serve as the pie crust in this amazing dessert while a cream filling that's full of coconut flavor is made in a saucepan before combining.
Once cooled and set, a layer of whipped cream is spread across the top and sprinkled with toasted coconut flakes and ground cinnamon.
It's a sublime dessert that tastes rich and delicious, plus it's so easy to make!
Test your baking skills with this Goya Coquito Cake recipe that'll rival the best cake you've ever eaten.
All the flavors from a classic Coquito are infused into each and every layer of the cake with rum syrup and coconut frosting between them.
Everything comes together so perfectly and the cake tastes so refreshingly good.
The cake is also topped generously with shredded coconut, which makes it look even more impressive and beautiful.
It'll soon be your go-to cake for all special occasions!
All you cookie lovers need to try this fantastic Iced Coquito Cookies recipe that's easy to make and tastes absolutely delightful.
Coconut flavor is never going to be lacking when it comes to a Goya recipe, and it's infused in both the cookies themselves, as well as the icing.
No one can resist coconut-flavored cookies combined with coconut-flavored plus rum-infused icing!
To complete the cookies, sprinkle some coconut flakes on the icing before serving.
Be careful, they're going to be gone the moment you put down the tray!
At Glorious Recipes, we love to make a classic Goya Coquito with this simple recipe and it's so delicious that we just can't stop drinking it! Check out the recipe below!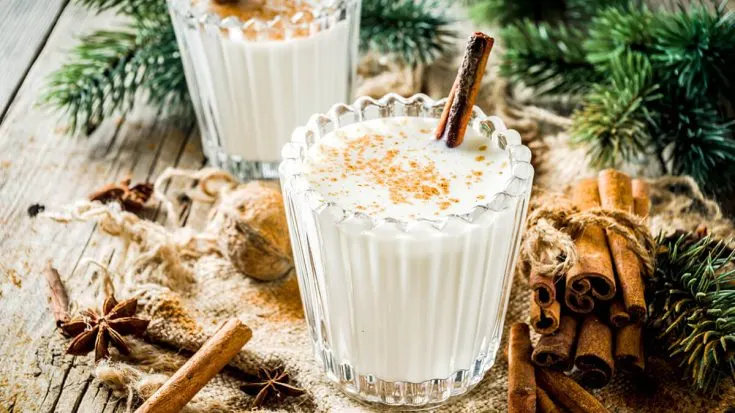 If you love coconut, rum, and eggnog, you'll love this easy Goya Coquito recipe that's going to make an absolutely delicious festive cocktail that you can drink all year round!
Ingredients
2 cans evaporated milk (12 oz each) (see note)
1 can cream of coconut (15 oz) (see note)
1 can coconut milk (13.5 oz) (see note)
½ cup sweetened condensed milk (see note)
½ cup white rum
1 tsp vanilla extract
½ tsp ground cinnamon (plus additional for garnish)
cinnamon sticks (optional, for garnish)
Instructions
Add all the ingredients (except those for garnishing) into a blender. Use the high setting to blend for 1 to 2 minutes until everything is well-mixed.
Pour the mixture into a large jar and cover. Put it in the refrigerator to chill until it's cold.
Once cold, take out from the refrigerator and stir to combine. Pour the chilled Coquito into glasses and garnish with ground cinnamon and cinnamon sticks. Serve and enjoy!
Notes
All these can be conveniently bought from grocery stores, look out for the GOYA brand!
Nutrition Information:
Yield:
7
Serving Size:
1
Amount Per Serving:
Calories:

424
Total Fat:

27g
Saturated Fat:

21g
Trans Fat:

0g
Unsaturated Fat:

5g
Cholesterol:

43mg
Sodium:

183mg
Carbohydrates:

31g
Fiber:

1g
Sugar:

27g
Protein:

11g
Nutrition information is only an estimate and can vary depending on ingredients used.
Alternate Recipes / Tweaks & Modifications
1. Non-alcoholic version
Feel free to omit the rum in any of the recipes above if you want a non-alcoholic version. They will still turn out really great so don't worry!
2. Add other ingredients to alter the flavor
Once you have tried the traditional Coquito, you can experiment with adding more ingredients to infuse other flavors to your liking!
Nutmeg, ginger, cloves, and star anise are all popular additions that can help enhance the delicious cocktail further.
Frequently Asked Questions
How long is Goya Coquito good for?
When stored in the refrigerator, it can last for 4 to 8 weeks.
However, if you are making a non-alcoholic version, it might only last for up to 5 days.
But with all these delicious Coquito drinks and desserts, we doubt you'll have any leftovers after 5 days!
What's the difference between a Coquito and eggnog?
Coquito might be known as the Puerto Rican eggnog and look similar, but it's actually quite different from regular eggnog.
The base of Coquito is coconut and rum while for eggnog, it's eggs and cream.
Some variations of Coquito include eggs as well but do note that anything with eggs has a reduced shelf-life.
Which of the Goya Coquito recipes have you tried so far?
Let us know in the comments below!
For more alcoholic recipes, check out the following:
Grand Marnier Cocktails
Smoked Cocktails
Soju Cocktails
RumChata Drinks
Jungle Juice
White Tea Shot
Vodka Sour
White Gummy Bear Shot
Empress Gin Cocktails
Crown Royal Peach Recipes
Share on your favorite social media platform and tag us @GloriousRecipes – we can't wait to see what you have made!