Quail eggs are smaller than chicken eggs and their shells are beautifully speckled with brown and grey dots.
They are as tasty as regular eggs and they cook really fast due to their small size!
There are many ways to incorporate quail eggs into delectable dishes, from baking to frying and even pickling!
Add cute and tiny quail eggs to your cooking repertoire with some of the best quail egg recipes that we have in store for you below!
Elevate your cooking skills with these beautiful quail egg croquettes that will definitely be the center of attention at every party!
Enveloped in mashed potato and coated with egg wash, breadcrumbs, and vermicelli, these pretty balls are deep-fried twice to ensure it's cooked on the inside and nicely fried on the outside.
These croquettes are perfect as appetizers and they taste as good as they look!
Serve with your favorite dipping sauce for maximum enjoyment and flavor!
These stuffed fingerling potatoes make for amazing bites and are great to be served as a first course or appetizer.
The buttery texture of the potatoes creates a smooth and velvety feel that combines really well with the taste of chorizo and quail egg stuffed in the middle.
With Parmesan cheese and chives imparting depth to the flavor, they help to make these bites all the more delicious!
This is a simple quail egg recipe that you can try for your next gathering!
Swap out the potatoes and use mushrooms instead for stuffing your quail egg to make an equally tasty appetizer!
It's a quick and easy recipe that requires minimal ingredients and effort to make.
All you need to do is remove the stem part of the mushrooms to make space for stuffing, then crack quail eggs in the cavity and top with some cheese and chives.
Season with salt and pepper, pop them into the oven, and let them bake for 20 minutes before serving these delectable bites!
Challenge yourself with this luxurious tuna tartare with amazing ingredients such as quail egg, caviar, and wasabi to create an exquisite dish.
Sake-infused kombu is used to impart its flavor to the caviar while quail eggs are cured in a homemade tsukuri soy sauce, which is also used to season the tuna.
Every bite is bursting with umami flavors and you just can't stop eating this delicious tartare.
Impress your friends and family with this incredible quail egg recipe that'll transform your culinary skills to the next level!
Make these fantastic cute little savory treats that are super pretty to look at with this simple quail egg recipe!
The nests are made up of grated potatoes that are arranged in a muffin tray before cracking a quail egg into each nest.
Spray some oil and let the oven do the rest of the work!
The potatoes will come out golden brown and the eggs will be baked to perfection!
When you have an abundance of quail eggs and you want to save them for a delightful snack later, this spicy pickled quail egg recipe will come in handy.
The pickle brine is made up of a combination of cajun seasoning and jalapeño peppers, which gives the eggs an abundance of flavor that is so addictive!
This refrigerator pickle recipe is easy to follow but you'll need some patience for the eggs to soak up all the flavors of the brine.
You'll be rewarded for your patience because you'll have a hard time stopping after the first bite!
Combine quail egg with everyone's favorite superfood to create an awesome bite that's super delicious!
Removing the seed from an avocado half results in a small hole waiting to be filled and the small size of quail eggs are perfect for the job.
Bake until the egg is set and sprinkle some bacon bits and dill for added flavor and texture to this amazing dish.
This lovely appetizer is beautiful, creative, and delightfully tasty!
Spice up your party with these wonderful deviled eggs that look beautiful and taste fantastic!
It's quick and easy to make, and they are great to serve as an appetizer or finger food.
Homemade avocado mayo is piped on top of hard-boiled quail egg halves before powdered paprika and chives are sprinkled for a finishing touch.
These little bites will be gone as soon as you put the plate down on the table!
For more deviled eggs recipes, check out our list here!
Add some quail eggs to a shakshuka dish and reap the nutritional benefits, plus it looks really beautiful like polka dots on a red canvas!
With cumin, paprika, and chili powder spicing up your sauce, you are guaranteed an extremely flavorful and delicious shakshuka.
Pair with some crusty homemade bread to mop up the tasty sauce and you'll have a sumptuous meal!
This is easily one of our favorite quail egg recipes because it's just so delicious!
Spruce up your appetizer options with this amazing poached quail egg recipe that's classy and delicious!
The eggs sit atop a mushroom mixture infused with shallot and thyme flavors and at the bottom, a puff pastry anchors itself as the base for this wonderful feuilleté dish.
They are smothered in a creamy hollandaise sauce that's extremely flavorful and adds so much depth to all that it touches.
This delectable appetizer will be the talk of the town because it's just so tasty!
For a healthy and delectable brunch, you've got to check out this fantastic red quinoa and quail egg salad recipe!
It's easy to make and quick to whip up!
Quinoa and asparagus are cooked and tossed with a homemade anchovy and lemon vinaigrette dressing before topping with quail eggs and sumac.
The salad is flavorful and packed with loads of nutrients, making it a great dish to add to your salad rotation!
Enjoy a hearty breakfast with this simple but delicious sausage, mushroom, and quail egg bake!
Potatoes and onions form the base layer of this dish while sausage and mushrooms sit atop to form the middle layer.
At the top layer, a mixture of crème fraîche or sour cream is combined with grated cheddar, along with quail eggs and a garnish of green onion.
This easy one-pan dish is baked in the oven until cooked before it's served and enjoyed!
These scotch quail eggs make for an amazing appetizer or mid-day snack and they are so easy to make!
The exterior coating of breadcrumbs is fried to perfection, resulting in a crispy texture that's super satisfying.
Inside these delicious bites are quail eggs wrapped with a herbed sausage mixture that tastes extremely flavorsome.
They are tasty and beautiful, and you just can't get enough of them!
Dip in some Tiger sauce or Bitchin' sauce for maximum enjoyment!
Bacon and quail eggs combine really well together and you can sometimes find them as appetizers in a Japanese skewer or yakitori restaurant.
With this simple recipe, you can now make delicious bacon-wrapped quail eggs in the comfort of your own home!
It's really easy and all you need to do is wrap sliced bacon around boiled quail eggs and secure it with a skewer or toothpick.
Throw them in the oven and let them bake until the bacon becomes nicely cooked!
Add some Italian flair to your next meal with this impressive ravioli dish filled with ricotta mixture and quail eggs!
Ricotta cheese, Parmesan cheese, garlic, and eggs are mixed and seasoned to form the filling for the ravioli.
Yolks from quail eggs are added as part of the filling as well but the egg whites are not wasted as they are used to brush the edges of the pasta before sealing.
The ravioli is served with a drizzle of garlic and marjoram burnt butter that makes everything taste exceptional!
If you want a dish that is flavorful and spicy, check out this tasty sesame quail eggs with broccolini recipe that's easy to follow!
The sauce is a simple combination of soy sauce, chili peppers, sugar, and water, but it gives so much flavor to the eggs and broccolini.
Finish off with a drizzle of sesame oil plus a sprinkle of sesame seeds, and if you want it really spicy, more chili powder.
Pair with fragrant steamed rice for a delicious meal!
Add this fantastic quail egg bruschetta to your appetizer rotation and be prepared to be showered with lots of compliments!
This simple bruschetta is made by wrapping toasted bread and avocado with prosciutto and then topped with fried quail egg.
It's finished off with a garnish of dill and it's superbly delectable for something so easy to make!
This is an amazing appetizer that will definitely have everyone fighting for seconds!
Delicious and easy to put together, these quail egg-topped ham and cheese crostini are the perfect addition to your appetizer spread.
Mayonnaise and mustard are spread over thinly sliced baguettes before topping them with ham and cheese.
Bake them in the oven and place sunny-side-up quail eggs over them to complete these tasty bites!
The fragrance of black truffle combines with the nutritious quail egg to create an amazing flavor in this simple brioche toast recipe.
Truffle butter is used to impart the iconic smell and flavor, and brioche slices are added to a skillet to toast.
Quail egg is added to each toast and cooked till the whites are set before they are served with a sprinkle of Maldon salt.
Simple and tasty, just how we like our appetizers to be!
This spring potato salad is amazingly tasty and is easily one of our favorite quail egg recipes!
Roasted potatoes are tossed in a delicious pesto sauce with the addition of vinegar, peas, sautéed spring onion, sorrel, and smoked salmon, creating a bowl of awesome flavors that is just irresistible.
Toasted pine nuts are added for garnish, complementing and elevating the salad to the next level.
It's beautiful and delectable, making it a great wholesome lunch option!
At Glorious Recipes, we have our own favorite Braised Five-Spice Quail Eggs and Pork Belly that we find to be extremely flavorful and delicious! Check out the recipe below!
Yield: 4
Braised Five-Spice Quail Eggs and Pork Belly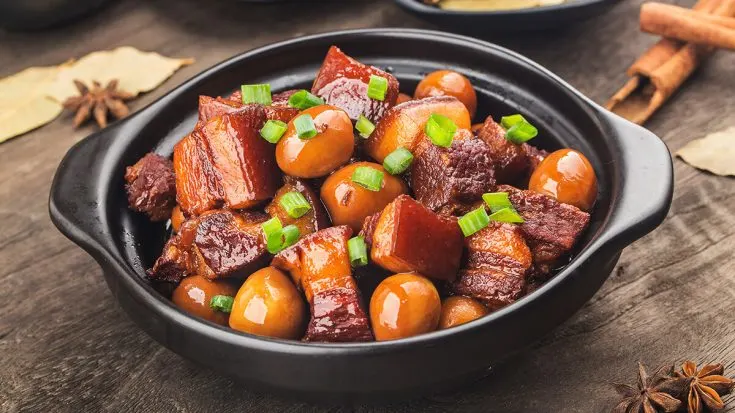 Enjoy this Chinese delicacy that's bound to tantalize your taste buds! Braised Five-Spice Quail Eggs and Pork Belly is extremely flavorful and delicious!
Ingredients
1 tbsp vegetable oil
1 lb pork belly, cut into 1-inch pieces
16 quail eggs, boiled and peeled
1 stalk scallion, separated into white and green parts
2 cloves garlic, sliced
2 ginger slices
1 cup water
2 tbsp Chinese cooking wine
½ tsp five-spice powder
1 tbsp dark soy sauce
2 tbsp light soy sauce
1 tbsp rock sugar
¼ tsp white peppercorn, crushed
2 tbsp scallion, chopped (for garnish)
Instructions
Add oil to skillet over medium-high heat and sauté pork belly until slightly browned.
Add white part of scallion, ginger, and garlic and continue sautéing until fragrant. Add water, green part of scallion, cooking wine, five-spice powder, dark soy sauce, light soy sauce, rock sugar, and white peppercorn.
Bring to a boil then cover and lower the heat. Let it simmer until it's reduced by half.
Add hardboiled quail eggs and stir well to combine. Let it continue to simmer till the sauce thickens.
Remove to a bowl and garnish with chopped scallions. Serve and enjoy!
Notes
Pair with steamed rice to enjoy an authentic Chinese cuisine!
Nutrition Information:
Yield:
4
Serving Size:
1
Amount Per Serving:
Calories:

721
Total Fat:

49g
Saturated Fat:

16g
Trans Fat:

0g
Unsaturated Fat:

29g
Cholesterol:

841mg
Sodium:

1126mg
Carbohydrates:

12g
Fiber:

1g
Sugar:

6g
Protein:

53g
Nutrition information is only an estimate and can vary depending on ingredients used.
Which of the quail egg recipes have you tried so far?
Let us know in the comments below!
For more egg recipes, check out Deviled Eggs or JUST Egg for more ideas!
And don't miss out on our Venison Burger, Ground Bison, Quail, Dove, Elk Steak, and Ground Elk recipes for more wild game meat!
Share on your favorite social media platform and tag us @GloriousRecipes – we can't wait to see what you have made!