Elk meat is a great substitute for beef as it's leaner and lower in fat, making it a healthier option to cook up tasty meals!
It's very versatile and doesn't have much gamey taste so it can easily be enjoyed by everyone.
Don't miss out on this awesome wild game meat which might be your new favorite once you've tried it!
From pan-seared steaks with delicious sauces to tasty fajitas, we've got you covered with some of the best elk steak recipes that you can try!
Fire up your grill and enjoy delicious steaks with this fantastic recipe that delivers mouth-watering and extremely flavorful meat!
Marinated in a whisky and brown sugar mixture, the steaks are loaded with great flavors that make them super tasty and irresistible.
Steak seasoning helps to add even more wonderful flavors while the mustard and soy sauce in the marinade gives a bit of savory zip to the meat.
It's a simple recipe that makes a great and delicious meal!
Everyone loves a good chicken fried steak and this recipe definitely doesn't disappoint!
The steaks are marinated in buttermilk, which helps to tenderize and adds flavor to the meat before they are coated with eggwash and a well-seasoned flour mixture.
Fried perfectly till golden, the steaks are wonderfully tender and tasty with a nice crispy exterior.
Serve with yummy cream gravy or try out the delicious Tiger sauce or Bitchin' sauce for dipping!
Level up your cooking skills with this amazing elk steak recipe that'll surely impress your friends and family with how delicious it is!
The steak medallions are pan-seared before being smothered with an exceptional sauce that adds so much complexity to the flavor.
The sweetness of the sauce is well-balanced and everything combines really well to create an awesome meal that's great for any occasion.
With how easy it is to whip up this fantastic dish and how delectable the steaks are, this is easily one of our favorite elk steak recipes!
Inject some Korean flair to your next meal with these gochujang noodles that are perfect for a quick and easy lunch or dinner!
With gochujang, soy sauce, honey, sesame oil, and chili flakes, the meat and noodles combine to create a spicy and savory dish that'll satisfy any appetite.
This dish is extremely flavorful and you'll definitely be making it regularly because it takes no time to cook at all.
It's easy to adjust the heat level accordingly to suit your palate so don't be afraid to give this recipe a try!
For tasty grilled elk steaks that are easy to make, you've definitely got to check out this wonderful recipe!
Marinated in a lemon garlic mixture with Worcestershire sauce, soy sauce, and other seasonings, the meat is extremely flavorful with loads of great flavors.
It's really straightforward to cook them and all you need to do is marinate the meat in advance before grilling till the desired doneness.
Try it for your next grilling session and you might just add it to your favorites list!
This one-pan elk steak recipe is perfect for a quick and easy weeknight dinner that's hearty and delicious!
No prior marination is required as the steak strips are marinated in a simple hot soy sauce while the potatoes are cooked with butter and olive oil.
The steak strips are then cooked with garlic, chili flakes, and herbs, giving loads of depth to the flavor and making them really tasty.
Garnish with freshly chopped herbs and Parmesan cheese to enjoy this wholesome meal!
Check out this elk steak recipe and see how easy it is to make a tasty meal with the classic combination of steak and mushrooms!
Don't skimp on the butter because it adds so much wonderful flavor to a great steak and the garlic helps to give a delightful aroma to the dish.
Make sure to baste the meat with the melted butter to keep it moist and flavorful and you'll soon be enjoying a delicious steak that takes little effort to make!
Mix things up a little and try this amazing steak roulade that's fancy enough to impress but easy to make!
A layer of ricotta cheese is spread on the steak with a mixture of artichoke hearts, spinach, and garlic added to the center, plus a topping of Swiss cheese to add even more cheesy goodness.
The steak is then rolled and secured before being cooked and seared.
It's a great dish to serve that's perfect for any special occasion!
Savor delicious elk carne asada with this fantastic recipe that you're bound to fall in love with!
Marinated in a mixture of lime juice, olive oil, cilantro, garlic, and onion, the meat has all the wonderful flavors to make a great steak.
It's given a quick broil to prevent overcooking since elk meat is lean and you'll have tender and delicious steak at the end.
Serve this flavorsome carne asada on its own or pair it with taco shells to enjoy a wholesome meal!
Bring on some Mexican flair with these fantastic steak fajitas that are super delicious and just so irresistible!
The meat is marinated with orange, lime, red wine vinegar, jalapeño, and other spices, making it extremely tender with great savory flavors.
Bell peppers and onions are tossed in a variety of spices before the steak and vegetables are grilled to perfection.
Assemble with tortillas and drizzle with queso before serving this delightful dish!
It's a wonderful elk round steak recipe that's super easy to follow!
Dig into flavorful steaks with a chimichurri marinade that's absolutely delicious!
The amazing marinade is made with chopped parsley, cilantro, garlic, shallot, and jalapeño, plus an addition of red wine vinegar, oil, and honey.
It's complex with loads of wonderful flavors and the resulting meat becomes extremely tasty.
Spoon the remaining sauce after grilling the meat for maximum enjoyment!
Serve with tortillas or even bread to enjoy an awesome meal!
Flip tradition on its head by reverse-searing your steak in this wonderful recipe that you definitely need to try!
Reverse searing starts by smoking or roasting the meat at a lower heat to achieve even cooking so that you don't get any overcooked meat at the end.
Once the desired internal temperature is reached, the meat is placed back into a hot oven or grill at a high temperature to get that nice exterior crust.
You'll be enjoying perfectly cooked steak with reverse searing so definitely give it a try for your next meal!
Indulge in this exceptional steak that's paired with a tasty gorgonzola cream sauce that will tantalize your taste buds!
Made with butter, heavy cream, shallot, and gorgonzola cheese, the sauce is wonderfully creamy and super tasty, providing loads of complementary flavors to the grilled meat.
The sauce goes really well with all cuts of meat so you can use it for other meals as well!
Serve with a side of carbs and vegetables for a complete meal!
Grace your taste buds with this delicious peppercorn-crusted elk tenderloin that's easy to make and tastes fantastic!
Coated with garlic compound butter, the steak is extremely flavorful with great buttery flavors that go superbly well with the juicy tenderloin.
It's then coated with an additional layer of crushed peppercorns to give a sophisticated exterior with additional depth to the flavor.
You'll love how amazing it tastes once you take your first bite!
Enjoy a decadent indulgence with this fantastic steak that is just so mouth-watering!
Bacon, caramelized onions, and bourbon are all great on their own but when you combine them together with honey and apple cider vinegar, you get an exceptional jam that's just out of this world!
Top grilled steaks with a big spoonful of this wonderful onion jam and you'll be scraping down all the small bits and pieces by the end of the meal.
It's amazingly delicious and easily one of our favorite elk steak recipes!
If you're looking for a quick and easy meal, check out this foil packet recipe that's simple and straightforward to make!
With melted butter, aromatics, and spices adding flavor to the potatoes and elk sirloin steaks, they are packed into foil packets and smoked until perfectly cooked.
Open up the foils and serve as they are with minimal cleanup required!
It's a super easy recipe for a hassle-free meal!
Make your next meal a little special with these spicy tequila steak fajitas that are amazingly delicious!
The secret to this recipe is the extremely flavorful marinade that adds so many wonderful flavors to the meat.
With tequila, jalapeño, red pepper flakes, Worcestershire sauce, and aromatics forming the marinade, you are guaranteed a tasty meal no matter what you put in it.
Grill the meat and slice it up before serving with tortillas for a delightful meal!
Don't waste your leftover red wine and incorporate it into a marinade to make this fantastic steak that will leave you super satisfied!
Red wine is combined with lemon juice, Worcestershire sauce, garlic, red onion, and olive oil to create a superb marinade that helps to tenderize the meat and add lots of wonderful flavors.
It fully complements the natural taste of meat and you end up with tender, juicy, and extremely delicious steak!
Expand your cooking skills and try this elk roulade that's perfect for impressing on special occasions!
This rolled-up steak dish looks fancy but it's actually really simple to make!
Mushrooms, spinach, garlic, and shallots combine to form the filling that gives an extra dimension of flavor to the meat, and it's added to the steak along with prosciutto and gorgonzola cheese.
Once the steak has been rolled up and secured, it's baked in the oven until it's done.
A tasty and creamy gorgonzola sauce is drizzled over the steak roulade to complete this amazing dish!
Spice up your next meal with this simple recipe that adds so much flavor to your regular steak!
This recipe is super easy to follow and you really only need 3 main ingredients to create a delightful meal.
Chipotle peppers are chopped up to form a paste and added to melted butter to create a tasty chipotle compound butter which pairs really well with the steak!
Add a dollop of it to pan-seared steak and enjoy this simple dish!
Make your steak even tastier by wrapping it with bacon in this fantastic recipe that combines the two to create a delicious meal!
Placed in a tasty honey soy sauce marinade, the steaks are filled with rich flavors that taste amazing on their own.
Wrapping the meat with thick-cut bacon instantly levels up the dish with a nice savory addition that's different from the usual steak.
It's super tasty and you definitely need to add it to your dinner rotation!
Prepare for Taco Tuesdays with these amazing elk steak tacos that are definitely going to be a crowd pleaser!
The tacos are filled with a tomatillo avocado sauce that includes serrano chiles to give a little kick with every bite and it's a wonderful addition that pairs really well with the lean meat.
With a tasty sauce base, tender elk meat, some queso fresco, and freshly chopped cilantro, these tacos are little flavor bombs that can satisfy any appetite!
Add a little French flair to your steak with this fantastic recipe that you definitely need to try!
Coated with crushed peppercorns and salt, the meat is pan-seared and becomes really delicious even on its own.
It's then smothered in a cognac sauce that adds so much complexity and depth to the flavor, making it an amazingly delightful dish that can be enjoyed by everyone.
It's simple to make and definitely one of our favorite elk steak recipes with how good it tastes!
Enjoy delicious smoked elk steak with this simple recipe that delivers tasty meat with little effort!
Milk-marinated elk tenderloin is given a dry rub containing maple sugar, salt, cracked peppercorn, and smoked paprika, giving it plenty of flavors that are just irresistible.
It's grilled to perfection with a tender interior and it's perfect for a wonderful meal that's sure to please!
Shake things up and try out this coffee-rubbed elk steak recipe that instantly upgrades your plain steak to the next level!
With ground coffee, mustard powder, chili powder, cumin, sugar, salt, and pepper, this dry rub is made with wonderful ingredients that add so many flavors to the meat, giving it loads of depth and making it really tasty.
Smoked and cooked until it's done, the meat is extremely flavorful by the time it's ready for serving!
Yield: 25
25 Best Elk Steak Recipes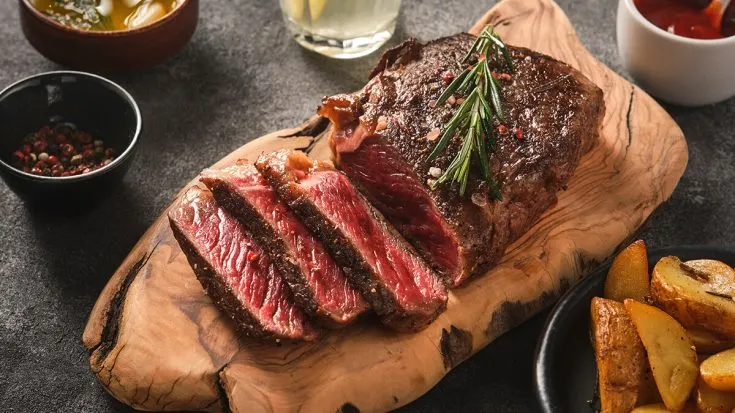 Try these elk steak recipes and enjoy a delicious meal! From pan-seared steaks to fajitas, there's something for everyone!
Instructions
Choose your favorite recipe.
Prepare all the required ingredients.
Make the elk steak and enjoy!
Nutrition Information:
Yield:
25
Serving Size:
1
Amount Per Serving:
Calories:

541
Total Fat:

25g
Saturated Fat:

8g
Trans Fat:

0g
Unsaturated Fat:

12g
Cholesterol:

144mg
Sodium:

657mg
Carbohydrates:

22g
Fiber:

3g
Sugar:

4g
Protein:

51g
Nutrition information is only an estimate and can vary depending on ingredients used.
Which of the elk steak recipes have you tried so far?
Let us know in the comments below!
Don't miss out on our Goose Breasts, Ground Bison, Quail, Dove, Pheasant, and Ground Elk recipes for more wild game meat, or check out the best recipes for Quail Eggs!
For more lunch and dinner recipes, check out Ham Hock, Chicken and Shrimp, Minute Steak, or Beef Shanks for more ideas!
Share on your favorite social media platform and tag us @GloriousRecipes – we can't wait to see what you have made!