Ravioli and lasagna come together in this fantastic Ravioli Lasagna recipe that makes an amazingly delicious meal and it's so simple with the use of canned beef ravioli!
This dish is incredibly cheesy and exceptionally hearty, making it an easy family favorite that takes little effort to whip up!
It's the embodiment of comfort food at its finest, a symphony of flavors and textures that'll have you coming back for seconds, thirds, and more, thanks to the lovely blend of mozzarella cheese, cottage cheese, and Parmesan cheese.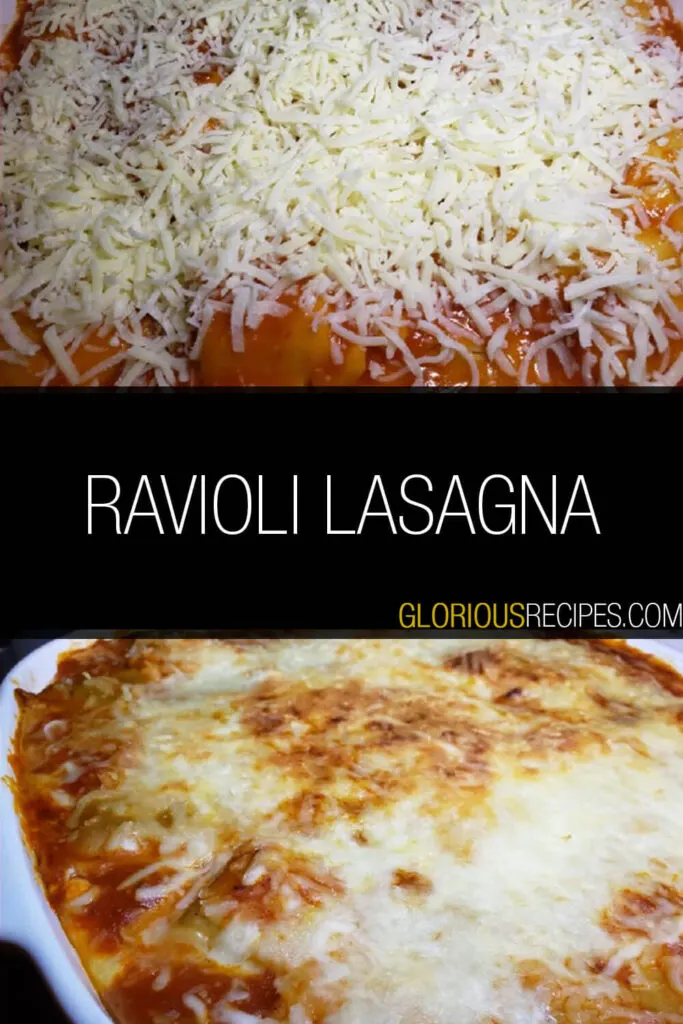 Why You'll Love This Ravioli Lasagna
Great for meal prep: You can apportion the lasagna and freeze it for later. Just heat it up and it tastes as good as new!
Comfort food: Lasagna makes for great comfort food and this is no exception. The blend of cheeses makes this incredibly addictive and you'll easily develop a craving after your first bite!
Hassle-free: The convenience of using canned beef ravioli cannot be overstated! It's perfect when you want to put quality and delicious food on the table on a busy weeknight!
Family favorite: Both kids and adults will be fighting for seconds with how delectable this ravioli lasagna is!
Ingredients Required
Only a few ingredients are required to make this excellent Ravioli Lasagna!
Canned beef ravioli: Using canned ravioli makes it a breeze to prepare this delightful lasagna! It's super convenient but feel free to use homemade ravioli if you like. We used canned beef ravioli from Chef Boyardee for this recipe and it's widely available in most grocery stores.
Cottage cheese: Really helps to elevate the flavor of the lasagna.
Mozzarella cheese: With its mild flavor and gooey texture when melted, mozzarella is one of those cheeses that are really easy to enjoy!
Parmesan cheese: Savory, nutty, and earthy. Parmesan cheese helps to add complexity and umami goodness to the lasagna!
Dried parsley: The herbs and seasoning help to add more layers to the taste of the lasagna and you can easily add other dried herbs such as rosemary and oregano for even more complexity.
Italian seasoning
Garlic powder
Eggs
How To Make Ravioli Lasagna
Preheat your oven while you prepare the rest of the ingredients.
Make the cheese filling by mixing mozzarella cheese, Parmesan cheese, and cottage cheese, along with dried parsley, Italian seasoning, garlic powder, and eggs.
Assemble the lasagna by placing the beef ravioli in one layer, then topping with the cheese mixture. Add another layer of beef ravioli before finishing off with a topping of Parmesan and mozzarella cheese.
Bake the lasagna until an awesome melted cheesy goodness is achieved!
Serve and enjoy!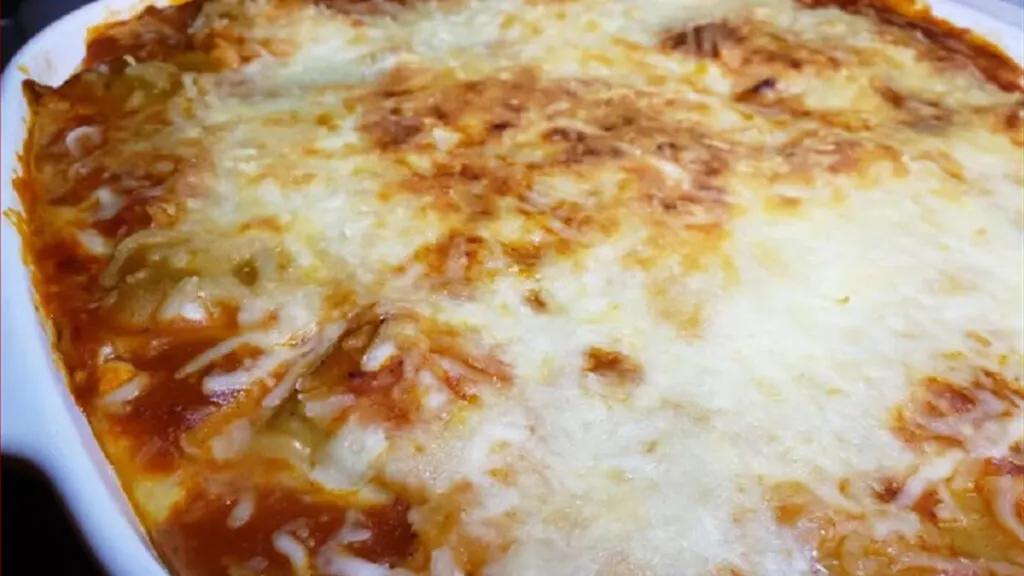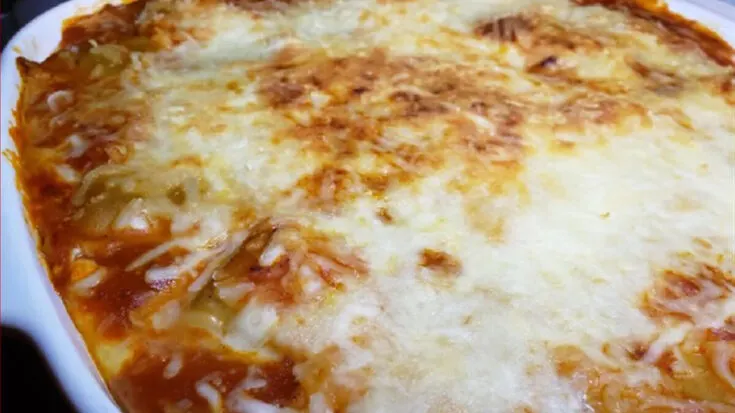 This hearty Ravioli Lasagna is made from canned beef ravioli and takes little effort to prepare! Incredibly cheesy and absolutely delicious!
Ingredients
3 cans of beef ravioli, 15 oz x 3
16 oz cottage cheese
2 cups mozzarella cheese, shredded and divided
¾ cup Parmesan cheese, grated and divided
1 tbsp dried parsley
2 tsp Italian seasoning
½ tsp garlic powder
2 eggs
Instructions
Preheat your oven to 350°F (175°C).
Start by making your cheese filling. Add all the cottage cheese, 1 cup of mozzarella cheese, ½ cup of Parmesan cheese, dried parsley, Italian seasoning, and garlic powder to a large mixing bowl and combine well. Add the eggs and mix well.
Lightly oil a 9x9 casserole dish or use a non-stick spray. Using 1½ cans of beef ravioli, arrange them to fill the casserole dish in a single layer. Add cheese mixture to cover the ravioli layer and gently press on it. Add the remaining 1½ cans of beef ravioli on top of the cheese mixture. Finish by topping with remaining 1 cup mozzarella and ¼ cup Parmesan cheese.
Bake for around 25 minutes, or until cheese has melted and becomes bubbly with a beautiful golden brown color. Remove from oven and let it rest for around 10 minutes.
Serve and enjoy!
Notes
Add other dried herbs to make it your own! Rosemary, thyme, and oregano are all great options to make this lasagna even tastier!
Nutrition Information:
Yield:
6
Serving Size:
1
Amount Per Serving:
Calories:

421
Total Fat:

22g
Saturated Fat:

11g
Trans Fat:

0g
Unsaturated Fat:

8g
Cholesterol:

174mg
Sodium:

964mg
Carbohydrates:

22g
Fiber:

1g
Sugar:

3g
Protein:

31g
Nutrition information is only an estimate and can vary depending on ingredients used.
If you've tried this, let us know in the comments below!
We've also got more wonderful recipes that use canned beef so make sure to check them out over here!
For more awesome recipes that you might like, check out the following:
Maruchan Ramen
Reames Noodles
Recteq
Rock Shrimp
Stuffed Crescent Roll
Mango Pie
Share on your favorite social media platform and tag us @GloriousRecipes – we can't wait to see what you have made!