Get ready to experience extraordinary delights with our Reames noodles recipes!
Reames frozen egg noodles are not dried and have a hearty texture that captures the homemade feel, making them a perfect ingredient for comfort food.
They absorb flavors really well and are also thick and filling, which makes them easy to incorporate into many dishes for an awesome treat!
With a splendid texture and flavor, you're sure to enjoy the beauty of Reames noodles!
From classic chicken noodle soup to fried noodles, we've got you covered with some of the best Reames noodles recipes that you can easily try at home!
Dig into a comforting classic with these Meatballs and Egg Noodles that are amazingly delicious and super easy to whip up!
The meatballs are made with a delectable combination of ground pork, ground beef, breadcrumbs, Parmesan cheese, and aromatics, ensuring plenty of incredible flavors with every bite.
Pan-fried until nicely browned and then simmered in marinara sauce to let the flavors meld, these meatballs are exceptionally tasty and they make for an easy meal when paired with egg noodles!
This dish is sure to be a hit with both kids and adults alike!
Ramp up your next meal with this Slow Cooker Ham Noodle Soup that's effortless to make and tastes exceptional!
The slow cooker does all the cooking for you in this recipe and it combines ham, chicken broth, Swiss chard, garlic, onions, tomatoes, and Reames egg noodles to create an extremely flavorsome dish.
You can go about your daily routine and come back to a piping hot noodle soup waiting for you!
With tasty meat, healthy vegetables, and satisfying noodles, this is a simple dish with big flavors that are perfect any day of the week!
Experience an Asian delight with one of our favorite Reames noodles recipes that makes an outstanding Seafood Laksa!
There's no lack of great flavors with turmeric, garlic, ginger, fish sauce, coconut milk, chicken stock, and lime juice used in the making of the wonderful broth.
Add egg noodles and seafood into the mix, and you have a scrumptious treat that's just irresistible!
If you love rich and bold flavors, you're sure to love the marvelous flavors of this delicious laksa!
You can't go wrong with the classic combination of chicken and noodles, and this is a terrific Reames noodles recipe that you absolutely must try!
The soup base is made by simmering a mix of chicken stock, bone-in chicken thighs, aromatics, and dried herbs, creating a collagen-rich broth that's extremely flavorful.
The aromatics and herbs help to add depth and complexity to the flavor of the soup and you'll want to sip every last drop of it because it's just that good!
There's nothing not to like about this hearty and comforting Chicken Noodle Soup!
Savor a delicious meal with these Beef Noodles that are loaded with incredible flavors and sure to whet your appetite!
Beef chuck, cooked low and slow in a mixture of French onion soup and beef consommé, is combined with beef broth and Reames noodles to create an absolutely mouthwatering delight!
The tender beef goes superbly well with the thick Reames noodles and it's an exceptionally satisfying dish that everyone is sure to love.
It might take some time to cook but you'll know it's all worth it once you've taken the first bite!
Keep it simple with this splendid Chicken Noodle Casserole that's ridiculously easy to prepare and tastes absolutely wonderful!
It's a lovely assortment of chicken breasts, egg noodles, peas, carrots, corn, cream of chicken soup, milk, garlic, onions, and cheese, topped with breadcrumbs and baked until everything is bubbly and delicious.
This casserole is filled with hearty ingredients and flavors that are sure to be a family favorite!
You might just have a new comfort food after you've given it a try!
Another casserole that you definitely don't want to miss out on is this fabulous Tex Mex Tuna Noodle Casserole that adds a little Mexican flair to your meals!
This dish is filled with plenty of amazing ingredients that include bell peppers, jalapeños, corn, taco seasoning, albacore tuna, tortilla chips, and Mexican cheese, ensuring a fantastic burst of flavors with every bite.
It's easy to make and extremely delectable, perfect for feeding a large crowd with quality food without much effort!
Try making this for your next gathering and be prepared to be showered with plenty of compliments!
This is one of our favorite Reames noodles recipes because it brings together some of our beloved ingredients to make an absolutely tasty dish!
Featuring extremely flavorful meatballs and thick Reames noodles, all coated with a fragrant onion and mushroom gravy, this is a palatable dish that you definitely need to try!
Both the meatballs and gravy have complex flavors that make them exceptionally tasty and they are sure to bring a smile to your face with their incredible taste.
We're sure you'll love this dish as much as we do!
Treat your taste buds to a remarkable meal with this Creamy Chicken Noodle Soup that's superbly tasty and incredibly satisfying!
The soup base is made flavorful with a variety of aromatics that include garlic, onions, celery, carrots, herbs, and spices, adding plenty of depth to the flavor.
It's made thick and creamy with the help of heavy cream, flour, and butter, creating a wonderful base to which rotisserie chicken and egg noodles are added.
This noodle soup is a comforting indulgence that you definitely need to add to your meal rotation!
Expand your meal options with these Cheesy Noodles and Veggies that are filled with awesome ingredients and they taste so good!
This dish involves a combination of mixed vegetables, egg noodles, and crushed croutons, with a cheesy sauce tying everything together.
Baked in the oven until nicely brown, this casserole is a mouthwatering delight that will surely please any appetite!
If you're a big cheese lover, you definitely need to give this simple Reames noodles recipe a try!
Sign us up for this excellent Taco Casserole that's great for an easy meal filled with taco flavors that everyone will love!
With a tantalizing combination of red enchilada sauce, ground beef, taco seasoning, tomatoes, green chilies, corn, peppers, and Mexican cheese, you know you're guaranteed an extremely flavorful dish!
Add Reames noodles into the mix and you'll have a thoroughly enjoyable meal loaded with tons of incredible flavors.
Give it a try and you'll definitely not be disappointed!
If you have leftover ham that you don't know what to do with, try making this Creamy Ham and Greens Noodle Soup!
This dish features a fantastic combination of collard greens, ham, carrots, onions, celery, herbs, ham stock, and of course, Reames frozen egg noodles, all cooked in ham stock and made creamy with milk, heavy cream, and roux.
Every sip of the soup tastes exceptional and it's a dish that has a heavenly combination of flavor and texture!
This is comfort food at its finest!
Satisfy your comfort food cravings with these Pan-Fried Garlic Butter Noodles that are exceptionally tasty and sure to delight your taste buds!
It's a simple combination of egg noodles, breadcrumbs, and garlic, all cooked and tossed in a skillet before being completed with a garnish of freshly chopped parsley.
The effort required is minimal but there is maximum flavor in this dish and you can easily add your favorite proteins to make it even wholesome!
With how delicious it is, we have no doubts that this will quickly become one of your favorite Reames noodles recipes!
If you love Swedish meatballs like us, then you've definitely got to check out this terrific recipe!
Meatballs made with ground meat, panko breadcrumbs, nutmeg, allspice, and other lovely ingredients are slow-cooked in beef broth until flavorful, then smothered in an extremely flavorsome gravy before being served with egg noodles for an absolute treat.
It's an easy crowd-pleaser with a heavenly blend of flavors that hit all the right spots for a sumptuous meal!
It's amazing how something so delicious can be so simple to make!
Inject a little Asian flair to your next meal with these splendid Ginger Beef with Noodles that will surely captivate your senses!
Beef strips are sautéed with ginger, garlic, green beans, and green onions in a sauce that consists of soy sauce, rice vinegar, and sriracha sauce to create an irresistible dish!
It's gloriously delicious and makes for a hearty meal when you pair the meat and vegetables with Reames noodles.
Skip the Chinese take-out and make this wonderful dish instead!
At Glorious Recipes, we have our favorite Italian Reames Noodles Bake that we absolutely adore and it tastes heavenly! Check out the recipe below!
Yield: 6
Italian Reames Noodles Bake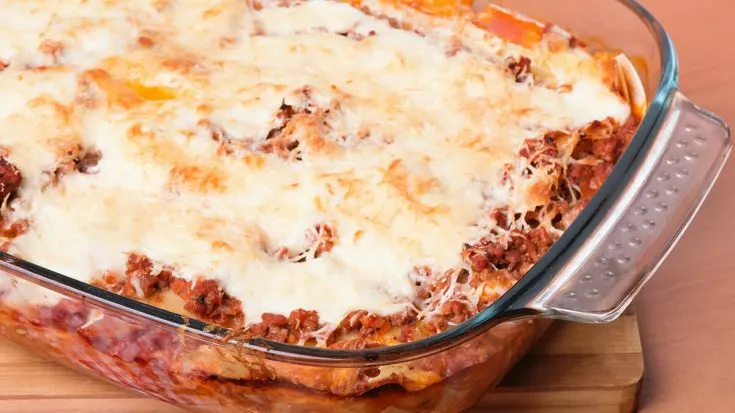 This Italian Reames Noodles Bake is easy to make and filled with hearty flavors that make it irresistible!
Ingredients
12 oz Reames noodles
1 tbsp olive oil
12 oz Italian sausage
6 oz mushrooms, sliced (any of your favorites)
2 tbsp garlic, minced
26 oz pasta sauce (any of your favorites)
¼ cup Parmesan cheese, finely shredded
8 oz mozzarella cheese, shredded
Instructions
Preheat oven to 400°F (205°C).
Cook Reames noodles according to package instructions.
Add oil to a large skillet over medium-high heat. Add garlic and cook until fragrant, about 30 seconds. Add Italian sausage and mushrooms. Cook until mushrooms become tender and sausage is no longer pink. Drain any liquid.
Combine cooked noodles, sausage mixture, and pasta sauce in a large bowl. Mix well.
Transfer the mixture to a 3-quart baking dish. Top with mozzarella and Parmesan cheese. Bake for around 10 minutes, uncovered, or until the cheese has melted.
Serve and enjoy!
Nutrition Information:
Yield:
6
Serving Size:
1
Amount Per Serving:
Calories:

519
Total Fat:

30g
Saturated Fat:

12g
Trans Fat:

0g
Unsaturated Fat:

18g
Cholesterol:

69mg
Sodium:

1360mg
Carbohydrates:

34g
Fiber:

4g
Sugar:

9g
Protein:

26g
Nutrition information is only an estimate and can vary depending on ingredients used.
Which of the Reames noodles recipes have you tried so far?
Let us know in the comments below!
For more awesome recipes that you might like, check out the following:
Maruchan Ramen
Momofuku Noodles
Shin Ramen
Shrimp Ramen
Kelp Noodle
Korean Soup
Silken Tofu
Enoki Mushroom
Diced Chicken
Sirloin Tip Roast
Share on your favorite social media platform and tag us @GloriousRecipes – we can't wait to see what you have made!