Rock shrimp have a sweet flavor and slightly chewy texture that are similar to lobsters, making them a true gem for whipping up tasty dishes!
As their name suggests, they have a hard outer shell but beneath that, you have firm and delicious meat that shines as a versatile ingredient.
Whether you like them sautéed, fried, or grilled, you're sure to enjoy the wonderful flavors of the outstanding rock shrimp!
From crispy bites to tasty pasta, we've got you covered with some of the best rock shrimp recipes that you can easily try at home!
Enjoy an excellent meal with this simple recipe that makes an amazingly tasty dish loaded with incredible flavors!
Rock shrimp cooked in a mixture of white wine, tomatoes, garlic, onions, and hot sauce are paired with comforting grits in this exceptional dish that makes for the perfect weeknight dinner!
Completed with a topping of crumbled feta cheese and freshly chopped parsley, this is an absolutely mouthwatering delight that you're sure to love.
It's definitely a must-add to your meal rotation in our books!
Expand your cooking repertoire with this Rock Shrimp Ceviche that makes for an impressive and delicious appetizer!
It's a tantalizing combination of shrimp, orange juice, lime juice, onions, ketchup, cilantro, and a pickled mix of jalapeños and bell peppers.
The natural sweetness of shrimp fully complements the savory and tangy flavors that come from the other ingredients, creating a well-balanced appetizer that'll please all seafood lovers.
We love how it's fancy enough for special occasions yet simple enough to be enjoyed any day of the week!
This Nobu 57 rock shrimp tempura copycat recipe is one that you definitely don't want to miss out on because it's a simple dish to prepare and it tastes amazing!
Featuring battered shrimp fried until beautifully golden and crispy, then drizzled with an extremely flavorful sauce made with mayonnaise, soy sauce, sweet chili sauce, sesame oil, sriracha, and rice vinegar, this is a dish that's just irresistible.
Every bite transports you to the epitome of culinary heaven and this splendid dish is rock shrimp at its finest!
It's no wonder why this makes it to our list of favorite rock shrimp recipes!
Pasta lovers, rejoice because you're going to love this terrific Spicy Rock Shrimp Pasta recipe!
This dish features sautéed rock shrimp and perfectly cooked al dente pasta, all smothered in an extremely tasty sauce made with Calabrian chili pepper, tomato paste, and heavy cream.
Topped with a mix of toasted panko breadcrumbs, lemon juice, and minced garlic, this pasta dish is sure to satisfy any appetite!
It's a heavenly blend of textures and flavors that makes this an easy crowd-pleaser!
For a brilliant side dish or appetizer that's superbly tasty, you've got to check out this easy rock shrimp recipe!
Deep-fried rock shrimp are paired with an amazing spicy honey sauce that's made by combining honey, smoked paprika, chili flakes, garlic, peppercorn, and salt to create an absolutely scrumptious delight.
The satisfying crunch and bold flavors make these delicious bites incredibly addictive and you'll be gobbling everything down before you even know it!
Be warned, once you start, you just can't stop!
Spruce up your next meal with this Black Ink Pasta that's crazy delicious and filled with some of our favorite ingredients!
It's a lovely marriage of black ink linguine, calamari, shrimp, garlic, bottarga, and toasted breadcrumbs to create an impressive pasta dish loaded with flavors of the sea.
Bottarga adds tons of depth and complexity to the flavor and makes this dish stand out with its unique flavor profile.
If you want something new to freshen up your pasta options, this is definitely a top contender to be considered!
Sign us up for this fantastic Lasagnette with Vodka Sauce and Rock Shrimp that's sure to whet your appetite!
There's no lack of flavor with a sauce made with tomato paste, garlic, shallots, vodka, heavy cream, and Parmigiano Reggiano.
Add lasagnette and mozzarella cheese into the mix, and you'll have a remarkable pasta dish that's loaded with tons of incredible flavors!
We love how easy it is to make and how delicious this wonderful dish is!
This is one of the easiest rock shrimp recipes that you can try and it makes incredibly delicious Shrimp Rolls!
Hot dog buns are filled with sautéed shrimp and then topped with a simple mixture of mayonnaise, sherry vinegar, and smoked paprika to create flavorsome sandwiches that taste exceptional.
These sandwiches are great for a light lunch or brunch and they can also be paired with other side dishes to make it a wholesome meal!
You won't believe how good they taste for something so quick and straightforward to make!
Shake things up a little and try making these fabulous rock shrimp puff pastries that taste absolutely divine!
Sautéed shrimp cooked with heavy cream, hot sauce, and green onions are combined with baked pastry shells to create a savory delight that's amazingly delicious.
Creole seasoning is used to make the shrimp extra tasty and this is a dish that's sure to get everyone fighting for seconds.
Give this a try and you'll not be disappointed with its fantastic flavor!
Bring something new to the table for Taco Tuesday with these Rock Shrimp Tacos that taste out of this world!
Fried rock shrimp, sambal mayonnaise, eel sauce, pickled red onions, and wasabi tobiko come together in this exceptional dish to create something truly special and delicious.
These tacos are filled with rich and intense flavors that bring so much joy with every bite and you'll develop a craving for these after you've given them a try!
There's nothing not to like about this quick and easy recipe!
Delight your taste buds with these Crispy Rock Shrimp that are as delicious and as satisfying as they sound!
These shrimp are first seasoned with salt and coriander before being coated with a batter mixture of flour, cornstarch, seltzer, and ginger ale, then deep-fried until super crispy, and they are served alongside fried lime slices and fried parsley.
The texture is on point and the flavor is refreshing, making this an awesome side dish that you can serve with any of your favorite carbs and veggies.
If you're craving some fried food, these crispy shrimp definitely hit all the right spots!
Bring some Disney magic to your next meal with this splendid recipe that comes straight from Epcot Coral Reef restaurant!
This wonderful dish features a combination of herbed rice, grilled mahi-mahi, and sautéed shrimp, with a tantalizing coconut-lime sauce that adds plenty of depth to the flavor.
Using a mix of coconut milk, onions, garlic, poblano pepper, and tomatoes, the sauce is extremely flavorsome and definitely a highlight of this dish.
Give this rock shrimp recipe a try and enjoy restaurant-quality food right in the comfort of your home!
This rock shrimp appetizer or side dish is an absolute must-try in our books because it's so simple to make and tastes fantastic!
Cured in a mixture of red onion, garlic, pineapple juice, and lime juice, the shrimp are then combined with diced tomatoes, pineapples, mangoes, and cilantro to create an incredibly palatable dish.
It has well-balanced sweet, savory, and tangy flavors that make it a superbly refreshing and delicious ceviche.
We have no doubts that this will quickly make its way to your list of favorite rock shrimp recipes!
Whip up an awesome meal with this brilliant recipe that brings together some of the most delightful ingredients in one dish!
Cannellini beans are combined with chorizo and leeks in this dish to create a lovely stew that's topped with a shrimp confit for an absolutely mouthwatering treat.
The shrimp are cooked low and slow with garlic, lemon zest, chili flakes, thyme, and bay leaf until they become tender and flavorful, and they taste absolutely wonderful.
It's a hearty dish that's loaded with tons of protein and incredible flavors so make sure to give this a try soon!
Treat yourself to an excellent dish that tastes absolutely heavenly and will surely make you salivate at the thought of it!
Imagine fried shrimp coated with a spicy sauce made by combining sriracha sauce, egg yolks, garlic powder, rice vinegar, and oil, plus candied walnuts and pineapple chunks.
With an incredibly satisfying crunch and a mix of sweet and savory flavors, this is a dish that you just can't get enough of!
You can eat this every day and not get tired of it!
If you need a delicious seafood centerpiece for an awesome feast, you've got to check out this lovely recipe!
Pan-seared grouper fillets are combined with flavorsome sofrito and tasty shrimp toasts to create an absolutely palatable dish that you'll definitely want to indulge in.
Whether it's the fish, shrimp, or sofrito, everything is loaded with impeccable flavors that make this such a delectable treat!
Give this a try and you won't regret it!
At Glorious Recipes, we have our favorite Garlic Butter Rock Shrimp that we absolutely adore and they taste heavenly! Check out the recipe below!
Yield: 4
Garlic Butter Rock Shrimp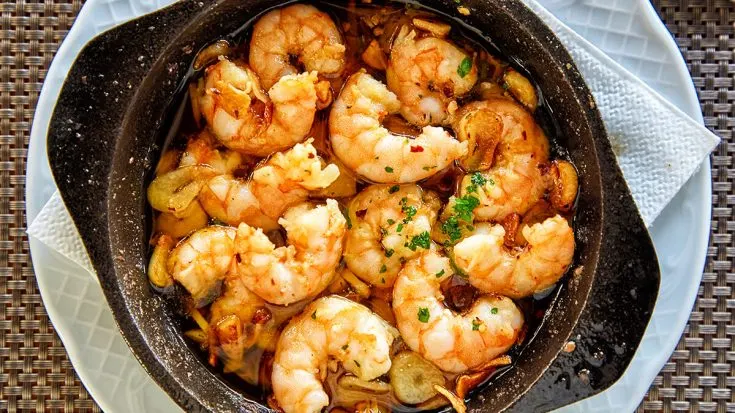 Savor delicious Garlic Butter Rock Shrimp with this quick and easy recipe for an incredible meal!
Ingredients
1 tsp Italian seasoning
½ tsp ground paprika
½ tsp salt
¼ tsp ground black pepper
1 lb rock shrimp, peeled & deveined
8 tbsp butter, unsalted
2 cloves garlic, sliced or minced
1 lemon
Instructions
Add Italian seasoning, paprika, salt, and pepper to a bowl and mix well to combine.
Add shrimp to the bowl to coat with seasoning mix. Toss to combine well.
Add butter and garlic to a skillet over medium-high heat. Stir well to melt the butter and sauté until garlic turns fragrant. Add shrimp and cook until they turn opaque and fully cooked through, around 2-3 minutes on each side.
Squeeze a lemon over before serving. Enjoy!
Nutrition Information:
Yield:
4
Serving Size:
1
Amount Per Serving:
Calories:

349
Total Fat:

25g
Saturated Fat:

15g
Trans Fat:

0g
Unsaturated Fat:

9g
Cholesterol:

300mg
Sodium:

1369mg
Carbohydrates:

5g
Fiber:

1g
Sugar:

1g
Protein:

26g
Nutrition information is only an estimate and can vary depending on ingredients used.
Which of the rock shrimp recipes have you tried so far?
Let us know in the comments below!
For more awesome seafood recipes that you might like, check out the following:
Colossal Shrimp
Argentine Red Shrimp
Calamari Steak
Bay Scallop
Razor Clam
Shrimp Ramen
Langostino
Albacore Tuna
Whole Tilapia
Share on your favorite social media platform and tag us @GloriousRecipes – we can't wait to see what you have made!