Mango pies are a slice of paradise with their luscious sweetness and buttery crust that are sure to satisfy any dessert cravings!
The harmonious blend of summer flavors and textures is so delightful that you'll want to enjoy them all year round.
Their tropical flavor makes them an irresistible indulgence and it's easy to whip up all kinds of delicious mango pies!
From classic pies to mini pies, we've got you covered with some of the best mango pie recipes that you can easily try at home!
Enjoy an exceptional mango pie with this simple recipe that you definitely don't want to miss out on!
Filled with a mixture of mangoes, sugar, salt, and cornstarch, then baked until beautifully golden brown, this pie is an absolutely mouthwatering delight!
The texture of the pie crust is extraordinarily satisfying and not overly crumbly, making it a dessert that's sure to please any appetite.
If you need a fantastic sweet ending to your meals, try baking this classic mango pie!
Savor a splendid dessert with this Creamy Mango Pie that's amazingly delicious and super easy to whip up!
Featuring a graham cracker pie crust filled with a creamy mixture of mango purée, lime juice, egg yolks, and sweetened condensed milk, this pie tastes absolutely out of this world!
It's completed with a topping of whipped cream and toasted coconut flakes for additional texture and it's gloriously delightful.
Give it a try and you'll definitely not be disappointed!
This is one of our favorite mango pie recipes because it makes such adorable and tasty mini desserts!
With a flaky crust and a filling of mangoes, cinnamon, sugar, cornstarch, and lemon juice, these mini pies are incredibly delicious and an absolute treat!
The lime juice and cinnamon help to provide complexity to the flavor of the pies and make them extremely addictive.
You'll be popping these pies like no tomorrow because they're just that good!
Treat yourself to an amazing dessert with this Mango Meringue Pie that's crazy delicious and an easy crowd-pleaser!
With a buttery crust, sweet mango filling, and a pillowy meringue topping, this pie is a heavenly combination of flavor and texture that you definitely want to experience.
Every bite of this fantastic pie brings immense joy and you'll develop a craving after your first bite because of how delicious it is!
No one can resist the delightful flavor of this Mango Meringue Pie!
Jazz up your mango pies by adding the excellent flavor of peaches with this simple recipe that makes a terrific sweet treat!
The mango pie filling is made with a combination of mangoes, peaches, cinnamon, nutmeg, sugar, lemon juice, and cornstarch, and it has a well-balanced flavor that is easy to enjoy.
This pie also features a flaky and buttery crust, along with a crumble topping, adding plenty of wonderful texture to this dessert!
You just can't go wrong with this exceptional Peach Mango Pie recipe!
Sign us up for this remarkable Mango Pie with Coconut Crust that's easy to make and sure to captivate your taste buds!
It's a lovely marriage of mangoes, dark rum, tapioca, sugar, ginger, cardamom, salt, and pepper to create a luscious filling that's just irresistible!
Along with a buttery crust that contains toasted coconut flakes, the mango pie is baked until beautifully golden brown and appetizing.
The lattice pattern helps to make this pie look as good as it tastes so make sure to give this recipe a try!
Inspired by Thai mango sticky rice, this No-Bake Mango Sticky Pie brings a refreshing twist to classic mango pies!
The pie filling is a blended mix of mangoes and cream of coconut, with whipped topping folded in before the mixture is added to a pie crust and then frozen until the pie is set.
Using store-bought graham cracker crust makes this a breeze to prepare as it cuts down on the required time but it can easily be substituted with any homemade pie crust!
Completed with a topping of diced mangoes, sweetened condensed milk, and black sesame seeds, this is an easy dessert that will surely satisfy any sweet cravings!
Experience a tropical delight with this outstanding mango pie that's full of wonderful flavors and makes for an amazing dessert!
Featuring a filling made with mangoes, cinnamon, ginger, sugar, vanilla extract, lemon juice, and lime juice, this pie has a complex flavor and is extremely tasty.
Topped with toasted coconut flakes and citrus whipped cream, this pie is pure food heaven and incredibly satisfying!
With how delicious it is, it's no wonder why this is one of our favorite mango pie recipes!
This copycat recipe for Jollibee's Peach Mango Pie is a must-try in our books because it's a sweet treat that's superbly tasty!
Made with puff pastry sheets and filled with a combination of canned peaches, peach syrup, diced mangoes, sugar, and cornstarch, these pocket pies are then deep-fried until super crispy with a beautiful golden brown color.
This decadent indulgence might not be the healthiest dessert around but it's definitely one of the best-tasting and it's so easy to make!
You'll find it difficult to limit yourself to just one serving because of how delectable these pocket pies are!
Whip up an awesome sweet treat with this Mango Cream Pie that tastes absolutely divine and is sure to delight your senses!
With a flaky crust, creamy vanilla custard, and mango slices, this is a mango lover's dream dessert and it's filled with refreshing flavors you're bound to fall in love with.
The mango slices are arranged in a way that resembles the petals of a flower, creating a visual treat that's as beautiful as it is delectable.
Make this for your next meal and be prepared to be showered with plenty of compliments!
Everyone loves a good no-bake recipe as it's easy to make without much hassle and that's exactly what this simple mango pie recipe is all about!
Featuring a crust made with a combination of butter and chocolate cookie crumbs, then topped with a layer of filling that consists of mango purée, mango juice, jello, and whipping cream, this is as easy as it gets!
The mango filling has plenty of the tropical flavor that everyone loves and the crust provides a contrasting crunch that makes this a scrumptious treat.
Garnish with mango slices for maximum enjoyment of this wonderful dessert!
This is one of those easy mango pie recipes that you'll definitely want to keep handy!
Shake things up a little and try making this splendid pie that combines two of our favorite fruits in one single dessert!
Strawberries, mangoes, apple juice, sugar, and honey come together to create a palatable filling that hits all the right spots for a tasty sweet treat!
Topped with a crumbled filling, this simple pie is absolutely irresistible and makes for a mouthwatering dessert any day of the week.
There's nothing not to like about this quick and easy recipe!
Get ready to be amazed by this Mango Key Lime Pie that tastes absolutely heavenly and it's an easy no-bake recipe to boot!
Made up of a combination of key lime juice, sweetened condensed milk, cream cheese, mangoes, whipping cream, and key lime zest, the filling has a well-balanced sweet and tart flavor that's incredibly enjoyable.
Add graham cracker crust and cool whip topping into the mix, and you'll have a delectable dessert that everyone just can't get enough of!
We have no doubts that this will quickly become one of your favorite mango pie recipes!
Level up your baking game with this exquisite Peach Mango Crumble Pie recipe that will surely impress your friends and family!
The dessert involves a lovely combination of mangoes, peaches, nutmeg, cinnamon, brown sugar, and other ingredients to create a sweet filling that's incredibly delicious.
It has a crumble topping that consists of pecans, cinnamon, brown sugar, salt, and flour, all baked in the oven until bubbly and crisp.
Everything comes together really well to create a divine sweet treat that might just be the next family favorite!
If you need a dessert to impress, check out these excellent Mango Bread Pies that provide a refreshing twist by using bread as the crust instead!
These brilliant pies involve filling white bread slices with a sweet mango filling, brushing them with eggwash, and then coating them with breadcrumbs before being fried until golden brown and crispy.
The remarkable texture of these pies makes them an addictive sweet treat and you'll find yourself devouring these pies before you even know it!
Give this recipe a try and your taste buds will thank you!
At Glorious Recipes, we have our favorite Mango Flower Pie that we absolutely adore and it tastes heavenly! Check out the recipe below!
Yield: 1
Mango Flower Pie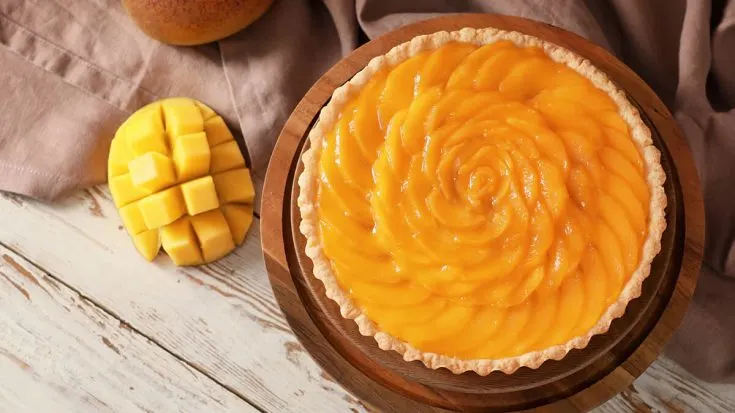 This beautiful Mango Flower Pie looks as good as it tastes and is sure to be a crowd favorite with its impeccable flavor!
Total Time
4 hours
15 minutes
Ingredients
Pastry Cream Filling
1½ cups half-and-half
2 tsp vanilla extract
4 large egg yolks
½ cup granulated sugar
¼ cup all-purpose flour
⅛ tsp. salt
2 tbsp butter, unsalted and cut into ½-inch cubes
Pie Crust
1 large egg
1 tbsp water
1 store-bought pie crust (or use any homemade crust), 9-inch
Topping
Instructions
Add half-and-half and vanilla extract to a saucepan over medium heat. Bring to a simmer while stirring occasionally and avoid boiling.
In a large mixing bowl, add egg yolks, sugar, flour, and salt, and whisk until fluffy and the yolks have lightened in color. Slowly pour the half-and-half mixture into the mixing bowl to temper the eggs while whisking continuously. Pouring too fast will result in curdling instead.
Add the egg mixture back to the saucepan over medium-low heat. Slowly stir while heating until the pastry cream has thickened. To test if it's ready, coat the back of your spoon with the pastry cream and draw a line to the bottom of the spoon. It should stay for a few seconds. Remove saucepan from heat and whisk in butter. Transfer the pastry cream to a bowl and cover with plastic wrap before refrigerating for at least 3 hours or overnight to chill it.
Whisk 1 large egg and 1 tablespoon of water to make eggwash. Prepare pie crust according to package instructions. For the final 2 minutes, brush eggwash along the sides and bottom of the crust, then finish baking. Set aside to cool.
Take chilled pastry cream and whisk for smoother consistency. Add pastry cream to the cooled pie crust. Refrigerate while you prepare the mangoes.
Peel mangoes and slice them lengthwise. Once done, remove pie from refrigerator and carefully arrange the mango slices starting from the sides and repeat all the way to the center, creating a floral pattern. Use smaller slices for the center. Chill the pie for an hour before serving. Enjoy!
Notes
You can prepare the pastry cream beforehand. It can be kept up to 3 days in the refrigerator.
Nutrition Information:
Yield:
8
Serving Size:
1
Amount Per Serving:
Calories:

372
Total Fat:

17g
Saturated Fat:

8g
Trans Fat:

0g
Unsaturated Fat:

8g
Cholesterol:

163mg
Sodium:

200mg
Carbohydrates:

48g
Fiber:

3g
Sugar:

33g
Protein:

8g
Nutrition information is only an estimate and can vary depending on ingredients used.
Which of the mango pie recipes have you tried so far?
Let us know in the comments below!
For more awesome dessert recipes that you might like, check out the following:
Polvoron
Mini Donut
Entremet
Asian Pear
Mulberry
Sour Cherry
Mini Bundt Cake
Yonanas
Dash Waffle Maker
Whipped Cottage Cheese
Share on your favorite social media platform and tag us @GloriousRecipes – we can't wait to see what you have made!