Maruchan ramen is a staple in the world of instant noodles and has been warming hearts and bellies for decades!
Each bite of these noodles, bathed in rich and aromatic broth, is a reminder that sometimes the simplest pleasures in life are the most gratifying.
There are a variety of Maruchan ramen flavors on offer, from classic chicken to tantalizing chili, and you can even enhance your dining experience with premium Maruchan Gold that promises restaurant-quality ramen.
Even though they taste great in their base form, you can elevate Maruchan ramen with some simple additions!
From exotic pad thai to ramen burgers, we've got you covered with some of the best Maruchan ramen recipes that you can easily try at home!
This Chicken Tantanmen is a Japanese adaption of the Chinese "Dan Dan Noodles" which originates from Sichuan cuisine!
Ground chicken made tasty with fermented chili bean paste, soy sauce, and sake, is combined with Maruchan ramen, bok choy, eggs, and green onions in a flavorful broth that's sure to satisfy any appetite.
Every mouthful of this ramen is bursting with umami flavors as the broth is made with a variety of ingredients that include tahini, milk, garlic, chicken broth, and fermented chili bean paste.
It's a hearty dish that's great any day of the week!
Enjoy an exceptional meal with this Stir-Fried Ramen with Seared Tuna that's amazingly delectable and so easy to prepare!
It's a lovely combination of Maruchan ramen, carrots, peanut butter, mirin, soy sauce, ginger, and sesame oil, served alongside perfectly seared ahi tuna steaks.
Taking only 15 minutes from start to end, this is a quick and easy dish that's great for an awesome weeknight dinner!
You'll love how fantastic it tastes for something so simple to make!
In what is one of our favorite Maruchan ramen recipes, this Tequila Lime Shrimp Ramen delivers a refreshing and tantalizing flavor that's surprisingly addictive!
Chili-flavored Maruchan ramen is combined with sautéed shrimp, cherry tomatoes, corn, onions, chili-lime seasoning, tequila, and lime juice to create a palatable dish you're sure to love.
Completed with a garnish of tortilla strips and cilantro, this ramen dish is superbly tasty and will make salivate at the thought of it!
Give it a try and you'll definitely not be disappointed!
For an excellent noodle base that you can easily customize, make sure to check out these Spicy Ramen Noodles!
Made simply by combining Maruchan ramen noodles, garlic, and green onions with a sauce base of soy sauce, brown sugar, and water, this is as easy as it gets!
Don't be fooled by the simplicity of this dish because you get tons of amazing flavors and you can add your favorite protein and veggies to turn it into a complete meal.
Whether you fancy some chicken or seafood, this tasty ramen makes for a splendid accompaniment!
Treat yourself to an exquisite meal with this remarkable Maruchan ramen recipe that makes a heavenly-tasting Chicken Shoyu Ramen!
Using Maruchan Gold Soy Sauce Ramen as the noodle base, this dish also features dried wakame, chicken thighs, and okra, with other ingredients such as mirin, soy sauce, and sesame oil to make it extra tasty.
This savory ramen dish is an absolute treat and will surely enhance your dining experience with its fantastic flavors!
Who knew instant noodles could taste this good?
Spruce up your next meal with this brilliant Soy Garlic Chicken Instant Ramen that's sure to captivate your taste buds!
This dish features pan-fried chicken thighs that have been coated with a mix of cornstarch and Maruchan packet seasoning, along with ramen noodles coated with gochujang, mirin, brown sugar, and other lovely ingredients.
The noodles are extremely flavorsome and they are full of depth and complexity, making this a must-try dish in our books!
Garnish with green onions for maximum enjoyment of these fantastic Maruchan ramen noodles!
Jazz up your instant noodles with this marvelous recipe that makes a delicious Maruchan Chicken Bowl and it's so easy!
It's a delectable combination of ramen noodles, chicken thighs, and eggs, with other ingredients such as sesame oil, garlic, ground ginger, and soy sauce adding plenty of delightful flavors to the dish.
It doesn't take much effort to make but the chicken and egg definitely helps to bring up the nutritional value of instant ramen!
Skip the regular plain instant noodles and make sure to give this Maruchan ramen bowl a try!
This is easily one of our favorite Maruchan ramen recipes because this Laksa Instant Ramen is crazy delectable!
There's no lack of amazing flavors with laksa paste, coconut milk, and brown sugar used to enhance the chicken and shrimp seasoning packets that come with the packaging.
Topped with bird's eye chili, cilantro, green onions, and lime wedges, this laksa is a tantalizing treat that will delight all spicy food lovers!
If you love rich and bold flavors, you'll love this exceptional Laksa Instant Ramen!
Expand your meal options with this superb Vegetable Ramen Pad Thai that's exceptionally easy to make with a few simple ingredients!
This dish features a combination of Maruchan ramen and mixed vegetables with a flavorful sauce to tie everything together.
The sauce is made simply by mixing peanut butter, sriracha sauce, and soy sauce, adding tons of great flavors to the noodles and vegetables!
This is a pad thai-inspired dish that aims to recreate the wonderful flavors of the classic Thai dish in the comfort of your home!
Keep it simple with this Ramen Stir-Fry that's quick and easy to whip up and tastes better than your regular Asian take-out!
With chicken breast, bell peppers, garlic, carrots, and mushrooms, this dish is superbly tasty and loaded with wonderful nutrients!
It's made flavorful with sesame oil, soy sauce, honey, and ginger, creating a mouthwatering delight that you definitely don't want to miss out on.
This fantastic Maruchan ramen recipe is sure to be a hit with the family!
Grace your taste buds with this creamy Pumpkin Ramen Soup that's incredibly delicious and filled with warm fall flavors you're bound to love!
The broth is made with a lovely combination of pumpkin purée, coconut milk, sriracha sauce, seasoning from the packet, and water, rendering tons of amazing flavors.
Add chicken, mushrooms, aromatics, and Maruchan ramen into the mix, and you'll have an outstanding dish that's just irresistible!
This Maruchan ramen recipe makes great comfort food and is fantastic on a cold and chilly day!
Whip up a simple but tasty Ramen Soup with this wonderful recipe that you'll definitely want to keep handy!
This dish features a delightful mix of ramen noodles, zucchini, and mushrooms, all cooked and simmered in a flavorsome soup that consists of chicken broth, sriracha sauce, curry powder, lime juice, soy sauce, and other aromatics.
You can easily throw in any of your favorite proteins to elevate the ramen soup to another level but it already tastes terrific on its own!
Quick, easy, and delicious, just how we like our recipes to be!
Discover an exceptional dish with this Sesame Garlic Ramen Noodles recipe that's exceptionally tasty and sure to captivate your taste buds!
It's ridiculously easy to make and all you need is 6 simple ingredients to get this dish going!
Made simply with tamari, sriracha sauce, coconut sugar, sesame oil, garlic, and Maruchan ramen, this is a mouthwatering dish that's full of aromatic flavors.
With how delicious it is, we have no doubts that this will quickly become one of your favorite Maruchan ramen recipes!
If you're looking for a creative dish to impress, look no further than this stunning Ramen Burger that's sure to turn heads!
Maruchan ramen replaces burger buns in this terrific dish and it includes a flavorful beef patty, arugula, sriracha sauce, and ketchup.
It makes for an interesting dining experience with a fantastic flavor to match, and it's unbelievably easy to whip up!
You'll definitely want to add this to your cooking repertoire!
Amplify your next meal with this fabulous Yakiniku Miso Ramen that brings together some of our favorite ingredients in one dish!
Sliced pork loin, dried wakame, and Maruchan Gold Spicy Miso Ramen combine with mirin, sake, soy sauce, and aromatics to create an absolutely delightful treat that's sure to be a crowd-pleaser!
It's superbly tasty and extremely flavorful, making it perfect for a hearty meal any time of the day.
With an outstanding taste, you can eat this every day and not get tired of it!
At Glorious Recipes, we have our favorite Spicy Maruchan Beef Ramen that we absolutely adore and it tastes heavenly! Check out the recipe below!
Yield: 2
Spicy Maruchan Beef Ramen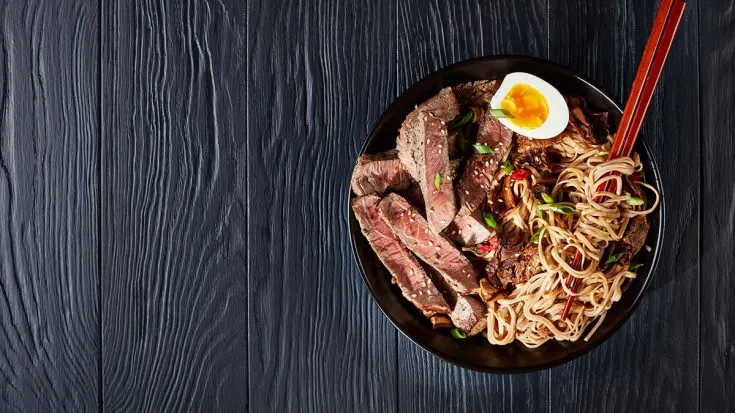 This Spicy Maruchan Beef Ramen is incredibly delicious and sure to elevate your instant noodle experience!
Ingredients
1 pack of Maruchan ramen (Beef)
1 tsp toasted sesame oil
½ tsp sriracha sauce
½ tomato, diced
1 small onion, diced
½ tbsp ginger, grated
2 cloves garlic, minced
½ cup water
1 tbsp soy sauce
2 cups beef broth
2 eggs
½ tbsp olive oil
4 oz beef steak
salt, to taste
pepper, to taste
½ cup green onions, chopped
red chilies, cut (optional)
sesame seeds, for garnish
Instructions
Add sesame oil and sriracha sauce to a large pot over medium-high heat. Add diced tomatoes and onions to the pot and cook until fragrant and the onions become translucent, around 4 minutes. Add ginger, garlic, and seasoning packets. Toss to combine well. Add water and stir.
Use an immersion blender to purée the mixture or transfer the mixture to a regular blender once cool enough to handle and purée. Transfer blended mixture back to pot. Add soy sauce and beef broth, then stir well. Bring mixture to a boil, then lower the heat to a simmer. Let them cook for 10 minutes.
Bring a pot of water to a boil. Add eggs and let them cook for 6 minutes. Remove the eggs from the hot water immediately and run them under cold water for about a minute. Peel the eggs and cut them into halves. Set aside.
Add olive oil to a skillet over medium-high heat. Sear the beef to desired doneness and season with salt and pepper to taste. Set aside.
Bring the pot of sauce to a boil. Add Maruchan ramen noodles to the pot and cook for 3 minutes. Add green onions and red chilies (if using). Remove from heat.
Serve ramen with eggs and beef. Garnish with sesame seeds. Enjoy!
Nutrition Information:
Yield:
2
Serving Size:
1
Amount Per Serving:
Calories:

618
Total Fat:

36g
Saturated Fat:

11g
Trans Fat:

0g
Unsaturated Fat:

22g
Cholesterol:

241mg
Sodium:

2588mg
Carbohydrates:

41g
Fiber:

6g
Sugar:

5g
Protein:

34g
Nutrition information is only an estimate and can vary depending on ingredients used.
Which of the Maruchan ramen recipes have you tried so far?
Let us know in the comments below!
For more awesome recipes that you might like, check out the following:
Reames Noodles
Momofuku Noodles
Shin Ramen
Shrimp Ramen
Kelp Noodle
Korean Soup
Silken Tofu
Enoki Mushroom
The Little Potato Company
Mango Pie
Share on your favorite social media platform and tag us @GloriousRecipes – we can't wait to see what you have made!