Canned beef is an awesome ingredient to have on hand when you want a quick and tasty meal because it's so convenient!
It's also really versatile and you can incorporate it into many different recipes to whip up incredible meals that are just irresistible.
From amazing pies to delicious fried rice, we've got you covered with some of the best canned beef recipes that you can easily try at home!
Enjoy Jamaican-inspired food with this canned corned beef recipe that makes a tasty bully beef!
With onion, habanero, thyme, tomato, and green onion, the corned beef is infused with simple and delightful flavors, making it easy to enjoy.
It's a versatile dish and can be paired with vegetables, potatoes, rice, or even bread to make an awesome and hearty meal any time of the day.
This simple recipe is definitely handy to have for a quick and easy-to-make dish!
Make something a little different with this canned beef ravioli recipe that delivers a tasty meal with little effort!
The ravioli and a cheese mixture consisting of cottage cheese, mozzarella cheese, and Parmesan cheese are arranged in layers on a casserole dish and then baked in the oven until the cheese is melted and browned.
It's ridiculously easy to make and they taste so good with all that melted cheesy goodness!
This ravioli lasagna makes for great comfort food and you'll be wanting a second serving once you've had the first bite!
This is one of the best canned corned beef hash recipes and you'll definitely need to give it a try because it's absolutely delicious!
These patties are made by combining corned beef, grated carrots, potatoes, onion, garlic, and egg before they are fried in the pan until browned and crispy.
They make for an amazing appetizer or side dish that complements well with any other main course.
Dip in your favorite sauce or try the fantastic Tiger sauce or Bitchin' sauce for maximum flavor!
For a quick and easy meal that's hearty and tastes awesome, you've got to check out this canned roast beef recipe that makes a delicious beef stew!
With plenty of vegetables that you can freely add to this dish, you can be sure that you're getting tons of nutrients.
There's no lack of flavor either with beef stock and brown gravy mix being added, and the vegetables impart a subtle sweetness that makes this stew so tasty.
This canned beef stew is perfect for an easy but satisfying meal!
Combine shepherd's pie and corned beef hash into one dish with this exceptional corned beef cottage pie!
Tasty corned beef filling that's seasoned with herbs and sauces is topped with mashed potatoes and shredded cheddar cheese to create an extremely flavorful dish.
Baked in the oven until the top is golden and bubbling, it's the perfect dish to serve for a wholesome meal.
If you love pies, you'll love this because it's beautiful, delicious, and just irresistible!
Recreate the flavors of Puerto Rican cuisine with this simple canned beef recipe that creates a simple and tasty meal!
The corned beef is cooked with sofrito, Sazón seasoning, tomato paste, and adobo seasoning, ensuring plenty of delightful flavors that blend really well together.
It's served with rice and fries for a traditional dish and it's extremely easy to whip this up for a quick and easy meal!
Savor this fantastic quiche that's incredibly easy to make and tastes excellent with simple ingredients!
Canned beef makes this really convenient and it's mixed with cheese, onion, garlic, egg, milk, and cream before everything is poured into a pie crust and baked in the oven.
The quiche comes out beautiful with alluring color and a wonderful flavor that makes it so addictive.
It's easy to make and definitely one of our favorite canned beef recipes!
It can't get any quicker and easier with this corned beef and potato dish that you can whip up within 15 minutes!
All you need to do is sauté garlic and potato strips before adding whisked eggs and corned beef to fully cook them.
It's that simple and once done, it can be paired with rice, bread, or eaten on its own for a hearty breakfast!
This recipe is great for whipping up a tasty meal when you have little time to spare!
Try your hands at making this incredible corned beef pie that's absolutely delicious and made with simple but satisfying ingredients!
The filling is a combination of canned corned beef, onion, and potato that goes really well together and is surprisingly addictive.
Together with the pastry skin that encloses the beef filling, the pie is baked in the oven until a golden brown crust is achieved.
It's sure to be a crowd-pleaser with how tasty it is!
Indulge in this fantastic corned beef fried rice that's delicious and makes for an awesome lunch or dinner that you can whip up anytime!
It's simple to make with a stir-fry of beef, garlic, rice, egg, and green onions with a dash of soy sauce to add more savory flavor for a tasty dish.
For a wholesome meal, you can add more veggies such as frozen peas into the mix and it'll still taste awesome!
It's a great recipe to make use of any leftover rice or corned beef and you get to enjoy a delectable dish at the same!
Dig into this tasty macaroni and corned beef casserole that's super easy to make!
Macaroni is combined with corned beef, cheddar cheese, milk, cream of chicken soup, and onion, plus a topping of buttered crumbs before they are placed in the oven and baked until browned.
It takes little effort to make this with the oven doing most of the cooking and you'll be enjoying warm comfort food at the end of it.
With how easy it is to whip this up, it's a must-add to your meal rotation!
Grace your taste buds with these corned beef cakes that are perfect as a delicious appetizer or side dish, or make it a main course by pairing other sides!
The corned beef is mixed with sautéed onions, potatoes, savory, salt, and pepper to create patties before they are dredged in eggwash and flour.
Fried until golden brown, these beef cakes are extremely flavorful with a nice crispy texture that's sure to please.
Serve with other sides such as eggs and veggies to make it into a wholesome meal!
This canned corned beef and cabbage recipe is an easy one-pot dish that can be whipped up with minimal hassle to satisfy any late-night cravings!
Onion, shredded cabbage, corned beef, tomatoes, and scotch bonnet pepper combine to create a hearty dish that can be cooked within 15 minutes.
It's a quick and simple dish that can be paired with many other items such as rice, dumpling, or even sandwiches.
Try it and you just might have a new favorite supper after that!
For an incredibly simple but tasty sandwich that's easy to assemble, check out this corned beef sandwich!
Toasted ciabatta rolls are filled with Swiss cheese, caramelized onions, corned beef, arugula, tomatoes, and horseradish mayo to create an exceptional sandwich that takes little effort to make.
It has great flavors that combine really well together and it's so easy to make with canned beef!
You'll get hooked after the first bite because it's just that tasty!
Spruce up your next breakfast with this amazing corned beef omelet that you can make with canned corned beef!
A hash is first made by cooking corned beef, potatoes, and onions together, and it's then added to an omelet when it's almost done, along with grated Parmesan cheese, to finish off the dish.
The omelet is folded to contain the hash and garnished with parsley before serving to create a hearty breakfast!
It's extremely delicious and a must-add to your breakfast rotation!
Impress your friends and family with this awesome pie that's absolutely delicious!
With a shortcrust pastry and a filling of corned beef, potatoes, onions, and carrots, the pie is made with wonderful ingredients and has a lovely flavor.
It has a beautiful golden brown hue that's visually appetizing when baked and it definitely doesn't disappoint with how delicious it is.
Serve with baked beans for a hearty and comforting meal that everyone will definitely enjoy!
Yield: 16
16 Simple Canned Beef Recipes To Try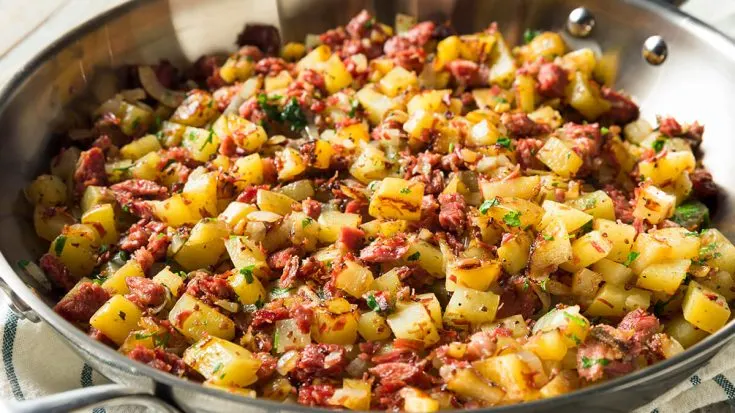 Try these canned beef recipes and enjoy a delicious meal! From amazing pies to delicious fried rice, there's always something for every occasion!
Instructions
Choose your favorite canned beef recipe.
Prepare all the required ingredients.
Whip up the tasty dish and enjoy an awesome meal!
Nutrition Information:
Yield:
16
Serving Size:
1
Amount Per Serving:
Calories:

461
Total Fat:

26g
Saturated Fat:

9g
Trans Fat:

0g
Unsaturated Fat:

14g
Cholesterol:

144mg
Sodium:

975mg
Carbohydrates:

32g
Fiber:

3g
Sugar:

8g
Protein:

25g
Nutrition information is only an estimate and can vary depending on ingredients used.
Which of the canned beef recipes have you tried so far?
Let us know in the comments below!
For more beef recipes, check out the following for more ideas:
Steak and Rice
Shaved Steak
Minute Steak
Beef Shanks
Black Pepper Angus Steak
Wagyu Steak
Bottom Round Steak
Recipes with Beef Broth
Share on your favorite social media platform and tag us @GloriousRecipes – we can't wait to see what you have made!