With the powerful blending capabilities of a Vitamix blender, you can create smooth and creamy soups in just a few minutes and we've got the best Vitamix soup recipes right here for you!
It's an extremely convenient way to enjoy delicious homemade soup with minimal effort, plus you'll achieve the perfect consistency and flavor every time!
Whether you're in the mood for a classic potato soup or something a little more unique like a Thai curried butternut squash soup, we've got you covered with some of the best Vitamix soup recipes that you can easily try at home!
Get ready to indulge in the most mouth-watering and satisfying tomato soup you've ever tasted!
This easy recipe, made entirely from scratch, comes together in just 15 minutes and is bursting with fresh and bold flavors.
The combination of canned tomatoes, vegetable broth, and spices creates a soup that's both comforting and nourishing.
One taste of this heavenly soup and you'll be hooked, so make sure not to miss out on this fantastic Vitamix soup recipe!
Treat your taste buds to a bowl of the most heavenly roasted potato soup you've ever had!
The roasted potatoes, blended with carrot, onion, chicken broth, milk, and seasonings, create a soup that's rich, velvety, and oh-so-satisfying.
Complete this creamy and flavorful soup with a sprinkle of red pepper flakes and Parmesan cheese to make it even tastier.
This Vitamix potato soup is sure to become a new family favorite, so don't wait any longer to give it a try!
This roasted cauliflower soup is a creamy, comforting masterpiece that's absolutely delicious and one of our favorite Vitamix soup recipes!
The hint of smokiness from the roasted cauliflower adds an extra depth of flavor that's truly irresistible.
This soup is so simple to make, yet it tastes as if it came straight from a 5-star restaurant!
It's finished off with a garnish of crispy, crunchy roasted cauliflower florets that adds a delightful texture contrast to the creamy soup.
Don't put off making this divine soup – your taste buds will thank you!
This easy tomato basil soup is the perfect recipe for a quick and satisfying meal and with its amazing taste, you definitely need to add it to your soup rotation!
The vibrant and fresh flavors of tomato and basil come together perfectly in this delectable soup and the smooth and creamy texture is sure to impress – thanks to the magic of Vitamix blender.
This soup is ready in just 10 minutes, making it a perfect choice for a busy weeknight dinner, and the vibrant red color of the tomato soup is sure to brighten up your plate and your mood.
Serve this Vitamix tomato soup with a side of crusty homemade bread for dipping, or enjoy it on its own for a light and healthy meal!
This incredible pea soup makes for amazing comfort food on a cold and chilly day and it tastes absolutely fantastic!
It's ridiculously easy to make and all you need to do is toss all the wonderful ingredients into your Vitamix and let the blender do its job.
The simplicity of this recipe belies the depth of flavor that's packed into every bite and with peas, lemon juice, thyme, and seasoning combined together, it's an addictive soup that you just can't get enough of.
It can be served cold or hot, and they are both just as delicious!
Recreate the exotic flavors of Thai cuisine with this fantastic Ginger Soup that'll definitely tantalize your taste buds!
The combination of ginger, bell peppers, lemon, apples, nuts, coriander, and other delightful ingredients creates a bold and flavorful broth with so many layers of depth in flavor.
This soup is perfect for a chilly day as it warms you up from the inside out and is one of the most comforting and hearty soups that you'd have tasted.
You'll be asking for a second serving right after the first sip because it's just that delicious!
Treat yourself to a splendid Vitamix Tortilla Soup that's crazy delicious and super comforting at the same time!
It's a smashing mixture of Roma tomato, carrots, celery, and bell peppers to create a vibrant and healthy base for the soup, and the addition of black beans and corn adds a hearty and satisfying texture that's super enjoyable.
Chipotle puree and cajun spice help to impart their fragrance and create a truly unique and delicious flavor profile.
It's a lovely soup that you can enjoy any day of the week!
This Vitamix Butternut Squash Soup is an incredible treat and makes for a delightful meal whether it's for lunch or dinner!
The key ingredient in this soup is, of course, butternut squash, and it's paired with a sweet and tart apple, adding a touch of flavor and depth to the soup.
Onion and garlic are sautéed in butter to create a fragrant base and help to bring savory elements to this tasty soup, along with chicken broth and thyme to round out the flavors.
This quick and easy Vitamix soup recipe is perfect for adding some variety to your meals and your family will surely be impressed by its wonderful taste!
Get ready to enjoy a bowl of hearty and flavorful Vegan Broccoli Soup that you'll definitely be making regularly because it's amazingly delicious!
This soup is loaded with nutritious vegetables like onions, celery, carrots, and broccoli, making it a perfect choice for those looking for a healthy and satisfying meal.
The addition of apple cider vinegar and Dijon mustard gives the soup a tangy and bold flavor, while fresh dill and lemon juice help to add a touch of brightness.
It's finished off with a topping of crispy croutons and roasted broccoli florets that help to add a crunchy texture and a smoky flavor to the dish.
Whether you're a vegan or just looking for a healthy meal option, this Vitamix broccoli soup is sure to hit the spot!
If you're looking for a warm and comforting soup that's full of flavor and nutrition, look no further than this incredible Vitamix Sweet Potato Soup!
This creamy and velvety soup is made with a base of sweet potatoes, which are packed with vitamins and minerals, making it a healthy choice for any meal.
A mix of spices including cinnamon, nutmeg, and black pepper helps to add some depth and complexity to the flavor, bringing a warm and cozy element to the dish.
The soup is finished off with a touch of heavy cream and apple cider vinegar, which adds a rich and tangy flavor to make it even more delicious.
It's a superb dish that's perfect for a quick and easy dinner option, and it can also be served as a starter for more formal occasions!
Experience the ultimate in luxury with this impeccable Mushroom, Truffle & Thyme Soup that's amazingly delectable and one of our favorite Vitamix soup recipes!
This velvety and rich soup is packed with the flavors of earthy mushrooms, woodsy thyme, and luxurious truffle oil, creating a unique and sophisticated taste.
The addition of roasted cashews adds a creamy and nutty element to the soup, making it a satisfying and filling choice.
It's perfect as a special starter for a fancy dinner party that'll definitely bring in all the compliments with its great taste!
For a simple and straightforward blender soup that tastes great, you've got to check out this Broccoli Cheddar Soup!
It's incredibly easy to make and the best part is that it only requires 5 main ingredients to whip up and you'll be enjoying a tasty bowl of soup in no time at all!
With a base of steamed broccoli, this tasty soup is loaded with nutrients, making it a healthy and nutritious meal that's perfect any time of the day!
Add milk, cheddar cheese, onion, and vegetable broth into the mix, and you've got yourself a delectable soup that you can slurp till the last drop!
Try your hands at this fantastic Vitamix Zucchini Soup recipe that's super creamy and delicious!
Zucchini and spinach form the base of this incredible soup with garlic and onion imparting their aroma to make it a tasty treat.
Basil and oregano help to provide depth and complexity to the flavor and the soup is finished off with a garnish of an amazing lemon yogurt garnish that adds a bit of citrusy zing to the flavor.
It's a lovely soup that can be served as a meal option or as a side dish, but no matter how you serve it, it's guaranteed to be an enjoyable experience!
This quick and easy Vitamix soup recipe will be your go-to for a healthy soup that you can make in a few minutes!
This refreshing soup is made with a combination of asparagus, chicken broth, lemon juice, Parmesan cheese, and heavy cream.
The heavy cream helps to add some richness to the flavor, and it can easily be substituted with crème fraîche, sour cream, or yogurt.
Whether you're looking for a light meal or just want to enjoy a comforting bowl of soup, this Vitamix asparagus soup is sure to satisfy!
Indulge in the hearty and fantastic flavors of this delicious Vegan Black Bean Soup that you definitely need to try!
This is a soup that's healthy and packed with nutrition and it's a great addition to any diet for a well-balanced meal.
Black beans, carrots, celery, bell pepper, and aromatics combine to create a delightful dish that's super tasty and has a great texture.
Every sip is just so appetizing and it's a must-add to your soup rotation!
Dig into the bold and savory flavors of this fantastic Roasted Red Pepper and Tomato Soup that's incredibly delicious!
This delightful soup is made with fresh red bell peppers, tomatoes, and onion, all roasted to perfection to bring out their natural sweetness and rich flavor.
Along with garlic, tomato paste, balsamic vinegar, and basil, the ingredients are blended to create a flavorful soup that'll definitely whet your appetite.
Serve with a garnish of hemp seeds and fresh basils for maximum enjoyment!
Impress your friends and family with this terrific Potato Parsnip and Leek Soup that tastes incredible and it's a sin if you haven't tried it yet!
The soup is made with a combination of hearty vegetables like russet potatoes, parsnips, leeks, and onions that are roasted to perfection and blended together with garlic, vegetable broth, and lemon juice.
Topped with a colorful and tangy chive gremolata made with chives, parsley, lemon zest, salt, and red pepper flakes, this soup is sure to warm your soul.
The blend of flavors, textures, and aromas makes it an irresistible dish that you just can't miss out on!
This delicious corn chowder is a hearty, comforting soup that's perfect for a cold day and it's so easy to whip up!
Made with fresh sweet yellow corn kernels, bacon, onions, and potatoes, it's a soup packed with great flavors and nutrition.
The addition of thyme, bay leaf, and garlic gives it an amazing aroma, creating a perfect harmony of flavors with depth and complexity.
It's rounded off with half-and-half and honey to make it creamy with a subtle sweetness and it's a simple Vitamix soup recipe that the whole family will definitely enjoy!
Get ready for a taste explosion with this fantastic Thai Curried Butternut Squash Soup!
This dish is packed with bold and delicious flavors that are a perfect balance of sweet and spicy.
The combination of squash, aromatics, curry paste, and other delightful spices creates a symphony of deliciousness in your mouth, while lime juice gives it a perfect tang to make it super appetizing.
It's finished out with a swirl of coconut milk and topped with coconut flakes and cilantro to provide a nutty and refreshing flavor that elevates the soup to another level.
Perfect for a cozy night in or for a crowd, this dish is guaranteed to be a crowd-pleaser!
Spruce up your next meal with this truly decadent, mouth-watering, and flavorful Maple Roasted Sweet Potato Carrot Soup!
This dish is truly irresistible and packed with heavenly sweet potatoes, succulent carrots, and savory red onions, all roasted to perfection with a deliciously rich and sweet maple glaze.
They are then blended with broth to create an excellent texture that's super satisfying with a creamy finish and it's a real treat for the senses.
Go ahead and treat yourself to one of the best-tasting Vitamix soup recipes and make it even more special by adding your favorite toppings such as sliced almonds, a drizzle of coconut cream, and freshly chopped parsley!
At Glorious Recipes, we have our favorite Vitamix Butternut Squash Soup that we absolutely adore! It's easy to make and tastes absolutely divine! Check out the recipe below!
Yield: 4
Vitamix Butternut Squash Soup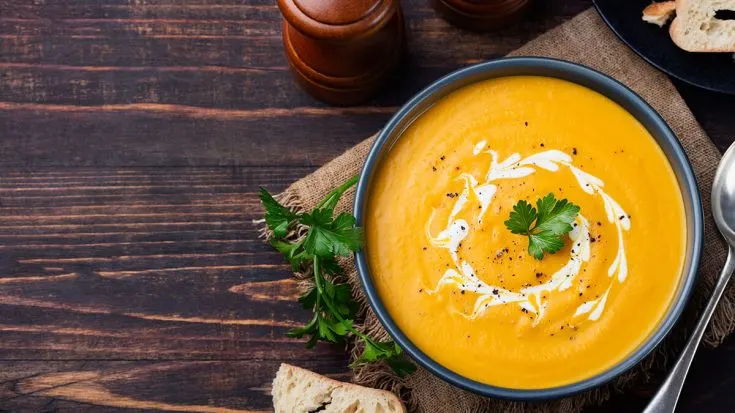 This simple Butternut Squash Soup is incredibly delicious and it's a breeze to make with a Vitamix blender!
Ingredients
3 cups butternut squash, peeled with seeds removed and cubed
1 large apple, peeled and quartered
1 tbsp butter
1 tbsp minced garlic
⅓ cup onion, chopped
¼ cup flour
¼ tsp thyme
⅛ tsp salt
1¼ cup chicken broth
heavy cream or coconut cream, for garnish
freshly chopped parsley, for garnish
Instructions
Start by steaming the butternut squash and apple for around 10-15 minutes, until they are soft.
In the meantime, add butter to a skillet over medium-high heat and sauté
garlic and onion. Cook until onion becomes translucent.
Add flour, thyme, salt, and chicken broth to blender. Blend for a few minutes until you have a thickened mixture. Add squash, apples, and onion mixture into the blender. Continue blending for about a minute until smooth or till desired consistency.
Garnish with a drizzle of cream and parsley, if using. Serve and enjoy!
Nutrition Information:
Yield:
4
Serving Size:
1
Amount Per Serving:
Calories:

203
Total Fat:

7g
Saturated Fat:

4g
Trans Fat:

0g
Unsaturated Fat:

2g
Cholesterol:

18mg
Sodium:

393mg
Carbohydrates:

36g
Fiber:

7g
Sugar:

13g
Protein:

4g
Nutrition information is only an estimate and can vary depending on ingredients used.
Which of the Vitamix soup recipes have you tried so far?
Let us know in the comments below!
Did you know that you can also use Vitamix to make delicious smoothies?
Don't miss out on our Vitamix Smoothie recipes!
For more awesome recipes that you might like, check out the following:
Kelp Noodles
Korean Soup
Protein Bowl
Neck Bones
Chicken Salad Chick Broccoli Salad
Lemon Cucumber
Oaxaca Cheese
Dash Waffle Maker
Share on your favorite social media platform and tag us @GloriousRecipes – we can't wait to see what you have made!