Shin Ramen noodles are one of the most popular instant noodles in the world and there's a good reason for that!
It's an umami bomb with extremely flavorful spices and the heat level is just right for an addictive kick.
There are a few variations available and other than the original version, Shin Ramen Black is also very well sought-after with its beef bone broth.
Whether you like it stir-fried or with a tasty broth, we've got you covered with some of the best Shin Ramen recipes that you can try to enhance your experience!
Give an instant upgrade to regular ramen with this fantastic recipe that's super easy to follow and all you need is a bowl and microwave oven!
The original instant ramen is cooked in the microwave oven before seafood stick, American cheese, and egg is added to provide loads of delightful flavors and nutrition to the meal.
It's microwaved again to cook the egg and melt the cheese and you end up with a bowl of creamy ramen that's super delicious!
Garnish with scallion before serving for maximum enjoyment!
Instant noodles and grilled cheese make for an unlikely combo but this is one of the most interesting Shin Ramen recipes that you definitely need to try!
This twist to the classic grilled cheese is really refreshing and if you're a fan of Korean cuisine, you might just find a new favorite comfort food with this variation.
Kimchi and instant ramen noodles provide a nice level of heat to the sandwich and every bite is a pure delight!
It's so easy to make and tastes really good!
Introduce a little Italian flair to instant ramen noodles with this amazing fusion to create a delicious and creamy carbonara dish!
The ramen noodles are given a creamy makeover with the addition of egg and Parmesan cheese, plus bacon to hit it home for a dish that definitely tastes and feels like regular carbonara.
It's perfect for a quick and easy meal when you want a change from the usual spicy Shin Ramen!
Garnish with green onions and add the chili powder from the spice packet to complete this wonderful dish!
This easy one-pot Shin Ramen recipe is perfect for those who want to cook a single serving late in the night when the craving hits because there's minimal clean-up required and it's so delicious!
The secret to achieving a super tasty broth is to use less water than stated at the back of the packaging so that you have an extremely flavorful soup base.
Pop an egg in and leave it undisturbed to cook for 30 seconds before removing the pot from the stove and enjoying the instant ramen directly.
Garnish with scallion and pair it with kimchi for the ultimate Korean comfort food!
When you want a change from instant ramen but still want that familiar Shin Ramen flavor because it's so delicious, you'll need to check out this fantastic cream pasta recipe!
Making use of the spice and vegetable packets, this recipe creates a gourmet meal by combining them with rigatoni, milk, gochujang, and cheese, among other impressive ingredients.
You end up with a delectable plate of creamy pasta that has all the umami flavors that you're looking for and it's just irresistible.
You've definitely got to add this to your meal rotation because it's absolutely delicious!
This simple recipe is actually inspired by a comic series and it quickly became viral when the fans tried it out in real life because it's easy to make and tastes delicious!
There's no broth in this and by using a frying pan or a similar wide pan, the water you add is shallow and is more akin to a sauce or gravy.
The secret in this recipe is to use half a packet of the seasoning instead of the whole thing so that you achieve a well-balanced flavor that's super addictive.
Add cheese, egg, and green onions to complete this amazing dish!
Make your next Shin Ramen meal a little fancier with this simple recipe that adds delightful ingredients to turn it into a wholesome meal!
Pick up some fishballs on your next trip to the Asian grocery store because you'll be using them in this recipe along with napa cabbage, Swiss mushrooms, and green onions.
It's super easy to make and they are all microwaved to cook the ingredients, resulting in a bowl of piping hot goodness.
Add some chili oil to enhance the flavor and increase the heat for an even tastier meal!
If you've tried Vietnamese food before, you'll know that many of the dishes have lime and cilantro as part of their ingredients.
In this Shin Ramyun recipe where Saigon meets Seoul, you have just that with the combination of lime, cilantro, and instant noodles.
It's ridiculously simple but the addition of these two ingredients makes the dish so much more refreshing and light!
Try it once and it might just change the way you consume instant noodles for good!
Elevate your instant ramen experience with soy-marinated eggs that make this an incredibly satisfying meal!
A mixture made by whisking Japanese mayo, raw egg, grated ginger, grated garlic, and the seasoning from the packet is added to the noodles to create a creamy consistency that's super yummy.
Topped with soy-marinated eggs and scallions, this instant noodles dish is a delightful treat that'll make you want a second serving.
Drizzle a little chili oil or sesame oil for increased aroma and maximum flavor!
Add some nutrition to your instant ramyun noodles with this simple recipe that makes it a tad less sinful and a little bit healthier!
Mung beansprouts are high in folate, iron, protein, and fiber, and adding them to the noodles also helps to provide a nice crunch and refreshing taste.
Along with green chili and green onions, this bowl of instant noodles is light and doesn't overwhelm, making it really enjoyable.
You can easily add other ingredients that you have on hand to make it into a more wholesome meal!
Indulge in this mayo ramen that's super delicious and it'll definitely be your favorite comfort food once you've tried it!
Wonderful ingredients come together in this recipe that combines Japanese mayonnaise, minced garlic, scallion, egg, and of course everyone's favorite seasoning from Shin Ramen.
The cooked noodles are strained and poured into this mixture and given a good stir to coat before garnishing with additional scallion.
It's amazingly tasty and easily one of our favorite Shin Ramen recipes!
Savor this delicious dry Shin Ramen that's given a twist with inspiration from Chinese biang biang noodles!
The seasoning pack, grated garlic, grated ginger, sesame seeds, and black pepper are combined together with a little hot oil to create a flavorful mix.
What makes this dish different from others is the addition of black vinegar to create a sauce base that's spicy, tangy, and difficult to resist!
Top with cooked noodles, fried egg, fried shallots, and scallion to enjoy this amazing instant ramen dish!
Amp up your next instant noodles meal with this simple recipe that makes a creamy dish that's really tasty!
It's super easy to make and the ingredients required are all common items that you'd be able to find in your nearest grocery store!
With shrimp and cream cheese added, you have a bowl of creamy noodles that's loaded with protein and it's made even better with the addition of egg yolk on top.
This is one of the easiest Shin Ramyun recipes to add some much-needed nutrients to instant noodles!
Turn instant noodles into a wholesome meal with this easy stir-fry recipe to whip up a plate of delicious dry Shin Ramen!
There's no lack of protein with the addition of chicken fillet and it's a versatile recipe where you can easily swap it with any other ingredients that you prefer.
It's also really flavorful with the packet seasoning, ketchup, garlic, and kimchi combined to create an absolutely fragrant mix.
Give this dry recipe a try to shake things up for your next instant noodles dish!
Load up your instant noodles with lots of delightful ingredients in this fantastic recipe to transform regular ramen into a gourmet version!
The broth is given an upgrade by using chicken broth instead of water and many ingredients are added to provide loads of nutrients to supplement the noodles.
With kelp, tofu, mushrooms, chicken, kimchi, and egg, there is no lack of wonderful flavors in this amazing dish.
You'll definitely be making this regularly with how good it tastes!
Impress your friends and family with this incredible chicken galbi ramen that's absolutely delicious and filled with umami flavors!
The chicken meat is marinated in a blended mixture that includes gochujang, sake wine, apple juice, honey, seasoning from the instant ramen, sesame oil, and many other wonderful ingredients.
It's extremely flavorful and absolutely delightful once you've taken your first bite.
It's the kind of heavenly indulgence that you wouldn't mind having over and over again, which means it goes straight to our list of favorite Shin Ramen recipes!
Peanut butter makes everything tastier and it's no different in this amazing recipe that delivers a bowl of spicy peanut butter ramen!
Black vinegar, honey, and soy sauce are also added to give a well-balanced flavor that makes this sauce absolutely irresistible.
Add the cooked noodles and toss them well in the sauce that includes the spicy seasoning to enjoy a hearty and delightful meal!
If you're a carbs lover, you've got to check out this recipe that combines two Korean staples into one amazing dish!
The ramen noodles are crushed and cooked as per the package instructions before they are given a quick stir-fry with garlic in a skillet.
White rice is added and cooked with the noodles so that it gets all that wonderful spicy flavor that we all love.
Top with a fried egg and it's ready to be served!
Inject some Chinese flair to Korean instant ramen with this fantastic recipe that makes an addictive hot and sour noodle soup!
The spiciness from the included seasoning packet is offset by the sourness of vinegar, creating the perfect soup that's super delicious.
With shrimp and vegetables added, this dish becomes a wholesome and nutritious bowl of noodle soup that you'll definitely be making when the craving hits.
If you've never tasted a Chinese hot and sour soup before, it's a good opportunity to try out this wonderful recipe!
Discover a simple instant ramen dish that's sweet, savory, and spicy all at the same time with this corn butter ramen recipe!
Corn is cooked in butter and combined with sugar, milk, mayonnaise, egg, and Parmesan cheese to create a sweet and savory mix that's amazingly tasty.
It's poured onto the ramen noodles and Tabasco sauce is added for an additional kick that makes this dish really refreshing!
Yield: 20
20 Shin Ramen Recipes To Try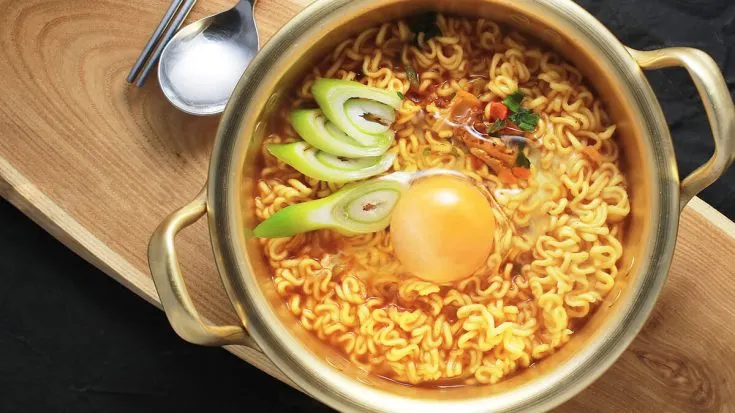 Try these Shin Ramen recipes and enjoy a delicious meal! Whether you like it stir-fried or with a tasty broth, there's always something for every occasion!
Instructions
Choose your favorite Shin Ramen recipe.
Prepare all the required ingredients.
Whip up the tasty dish and enjoy an awesome meal!
Nutrition Information:
Yield:
20
Serving Size:
1
Amount Per Serving:
Calories:

667
Total Fat:

26g
Saturated Fat:

10g
Trans Fat:

0g
Unsaturated Fat:

14g
Cholesterol:

142mg
Sodium:

1826mg
Carbohydrates:

77g
Fiber:

5g
Sugar:

6g
Protein:

30g
Nutrition information is only an estimate and can vary depending on ingredients used.
Which of the Shin Ramen recipes have you tried so far?
Let us know in the comments below!
For more lunch and dinner ideas, check out our list of Maruchan Ramen, Momofuku Noodles, Shrimp Ramen, Reames Noodles, Pappardelle, and Ditalini recipes!
Or pair your instant ramen with some Enoki Mushrooms and Silken Tofu for a more nutritious meal!
Share on your favorite social media platform and tag us @GloriousRecipes – we can't wait to see what you have made!