Banana peppers have a sweet and mild taste that's perfect for adding a light burst of flavor to any dish!
They are also nutrient-dense and are a great source of vitamins A, C, K, and other essential minerals that are great for the body.
Their vibrant color and subtle tang make them a popular ingredient and they can be used to whip up a wide variety of tasty dishes.
From stuffed banana peppers to pizzas, we've got you covered with some of the best banana pepper recipes that you can easily try at home!
Indulge in fantastic Fried Banana Peppers that are amazingly delicious and super addictive!
Pickled banana peppers are coated in a mixture of flour and salt before they are fried until crispy with a beautiful golden brown color.
It's incredibly simple to make and they are perfect as a side dish, appetizer, or just munch on them as a tasty snack!
Serve with your favorite dipping sauce or try out the delightful Bitchin' sauce or Tiger sauce for something different!
Skip the store-bought pickled banana peppers and make your own in the comfort of your house with this quick and easy recipe!
It's ridiculously easy to make and once you've tried it, you'll never go back to the store-bought version again.
All you need to do is add a mixture of vinegar, water, salt, and minced garlic to sliced banana peppers in mason jars and refrigerate them!
You can easily tweak the recipe and add a little sugar if you want something sweeter or add in your favorite herbs to give some depth to the flavor!
This Stuffed Banana Peppers with cream cheese, mozzarella, and Parmesan make for an absolutely delightful treat that's crazy delicious and just irresistible!
With Greek yogurt, garlic, basil, and oregano added into the mix, these peppers taste out of this world and you'll be gobbling them down before you even know it.
No one can say no to these peppers that are loaded with melted cheesy goodness and they'll quickly become one of your comfort food with their fantastic taste.
It's easily one of our favorite stuffed banana pepper recipes with how simple it is to make for something that tastes so good!
If you want something with a bit more meat, these Stuffed Banana Peppers with sausage definitely fit the bill!
The filling is made with a combination of Italian sausage, Parmesan cheese, cream cheese, Italian seasoning, garlic, onion, and other lovely ingredients.
Stuffed into peppers and baked in the oven with marinara sauce until we have an appetizing melted cheesy top, this is an exceptional dish that you just can't miss out on.
These Italian stuffed banana peppers make for an amazing meal with their delightful flavors!
Grace your taste buds with these Spicy Three Meat Banana Pepper Meatballs that taste mind-blowingly awesome!
It's a delectable combination of ground beef, ground pork, Italian sausage, banana peppers, aromatics, herbs, tomato puree, bread, and many other lovely ingredients to create these exceptional meatballs.
Baked in the oven until fully cooked, these tasty meatballs can be served with your favorite carbs or incorporated into other dishes such as pasta, sandwiches, or even casseroles.
There's no doubt that this will quickly become one of your favorite banana pepper recipes with how delicious it is!
If you're looking for a dish that's compatible with a paleo, vegan, or Whole30 diet, you've got to check out this wonderful stuffed banana pepper recipe!
The peppers are filled with a mixture of potatoes and olives coated in an extremely flavorsome tomato sauce and made tasty with aromatics, balsamic vinegar, and other spices.
They are baked until tender and they taste absolutely wonderful!
It's a hearty and satisfying dish that's perfect any day of the week!
Enjoy a hearty and nutritious meal with this fantastic banana pepper recipe that you absolutely need to add to your meal rotation!
Grilled chicken is combined with pita bread, cucumber, olives, tomatoes, onion, peppers, and mint to create a super wholesome dish that's packed chock-full of nutrients.
Paired with a banana pepper dip made by processing the peppers until thick and creamy, this is a dish that's big on great flavors.
It's a simple and healthy dish to make and tastes really good so don't wait and give it a try soon!
Discover new comfort food with this delightful Stuffed Banana Pepper Soup that's amazingly tasty and incredibly easy to whip up!
It's a delightful combination of green peppers, banana peppers, aromatics, herbs, cream cheese, Parmesan cheese, and orzo all cooked in chicken stock to create an extremely flavorsome dish.
This soup makes for a simple but filling meal and can be served for a delicious lunch or dinner any day of the week!
It's also a great way to add some variety to your pasta rotation!
Impress your friends and family with this homemade Banana Pepper Sauce that's loaded with incredible flavors and goes extremely well with many different dishes!
Made with garlic, sea salt, peppers, and water, it's a simple recipe that takes some time for the fermentation process to complete but it delivers a great-tasting sauce at the end.
The fermented peppers can be stored for months so don't be afraid to make a big batch because you'll be needing it once you've had your first taste of this fantastic hot sauce!
Dig into this splendid baked chicken that's quick and easy to whip up, perfect for an awesome weeknight dinner!
It's straightforward to make and involves seasoning chicken breasts with onion powder, garlic powder, and Italian seasoning before topping them with peppers and cheese.
Baked in the oven until the cheese has melted, it can be served with a side of your favorite carbs and veggies to turn it into a complete meal.
Taking only 30 minutes to cook, it's a fuss-free and easy recipe that puts tasty food on the table in no time at all!
Upgrade your grilled cheese sandwich with one of our favorite banana pepper recipes that bring together some of the beloved ingredients into one dish!
Bacon bits, peppers, and mozzarella cheese combine to create a tasty sandwich that's made even better with garlic margarine spread to impart a garlicky flavor that's just irresistible.
Grilled until the cheese has melted and the bread becomes crispy, it's one of those comfort food you'll definitely develop a craving for.
The best part is that everything comes together really quickly so you don't have to wait long before you get to enjoy this delicious grilled cheese sandwich!
Making a mouthwatering meal is incredibly easy with a crockpot and that's exactly what this simple recipe is all about!
All you need to do is add beef broth, chuck roast, peppers, and a variety of seasonings into the crockpot before letting the appliance do all the cooking for you.
Cooked low and slow, you get to enjoy extremely tender and delicious beef and peppers without much effort on your part!
You'll love how straightforward this recipe is for something that tastes so fantastic!
Make your own unique blend of tasty mustard with this incredible recipe that'll have everyone showering you with compliments!
It's a fantastic mix of blended peppers, jalapeños, apple cider vinegar, sugar, flour, and yellow mustard, all boiled until everything becomes smooth and well-mixed.
This condiment is perfect for hotdogs, burgers, pork roasts, and basically anything and everything!
It makes for a great gift as well and everyone will love it because it tastes absolutely amazing!
Pickled banana peppers on pizza is a combination you have to try because it adds a tangy and mildly spicy flavor that's super addictive!
Combine that with salami, garlic powder, Italian seasoning, and shredded mozzarella cheese, and you'll have an excellent pizza that's perfect for an extremely satisfying meal.
Everything comes together really well with complementing flavors and it's an absolute treat that the whole family will definitely enjoy.
It's one of those kid-friendly banana pepper recipes that you need to add to your cooking repertoire!
Recreate the exotic flavors of Sri Lankan cuisine with this exceptional stir-fry that's amazingly delicious and is sure to tantalize your taste buds!
There's no lack of flavors here with mustard seeds, cardamom, clove, cinnamon, aromatics, and a wide variety of spices included to impart tons of depth and complexity to this wonderful dish.
You can even turn it into a curry by adding coconut milk at the end if you want some gravy and it goes great with a bowl of steamed white rice.
It's a taste explosion in your mouth with every bite and if you love bold and rich flavors, you'll love this spicy banana pepper dish!
Take salsa to new heights with this splendid recipe that gives you a refreshing flavor thanks to banana peppers!
It's a lovely mixture of jalapeños, peppers, onion, garlic, tomatoes, cilantro, lime juice, and vinegar to create this excellent salsa that's extremely delicious.
Pair it with tortilla chips or use it as a taco topping to enhance the flavor of your favorite Mexican dishes!
It's so easy to make and we've no doubt that it'll quickly become one of your go-to salsa recipes!
Reward your taste buds with these outstanding Bacon Wrapped Cheese Stuffed Banana Peppers that are incredibly delicious and make for an excellent appetizer or snack!
Stuffed with a filling made from a mixture of jalapeño, tomato, bell pepper, onion, cheddar cheese, and cream cheese, the banana peppers are then wrapped with bacon and broiled until nicely cooked.
It's a visual treat as well with the different colors and it's perfect for an eye-catching appetizer that'll get your guests talking.
The vibrant and refreshing flavors make this a must-try recipe in our books!
Try your hands at making this superb dip that's easy to whip up and tastes incredibly delectable!
It's extremely simple to make with cream cheese, bacon, peppers, onion, shredded cheese, and other delightful ingredients combined to create this fantastic dip.
With a choice of cooking using a crockpot, slow cooker, oven, or even a microwave oven, it just can't get any easier.
Tortilla chips go exceptionally well and you'll be gobbling them down before you even know it!
For a terrific appetizer, side dish, or mid-day snack, you've got to check out one of the best banana pepper recipes that make tasty bites!
Stuffed with a mixture of cream cheese, garlic, green onions, and paprika, the peppers are cut into bite-sized pieces and coated with panko breadcrumbs before being baked until crispy.
They are extremely delicious and super addictive, and you'll be popping these babies like no tomorrow.
Get your favorite dipping sauce out and indulge in these delectable and satisfying crunchy bites!
Add a dose of tasty protein with this fantastic Crock Pot Butter Beef that's amazingly delicious and is sure to be a hit with the crowd!
It's super easy to make and all you need to do is add beef, peppers, butter, and seasonings into the crockpot, then just let the appliance do its job while you go about your daily routine.
You'll come back to tender, flavorful, and juicy meat that's just irresistible!
Pair with your favorite carbs and veggies for a wholesome meal or serve as is for a low-carb meal!
At Glorious Recipes, we have our favorite Pepperoni and Banana Pepper Pizza that we absolutely adore and it tastes heavenly! Check out the recipe below!
Yield: 1
Pepperoni and Banana Pepper Pizza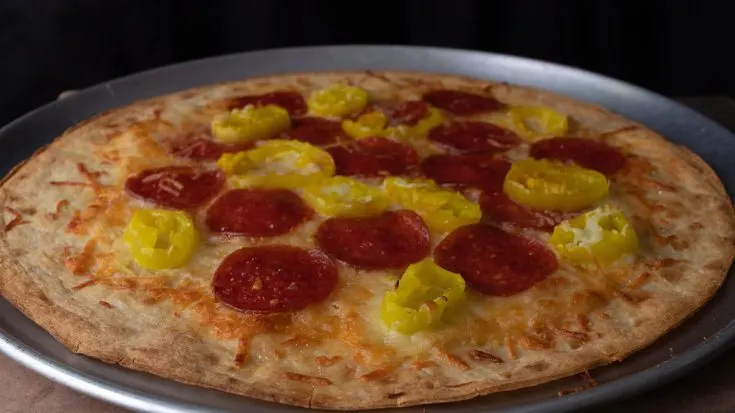 Savor delicious Pepperoni and Banana Pepper Pizza that's incredibly easy to make and tastes absolutely fantastic!
Ingredients
1 thin pizza crust, 12-inch prebaked
1 can tomato sauce
¼ tsp dried oregano
¼ cup Parmesan cheese, grated
1 cup mozzarella cheese, shredded
⅓ cup pepperoni, sliced
2 banana peppers, sliced with seeds removed
Instructions
Preheat oven to 450°F (230°C).
Combine Parmesan cheese, oregano, and tomato sauce and mix well. Spread it over pizza crust, then top with mozzarella cheese. Add pepperoni and banana peppers.
Bake for 12-15 minutes or until cheese has melted with a lightly browned crust. Serve and enjoy!
Nutrition Information:
Yield:
4
Serving Size:
1
Amount Per Serving:
Calories:

567
Total Fat:

22g
Saturated Fat:

8g
Trans Fat:

0g
Unsaturated Fat:

12g
Cholesterol:

39mg
Sodium:

1653mg
Carbohydrates:

73g
Fiber:

7g
Sugar:

7g
Protein:

21g
Nutrition information is only an estimate and can vary depending on ingredients used.
Which of the banana pepper recipes have you tried so far?
Let us know in the comments below!
For more awesome vegetable recipes that you might like, check out the following:
Hominy
Honeynut Squash
Japanese Eggplant
Taro
Canned Spinach
Frozen Green Beans
Frozen Cauliflower
Frozen Okra
Shredded Carrot
Share on your favorite social media platform and tag us @GloriousRecipes – we can't wait to see what you have made!