Canned spinach is a convenient and nutritious pantry staple that you can use to whip up amazing food at a moment's notice!
It's loaded with vitamins and minerals, and the delicate flavor means it's a super versatile ingredient that you can incorporate into many different dishes.
From tasty casseroles to creamy dips, we've got you covered with some of the best canned spinach recipes that you can easily try at home!
Savor a fantastic gratin with this simple canned spinach recipe that makes an incredible side dish to complement any meal!
Sautéed onion is combined with cream cheese, spinach, nutmeg, pepper, and salt, plus a topping of Parmesan cheese and crushed crackers to create a delectable gratin baked to perfection.
It's super easy to make and also really tasty, making it a dish that's easy to enjoy for the whole family.
Pair it with other sides and main dishes to complete a sumptuous meal!
If you have trouble getting people to eat just veggies alone, you've got to check out this Fried Spinach that's amazingly tasty!
It's essentially a stir-fry that involves canned spinach, egg, milk, and bacon bits, creating a savory delight that's sure to please.
This dish is incredibly easy to make and it can be enhanced with any of your favorite seasonings to suit your palate.
Everyone will be fighting for a second serving with how delicious it is!
Treat yourself to some yummy creamed spinach that goes extremely well with a side of protein such as chicken or pork!
The spinach is given a creamy texture with the addition of heavy cream and made flavorful with butter, garlic, nutmeg, salt, and pepper, creating a lovely dish that you just can't miss out on.
It's really simple to whip up and can be served as a side dish to complete a wholesome meal with alongside some carbs and meat.
Give it a try and you'll definitely not regret it!
This is one of the easiest canned spinach recipes that you can try and it makes a wonderful side dish with extremely little effort!
Canned spinach provides so much convenience and when you add an air fryer into the equation, you have one of the simplest dishes with the least hassle.
A little garlic powder and onion powder are added to make the vegetables flavorful and it's topped with butter before being air-fried until cooked.
It's ridiculously easy to make and you'll be pleasantly surprised at how good it tastes!
Dig into an exceptional dip with this terrific canned spinach recipe that combines some of our favorite ingredients together!
Artichokes and spinach are mixed with Parmesan cheese, cream cheese, garlic, mayonnaise, and sour cream to create an extremely flavorsome and addictive dip that goes superbly well with chips and crackers.
It makes for an excellent game day dip and everyone will definitely be satisfied with the lovely flavors that meld together.
Make this for your next party and be prepared to be showered with compliments!
Enjoy a fantastic meal with this Spinach Cheddar Bake that's absolutely delicious and it's so easy to make!
All you need are 5 main ingredients plus a little salt to make this comforting baked dish and there's so little prep work to do because we're using canned spinach.
It's a superb mix of spinach, crushed saltines, egg, onion powder, and shredded cheese to create this delightful cheddar bake with all that irresistible melted cheese on top.
With how tasty it is for something so easy to whip up, it's definitely a must-add to your meal rotation!
Level up your baking game with this outstanding quiche so delicious that you'll be hard-pressed to limit yourself to just one serving!
Canned spinach and store-bought pie crust make this pastry a breeze to whip up, and the filling of eggs, mayonnaise, onion, spinach, and cheese ensures plenty of delightful flavors.
Topped with shredded cheddar cheese and slices of tomatoes, the quiche is baked in the oven until a beautiful yellow color is achieved.
It's the kind of food that can be served any time of the day and makes for an amazing breakfast, lunch, dinner, or even as a tasty snack!
If you love rich and bold flavors, you've got to check out this fantastic Chickpea and Spinach Curry that is amazingly delicious!
With garam masala, garlic, ginger, turmeric, coriander seed powder, and chili powder, there are tons of great flavors in this curry that are sure to tantalize your taste buds.
Add spinach, chickpea, and tomatoes into the mix, and you have an awesome dish that's just waiting to be devoured.
The incredible flavors make this one of our favorite canned spinach recipes and you just got to try this splendid dish!
This cheesy canned spinach dip is a flavor bomb that's sure to light up any party and it's definitely going to be a hit with the crowd.
It's a combination of spinach, mayonnaise, sour cream, and cheese, plus a seasoning of Worcestershire sauce and other spices to make this extra flavorsome and delectable.
Baked until the top is filled with melted cheese, this dip is just irresistible and can pair with anything including crackers, chips, and even carrots.
It's a comforting dish that you'll want to make time and time again with how amazing it tastes!
Expand your cooking repertoire with this simple but delicious side dish that can easily be made with canned spinach!
It's a dish that's well-balanced between savory, sweet, and spicy flavors contributed by bacon, aromatics, chicken stock, sugar, and hot sauce.
Every bite is like a taste explosion in your mouth and it makes for an excellent side dish that definitely has a place in any meal.
Give this canned spinach recipe a try and you just might have a new vegetable side dish!
Breathe new life into your pasta dishes with this exceptional Creamy Spinach Sauce that's super tasty and will definitely whet your appetite!
The sauce is made fragrant with onion and garlic, and it's enhanced with chicken broth, basil, milk, and cheese.
Coated with this creamy sauce, any pasta will instantly be elevated to the next level, making it one of those absolute must-try canned spinach recipes in our opinion, especially if you're a pasta lover!
There's nothing not to like about this sauce that's full of depth and complexity and takes little effort to make!
Start your day right with a satisfying breakfast that combines two of the most nutritious ingredients into one awesome dish!
Both canned spinach and eggs are loaded with nutrients that are excellent in any diet and they provide all the fuel you need to power through your day.
This dish is also really simple to make with onion, salt, and pepper being the only ingredients used to enhance the flavor of the eggs and spinach.
Go healthy with this power-packed breakfast that also makes for an excellent brunch!
Enjoy a quick and simple meal with this Garlic Spinach that's incredibly easy to make and is perfect for any beginner home cook!
This easy canned spinach recipe involves a quick stir-fry of spinach with onion and garlic, making it a fool-proof simple side dish that anyone can whip up in an instant.
The aromatics make the vegetables amazingly fragrant and go extremely well with a side of protein and carbs to turn them into a wholesome and complete meal.
With how tasty it is for something that takes so little effort to make, this side dish is perfect for awesome weeknight dinners!
Grace your taste buds with this fantastic Spinach and Cheese Omelet that's superbly tasty and makes for an excellent side dish!
Whisked eggs are added to a hot skillet with butter before being topped with cheese and sautéed spinach until the omelet is formed and folded.
It's completed with a sprinkle of a little salt and pepper to make it even tastier, and a garnish of chives to add some color and depth to the dish.
This delectable omelet is one that you'll definitely want to add to your meals and makes great use of any canned spinach that you might have!
This canned spinach casserole is an awesome dish that's sure to impress your friends and family with its excellent flavors and irresistible aromas!
It's made delicious with the addition of mushroom soup, eggs, cheese, and bacon, ensuring plenty of lovely flavors that make this such an enjoyable dish for everyone.
Topped with cheese and croutons and baked to perfection, this is an exceptional casserole that just tastes divine with all that melted cheese goodness.
It's a heavenly combination of taste and texture that makes this one of the most popular canned spinach recipes!
At Glorious Recipes, we have our favorite Canned Spinach Sauté with Garlic that we absolutely adore and it tastes heavenly! Check out the recipe below!
Yield: 4
Canned Spinach Sauté with Garlic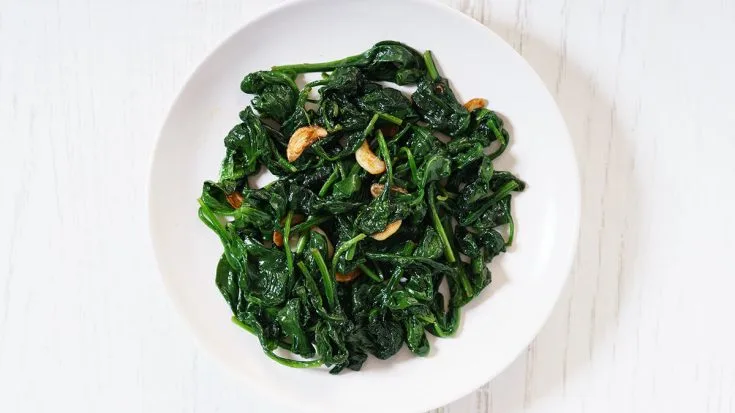 This tasty vegetable side dish is super easy to whip up and pairs superbly well with any protein!
Ingredients
1 canned spinach (14oz), rinsed and drained
6 cloves garlic, sliced or whole
1 tbsp extra-virgin olive oil
salt, to taste
pepper, to taste
Instructions
Add oil to a skillet over medium-high heat. Add garlic and cook till fragrant, then remove and set aside. Reserve the oil.
Add spinach to skillet. Season with salt and pepper, and toss the spinach to coat well. Sauté for 2-3 minutes until the spinach just wilts. Add garlic back to skillet and toss to combine.
Serve and enjoy!
Nutrition Information:
Yield:
4
Serving Size:
1
Amount Per Serving:
Calories:

48
Total Fat:

4g
Saturated Fat:

1g
Trans Fat:

0g
Unsaturated Fat:

3g
Cholesterol:

0mg
Sodium:

178mg
Carbohydrates:

4g
Fiber:

1g
Sugar:

0g
Protein:

2g
Nutrition information is only an estimate and can vary depending on ingredients used.
Which of the canned spinach recipes have you tried so far?
Let us know in the comments below!
For more awesome vegetable recipes that you might like, check out the following:
Daikon
Roma Tomato
Hominy
Banana Peppers
Japanese Eggplant
Taro
Frozen Green Beans
Recipes with Refried Beans
Romanesco
Silken Tofu
Share on your favorite social media platform and tag us @GloriousRecipes – we can't wait to see what you have made!