Carrot is loaded with nutrients and is a good source of fiber, beta-carotene, antioxidants, potassium, and vitamin K1.
It's super versatile and can be used in many different dishes to whip up awesome meals that everyone can enjoy!
Shredded carrot is especially useful in making a variety of sweet and savory food from carrot cakes to tasty salads, and we've got you covered with some of the best shredded carrot recipes that you can easily try at home!
Enjoy a refreshing shredded carrot salad with this fantastic recipe that you definitely need to give a try!
The carrot is combined with a delectable honey mustard dressing that's full of wonderful flavors and the salad is topped with sunflower seeds, shallots, and parsley, giving it a great texture and taste.
With a sweet and spicy flavor, this salad is super addictive and makes for a healthy meal any time of the day!
This salad is a must-add to your salad rotation in our books because it's just that delicious!
Skip the deep-fried fries and snack on these amazing carrot fries that are baked to perfection and taste absolutely delicious!
It's healthier with tons of nutrients and you can feel less guilty whenever you pick them up for a quick mid-day snack!
Parmesan cheese helps to enhance the flavor even further and you'll be hard-pressed to stop yourself from finishing the whole bowl!
It's super easy to make and definitely one of our favorite shredded carrot recipes to try!
Make these superb carrot fritters and everyone will be fighting for seconds because they are oh-so-yummy!
Shredded carrots combine with shallots, garlic, cilantro, egg, and flour to form these tasty fritters and they are cooked until nicely crisp and golden brown.
Add a dollop of Greek yogurt that has been mixed with cilantro and lime juice for a refreshing combination that's really enjoyable.
It's a great appetizer or side dish to complement any main dish for a wholesome meal!
Inject a little French flair to your next salad with this fantastic recipe and you might just have a new favorite dish once you've tried it!
It's incredibly simple to make and in essence, it's a shredded carrot slaw with a light dressing that makes this dish really easy to enjoy.
The dressing is a mixture of vinegar, Dijon mustard, salt, and pepper, plus a little oil to finish it off and it's poured on shredded carrots with a garnish of chives.
It's a minimalistic salad that has great flavors and is a great pairing with a side of protein such as Wagyu steak or elk steak!
This shredded carrot salad with raisins and pineapples is an awesome combination that's superbly tasty and filled with delightful flavors!
With a mayonnaise dressing that's mixed with lemon juice, sugar, and salt, the salad is sweet, tangy, and refreshing all at the same time.
It's made even tastier with the addition of pecans to give a wonderful crunchy texture to the dish and the salad is just out of this world.
Try it for your next meal and you'll likely be pleasantly surprised!
If you're having trouble getting your kids to eat their share of carrots, you've got to check out this simple recipe that makes shredded carrots really tasty!
A little butter and soy sauce do wonders to the flavor of shredded carrots and you'll be enjoying delicious carrots in under 15 minutes.
Every bite is bursting with umami flavors, making them really addictive and delightful!
Serve this as a side dish to complement any of your favorite main courses!
Start the day right with this terrific hash that's perfect for a hearty breakfast and it's really simple to make!
Shredded carrots and breakfast sausage are made tasty with a variety of seasonings and they help to make this a low-carb dish that's a great substitute for the traditional potato hash.
A garnish of cilantro and lime juice completes this dish to make it really refreshing and you can serve it with a fried egg to pack even more nutrition into a single meal!
Inspired by Moroccan cuisine, this shredded carrot salad recipe is a must-try with wonderful ingredients combined together to create an awesome dish!
Medjool dates add a subtle sweetness and pistachios help to give a nice crunch and familiar flavor to the salad, with shredded carrot serving as the vegetable base.
Mint, cilantro, and lime juice make it really refreshing and feta cheese adds a nice finishing touch to complete this delightful salad.
It makes for a great appetizer and can easily be made ahead for serving at parties!
This is one of our favorite shredded carrot salad recipes because it's absolutely delicious and can easily be enjoyed by both kids and adults alike!
With carrots, apples, cranberries, and walnut, this salad is loaded with nutrients and has a natural sweetness that makes it super delectable.
A classic slaw dressing made with mayonnaise, lemon juice, sugar, and salt helps to elevate this salad to another level and gives depth to the flavor.
If you're having trouble getting your kids to eat carrots, this salad might just be the solution to your problem!
For a simple salad side dish that you can pair with your protein, check out this carrot and coriander slaw salad that's packed with wonderful flavors!
The fragrance of coriander helps to give this salad a great aroma while shredded carrot helps to provide a great texture and loads of nutrition.
They are coated in a simple mayonnaise dressing with lime juice to give a refreshing flavor that makes it a delightful dish.
Serve it with your favorite protein and enjoy this tasty salad!
Mix things up a little and try this lovely shredded carrot and orange salad that'll definitely tantalize your taste buds!
The citrusy sweetness of oranges is a great complement to carrots and they form a tasty combo that's loaded with vitamins, fiber, and essential minerals.
It's given an upgrade with a simple orange juice dressing that's spiced with cinnamon and cumin, adding depth to the flavor of this incredible salad.
It's one of the simplest shredded carrot recipes and you can enjoy this wonderful salad in under 15 minutes!
Treat yourself to a delicious muffin for breakfast, dessert, or a mid-day snack with this fantastic shredded carrot recipe that combines simple ingredients to deliver big on flavor!
Carrots, raisins, and walnuts come together really nicely and they form the core of this tasty muffin that's spiced with nutmeg and cinnamon.
It's the kind of sweet treat you'll look forward to in every meal and having it first thing in the morning just helps to put a smile on your face and set the tone for the rest of the day!
With how tasty these muffins are, you've got to be careful not to get addicted to them!
Get your dose of antioxidants, vitamins, and essential nutrition with this incredible shredded carrot and zucchini salad!
Tossed in a dressing of lemon juice, lemon zest, garlic, and a variety of spices that includes cumin, cinnamon, ground coriander, and sweet paprika, this salad is extremely flavorful and delightful.
With a garnish of cilantro and mint, it helps to add even more refreshing flavors that really bring out the best of this nutritious salad.
It's a great side dish to pair with any protein and it definitely has a place in any meal!
Get a taste of German food with one of the easiest shredded carrot recipes that you definitely need to try!
Carrots and apples combine really well together and deliver a mix of sweetness and crunch that's super addictive, and you can elevate this salad further by adding nuts to the mix!
It's bright and refreshing with a basic dressing of cider vinegar, lemon juice, sugar, and sunflower oil.
Serve this as a side dish for a wholesome and delightful meal!
Recreate the oriental taste of Asian cuisine with this fantastic coleslaw recipe that's perfect as an appetizer or side dish!
With shredded cabbage, carrot, cucumber, cilantro, and chopped peanuts, this salad has an amazing crunchy texture that's super appetizing with a ginger-miso mayonnaise dressing.
There are so many wonderful flavors with every bite and you'll be devouring this salad before you even know it!
Serve it cold for maximum enjoyment and you'll have an awesome meal any time of the day!
If you find your meals dull and in need of some color to brighten them up, this amazing shredded beet and carrot slaw recipe will definitely do the job!
This dish has an excellent texture and flavor, plus the bleeding of the beets will instantly spark some life into your meals with its ruby red color.
With white wine vinegar, lemon juice, and cilantro added to the mix, it's super refreshing and you'll love how delectable it is.
It's a fantastic dish that you should definitely give a try!
Expand your baking skills with this incredible zucchini carrot bread that's moist, delicious, and nutritious!
It's filled with shredded carrot and zucchini, plus a spice of nutmeg, cinnamon, and ginger to make it extremely flavorsome.
Chopped pecans help to add a nice crunch with every bite and everything combines really well to create an amazingly delicious bread that you just can't get enough of.
Add this to your breakfast selection and your family will thank you for it!
Combine carrot cake and scones into one delightful sweet treat and you'll end up with this fantastic carrot cake scone!
Filled with shredded carrots and all the beloved fall spices that include nutmeg, cinnamon, and ginger, these scones are just irresistible!
The cherry on top of the cake is the delicious cream cheese frosting that adds so much flavor to enhance the sweetness and overall flavor of the scones.
Bake these scones for your next dessert for an awesome post-dinner treat!
We can't leave out classic carrot cake when talking about shredded carrots and this recipe definitely ticks all the checkboxes for an amazingly delicious dessert!
With a light and fluffy interior, this cake is super delightful to enjoy and it's easy to see why it remains so popular after all this time.
Filled with shredded carrots and spiced with cinnamon, the cake combines well with the layers of cream cheese frosting to create an irresistible dessert.
It's extremely flavorful and definitely one of our favorite shredded carrot recipes!
Another dessert that you can make while infusing the flavors of carrot cake is this baked oatmeal that's absolutely delicious!
There are so many wonderful flavors and textures that combine really well together in this dessert and you'll get hooked after the very first bite!
With carrots, raisins, walnuts, and familiar fall spices, it makes for a tasty breakfast, dessert, or snack any time of the day!
Yield: 3
Asian Shredded Carrot Salad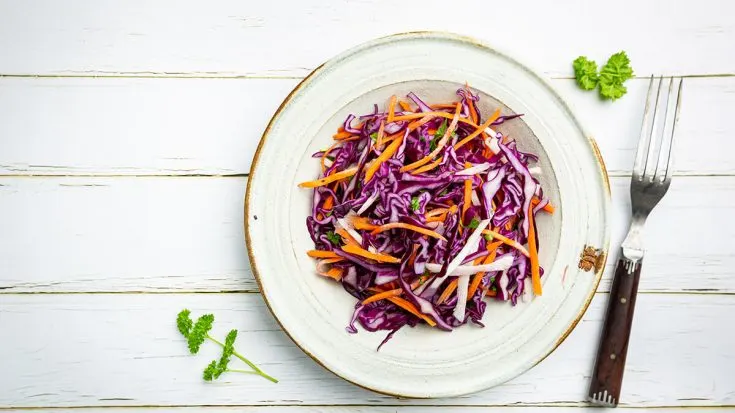 This Asian Shredded Carrot Salad is an amazing appetizer or side dish that's absolutely delicious and super easy to make!
Ingredients
1½ cups purple cabbage shredded
½ carrot, shredded
¼ cup cilantro, chopped
½ cucumber, julienne sliced
⅛ cup mayonnaise
⅛ cup rice vinegar
½ garlic cloves, grated
½ tablespoon ginger, grated
1 tablespoon miso
½ tablespoon sugar
⅛ cup peanuts, chopped (can substitute with any other nuts)
salt and pepper (to taste)
Instructions
Start off by making the dressing. Add mayo, vinegar, garlic, ginger, miso, and sugar to a small bowl and mix well. Add salt and pepper to taste.
In a separate large mixing bowl, add cabbage, carrot, cilantro, and cucumber. Mix well, then add the dressing and toss.
Top with peanuts.
Refrigerate for an hour before serving for the best taste or consume immediately if you can't resist! Enjoy!
Nutrition Information:
Yield:
3
Serving Size:
1
Amount Per Serving:
Calories:

142
Total Fat:

10g
Saturated Fat:

2g
Trans Fat:

0g
Unsaturated Fat:

8g
Cholesterol:

4mg
Sodium:

403mg
Carbohydrates:

11g
Fiber:

3g
Sugar:

6g
Protein:

4g
Nutrition information is only an estimate and can vary depending on ingredients used.
Which of the shredded carrot recipes have you tried so far?
Let us know in the comments below!
For more vegetable side dish ideas, check out the following:
Black Garlic
Taro
Canned Spinach
Frozen Cauliflower
Romanesco
Frozen Okra
Sauerkraut with Meat
Malabar Spinach
Mirlitons
Share on your favorite social media platform and tag us @GloriousRecipes – we can't wait to see what you have made!