Hominy has a mild, earthy, and nutty flavor with a chewy texture that can add a unique touch to any dish!
It pairs perfectly with a wide variety of seasonings and cooking methods to easily create delicious meals that are super satisfying.
It's also a staple in many cuisines and is a great way of adding some cultural richness to your dishes.
From tasty casseroles to delicious stews, we've got you covered with some of the best hominy recipes that you can easily try at home!
Enjoy a wholesome meal with this fantastic Hominy and Sausage Bake that tastes delightful and it's so easy to make!
Hominy is combined with a delectable mix of tender potatoes, sausages, garlic, leek, celery, broth, and Italian seasoning before being baked in the oven until cooked.
The variety of ingredients makes this a hearty dish that's loaded with nutrients and makes for an awesome meal any day of the week!
Give it a try and you might just have a new favorite dish after your first bite!
Skip the popcorn and make your own delicious snack that's superbly tasty and dangerously addictive with this simple recipe!
Coated in a mixture of flour, cornstarch, cornmeal, salt, and pepper, hominy is fried until fully cooked before being sprinkled with spices to finish it off.
It's extremely flavorful and every bite is met with a satisfying crunch that you just can't get enough of.
This is definitely one of our favorite hominy recipes with how easy it is to make and its fantastic taste!
Experience an African delicacy with these akara fritters that taste out of this world and make for a wonderful appetizer, side dish, or even as a mid-day snack!
The batter is made with a mixture of black-eyed peas, coriander seeds, jalapeño, eggs, and hominy, all pulsed in a food processor before being fried until golden brown and crispy.
These fritters are paired with extremely delicious rum mustard to create the ultimate indulgence that'll make you want to just gobble them up.
It's an incredible dish that's sure to be a hit with the crowd!
This vegetarian Hominy Casserole Bake takes only 45 minutes to whip up and is perfect for putting great-tasting food on the table for a sumptuous weeknight meal!
Sautéed onion, celery, and green pepper are combined with hominy, cheese, cream of mushroom soup, milk, and other lovely ingredients in this terrific dish that's loaded with incredible flavors.
Topped with breadcrumbs and Parmesan cheese, the casserole is baked in the oven until the cheese has melted and everything is cooked through.
This dish is easy to make with great flavors that are sure to put a smile on your face!
Give an instant upgrade to the flavor of hominy with this splendid recipe that you definitely don't want to miss out on!
It's a simple sauté of hominy, garlic, shallots, achiote, and cumin in roasted pork gravy, rendering plenty of amazing flavors that are just irresistible.
The fragrance makes it an easily enjoyable dish that definitely has a place in any meal to add variety and it's a great way to use up any leftover pork gravy.
You can also use diced pancetta or bacon in place of gravy to make a delectable dish!
Savor this outstanding stew that's hearty, comforting, and tastes absolutely superb using only simple ingredients!
It's a delightful combination of chicken breasts, chicken broth, aromatics, cumin, beans, hominy, lime juice, and a handful of cilantro to create this wonderful stew with refreshing flavors.
There's plenty of protein and nutrients in this stew, making it an amazing option for an easy and healthy meal.
Serve with jalapeño, cheese, and tortillas to add even more lovely flavors!
Expand your comfort food options with this fantastic soup that's crazy delicious with easily enjoyable flavors!
Green chilies, potatoes, hominy, and aromatics are cooked and simmered in vegetable broth, with cilantro added at the end to give a burst of refreshing flavor to the soup.
It's super tasty and you can easily modify the recipe by adding your favorite protein to make it more wholesome or a little hot sauce if you want more heat.
Give this delicious soup a try and you'll definitely not regret it!
Inject a little Brazilian flair to your next sweet treat with this excellent Coconut Hominy Dessert that's amazingly delicious!
Made with hominy, sweetened condensed milk, coconut milk, and whole milk, this is a creamy dessert that's made nectarous with cinnamon, cloves, and nutmeg.
It's finished off with a topping of shredded coconut and toasted peanuts to provide texture, creating the perfect indulgence any time of the day.
It's a refreshing way to enjoy hominy and it's definitely one of our favorite hominy recipes with how tasty it is!
This Hominy Porridge is an absolute delight that you definitely need to add to your breakfast or brunch rotation!
Dried hominy is cooked in milk and water until tender before being combined with sweetened condensed milk, coconut milk, and cinnamon to let the flavors meld.
The addition of heavy cream, nutmeg, and vanilla extract helps to impart depth and complexity to the flavor, making it extremely delicious.
Completed with a garnish of candied fruits, this is a tasty porridge like no other!
Dig into this hearty chicken hominy soup that's loaded with fantastic ingredients and it's a must-try dish especially if you love spicy food!
It's a delectable combination of chicken breasts, garlic, onion, hominy, chipotle peppers, green chilies, and other herbs and spices, all cooked low and slow until all the flavors come together nicely.
It takes some time to cook but it's extremely easy to make with little effort!
With a little patience, you'll come back to a pot of superbly tasty soup to fill your belly!
One of the classic Mexican hominy recipes, this Pozole Rojo is exceptionally tasty and is sure to whet your appetite!
This stew involves blending broth, red wine vinegar, garlic, oregano, onion, and other lovely ingredients to make the soup base, and a homemade red chili sauce is added to provide some heat.
Add pork roast into the mix and you have an amazing stew that's incredibly delicious.
There's an addictive kick with every sip and this flavorsome dish can be topped with your favorite garnish to maximize your enjoyment!
Discover an excellent dish with this simple slow cooker hominy recipe that makes an amazingly delicious soup!
It's ridiculously easy to make and all you need to do is toss a combination of tomato paste, aromatics, jalapeños, tortilla chips, chicken broth, frozen corn kernels, and other lovely ingredients into the slow cooker and let the appliance do all the cooking for you.
The mixture is then blended to create a tasty soup to which more corn and hominy are added to let them cook.
Served with a garnish or tortilla chips, cheese, or cilantro, this is an extremely flavorful soup that you just got to try!
For a simple soup that you can make in under 30 minutes, you've got to check out this wonderful one-pan recipe!
Made by boiling and simmering rotisserie chicken, cornmeal, hominy, and other delightful ingredients, it just can't get any easier to make this soup.
Thyme, rosemary, and sage help to add a herbaceous flavor to the soup, creating more depth and complexity to make it even tastier.
It's a quick and easy recipe that's perfect for a busy weeknight meal!
Go healthy with this fantastic salad that's superbly tasty and incredibly easy to make!
Cooked in a skillet until it pops, hominy is then combined with a delectable mixture of corn, cherry tomatoes, red onion, and fresh basil.
A simple dressing made with white vinegar, sugar, and red pepper flakes is drizzled over and everything is tossed until well-mixed.
This salad has bright and vibrant flavors that are sure to satisfy your taste buds!
Get ready to be wowed by the refreshing flavors and simplicity of this terrific side dish utilizing only a few basic ingredients!
Hominy combines with garlic, celery, and onion in a skillet to cook before lime juice and cilantro is added to give a burst of flavor before serving.
It's incredibly simple but you'll be surprised by how tasty this side dish can be!
The delightful flavors make this a fantastic dish that you can serve all year round!
Recreate the exotic flavors of Ecuadorian cuisine with these amazing patties that are sure to satisfy your appetite!
Hominy corn and sautéed onion are pulsed in a food processor before being combined with eggs and cornmeal to create a dough for the patties.
Filled with either pork fritada or cheese, they are then pan-fried in the skillet until nicely browned and tasty.
Served with peanut sauce and hot sauce, this is a mouthwatering side dish perfect for any meal!
For the perfect breakfast or brunch dish, you've got to check out this excellent shakshuka that's sure to tantalize your taste buds!
It's an incredible combination of sautéed garlic, onion, jalapeño, bell pepper, eggs, and hominy mixed with tomato paste, plus herbs to add depth and complexity to the flavor of this delightful dish.
Topped with feta cheese and cilantro, this becomes a heavenly-tasting shakshuka that pairs extremely well with pita bread to mop up all that wonderful sauce.
It's super delicious and definitely makes it to our list of favorite hominy recipes!
This vegan Hominy Grits is superbly tasty and makes for an awesome side dish that you can use to pair with a wide variety of dishes!
Made by simmering a combination of nutritional yeast, coconut milk, lemon juice, cornstarch, and many other delightful spices, hominy is then added before being topped with roasted serrano peppers.
It's incredibly flavorsome and with how easy it is to whip up, it's a no-brainer to give this recipe a try to experience the wonderful flavor and texture!
Cook up a pot of tasty Chayote Soup with this amazing recipe that's perfect for a light but satisfying meal!
Chayote, potatoes, and aromatics are cooked and blended to form the soup base to which roasted hominy seasoned with a mix of spices is added.
It's absolutely delicious and full of wonderful and refreshing flavors that make this a delightful soup that the whole family can enjoy.
A garnish of cilantro helps to impart an additional lovely fragrance to this incredible dish!
This is one of the best-tasting Mexican hominy recipes with bright and vibrant colors and flavors that are sure to make your day!
It's a fully plant-based dish with tomatoes, bell peppers, onions, hominy, jalapeños, olives, and many other delightful ingredients all coming together to create this culinary masterpiece.
There are plenty of incredible flavors that gel extremely well together and when paired with rice, it makes for a filling and super wholesome meal.
Packed with great flavors and nutrition, there's nothing not to like about this simple recipe!
For an incredibly quick and easy Hominy recipe, you've got to check out this simple sauté that makes for a remarkable side dish!
It's straightforward to make and all you need to do is sauté garlic, celery, onion, and hominy before finishing it off with lime juice and cilantro to add a burst of refreshing flavors.
This simple side dish tastes fantastic and with how easy it is to whip up, even beginner home cooks will have no trouble making it!
It's a great way to add some variety to your meals and experience the flavor of hominy!
Treat yourself to this splendid Chicken Chili that's amazingly delicious and is sure to make your taste buds dance with joy!
Made with poblano chili pepper, aromatics, chicken thighs, white navy beans, chicken broth, and hominy, this is an exceptionally tasty dish that will make you crave a second serving.
It's completed with a garnish of additional hominy and cilantro, plus a drizzle of jalapeño sauce to spice things up further.
You'll love the rich and bold flavors of this fantastic chili!
This terrific dip is one of the easiest hominy recipes and it's absolutely loaded with incredible flavors that make it super enjoyable!
It's a simple combination of black beans, hominy, green onions, avocado, cilantro, Italian dressing, and lime juice, with all the ingredients coming together extremely well to create a flavorsome dish.
Pair it with tortilla chips and you'll be devouring this like no tomorrow because it's just that delicious!
It makes for an amazing game day dip or you can bring it to your pot-luck party and share the splendid flavors of this dish!
Add a little Argentinian flair to your next meal with this excellent stew that's incredibly delicious and absolutely mouthwatering!
It's an amazing combination of veal, pork, chorizo, lima beans, chickpeas, hominy, tomato paste, and a whole host of spices and ingredients that'll make your taste buds tingle.
The flavors complement each other really well and you end up with a bowl of extremely flavorful stew that's sure to make you salivate at the thought of it.
It's so tasty that we're sure it'll definitely make it to your list of favorite hominy recipes!
Level up your baking skills with this terrific pie that's perfect for an amazing meal any time of the day!
There are plenty of flavors and nutrition with onion, peppers, garlic, and many other vegetables that help to make up the pie filling, along with a combination of hominy and shredded cheese.
Wrapped in a buttery crust and baked until nicely browned, this is a pie that'll have everyone fighting for seconds.
If you need a savory pie to please the crowd, this is definitely one of the main contenders!
Enjoy an authentic Mexican dish with this superb Beef Pozole Rojo that's amazingly delicious and is sure to excite your palate!
It's a delectable combination of beef, hominy, and a delicious red sauce made by blending dried chili guajillo, dried ancho chilies, and aromatics.
This Mexican soup with hominy is an absolute delight and you'll be hard-pressed to stop at just one serving because it's incredibly tasty!
Spice up your next meal with this fantastic chili that's crazy delicious and is sure to awaken your taste buds!
It's also a one-pot recipe which means that it's incredibly easy to whip up!
Ground beef is combined with sautéed aromatics, masa harina, beef bouillon, chipotle peppers, beef broth, beans, tomatoes, and many other lovely ingredients to create an extremely flavorsome and tasty dish.
It's a mouthwatering delight that's just irresistible and you definitely need to add this to your meal rotation!
Shake things up and try making this amazing Ham Hock Hominy Soup that's super tasty and really comforting!
Ham hock helps to provide a dose of protein that when combined with hominy, onion, and tomatoes, makes for a super hearty and wholesome soup.
Cumin, thyme, and cilantro add depth and complexity to the flavor and help to make the soup even more delectable.
It's a dish that's full of rich flavors and is perfect for a satisfying lunch or dinner!
Give a refreshing twist to classic mac and cheese with this splendid hominy recipe that you'll want to keep handy!
It's a tantalizing mix of cheddar cheese, Dijon mustard, grated jalapeño, chicken broth, macaroni, and many other incredible ingredients, making this a scrumptious dish that's super comforting.
Topped with panko breadcrumbs and baked in the oven until the top is nicely browned and crispy, this is a dish that's perfect for a hearty family meal!
Garnish with cilantro to complete this fantastic dish before serving!
This shortcut recipe makes an amazing pozole that tastes as good as the traditional dish but requires way less time to cook!
Using rotisserie chicken, there's no need to simmer any meat for hours until it's fully cooked, and when you combine it with hominy and broth made from the chicken bones and other seasonings, you end up with an incredibly delicious pozole.
This Mexican soup is perfect for a cozy meal and the delightful flavors are sure to please your taste buds!
Taking less than an hour from start to end, this is a great dish to add variety to your weeknight dinners!
If you're a seafood lover, you've got to check out this marvelous Green Hominy Soup that's loaded with fresh ingredients!
Shrimp, clams, tomatillos, poblano chilies, serrano chilies, and other wonderful ingredients combine in this delectable soup that's extremely flavorsome with bright and refreshing flavors.
Garnish with cilantro, tortilla strips, and radish to add even more textures and flavors to this incredible dish!
With how delicious it is, you'll definitely be sipping every last drop of this tasty soup!
Jazz up your meal options with this impressive salad that's incredibly easy to make and tastes oh-so-yummy!
Hominy and corn kernels are paired with a dressing made by blending delightful ingredients that include mayonnaise, cilantro, chili powder, lime juice, and garlic.
It's packed with refreshing flavors and hominy helps to add bulk to the salad, making it a satisfying meal any time of the day!
Whether you serve it for breakfast, lunch, or dinner, you're bound to enjoy the bright flavors of this fantastic salad!
One-pan recipes always get our attention because it's easy to make and is perfect for awesome weeknight meals when time is a luxury!
This casserole ticks all the boxes for a tasty meal that's quick to whip up with little clean-up required!
Kielbasa and onions are cooked in a skillet before hominy, chilies, sour cream, and other spices are added, and everything is then baked in the oven with melted cheese on top.
It tastes heavenly and makes for great comfort food with its amazing flavor!
Another casserole option for a sumptuous meal is this Hominy Casserole with Green Chile and Chorizo that's amazingly delicious as well!
With chorizo, onion, oregano, cumin, ancho chili powder, green chilies, tomatoes, hominy, and cheese, there are plenty of great flavors in this dish.
Baked in the oven until melted cheesy goodness is achieved, this casserole is a mouthwatering delight that's sure to please!
Grace your taste buds with these terrific quesadillas that are superbly tasty and so incredibly easy to whip up!
Sandwiched between tortillas, the filling is made with a combination of sautéed celery, onion, hominy, tomatoes, green chilies, cheese, and cilantro, ensuring plenty of excellent flavors.
Cooked in a skillet until the cheese has melted and the quesadilla is nicely browned, this is a simple hominy recipe that makes awesome comfort food!
At Glorious Recipes, we have our favorite Chicken Hominy Soup that we absolutely adore and it tastes heavenly! Check out the recipe below!
Yield: 6
Chicken Hominy Soup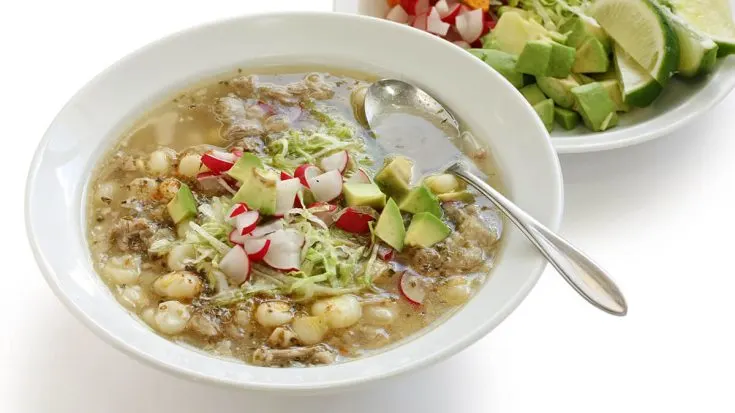 Enjoy a hearty Chicken Hominy Soup that's incredibly delicious and super comforting!
Ingredients
2 lb rotisserie chicken, shredded and deboned
2 cloves garlic, crushed
1 small onion, chopped
14½ oz chicken broth
32 oz vegetable broth
2½ tsp dried oregano
2 tsp ground cumin
½ tsp garlic powder
½ tsp onion powder
½ tsp salt
¼ tsp black pepper
3 cans hominy (around 15½ oz)
Instructions
In a large saucepan, add chicken bones, garlic, onion, broth, and all the spices. Bring the mixture to a boil and cover. Lower to a simmer and let it cook for 30 minutes.
Drain and rinse hominy while the broth cooks.
Strain cooked broth to remove bones and garlic. Reserve the onion. Return the strained broth back to the saucepan along with the onion.
Add shredded chicken and hominy to the broth over high heat. Let it come to a boil then lower the heat to a simmer and let it cook for an additional 10 minutes.
Season to taste and serve with your choice of toppings. Radish, cilantro, avocado, and lime wedges all make for great options. Enjoy!
Nutrition Information:
Yield:
6
Serving Size:
1
Amount Per Serving:
Calories:

406
Total Fat:

20g
Saturated Fat:

5g
Trans Fat:

0g
Unsaturated Fat:

11g
Cholesterol:

186mg
Sodium:

1806mg
Carbohydrates:

16g
Fiber:

3g
Sugar:

3g
Protein:

42g
Nutrition information is only an estimate and can vary depending on ingredients used.
Which of the hominy recipes have you tried so far?
Let us know in the comments below!
For more awesome vegetable recipes that you might like, check out the following:
Savoy Cabbage
Honeynut Squash
Banana Peppers
Japanese Eggplant
Taro
Canned Spinach
Frozen Green Beans
Frozen Cauliflower
Romanesco
Share on your favorite social media platform and tag us @GloriousRecipes – we can't wait to see what you have made!