Taro, also referred to as taro root, is a delicious root vegetable that can be used to make a variety of incredible dishes, from savory snacks to sweet desserts!
It's loaded with fiber and nutrients that include a range of vitamins and essential minerals, making it the perfect ingredient for whipping up healthy food!
With its creamy and starchy texture, it's sure to satisfy your taste buds no matter how you choose to cook it.
From taro fries to taro cakes, we've got you covered with some of the best taro recipes that you can easily try at home!
These plant-based Taro Fritters are amazingly delicious and make for an awesome appetizer, side dish, or even a tasty mid-day snack!
It's incredibly easy to make with a batter that includes flour, carrot, taro, garlic, and green onions, ensuring plenty of great flavors with every bite.
Pan-fried on a skillet until they are golden brown and crispy, these fritters are absolutely addictive and you'll be gobbling them down like there's no tomorrow.
Enjoy with your favorite dipping sauce or pair them with the excellent Tiger sauce or Bitchin' sauce!
Experience an Asian delight with this fantastic Chinese taro recipe using amazing ingredients that'll definitely whet your appetite!
This steamed cake is made with a combination of rice flour, taro, Chinese sausage, Chinese cured pork, dried scallops, dried shrimp, and many other wonderful ingredients that make this such a delectable dish.
Steamed until it's fully cooked, this cake has a well-balanced savory, earthy, and nutty flavor that's extremely enjoyable.
Serve with a garnish of green onions before enjoying this tasty dish for maximum flavors!
Inject a little Chinese flair to your next meal with this exceptional Taro Rice that's superbly delicious and tastes better than your Chinese takeout!
It's a delectable mixture of jasmine rice, taro cubes, shiitake mushrooms, carrots, Chinese sausage, and dried shrimp, plus a seasoning of oyster sauce, soy sauce, five spice powder, and other delightful ingredients that gives plenty of depth and complexity to the flavor of this dish.
The buttery taro cubes and the fragrant rice will make you salivate once the aroma of this incredible dish hits your nose.
This is one of our favorite Chinese taro root recipes and you just might have a new favorite Chinese dish after trying it!
Skip the usual potato fries and try out these fantastic Taro Fries instead!
This quick and easy vegan taro recipe is sure to be a crowd-pleaser because these fries taste terrific and when you pair them with cilantro mayo, they transform into a heavenly appetizer.
Taro strips are soaked in salt water before being fried until crispy on the outside and they go extremely well with the mayonnaise dip that's made with vegan mayo, cilantro, lime juice, and lime zest.
Be warned that these fries are super addictive, once you start, you just can't stop!
These taro puffs are a decadent indulgence that combines great flavors with an awesome texture to create an exceptional dish!
If you've had dim sum before, you might have tried this Hong Kong delight, but with this wonderful recipe, you can now make it whenever you have the craving!
The filling of pork shoulder, shrimp, and shiitake mushrooms is made flavorful with a variety of seasonings that include oyster sauce, soy sauce, sugar, salt, and pepper, and it's wrapped in an incredible pastry before being deep-fried to perfection.
Every bite is pure bliss and with how delicious these puffs are, you'll definitely want to give it a try soon!
For a hearty and comforting soup, you've got to check out this lovely vegetarian taro root recipe!
Taro cubes are simmered in a broth seasoned with herbs until they become tender and the resulting soup is incredibly tasty.
The creamy texture of the taro cubes makes this such a lovely dish that the whole family will definitely love and the herbs help to give depth to the flavor.
You'll be sipping every last drop of this flavorful soup because it's just that delicious!
This Steamed Garlic Ribs with Taro is another one of our favorite taro recipes because they are extremely flavorful, tender, and delicious!
Marinated in a mixture of rice wine, soy sauce, oyster sauce, sugar, sesame oil, and other lovely ingredients, the pork ribs are guaranteed to be loaded with incredible flavors once cooked.
They are steamed along with taro cubes, then topped with garlic and green onions to complete this fantastic dish.
Serve with a side of fragrant steamed rice and enjoy a fabulous meal!
Introduce a little Middle Eastern flair to your next meal with this terrific Egyptian Kolkas that's essentially a tasty taro stew!
The highlight of this dish is the garlic cilantro green sauce that's made by blending ghee, garlic, Swiss chards, and cilantro leaves.
It's super flavorful and it's added to taro and broth and then everything is simmered until all the flavors meld and a delicious stew is formed.
Simply serve with white rice plus a squeeze of lime to enjoy an awesome meal any day of the week!
Level up your cooking skills with this phenomenal Steamed Pork Belly with Taro recipe that you definitely need to try!
Blanched pork belly and taro pieces are fried in hot oil before being marinated in a flavorsome mixture that includes fermented tofu, Shaoxing wine, oyster sauce, and a variety of spices.
They are steamed until fully cooked and then drizzled with a sauce that coats every inch of the meat and vegetables to ensure plenty of great flavors.
Garnished with green onions, this is a tasty dish that's sure to be a hit with the crowd!
Snack healthier with these Baked Sea Salt Taro Chips that are super delicious and really easy to make!
All you need to do is slice the taro really thin and give them a coating of olive oil to prepare them for baking.
Once done, toss them into the oven and bake until they become crispy, then sprinkle a dash of sea salt while they are still piping hot.
Let them cool and you'll have a bunch of healthy chips that you can snack on without feeling guilty!
Treat yourself to these fantastic taro root rounds that are amazingly delicious and really easy to make as well!
Sliced into thin rounds, the taro pieces are pan-fried until crisp with a beautiful golden brown color and then seasoned with a sprinkle of sea salt and rosemary to complete this delightful dish.
It's a straightforward recipe and you can pair it with a side of protein and veggies to turn it into a wholesome meal!
You can also serve them as an appetizer or mid-day snack because they are already super tasty on their own!
This is one of the easiest roasted taro recipes that you can try and it's definitely a must-add dish to your meal rotation!
Steamed taro are peeled and then seasoned with dried savory, garlic powder, salt, and pepper before being broiled in the oven until the exterior is crisp and browned.
It's ridiculously easy to make and this simple dish is so tasty for something that takes so little effort.
Try this recipe the next time you manage to get your hands on taro and you'll be pleasantly surprised by the great flavor!
These brunch-inspired little bites make for an amazing appetizer and are sure to be a crowd-pleaser with their incredible taste and cute looks!
Pan-fried shredded taro pancakes are topped with smoked salmon, sour cream, sriracha sauce, plus a garnish of green onions to create flavor bombs that are sure to satisfy.
They are crispy and super addictive, and you'll have a hard time limiting yourself to just a few of these fantastic pancakes.
With how tasty they are and how easy it is to make them, there's no reason not to try this wonderful recipe!
If you're craving some Chinese cuisine, you've got to check out these sweet taro buns that can be served as a side dish, dessert, snack, or even breakfast!
The filling is made up of a sweet paste that's a mixture of mashed taro and sugar, and it's enclosed in dough balls to form Chinese buns.
Steamed until fully cooked, these buns are a sweet treat that's incredibly delicious and you can't believe it's so simple to make.
They are also suitable for freezing so don't be afraid to make a big batch!
Get a taste of Japanese dessert with this mouth-watering mochi that's definitely one of our favorite taro recipes for a lovely sweet treat!
The mochi dough is made with a mixture of taro powder, flour, milk, and icing sugar, and its soft and chewy texture makes it such a delightful dessert.
It's used to wrap a filling of taro paste before being chilled until it hardens and sets.
There's just something about the pillowy texture that makes it such an attractive dessert and the earthy flavors of taro elevate it to one of the best-tasting mochis that you can make!
This simple Hawaiian taro dish is sure to upgrade your meals with amazing dinner rolls that are super delicious!
Made with a simple combination of flour, sugar, yeast, poi, egg, milk, and butter, the dough is allowed to rise before baking in the oven until you get soft and fluffy rolls.
Purple coloring helps to give the taro bread rolls a vibrant and attractive color that makes them super appetizing and you just can't wait to dig in once you smell the aroma.
It's a simple sweet side dish that can be served in any meal to complement other dishes!
Reward yourself with a terrific milk tea that's amazingly delicious, complete with boba to satisfy your sweet tooth!
It's incredibly creamy with taro and sweet potato cubes blended together with jasmine tea to form the tea base for this delightful beverage.
Add in the pearls, milk, and dark brown sugar, and you have an authentic milk tea that you can make any day of the week!
It's one of our favorite taro recipes for a sweet and tasty drink that's also really refreshing!
This vegan smoothie is one of those taro recipes that you just can't miss out on because it's incredibly simple to make and tastes superb!
You really only need 3 main ingredients, plus some water and ice to make this beverage, and trust us when we say that you'll be making this more than once because it's just that delicious.
Toss mashed taro, coconut milk, sugar, ice cubes, and water in your blender and blend until the mixture becomes smooth, then serve!
It's that easy and you'll have a tasty drink to enjoy in no time at all!
If you're looking for a caffeine-free and delicious drink that's also really pretty, you've got to check out this simple taro recipe!
This latte is made by blending taro, coconut powder creamer, water, and honey, and it's a gorgeous drink with a beautiful purple hue that's sure to be the center of attention.
You get all the health benefits of nutrient-dense taro in one drink, and it's a great way to start your day with a cup of latte!
Try it soon and reap the rewards of this nutritious and tasty drink!
Make good use of your ice cream maker and try out this fantastic recipe to make an irresistible dessert with only 3 ingredients!
Cooked taro cubes are boiled with coconut milk and sugar, then puréed in a blender until smooth before being added to an ice cream maker where all the magic happens.
You'll get creamy and velvety purple ice cream that combines the earthy flavor of taro and the refreshing flavor of coconut all in one dessert, making it a perfect post-dinner sweet treat for the whole family.
Everyone will be asking for seconds because of how delicious this ice cream is!
Grace your taste buds with this mousse cake that's the perfect sweet treat for any occasion and it's oh-so-yummy!
Made with mashed taro roots and whipped cream, you are guaranteed plenty of creamy and nutty flavors from the taro vegetable.
It's a refreshing flavor that's different from your usual chocolate, vanilla, or strawberry cakes, and makes for a fantastic dessert in any meal.
With how delicious it is, you might just have a new favorite cake flavor after you've given this a try!
If you're craving some Chinese dessert, this sago soup will definitely satisfy that craving with a sweet, creamy, and milky flavor!
Taro chunks make this soup rich and creamy with the tapioca pearls providing an awesome chewy texture that's incredibly addictive and you definitely don't want to miss out on this wonderful dessert.
Made sweet with rock sugar, this is a soup that's easy on the taste buds and it's even tastier when served chilled.
Serve it as a dessert with other Chinese dishes to complete an awesome meal!
Savor a simple side dish made by simmering taro chunks with a variety of Japanese seasonings to enjoy a hearty and sumptuous meal!
The root vegetable is cooked with dashi, sake, mirin, soy sauce, and sugar, and simmered until all that wonderful flavors get locked in.
This dish is super easy to make and they taste fantastic with umami flavors, thanks to the blend of seasonings.
It's a great way of adding variety to your meals without sacrificing the creamy flavors of taro!
Impress your friends and family with these awesome mooncakes that are incredibly tasty with great visuals as well!
If you haven't had mooncakes before, they are a popular sweet Chinese pastry with a variety of fillings and flavors.
They are super delicious and this taro version definitely hits all the right spots with its creamy texture and addictive flavor.
It's a must-try taro recipe in our books, especially if you love baking!
Indulge in these Sugar Coated Taro Sticks that are absolutely delicious and super addictive!
It's also ridiculously easy to make with only 2 main ingredients required, and you'll be snacking on these all day long because it's just that tasty.
The taro sticks are deep-fried to perfection and then coated in sugar before they are cooled to let all that sugar crystallize.
You definitely need to try out this sweet, savory, and creamy sweet treat!
At Glorious Recipes, we have our favorite Crispy Taro Chips that we absolutely adore and they taste heavenly! Check out the recipe below!
Yield: 4
Crispy Taro Chips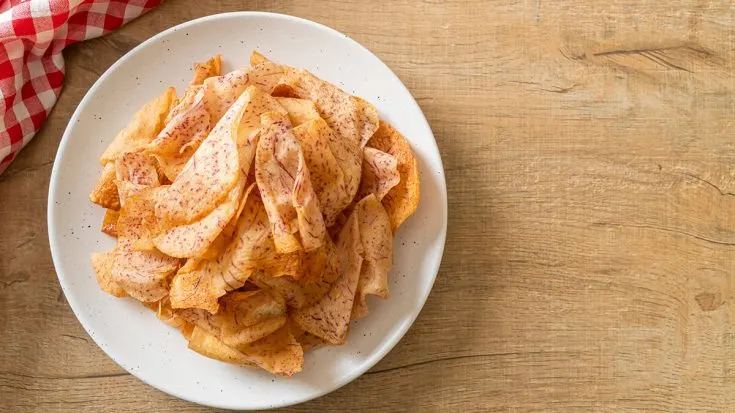 Snack on these fantastic Crispy Taro Chips that are incredibly addictive and delicious! Baked to perfection for a healthier snack!
Ingredients
1 medium taro root (around 1 lb)
2 tbsp olive oil
sea salt
Instructions
Preheat oven to 350°F (175°C).
Take the taro and peel it, then slice thinly. Coat the taro slices with oil in a bowl but just a thin layer will do.
Line parchment paper on a baking sheet. Transfer taro slices over. Bake for around 30 minutes or until lightly browned.
Once baked, lightly sprinkle salt over the chips while they are still hot. Serve and enjoy!
Nutrition Information:
Yield:
4
Serving Size:
1
Amount Per Serving:
Calories:

107
Total Fat:

7g
Saturated Fat:

1g
Trans Fat:

0g
Unsaturated Fat:

6g
Cholesterol:

0mg
Sodium:

150mg
Carbohydrates:

11g
Fiber:

2g
Sugar:

0g
Protein:

0g
Nutrition information is only an estimate and can vary depending on ingredients used.
Which of the taro recipes have you tried so far?
Let us know in the comments below!
For more awesome vegetable recipes that you might like, check out the following:
Hominy
Honeynut Squash
Banana Peppers
Japanese Eggplant
Canned Spinach
Frozen Green Beans
Recipes with Refried Beans
Shredded Carrot
Silken Tofu
Share on your favorite social media platform and tag us @GloriousRecipes – we can't wait to see what you have made!