Frozen okra is extremely convenient and handy to have when you want a quick and easy way to add some vegetables to any meal!
They are rich in numerous vitamins, essential minerals, and nutrients that are great for a healthy diet!
Whether you like it baked, fried, or boiled, we've got you covered with some of the best frozen okra recipes that you can easily try at home!
Enjoy tasty bites by cooking frozen breaded okra in the air fryer and you'll love how fast you can whip up this delicious side dish!
It's ridiculously easy to make and all you need to do is spray some olive oil on the frozen okra after placing them in the air fryer.
Turn up the heat and air fry until they come out browned and crispy!
Serve with your favorite dipping sauce or try the amazing Tiger sauce or Bitchin' sauce for maximum enjoyment!
Roasted frozen okra combines with bacon in this simple recipe to create a mouthwatering delight that's low-carb and gluten-free!
No additional oil is required because the bacon drippings are filled with fat and wonderful flavors that make the dish super tasty.
A basic seasoning of salt and pepper is sufficient to enhance this amazing side dish and you'll be hooked on it after the first bite!
Who knew crispy okra and bacon make such a fantastic combo?
Indulge in delectable pan-fried frozen okra without feeling guilty because it's light and easy to make!
It's as simple as cooking the okra with extra virgin olive oil until they are browned and nicely crisp to achieve an awesome dish that you can snack on.
You can even reheat any leftovers in the oven or air fryer so don't be afraid to cook up a big batch because they are amazingly delicious!
For an addictive snack or side dish that everyone will definitely love, you've got to check out this simple fried frozen okra recipe!
There are only 2 main ingredients required and it's super easy to whip up this fantastic dish.
Once your frozen okra has thawed, mix buttermilk cornmeal mix with the okra slices and fry them until they become golden brown and crispy!
You'll be snacking on these tasty bites in no time and you'll have a hard time stopping!
This quick and easy frozen okra recipe will have you serving a scrumptious side dish that's absolutely delicious and it only requires a few ingredients!
Okra and garlic are sautéed in a skillet, along with adobo seasoning, salt, and pepper to make them even tastier.
Once the okra becomes slightly browned, it's ready to be served alongside any of your favorite main dishes!
It's so easy to cook up a plate of tasty okras with this simple recipe!
Okra and cheese make for a delectable combo and this recipe definitely doesn't disappoint with how quick and easy it is to make an awesome side dish with frozen okra!
All you need to do is toss the okra with a little oil and Parmesan cheese before baking them in the oven for 15 minutes.
This savory goodness is perfect with any main course and can also serve as a tasty mid-day snack!
The oven does all the cooking so even the cleanup is minimal with this fantastic dish!
Recreate the flavors of Indian cuisine with this remarkable recipe that makes a delicious okra dish!
Okra combines with garlic, onion, cumin, ginger, turmeric, and chat masala to create a saporous mix that's filled with delightful flavors.
It's a simple frozen okra stir-fry recipe that you can try to give the regular okra dish a twist because there's so much depth and complexity to the flavor with all the wonderful spices.
You might just fall in love with it once you've taken your first bite!
Make an amazing Southern side dish with these stewed okra and tomatoes that are absolutely delicious!
It's extremely flavorful with chicken broth used to deglaze the pan and the combination of okra, tomatoes, bacon, and aromatics makes this a delightful dish that's sure to please everyone.
This side dish can be served with mashed potatoes, rice, or any of your favorite carbs to turn it into a wholesome and hearty meal!
Add a garnish of freshly chopped parsley right before serving for a beautiful presentation and refreshing flavor!
Take a page from the Middle East and whip up this delightful bamia that's easy to make and tastes fantastic!
It's a hearty stew that combines beef and okra in an extremely flavorful tomato base that's spiced with cumin, coriander, and white pepper.
You get all the protein, fiber, and vitamins you need in this amazing stew that goes perfectly well with a side of rice to create a wholesome meal!
This comforting dish is best enjoyed on a cold and chilly day!
Expand your cooking repertoire with this tasty Creole Lemon Okra that's perfect as a side dish to add some variety to your meals!
It's super easy to make this awesome dish and the combination of Creole seasoning, turmeric, cumin seeds, and aromatics makes this a flavorful delight that'll surely please everyone's taste buds!
A squeeze of lemon helps to add some tangy flavors to the okra and absolutely elevates the dish to another level, making it even more appetizing and enjoyable.
It's a simple side dish but easily one of our favorite frozen okra recipes!
Mix things up a little and cook your frozen okra in a spicy sauce that's super appetizing and you'll definitely love how delicious it turns out!
The spice mixture of cumin, cardamom, coriander, and dried habanero makes this a sapid dish that's extremely tasty, and combining it with tomato paste helps to add some tanginess to balance the flavor.
It's a versatile dish that can be paired with fragrant steamed rice and meat to make it a wholesome meal, or eat it with flatbread for an awesome delight!
Get a taste of Mediterranean cuisine with this incredible frozen okra recipe that delivers a lovely dish to make your next meal an amazing one!
This vegan okra stew has a well-balanced flavor with a combination of spicy, tangy, and savory, creating an addictive dish that's just irresistible.
Spices, chilies, aromatics, okra, and lime juice all impart their distinctive flavors in this pot of hearty stew and you'll be finding it hard to stop at one serving!
Try it for your next meal and you'll definitely be impressed with how delicious it is!
Experience the taste of delicious okra in a different flavor with this terrific baked frozen okra recipe!
It's also extremely easy to make because the oven will be doing all the cooking!
All you need to do is toss frozen okra and tomatoes in a mixture of flour, cornmeal, Cajun seasoning, garlic powder, dried onion, and celery salt before baking them in the oven until crispy.
There's so much to love with these tasty bites and you'll get hooked on them after the first bite!
Introduce a little South Asian flair to your next side dish with this spicy okra that's bursting with wonderful flavors!
Paprika, cumin, chili, and tomatoes help to create a spicy, tangy, and savory mix that complements the okra and turns it into a delightful dish that's absolutely delicious.
It's completed with a squeeze of lemon and a garnish of cilantro to finish off this wonderful side dish that can be paired with any main course to create a sumptuous meal!
Spice up your next meal with this fantastic Lebanese stew that's super flavorsome and makes for great comfort food!
The combination of allspice, cinnamon, black pepper, and aromatics contributes to a wonderful blend of complex flavors that makes this dish really enjoyable.
The taste of beef and frozen okra gets elevated as well and they pair extremely well with rice to make it a wholesome meal!
It's a great dish to add some variety to your meal rotation and the family will definitely love it!
Yield: 15
15 Best Frozen Okra Recipes To Try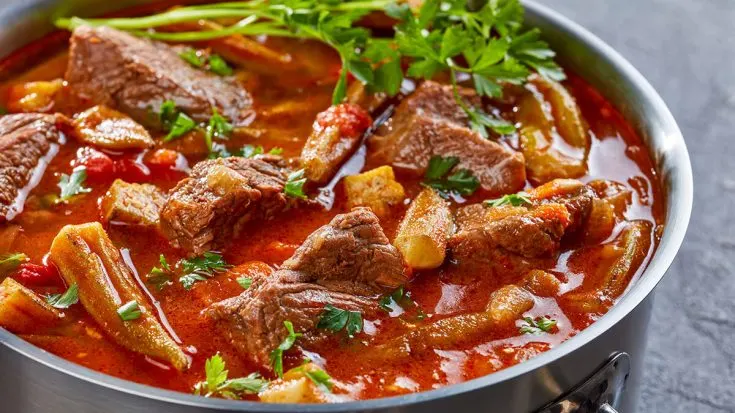 Try these frozen okra recipes and enjoy a delicious meal! Whether you like it baked, fried, or boiled, there's always something for every occasion!
Instructions
Choose your favorite frozen okra recipe.
Prepare all the required ingredients.
Whip up the tasty dish and enjoy an awesome meal!
Nutrition Information:
Yield:
15
Serving Size:
1
Amount Per Serving:
Calories:

159
Total Fat:

9g
Saturated Fat:

2g
Trans Fat:

0g
Unsaturated Fat:

6g
Cholesterol:

34mg
Sodium:

164mg
Carbohydrates:

11g
Fiber:

3g
Sugar:

3g
Protein:

11g
Nutrition information is only an estimate and can vary depending on ingredients used.
Which of the frozen okra recipes have you tried so far?
Let us know in the comments below!
For more vegetable side dish ideas, check out the following:
Savoy Cabbage
Romanesco
Shredded Carrot
Sauerkraut with Meat
Malabar Spinach
White Eggplants
Mirlitons
Chicken of the Woods
Enoki Mushrooms
Share on your favorite social media platform and tag us @GloriousRecipes – we can't wait to see what you have made!