Honeynut squash is a winter squash with a rich, sweet, and nutty flavor that's incredibly delicious!
It's the perfect ingredient for whipping up awesome meals with its vibrant orange color that's sure to brighten up any dish.
With twice the amount of beta-carotene than butternut squash, honeynut squash is packed chock-full of nutrients and is a great source of vitamins and essential minerals.
Whether you like it stuffed, roasted, or baked, you're sure to enjoy this nutritious and tasty squash.
From soups to pasta, we've got you covered with some of the best honeynut squash recipes that you can easily try at home!
Expand your cooking repertoire with this fantastic Stuffed Honeynut Squash that's amazingly delicious with a beautiful presentation!
Filled with a mixture of sautéed sausage, mushrooms, onions, garlic, spinach, and scooped-out squash flesh, the squash halves are then topped with Parmesan cheese and baked in the oven until tender with a nicely browned top.
It's incredibly simple to make and will definitely impress with its superb taste and looks!
With how delectable it is, this is one of those must-try honeynut squash recipes in our books!
Dig into this terrific dip that's exceptionally tasty and a magnificent visual treat to boot!
Made by blending roasted squash, feta cheese, olive oil, and honey, the dip is then topped with toasted honey pecans and crispy fried sage leaves to create a culinary masterpiece.
With its impressive looks and amazing flavor, this is sure to be a hit with the crowd during the holiday season!
Serve with crackers or homemade crusty bread to mop up every last drop of this tasty dip!
This hearty soup is incredibly delicious and makes for great comfort food that'll definitely warm your belly right up!
With celery, parsnips, garlic, onion, and thyme, this is a nutrient-dense soup that's great for the body and soul!
Blended into a purée along with chicken broth, this is a delightful dish that can be made ahead of time for an easy but tasty meal any day of the week.
Serve with croutons for maximum enjoyment of this flavorful soup!
If you're looking to expand your pasta options, you've got to check out this wonderful honeynut squash recipe!
Pan-seared gnocchi is combined with roasted honeynut squash cubes, cherry tomatoes, and ricotta to create an excellent pasta dish that's super yummy.
Garlic and red chili flakes help to add some depth to the flavor, making an already delicious pasta even tastier.
It makes for an awesome weeknight meal with how easy it is to whip up this lovely dish!
Reward your taste buds with these superb bites that are extremely delectable and crazy addictive!
It's ridiculously easy to make and all you need to do is combine honeynut squash cubes with almond flour, cinnamon, and coconut sugar before air frying until cooked.
You'll love the spiced sugar flavor of these tasty bites and you'll be popping these babies down like no tomorrow because they are just that delicious.
It makes for a great mid-day snack and will definitely satisfy any sweet cravings that you might have!
Level up your cooking skills with this phenomenal honeynut squash recipe that combines homemade ravioli with a tasty filling!
The filling is made with a mixture of ricotta, squash, Parmesan cheese, nutmeg, and egg, ensuring plenty of lovely flavors that come together really well.
Wrapped in pasta sheets and boiled until fully cooked, the ravioli is paired with a brown butter sauce that elevates the dish to another level.
It's a great way of enjoying the flavors of honeynut squash and making pasta from scratch!
Savor a delicious meal with this fantastic stuffed honeynut squash that has well-balanced sweet and savory flavors!
It's a delectable mix of squash, sausage, cremini mushrooms, apple, and dried cranberries, with sweet paprika, garlic, oregano, and celery imparting their fragrance to make it even tastier.
The different textures and flavors combine extremely well to make this a mouthwatering delight that's just irresistible.
If you want a healthy and tasty meal, you absolutely need to give this a try!
For a simple but incredibly tasty dish, you've got to check out this lovely recipe that only requires 6 ingredients to make!
The sweet and nutty flavor of roasted honeynut squash is given an upgrade with the help of mozzarella balls, pesto, and a drizzle of balsamic vinegar.
It's straightforward to make and the simple steps make this an elegant dish that the whole family is bound to enjoy.
There's nothing not to like about this quick and easy honeynut squash recipe!
Enjoy a lovely and comforting soup with this fantastic recipe that you definitely don't want to miss out on!
It's a delightful combination of squash, apples, onion, ginger, and vegetable broth, puréed until smooth and topped with toasted squash seeds as a garnish.
The ginger helps to impart a little heat that doesn't overwhelm the soup and enhances the entire dish to make it even more enjoyable.
The refreshing flavor of this wonderful soup makes for a cozy meal and is incredibly satisfying on a cold and rainy day!
The natural sweetness of honeynut squash shines in this terrific dish that's super easy to make with only 3 main ingredients required!
Roasted until tender, the winter squash is combined with pan-seared halloumi cheese and crispy fried sage leaves to create a mouthwatering delight.
The flavors are enhanced with a drizzle of browned butter sauce and it's a heavenly dish that everyone will love.
Give it a try and you'll definitely not regret it!
If you have a sweet tooth or are looking for an amazing sweet treat, you've got to check out these impressive Maple Honeynut Squash Hand Pies!
The filling is made with squash slices and brushed with a mixture of maple syrup, cinnamon, oil, salt, and pepper.
The hand pies are then brushed with egg wash and sprinkled with sugar before being baked until golden brown.
Be warned, they are super delicious and extremely addictive!
Feast on this impressive-looking Hasselback Honeynuts that's amazingly delicious and is sure to tantalize your taste buds!
Baked in the oven until tender and basted with a mixture of maple syrup, hot chili peppers, butter, and balsamic vinegar, the squash is extremely flavorsome and tasty.
It's made even better when topped with hazelnut gremolata, enriching the dish with fragrant flavors.
This is the kind of dish that's easy enough to make yet fancy enough to impress for special occasions!
Experience an Asian delight with this simple but exceptional congee that's perfect for a comforting breakfast!
It's incredibly easy to make and all you need to do is combine frozen rice, water, squash, ginger, and chicken broth in a pot and bring it to a boil to cook until thickened.
A garnish of green onions is all it takes to complete this simple breakfast dish that's sure to fill your belly right up!
You might just add this to your list of favorite comfort food once you've taken your first sip of this delightful congee!
Spruce up your next meal with these fantastic toasts that taste divine and make for an excellent brunch dish!
Toasted bread is topped with ricotta, spiced honeynut squash mash, halloumi fried in sage-infused oil, and crispy fried sage, plus a drizzle of maple syrup to finish it off.
It's an incredibly tasty dish that's sure to whet your appetite and bring a smile to your face with its amazing flavors.
With how delectable these toasts are, this is a honeynut squash recipe that you definitely need to add to your meal rotation!
In what is one of our favorite honeynut squash recipes, you get to enjoy a splendid creamy pasta that's easy to make and tastes absolutely fantastic!
Pan-seared squash cubes are paired with al dente pasta, vegetables, and a garlic cream sauce that ties everything together.
Parmesan cheese helps to make it even tastier and it's a dish that's super easy to enjoy, making it perfect for a simple but delicious meal any day of the week!
You'll love the bright flavors and it's a refreshing dish that you definitely need to add to your pasta rotation!
For the perfect sweet decadent indulgence, you've got to try making these amazing Honeynut Baked Doughnuts that taste out of this world!
With a batter made by combining squash purée, vanilla, flour, cinnamon, nutmeg, clove, and other delightful ingredients, you are guaranteed plenty of lovely flavors in the doughnuts themselves.
Coated with white chocolate and topped with toasted nuts, these doughnuts become an absolute treat that's just irresistible.
You'll be devouring these doughnuts before you even know it because they are just that delicious!
Discover an exceptional dish with this Twice-Baked Honeynut Squash that's easy to make and tastes oh-so-yummy!
Baked squash flesh is mixed with mascarpone cheese, cinnamon, maple syrup, salt, and pepper to create an awesome stuffed honeynut squash that's loaded with delightful flavors.
They are topped with pecans toasted in a mixture of maple syrup, cinnamon, and salt, as well as pomegranate arils before being served.
It's a heavenly combination of flavors and textures that makes this such an incredible dish and one of our favorite honeynut squash recipes!
Cook up a pot of tasty Brothy Beans with this superb recipe that makes such a nutritious and wholesome dish!
It's an incredible combination of roasted squash, butter beans, garlic, Brussels sprouts, and many other delightful ingredients to create an extremely flavourful soup.
The addition of chili paste helps to add a mild additive kick with every sip and the heat level is just right to make it super delicious.
Serve with some crusty bread to enjoy a hearty and filling meal!
Sign us up for these excellent biscuits that are amazingly tasty and make for an awesome option for a refreshing breakfast!
Made with roasted honeynut squash purée, flour, sage, heavy cream, and other ingredients, these biscuits are baked in the oven until they achieve a beautiful golden brown color.
These flaky bread are absolutely delicious and you can even serve them in place of dinner rolls to keep your meals interesting.
It's a great way to enjoy the flavors of honeynut squash for a splendid meal!
Jazz up your risotto with this roasted honeynut squash recipe that makes a superbly delicious dish!
Arborio rice is cooked in a flavorful broth with saffron, shallots, garlic, roasted squash, cayenne pepper, and other ingredients imparting their flavors to make this risotto extra tasty.
It's finished off with the addition of Gruyère and Parmesan cheese, plus a garnish of crispy fried sage leaves.
This dish will change the way you enjoy your risotto and it might just become one of your favorite honeynut squash recipes!
At Glorious Recipes, we have our favorite Apple & Sausage Stuffed Honeynut Squash that we absolutely adore and it tastes heavenly! Check out the recipe below!
Yield: 6
Apple & Sausage Stuffed Honeynut Squash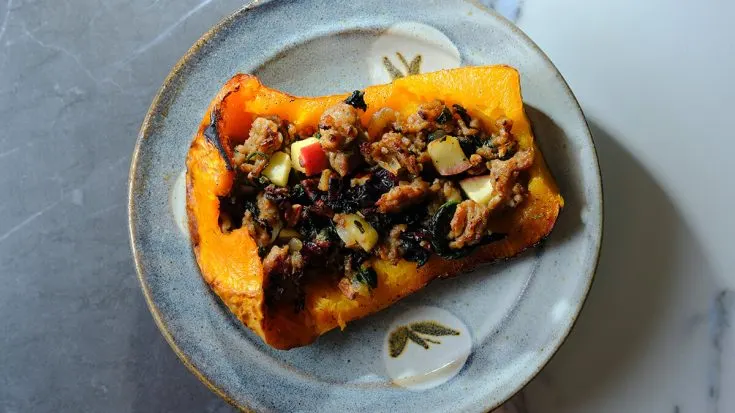 Feast on this delicious Apple & Sausage Stuffed Honeynut Squash that's sure to delight your taste buds with its fantastic taste!
Ingredients
3 honeynut squash, halved length-wised and seeds removed
2 tbsp olive oil
dash of salt and pepper
2 cloves garlic, minced
2 sausages, casing removed
1 celery stalk, chopped
1 whole apple, cubed
1 tsp sweet paprika
1 tsp oregano
½ cup dried cranberries
Instructions
Brush squash with 1 tbsp of oil and season with salt and pepper to taste. Roast in the oven at 400°F (205°C) for 30 minutes.
Add 1 tbsp of oil to a skillet over medium-high heat. Add garlic and cook until just fragrant, about 30 seconds. Add sausage and break them apart. Cook for around 4-5 minutes or until slightly browned.
Add celery and apple, and cook for around 4 minutes. Season with paprika, oregano, salt, and pepper. Add dried cranberries and stir to heat through. Set aside.
When squash is roasted, use a fork to break up and loosen the flesh a little. Top with stuffing that has been set aside. Serve and enjoy!
Nutrition Information:
Yield:
6
Serving Size:
1
Amount Per Serving:
Calories:

212
Total Fat:

11g
Saturated Fat:

3g
Trans Fat:

0g
Unsaturated Fat:

7g
Cholesterol:

14mg
Sodium:

223mg
Carbohydrates:

27g
Fiber:

5g
Sugar:

15g
Protein:

4g
Nutrition information is only an estimate and can vary depending on ingredients used.
Which of the honeynut squash recipes have you tried so far?
Let us know in the comments below!
For more awesome vegetable recipes that you might like, check out the following:
Hubbard Squash
Hominy
Banana Peppers
Japanese Eggplant
Taro
Canned Spinach
Frozen Green Beans
Frozen Cauliflower
Frozen Okra
Romanesco
Share on your favorite social media platform and tag us @GloriousRecipes – we can't wait to see what you have made!