Japanese eggplants are slimmer and more tender than their regular counterparts, making them an invaluable ingredient for whipping up a variety of tasty dishes!
Due to their elongated shape and thin skin, they are great for soaking up flavors and their short cooking time is perfect for putting delicious food on the table quickly.
Whether you like them stir-fried, baked, or grilled, we've got you covered with some of the best Japanese eggplant recipes that you can easily try at home!
Taking inspiration from unagi (Japanese for eel), this fantastic recipe replaces the main ingredient with Japanese eggplants instead!
Steamed until tender, the eggplants are pan-fried further to brown them and then simmered in a mixture of mirin, oyster sauce, soy sauce, fish sauce, sugar, and water.
You'll end up with a sweet and savory delight that's incredibly delicious and every bite is filled with umami flavors that are just irresistible.
Serve over rice for a simple but absolutely tasty meal!
Enjoy an amazing Japanese Eggplant Stir-Fry that's crazy delicious and it's so easy to make as well!
It's a delectable combination of eggplants, jalapeños, and onion, with an extremely flavorsome sauce made with soy sauce, hoisin sauce, and plum sauce to tie it all up.
Ginger, garlic, and basil leaves help to give additional depth to the flavor, making it an exceptional dish that's sure to satisfy any appetite.
It's incredibly tasty for something so easy to whip up, and it's definitely one of our favorite Japanese eggplant recipes!
Try your hands at making this Garlic Roasted Japanese Eggplant that's loaded with a fantastic garlicky flavor!
It's ridiculously easy to make and all you need to do is top the eggplants with a mixture of crushed garlic and lemon juice before baking until they are tender and creamy on the inside.
The velvety texture and fragrant garlic flavor make this an excellent side dish that's sure to put a smile on your face.
If you love garlic, you've definitely got to try out this simple recipe that takes little effort to make!
This Japanese Miso Eggplant recipe is a must-try in our books because it's absolutely delicious and is sure to tantalize your taste buds!
The highlight of this dish is of course the miso sauce that's made by mixing miso paste, mirin, sake, soy sauce, and grated ginger.
It's extremely flavorful and pairs superbly well with the eggplants, and we've no doubt that this will quickly become one of your favorite Japanese eggplant recipes with its excellent flavors.
Give it a try and you'll definitely not regret it!
Ramp up your next meal with this outstanding Marinated Teriyaki Eggplant that's amazingly tasty and is sure to be a hit with the crowd!
Marinated in a mixture of brown sugar, mirin, soy sauce, rice wine vinegar, garlic, and ginger, the eggplants are loaded with sweet and savory flavors that are exceptionally enjoyable.
Cooked in the pan until tender and nicely browned, these aubergines are completed with a garnish of sesame seeds and green onions.
It's incredibly easy to whip up and makes for an awesome side dish or main dish!
If you're looking for fried Japanese eggplant recipes, you've got to check out these superb tempura that are easy to make, incredibly delicious, and super addictive!
Dredged in flour and coated with panko breadcrumbs, the eggplants are deep-fried until golden brown with a crispy exterior that's just mouthwatering.
The texture and flavor of these tempura are really satisfying and you'll be devouring them like no tomorrow!
Serve with soy sauce or your favorite dipping sauce for maximum enjoyment of these tempura!
Take eggplants to new heights with this fantastic sauté dish that tastes so good and smells incredible!
There are plenty of amazing flavors with white miso paste, shiitake mushrooms, sesame oil, ginger, scallions, and soy sauce combined to make the eggplants extra tasty.
It's super easy to whip up and pairs exceptionally well with a simple bowl of steamed white rice for an awesome meal.
There's nothing not to like about this quick and easy vegan Japanese eggplant recipe!
Discover your new favorite comfort food with this terrific miso noodle soup that's sure to fill your belly right up!
Eggplants are sautéed with aromatics until they become fragrant and tender, and they are combined with pan-fried tofu, miso paste, vermicelli noodles, and other lovely ingredients to create a flavorsome dish that's perfect for a hearty meal.
It's savory, vegan, and absolutely delicious, perfect for cold and rainy days to keep you warm and cozy!
With how easy it is to make and its awesome flavors, this noodle soup is definitely a must-try dish!
This grilled Japanese eggplant will make you salivate with its heavenly flavor and exceptional presentation!
The sliced eggplants are grilled to perfection and brushed with an amazing miso glaze that's made with a combination of mirin, sake, miso paste, and sugar.
The glaze is given a quick grill to brown and caramelize, making it an irresistible treat that's full of umami flavors that you'll definitely enjoy.
It's completed with a garnish of sesame seeds and scallions before serving this fantastic dish!
Grace your taste buds with an excellent Soy-Glazed Eggplant Donburi that's amazingly delicious and is sure to whet your appetite!
Coated with potato starch, the eggplants are then pan-seared in the skillet until nicely browned before they are cooked with soy sauce, mirin, and grated ginger.
Served over white rice and garnished with sesame seeds and shiso leaves, the result is a delightful dish that's perfect any day of the week!
Requiring just 20 minutes to make, this is a great option for an awesome weeknight meal!
Enjoy a splendid vegetable dish with this grilled Japanese eggplant recipe that's incredibly tasty and super satisfying!
The eggplants are scored and sprinkled with salt to draw out the excess moisture before being grilled until nicely seared and tender.
Paired with a tahini sauce made with roasted sesame tahini, garlic, parsley, lemon juice, and other lovely ingredients, these eggplants taste divine.
It's a simple dish that's big on great flavors and really easy to make!
Experience an Asian delight with this terrific Eggplant with Thai Basil and Chicken so tasty that you'll be craving a second serving!
It's an excellent combination of chicken and eggplants with garlic, scallion, Thai basil, Shaoxing wine, fish sauce, and other fantastic ingredients imparting tons of delightful flavors to the meat and vegetable.
Everything comes together really well and it's a taste explosion in your mouth with every bite.
Serve with white rice for a wholesome and delicious meal that you're bound to enjoy!
Expand your cooking skills with this exceptional dish that's sure to impress with its great flavor!
Agebitashi is Japanese for fried and soaked, and this recipe involves deep-fried eggplants soaked in a mixture of dashi stock, mirin, soy sauce, and sugar for at least an hour.
Served with shiso leaves and grated ginger, this is a delightful dish that melts in your mouth and releases all the fantastic flavors of the sauce.
It's super easy to make and with how delicious it is, you definitely need to try it soon!
This Chinese mapo tofu-inspired dish uses Japanese eggplants as its main ingredient and it's a great way to add some variety to your meals!
With broad bean chili sauce, aromatics, mirin, and vegetable broth, you're guaranteed plenty of incredible flavors in this dish and when combined with tender eggplants, it becomes a succulent treat.
It's extremely flavorsome with an addictive kick that makes this irresistible and by using meatless ground, you can keep this vegan-friendly as well!
The delightful flavors make this a must-add to your meal rotation!
If you're looking for an elegant and nutritious vegetable side dish, this is definitely one recipe you don't want to miss out on!
It's a wonderful combination of eggplants, shiitake mushrooms, and bok choy, with a simple soy sauce mixture that helps to tie everything together.
The addition of garlic, ginger, sesame oil, and chicken broth helps to add tons of depth and complexity to the flavor, making this an exceptional dish that's sure to please.
Pair it with other dishes to enjoy a healthy and wholesome meal with the family!
At Glorious Recipes, we have our favorite Teriyaki Japanese Eggplant that we absolutely adore and it tastes heavenly! Check out the recipe below!
Yield: 2
Teriyaki Japanese Eggplant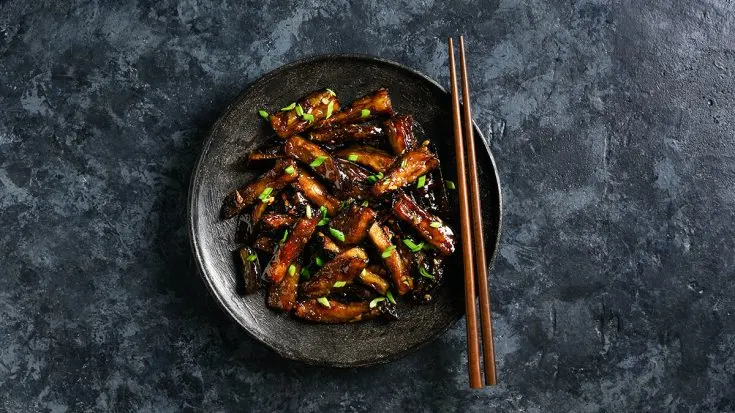 Savor an incredibly tasty vegetable side dish with this Teriyaki Japanese Eggplant that's super easy to whip up!
Ingredients
Teriyaki Marinade
3 garlic cloves, minced
½ cup soy sauce
¼ cup mirin
1 tbsp brown sugar
1 tbsp rice wine vinegar
1-inch ginger, grated
Garnish
sesame seeds, for garnish
green onions, for garnish
Instructions
Add all the ingredients for the teriyaki marinade in a bowl and mix well until sugar is fully dissolved.
Slice and cut the eggplants, then transfer to a large bowl. Pour marinade over the eggplants and ensure every part is coated with the sauce. Leave it to marinate for 20 minutes, turning occasionally.
Place a skillet or griddle pan over medium-high heat. Let it heat up then add the eggplants. Pour the remaining marinade over the top of the eggplants while they cook. Leave the eggplants to cook for a few minutes on each side so that they are nicely seared and browned. Do it for all sides.
Transfer to serving plate and garnish with sesame seeds and freshly chopped green onions. Pair with white rice and enjoy!
Nutrition Information:
Yield:
2
Serving Size:
1
Amount Per Serving:
Calories:

416
Total Fat:

9g
Saturated Fat:

1g
Trans Fat:

0g
Unsaturated Fat:

6g
Cholesterol:

0mg
Sodium:

3513mg
Carbohydrates:

78g
Fiber:

17g
Sugar:

37g
Protein:

13g
Nutrition information is only an estimate and can vary depending on ingredients used.
Which of the Japanese eggplant recipes have you tried so far?
Let us know in the comments below!
For more awesome vegetable recipes that you might like, check out the following:
Baby Eggplant
Honeynut Squash
Banana Peppers
Taro
Canned Spinach
Frozen Green Beans
Frozen Cauliflower
Frozen Okra
Malabar Spinach
White Eggplant
Share on your favorite social media platform and tag us @GloriousRecipes – we can't wait to see what you have made!