Frozen cauliflower is a versatile and nutritious vegetable packed in a convenient format and it's an excellent option for whipping up quick and delicious meals!
Packed with loads of vitamins and essential minerals, it's also a superb low-carb and gluten-free alternative to traditionally starchy food, hence the rise in popularity among those on keto and paleo diets.
From tasty soups to roasted dishes, we've got you covered with some of the best frozen cauliflower recipes that you can easily try at home!
Enjoy a tasty side dish with this easy roasted frozen cauliflower recipe that you definitely need to try!
Tossed in a simple combination of olive oil, salt, and lemon pepper seasoning, the vegetables are perfectly roasted in the oven until they become tender with nice brown bits all over.
Healthy and loaded with nutrition, these roasted frozen cauliflowers also make for a good mid-day snack that you can munch on without feeling guilty!
It's ridiculously easy to make and they taste so good with so little effort so don't wait any longer and try it for your next meal!
Turn the heat up with these frozen buffalo cauliflowers that are super delicious and have an addictive kick with every bite!
Using nutritional yeast as breading, this is a low-carb and high-protein dish that can be served as an appetizer or side dish!
It's made spicy with the addition of hot sauce and these frozen cauliflower wings are cooked in the air fryer until they come out browned and crispy.
There's nothing not to like with how simple it is to make and how delicious they taste!
Get ready for a sumptuous meal with this fantastic Loaded Cauliflower Casserole that's amazingly delicious!
Made with a combination of delightful ingredients such as frozen cauliflower, frozen broccoli, onion, sour cream, cream cheese, and cheddar, this is a wonderful dish that's super flavorful.
It's made even tastier with a topping of chopped bacon and green onions, creating a simple dish that's perfect for a wholesome weeknight dinner.
It's a low-carb and gluten-free meal that makes a great addition to any dinner rotation!
Spice up your next meal with this incredible dish that makes for an amazing appetizer or side dish any day of the week!
The vegetables are mixed with a terrific blend of spices that include garam masala, curry powder, cumin seeds, turmeric, garlic powder, and black pepper, ensuring plenty of depth in flavor.
Baked in the oven until browned and crisp, they are completed by mixing with soy sauce before serving for a tasty dish.
With its strong and bold flavors, it's definitely one of our favorite roasted frozen cauliflower recipes!
For a great-tasting side dish that takes practically no effort to make, you've got to check out this splendid Frozen Cauliflower Mash!
It's incredibly easy to whip up and all you need to do is toss frozen cauliflowers, sour cream, cream cheese, onion powder, butter, salt, and butter into your blender and purée until a creamy consistency is achieved.
With a simple garnish of green onions, you'll have a tasty dish that can complement any main course for a wholesome meal!
You can also pulse the ingredients in a food processor if you want a chunkier consistency!
Make cauliflower rice with this simple recipe that's also great for using up any leftover frozen cauliflower!
It's really easy to convert frozen cauliflower florets into cauliflower rice, and it's just a matter of softening the frozen vegetable by microwaving the florets before pulsing them in the food processor to get a rice-like consistency.
Salt is added to taste and you'll have delicious cauliflower rice in no time at all!
Use it as a low-carb alternative to regular white rice and pair it with any other sides for an awesome meal!
Whip up a cheesy side dish that's both mouth-watering and really easy to make!
Cheese makes everything taste awesome and this dish is loaded with double cheese, which means double the amount of deliciousness!
Cauliflower is combined with cheddar cheese soup, sharp cheddar cheese, salt, and pepper, then topped with crushed french fried onions before everything is baked in the oven until bubbly.
It's oozing with great flavors and definitely has a place in any meal with how tasty it is!
Nothing compares to a bowl of hot cauliflower soup to warm you right up on a cold and chilly day!
The smooth and creamy soup is made by blending cauliflower, vegetable broth, garlic, oil, lemon juice, water, and parsley, creating an incredibly flavorful dish that's just irresistible.
Topped with sautéed mushrooms and onions, plus a garnish of freshly chopped parsley, it's a hearty bowl of soup that you'll want to sip every last drop of.
This comforting soup is a must-add to your soup rotation and is definitely one of our favorite frozen cauliflower recipes!
Make your next meal a little special with this fantastic Cauliflower Dill Kugel that's absolutely delicious and a must-try in our books!
Cauliflower combines with ricotta cheese, Swiss cheese, lemon zest, herbs, plus a breadcrumb mixture to create an amazing baked casserole loaded with great flavors.
It's light, creamy, and oh-so-yummy, and you'll be enjoying every bite of this incredible dish that's sure to please everyone.
You'll definitely be making it more than once with how delicious it is!
This creamy and comforting cauliflower soup is a simple yet tasty dish that'll definitely whet your appetite!
The soup is enhanced by roasting garlic and frozen cauliflower before mixing and blending with sautéed shallot, onion, and vegetable stock to create that delightful creamy consistency.
Topped with croutons and roasted cauliflowers, it's an addictive soup that has great texture and flavors.
Make this the next time you want some comfort food and you might just have a new favorite dish after that!
Give a simple twist to a classic Irish dish with this exceptional Cauliflower Colcannon that makes for an amazing side dish or appetizer!
The cauliflower florets are cooked and puréed before being mixed with sautéed garlic, kale, and green onion to create a lovely dish.
It's completed with a garnish of green onions and it's a low-carb side dish that's loaded with tons of nutrients.
This creamy bowl of mashed cauliflower and kale can be enjoyed all year long and it's so simple to make!
This roasted frozen cauliflower recipe is one of the easiest ways to make a convenient and tasty side dish that's super flavorful!
With a combination of spices that include ginger powder, onion powder, turmeric powder, garlic powder, and black pepper, these roasted florets are sure to tantalize your taste buds.
Roasted in the oven until they are tender on the inside and crispy on the outside, it's the perfect mix of taste and texture for a wonderful dish.
You'll be reaching out for seconds once you've got your first bite of these delicious vegetables!
You've got to give this air fryer frozen cauliflower recipe a try because this dish is incredibly easy to make and tastes really delicious!
The highlight of this recipe is the sauce, which is made with a mixture of lime juice, mayonnaise, garlic, sour cream, and cayenne pepper.
Roasted cauliflower florets are tossed with the sauce and feta cheese before a garnish of freshly chopped cilantro is sprinkled to finish off this fantastic dish.
It's flavorsome, delectable, and most importantly, really simple to make!
Garlic and truffle make for an amazing combo that can elevate any dish and it's no surprise that this mashed cauliflower is incredibly tasty!
It's one of the most straightforward frozen cauliflower recipes that you can try, and all you need to do is boil the cauliflower with garlic and chicken stock before pulsing it with ghee and truffle oil.
Once the desired consistency is achieved, add salt and pepper before serving this lovely dish!
You can whip this up super fast and it's great for making an awesome side dish when you're pinched for time!
Indulge in a deep-fried dish that's both vegan and vegetarian-friendly, and it's amazingly tasty to boot!
The batter is made with chickpea flour and other delightful ingredients to keep it vegan, and once the cauliflower florets are dredged in the seasoned flour mixture, they are fried until golden brown and crispy.
The beauty of this dish is that you can mix things up and pair it with any of your favorite sauces and the deep-fried vegetables will still taste amazing!
Experiment with different sauces to keep it fresh and you'll have a versatile side dish or snack that you can make any time!
Dig into this fantastic casserole loaded with vegetables and cheese that makes it such a delightful and tasty dish!
Frozen cauliflower and frozen broccoli come together in this recipe to create a convenient and easy-to-make side dish that's enhanced with the addition of cream of mushroom soup, sour cream, cheese, and fried onions.
It's a delectable casserole that'll make you want to scoop a second serving right after your first bite because it's just that delicious!
It's perfect for a family dinner and even the kids will love this cheesy casserole!
Inject strong and bold flavors to your next side dish with this Indian-Spiced Roasted Frozen Cauliflower that's absolutely delicious!
With a mix of turmeric, nigella seeds, cumin, garam masala, and aromatics, these ingredients help to provide a flavorful base that adds so much complexity to an otherwise ordinary-tasting roasted cauliflower dish.
It's super easy to whip up and all the spices are mixed with the vegetables before roasting in the oven until they are tender on the inside.
You'll have a hard time stopping yourself from munching on these tasty bites, especially if you love Indian flavors!
Add a light but flavorful vegetable side dish to your next meal with this fantastic frozen cauliflower recipe that you definitely need to try!
Along with frozen broccoli, the vegetables are tossed in a mixture of spices, seasonings, and Parmesan cheese to make them extremely flavorsome when cooked.
The vegetable mixture is given a nice sauté with butter and you'll end up with a plate of delicious veggies that can complement any main dish.
Serve alongside some carbs and protein for an easy, hearty, and wholesome meal!
Mix things up a little and try out this Chicken Verde Casserole that's super tasty and really easy to make!
It's a delightful combination of chicken, cauliflower, salsa verde, cheese, cilantro, and yogurt that makes this dish incredibly delicious and is sure to satisfy any craving.
With a creamy and cheesy texture, it's an irresistible dish that's perfect for an easy and delectable weeknight dinner.
The mix of protein and veggies gives it a nutritious profile and it's definitely a great addition to any meal rotation!
This make-ahead casserole is great for making a big batch and storing the excess for the week, reducing your cooking workload and freeing up more leisure time!
It's a creamy mixture of cheese, vegetables, sour cream, and fried onions, and they come together exceptionally well to create a comforting and hearty dish.
This casserole is easy to freeze and reheat without losing any of the wonderful texture and flavor, making it a great meal prep dish and one of the best frozen cauliflower recipes that you definitely need to try.
Garnish with parsley before each serving for maximum taste and enjoyment!
Cook up a pot of warm and comforting Cream of Cauliflower Soup that's sure to delight your taste buds with its amazing taste!
No blender is required in this fantastic frozen cauliflower recipe with the soup base being made from flour, chicken broth, sautéed onions, milk, and cheese.
Chopped cauliflowers help to provide texture to the soup and it's an addictive dish that will have you slurping up every last drop of it.
With how easy it is to make, you have no reason not to try out this delicious soup!
Savor a delicious meal with this terrific Scalloped Cauliflower that's loaded with simple but delightful ingredients!
It's an easy casserole dish that's made by baking a combination of frozen cauliflower, onions, butter, cheddar cheese, and whipping cream.
Topped with crumbled bacon, it's a flavorful and satisfying dish that's perfect for an awesome meal any day of the week!
With all that wonderful flavors, this is definitely one of our favorite baked frozen cauliflower recipes!
Skip those store-bought frozen breaded cauliflowers and make your own with this fantastic recipe that makes superbly delicious bites!
You won't believe how easy it is to make your own breaded cauliflowers and it's really just a matter of coating the florets with a mixture of egg, spices, and breadcrumbs before baking until they become crispy.
Baking instead of deep-frying them makes this a guilt-free indulgence that's healthier for you!
Serve them as a tasty side dish or munch on them as a mid-day snack!
Treat yourself to an exceptional Cauliflower Ham Soup that's extremely flavorful and super delicious!
The soup base is made by blending a mixture of vegetable broth, whipping cream, and cauliflower until a creamy purée is achieved, after which it is combined with kale, ham, and a whole host of seasonings to make it even more flavorsome.
Simmered until all the delightful flavors come together, the soup is completed with the addition of shredded cheese.
With all that wonderful flavors in one bowl of soup, it's definitely one of the best keto-friendly frozen cauliflower recipes to try!
Grace your taste buds with a simple vegetable side dish that's easy to whip up and tastes absolutely fantastic!
There's no lack of nutrition with both frozen cauliflower and broccoli combined to create a nutrient-dense dish seasoned with balsamic vinegar, paprika, garlic powder, and olive oil.
Roasted in the oven until perfectly cooked, plus a squeeze of lemon and some black pepper to elevate the dish to the next level, this simple side dish is a great addition to any meal!
At Glorious Recipes, we have our favorite Easy Curry Roasted Frozen Cauliflower that we absolutely adore and they taste heavenly! Check out the recipe below!
Yield: 4
Easy Curry Roasted Frozen Cauliflower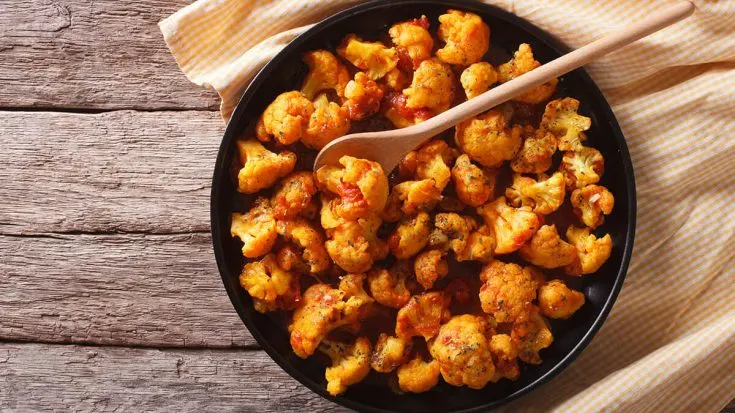 Enjoy an exceptionally tasty side dish with this Easy Curry Roasted Frozen Cauliflower that's really simple to make!
Ingredients
12 oz frozen cauliflower florets
salt, to taste
2 tbsp oil
1 tsp garlic powder
1 tsp black pepper powder
½ tsp turmeric powder
¼ tsp cumin seeds powder
½ tsp garam masala powder
½ tsp curry powder
2 tbsp sriracha sauce
1 tbsp soy sauce
Instructions
Preheat oven to 400°F (205°C).
Add frozen cauliflower florets to a large mixing bowl, along with all the other spices and sauces except soy sauce. Toss and mix well.
Transfer the mixture to a baking sheet. Bake for around 30 minutes, until the florets become tender on the inside and a little browned on the outside. You can turn up the temperature for the final few minutes or bake slightly longer, depending on your oven. Keep an eye on the vegetables so that they do not get burnt.
Once cooked, mix the florets with soy sauce and serve. Enjoy!
Nutrition Information:
Yield:
4
Serving Size:
1
Amount Per Serving:
Calories:

100
Total Fat:

8g
Saturated Fat:

1g
Trans Fat:

0g
Unsaturated Fat:

7g
Cholesterol:

0mg
Sodium:

586mg
Carbohydrates:

7g
Fiber:

3g
Sugar:

3g
Protein:

2g
Nutrition information is only an estimate and can vary depending on ingredients used.
Which of the frozen cauliflower recipes have you tried so far?
Let us know in the comments below!
For more awesome vegetable recipes that you might like, check out the following:
Daikon
Roma Tomato
Savoy Cabbage
Taro
Canned Spinach
Frozen Green Beans
Romanesco
Shredded Carrot
Malabar Spinach
Recipes with Refried Beans
Share on your favorite social media platform and tag us @GloriousRecipes – we can't wait to see what you have made!