Chanterelles are popular wild edible mushrooms prized for their distinctive aroma and amazing texture!
Their unique trumpet shape adds a touch of elegance to any dish and their versatility means they are perfect for whipping up a variety of tasty dishes.
Chanterelle mushrooms are also packed with vitamins and other essential minerals, making them an awesome ingredient to inject a dose of nutrients into your meals.
Whether you're craving some pasta, pizza, or soup, we've got you covered with some of the best chanterelle recipes that you can easily try at home!
Enjoy an amazing meal with this Creamy Chanterelle Pasta that's incredibly tasty and really easy to make!
It's a delightful combination of chanterelles, shallots, garlic, and pappardelle, made creamy with heavy cream and grated Parmesan cheese.
The pasta is given a refreshing depth with the addition of lemon juice and oregano leaves, creating a terrific dish that's sure to please your taste buds.
With how straightforward it is to make, this wonderful pasta is definitely a must-add to your meal rotation!
This is one of those vegan chanterelle mushroom recipes that you absolutely have to try because it's super easy to whip up with only a handful of main ingredients required!
Potatoes and mushrooms come together in this comforting dish that's made tasty with onions, green onions, and a simple seasoning of salt and pepper.
All cooked in one skillet, this is a simple recipe that even beginner home cooks can attempt without failure!
The earthy and delightful flavors make this an easy dish to enjoy!
Shake things up a little and try out this fantastic toast that's amazingly delicious and is sure to whet your appetite!
It's ridiculously easy to make for something that tastes this good and all you need to do is sauté the mushrooms in butter before adding heavy cream and letting the mixture simmer to thicken up.
A basic seasoning of salt and pepper is sufficient to elevate the flavor of the mushrooms and when you spread the mixture on crusty bread, you'll have an incredible dish to savor.
We love the simplicity of this dish and it's definitely one of our favorite chanterelle recipes for an awesome breakfast!
Give an instant upgrade to your risotto with this splendid recipe that you definitely don't want to miss out on!
It's a remarkable dish with aromatics, stock, thyme, and cider imparting plenty of delightful flavors to the dish and you're bound to finish every last grain of arborio rice because it's just that delicious.
Sautéed chanterelles and Parmesan cheese help to enhance the risotto further, making it an absolute treat that's sure to satisfy any appetite.
It's a great way to add variety to your meals and enjoy the flavors of the enchanting chanterelle mushrooms!
Another chanterelle pasta that you need to add to your repertoire is this exceptional Chanterelle Mushrooms with Tagliatelle!
Made fragrant with white wine, onion, garlic, and parsley, this is a pasta dish that'll make you salivate at the thought of it.
Add mushrooms and tagliatelle into the mix, and you have an incredible pasta that the whole family will definitely enjoy.
It's a quick and easy recipe that's perfect for putting delicious food on the table for those weeknight dinners!
For an excellent brunch or breakfast option, you've got to check out these outstanding patty melts that taste out of this world!
It's a delectable combination of ground beef patties, caramelized onions, sautéed mushrooms, and melted cheese to create a mouthwatering delight.
Make it even more special by serving it with homemade crusty bread and you'll be gobbling down these babies down like no tomorrow.
There's nothing not to like about this fantastic dish with how delicious it is!
Inject a little Norwegian flair to your next meal with this amazing recipe that's bound to tantalize your taste buds!
Goat cheese stars with chanterelles in this fantastic dish to create a flavorful dish that's given depth with the addition of thyme and made creamy with heavy cream.
It's a simple dish that's big on great flavors and with how quick and easy it is to whip this up, it's a no-brainer to give this a try!
You might just have a new favorite dish after your first bite because it's just that tasty!
Ramp up your meals with a dose of protein that's crazy delicious and is sure to be a hit with the crowd!
Tender and juicy chicken thighs combine with an excellent creamy mushroom sauce to create an extremely flavorsome dish that'll make you want a second serving!
Oregano, garlic powder, nutmeg, and onion all help to provide complexity to the flavor, making it a superbly enjoyable dish for the whole family.
Serve over rice or mashed potatoes for an easy and wholesome meal that's full of wonderful flavors!
This is one of the easiest chanterelle recipes that you can try and it makes an amazing side dish that definitely has a place in any meal!
It's straightforward to sauté the mushrooms and all you need to do is cook them together with onions in butter and season them with salt, pepper, and thyme.
This simple dish allows the natural earthy and fruity aroma of the mushrooms to shine with the basic seasonings and makes for an incredible side dish that you can serve along with other main courses.
Give it a try and you'll be pleasantly surprised by the delightful flavors of this lovely dish!
Experience tasty comfort food with this fantastic Vegan Mushroom Stroganoff that's incredibly tasty and super satisfying!
The highlight of this dish is the extremely flavorful sauce that's made tasty with smoked paprika, mustard, vegetable broth, and coconut milk.
It ties everything together really well and when combined with sautéed mushrooms, garlic, and onion, you have a superb mushroom stroganoff that can be served over your favorite carbs.
Pick your choice of rice, pasta, or mashed potatoes, and indulge in a savory and hearty meal!
Discover a terrific dish with this exceptional tart that's perfect for adding variety to your meals and it tastes so good!
It's a delectable mix of lovely ingredients that includes shallots, mushrooms, bechamel sauce, Gruyère cheese, and fresh arugula, all serving as a topping on puff pastry.
Baked until golden and crispy with melted cheesy goodness, this is an incredibly delicious tart that's just irresistible.
It's a fresh take on a mushroom dish and is absolutely one of our favorite chanterelle recipes!
Expand your cooking repertoire with this top-notch chanterelle recipe that brings together some of our favorite ingredients in one tasty dish!
The combination of guanciale, chanterelle mushrooms, pumpkin spaetzle, aromatics, and pine nuts makes it an incredible dish looks good and tastes even better.
There are bright colors, wonderful textures, and delightful flavors that everyone will definitely love, making it a crowd-pleasing dish that comes together really quickly.
Serve this for your next meal and be prepared to be showered with compliments!
Grace your taste buds with this fantastic mushroom dip that tastes absolutely delicious and makes for excellent party food or just a warm and comforting dish!
Made with a mixture of mushrooms, caramelized onions, garlic, thyme, mayonnaise, cream cheese, and Parmesan cheese, this is a decadent indulgence that you'll find hard to resist.
It's an exceptional dish with great flavors that pair superbly well with crusty bread or crackers and you'll be devouring everything before you even know it.
This easy chanterelle recipe is definitely a must-try with how delicious it is and how easy it is to make!
On days when you want a light breakfast or brunch that's easy to make and tastes fantastic, give this simple recipe a try!
Perfectly seared mushrooms are paired with fluffy scrambled eggs in this lovely dish that gives you all the nutrients you need to start your day right.
It's incredibly easy to whip up and you'll be savoring this delicious combo in no time at all!
Serve it with crusty bread to enjoy a hearty breakfast or keep it low-carb by serving it as it is!
Impress your friends and family with this pasta dish that's super easy to make and tastes absolutely fantastic!
Using truffle tagliatelle, the aroma of truffles is infused into the pasta and when you pair it with sautéed garlic, mushrooms, and white wine, the result is an absolutely delightful dish that's loaded with great flavors.
Parsley and Parmesan cheese helps to enhance the pasta further, making it an incredible dish that's perfect for an awesome meal.
With how tasty this pasta is, you definitely need to add it to your pasta rotation!
Treat yourself to a simple but delicious breakfast or brunch with this splendid mushroom omelet recipe!
Sautéed aromatics and mushrooms serve as the filling for a perfectly cooked omelet in this delightful dish that's sure to satisfy your taste buds.
The addition of thyme helps to add a nice layer of depth to the flavor, making it a really tasty dish that's easy to enjoy.
With how delicious it is, it's sure to be a mainstay in your breakfast offerings!
Nothing compares to a bowl of hearty chanterelle soup that's incredibly comforting and oh-so-yummy!
Onion, garlic, thyme, and sage help to impart depth and complexity to the flavor of the soup, making it super tasty and addictive.
It's made creamy by puréeing the mushroom mixture and adding coconut cream to finish it off.
This is one of those wild chanterelle recipes that you absolutely need to try because it's so easy to make and tastes awesome!
Sign us up for this exceptional wild mushroom pizza that's superbly delicious and a must-try for any pizza lover!
Sourdough pizza crust is topped with alfredo sauce, crispy bacon, and mushrooms, plus the addition of fresh herbs to give extra depth in flavor, making it an extremely flavorsome combo and a heavenly treat.
Baked until crispy, it's a pizza that's sure to put a smile on your face with its incredible flavors and textures.
You can eat this every day and never get tired of it!
If you're looking for a fantastic side dish that tastes absolutely wonderful, you've got to check out these outstanding pancakes!
With a batter made by combining flour, cheese, baking powder, chives, egg, half-and-half, and other delightful ingredients, the pancakes are guaranteed to be extremely delicious.
Add mushrooms into the mix and you have an exceptional dish that's perfect as a side dish, appetizer, or serve during brunch for an easy and tasty meal!
You'll be asking for seconds with how delectable these pancakes are!
Make your next meal a little special with this unbelievably tasty Grilled Pepper and Chanterelle Mushroom Salad!
It's an excellent combination of wild mushrooms, peppers, aromatics, balsamic vinegar, Dijon mustard, and cheese to create a dish that's loaded with fresh and vibrant flavors.
If you love it spicy, you can even throw in hot peppers to give an addictive kick with every bite!
It's a great way to add some variety to your salad rotation and with how delicious this is, it'll undoubtedly make its way to your list of favorite salads!
At Glorious Recipes, we have our favorite Chanterelle Soup that we absolutely adore and it tastes heavenly! Check out the recipe below!
Yield: 4
Chanterelle Soup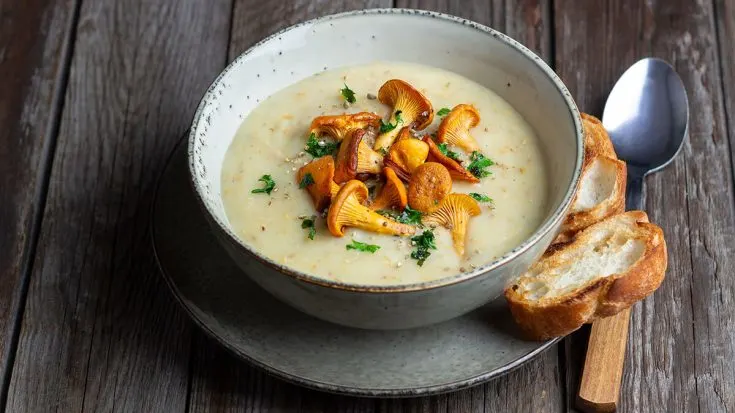 Enjoy a hearty Chanterelle Soup that's incredibly delicious and comforting! Perfect for a simple meal to warm you right up!
Ingredients
2 tbsp extra virgin olive oil
1 small onion, diced
5 cloves garlic, minced
2 lb chanterelle mushrooms
4 cups vegetable stock
6 sprigs of thyme leaves
1 sprig of sage
½ tsp salt
¼ cup coconut cream
Instructions
Add oil to a pot on low heat. Add diced onion and a pinch of salt. Sauté until onion is slightly caramelized. Add garlic and continue sautéing for half a minute more.
Add mushrooms and sauté until they begin to wilt, around 5 minutes more. Transfer 1 cup of mushrooms to a plate to reserve for garnishing.
Add stock, thyme, 1 sprig of sage, and ½ tsp salt to the pot. Stir and bring the mixture to a gentle simmer. Let it cook for around 10 minutes.
Use an immersion blender to purée the mixture until a smooth consistency is achieved. Add coconut cream and stir. Remove from heat and adjust seasonings to taste.
Serve soup and top with reserved chanterelles. Enjoy!

Nutrition Information:
Yield:
4
Serving Size:
1
Amount Per Serving:
Calories:

239
Total Fat:

11g
Saturated Fat:

4g
Trans Fat:

0g
Unsaturated Fat:

6g
Cholesterol:

0mg
Sodium:

986mg
Carbohydrates:

31g
Fiber:

9g
Sugar:

14g
Protein:

5g
Nutrition information is only an estimate and can vary depending on ingredients used.
Which of the chanterelle recipes have you tried so far?
Let us know in the comments below!
For more awesome mushroom recipes that you might like, check out the following:
King Oyster Mushroom
Lobster Mushroom
Lion's Mane
Enoki Mushroom
Puffball Mushroom
Chicken of the Woods
Share on your favorite social media platform and tag us @GloriousRecipes – we can't wait to see what you have made!