Enoki mushrooms, also known as golden needle mushrooms or golden mushrooms, are very popular in East Asian cuisines due to their interesting texture and the way they act as a sponge to absorb all the wonderful sauces they are cooked in.
They are very versatile and can be cooked in many different ways to whip up tasty dishes for awesome meals!
From fried mushrooms to mushroom soups, we've got you covered with some of the best enoki mushroom recipes that you can try!
Enjoy a side dish with this enoki mushroom recipe that's so simple to make, you can't believe it's so delicious!
Cooking the mushrooms is just a matter of blanching them for a minute but the star of this dish is the extremely flavorful sauce that's drizzled over them.
A simple mixture of soy sauce, sugar, minced garlic, oil, and scallion is sufficient to elevate this dish instantly.
The mushrooms absorb the sauce and every bite is just bursting with plenty of flavors.
Serve alongside other proteins and carbs for a complete meal that you'll definitely enjoy!
These fried enoki mushrooms are the perfect appetizer because they are just so delicious and addictive!
Wrapped in seaweed sheets and coated in a paprika-seasoned flour mixture, these mushrooms are deep-fried until they turn golden and become super crispy.
It's very easy to make but the taste is just unbelievable for something so simple.
Serve with your favorite dipping sauce or try out the tasty Tiger sauce or Bitchin' sauce to complement these tasty bites!
These Japanese-styled enoki beef rolls are extremely flavorful and they make for a great side dish or appetizer that'll definitely be a crowd-pleaser!
Soaked in a garlic-ginger soy marinade, the beef slices are filled with wonderful flavors that go so well with the mushrooms.
They are wrapped around the mushrooms before being cooked in sesame oil, adding even more fragrance and depth to the flavor.
Serve with our sweet soy glaze and you'll be gobbling down these babies in no time!
Try your hands at making these delicious vegan tacos and they'll be one of the best tacos you've ever tasted!
The mushrooms are sautéed until they become really crispy with a nice dark brown color and they are seasoned with a blend of spices that adds loads of delightful flavors.
Combined with a cilantro-onion relish and homemade guacamole, the tacos are assembled on tortillas to create a fantastic meal.
Whip this up for your next Taco Tuesday and enjoy these tasty tacos!
If you're looking for an amazing appetizer or side dish, you've definitely got to check out this fried enoki mushroom recipe!
Fried until crispy with a beautiful golden brown hue and sprinkled with togarashi and spring onion, these mushrooms are super delicious and super addictive!
The spicy mayo dip is made by combining sriracha sauce and mayonnaise together and it goes really well with the mushrooms to create an excellent dish to snack on!
You'll definitely be making this more than once with how tasty it is!
Turn up the heat with this spicy enoki mushroom recipe that's loaded with a garlicky flavor and is sure to please!
There's no lack of garlic being used in this dish and it's super fragrant, creating an awesome side dish when combined with chives and Thai chili.
The mushrooms are cooked in a simple sauce mixture of oyster sauce and soy sauce with a little sugar added to give it a pleasant sweetness.
Pair it with some carbs and enjoy a tasty meal!
Go healthy with this vegan poke bowl that's filled with nutritious ingredients and awesome flavors!
Marinated tofu, sautéed mushrooms, tasty edamame, sliced cucumbers, tomatoes, and avocado combine with rice and a delicious ponzu sauce to create a fantastic dish that's perfect for a wholesome meal!
Topped with sesame seeds and freshly chopped scallions, this poke bowl is absolutely mouth-watering.
It's a vegan recipe that you definitely need to add to your meal rotation!
Impress your friends and family by making these beautiful crystal dumplings that taste as good as they look!
Filled with mushrooms, carrots, ginger, and shallots, these dumplings are given a simple makeover with the introduction of butterfly pea powder to give them a mesmerizing blue color.
They are steamed until fully cooked and they make for an incredible dish that's perfect for a delicious Asian-themed meal!
Grace your taste buds with this amazing enoki dish that's super flavorful and makes for a great addition to any meal!
A tasty savory sauce is made with aromatics, soy sauce, and sugar, with egg white and shrimp added to give a great texture and loads of protein to this dish.
The sauce is added to blanched mushrooms to let them soak up all the wonderful flavors, creating an awesome side dish.
Enjoy this with fragrant steamed rice to have a wonderful meal!
Dig into these crispy fried mushrooms that make a fantastic appetizer or mid-day snack!
Mushrooms and onions form a lovely combination in this recipe as they are dredged in a batter and deep-fried to perfection.
They are paired with a delectable Thai curry mayo that's extremely flavorful and totally elevates the dish into a must-try appetizer.
Garnish with some chives before serving for maximum enjoyment!
It's absolutely delicious and easily one of our favorite enoki mushroom recipes!
For a hearty and comforting dish, check out this enoki ramen soup that is sure to satisfy any cravings!
It's super easy to make and it tastes so good with simple ingredients that are perfect for a quick and hassle-free meal!
With mushrooms, tofu, and bok choy combined with a tasty soup made with miso paste and dashi granules, it's a flavorsome bowl of healthy ramen that anyone can enjoy!
Keep it simple with this healthy and tasty side dish that you can easily whip up in less than 5 minutes!
Using the handy microwave oven, the mushrooms can be cooked within a minute and all that's left to do is to combine them with a delicious homemade soy butter sauce.
With mirin, soy sauce, butter, and garlic powder, this flavorful sauce is mixed and added to the mushrooms with a topping of aonori, or dried seaweed, to complete this delicious side dish!
Add some Asian flair to your next meal with this Korean enoki mushroom recipe that makes an exceptional pancake!
Mushrooms are coated in a flour mixture along with vegetables, eggs, and sesame oil, and they are pan-fried until crispy with a beautiful golden brown color.
Paired with a pancake dipping sauce, this side dish is amazingly delicious and super addictive!
Try it for your next meal and it'll quickly become one of your favorite dishes to make!
This gluten-free and vegan enoki mushroom stir-fry recipe is perfect for making a simple side dish that's tasty with minimal ingredients required!
Tofu skin is used to wrap the mushrooms and then tied with chives before they are cooked in a simple sauce that's made with XO sauce, oyster sauce, and soy sauce.
It's filled with delightful flavors and pairs really well with rice for a delicious meal!
Cook up this bowl of mushroom soup complete with noodles, ginger, and lemongrass for a healthy and refreshing meal that's perfect for a chilly evening!
With soba noodles, bok choy, and other simple spices, they are combined with vegetable stock and lemon grass to create a light broth that doesn't overwhelm and is easy to enjoy.
It's filled with nutrients and is a great dish to alternate with heavy protein meals to balance out the calories and taste!
No messy cleanup is required with this super easy foil-baked recipe that cooks up tasty mushrooms for a delightful meal!
A simple soy-miso sauce is made and poured over the mushrooms in a foil pouch before the oven takes over to fully cook them.
The mushrooms take on the sauce really well and absorb it like a sponge, giving them plenty of wonderful flavors that go really well with any carb!
This Japanese enoki mushroom recipe makes a hearty bowl of comforting soup that can definitely warm your soul and fill your belly!
Combined with shiitake mushrooms and harusame noodles, they make an awesome dish that's light and easy to consume with delightful flavors.
It's given depth with a simple seasoning of sake, soy sauce, and salt, plus the fragrance of green onions.
All in all, it's a fantastic soup that's delicious and easy to make!
Amplify your next meal with an XO garlic sauce so flavorful that it totally elevates the taste of the mushrooms to another level!
The combination of XO sauce, soy sauce, mirin, garlic, ginger, and scallion is a heavenly mix that provides plenty of fragrance and umami flavors that can turn anything into a delicious meal.
The best thing is that it's not difficult to make at all and you get an incredible side dish with so little effort!
It's so tasty and easily one of our favorite enoki mushroom recipes!
Whether it's breakfast, lunch, or dinner, every meal can do with a tasty omelet to add loads of nutrition and great flavors.
With this mushroom omelet recipe, you get both in abundance with the addition of spinach, asparagus, garlic, and cheese.
It's fragrant with a refreshing flavor and the nice charred portions of the omelet taste absolutely fantastic.
This might be your new favorite omelet recipe once you've tried it!
Savor delicious enoki mushrooms wrapped in bacon that make an awesome appetizer or side dish!
These tasty bites are coated with an extremely flavorful sweet garlic soy sauce that adds tons of umami flavors to the mushrooms and they are baked in the oven until cooked.
It's amazing how simple it is to make these delectable mushrooms and once they come out of the oven, they are just irresistible!
Spruce up your next meal with these impressive enoki blooms that have the wow factor to turn any meal into a fancy one!
Soaked in sour orange juice before frying, the mushrooms are filled with a tangy citrus flavor that's amazingly delicious.
Paired with a tasty aioli made with ginger, saffron, turmeric, and lemon juice, plus a sprinkle of chives and togarashi-paprika mix, this is a fantastic dish that's fit for any special occasion.
Don't miss out on trying this recipe because it's just that delicious!
Tangy, tasty, and filled with simple ingredients, this tomato, mushroom, and tofu soup is the perfect comfort food to keep yourself warm on a cold and rainy day!
Using tomato paste and ripe tomatoes, the soup has a tart flavor that is super addictive, and when you add silken tofu, enoki, and scallion into the mix, you have a delightful dish that you can sip on all day.
There's nothing not to like about this simple soup as it's filled with nutrients and easy to make!
For a great side dish that you can make in under 30 minutes, check out this fantastic mushroom egg pancake that's super tasty!
It's a simple recipe that utilizes common ingredients that you can find in your kitchen and the combination of egg, mushrooms, flour, and green onion makes a wonderful batter that is pan-fried to perfection.
With a beautiful golden brown color, this egg pancake is a great accompaniment to other main dishes for a wholesome meal!
These enoki mushroom noodles are a must-try for all vegetarians as it's delicious and super easy to make with only 4 ingredients required!
When you want convenience and a tasty meal, ramen comes to mind, and this recipe upgrades the regular noodle dish with mushrooms, egg, and American cheese to create a delicious gooey meal!
Vegans can easily use vegan cheese as a substitute and it'll still be as tasty!
Garnish with your favorite toppings and enjoy this simple meal!
Indulge in this plant-based vegan mushroom orzo salad that tastes amazing and is perfect for a delicious meal any time of the day!
With truffle oil and fresh basil, this dish is filled with an irresistible aroma and flavor that makes you want to dig into it straight away.
Add enoki and orzo, and you have an elegant and almost luxurious pasta salad that's fantastic whether it's served warm or cold!
For an amazing hotpot dinner, you'll definitely need to check out this Korean army stew, also known as budae jjigae!
This budae jjigae is a fantastic enoki mushroom recipe that's perfect for sharing with friends over a few drinks and you are guaranteed good food and a great time!
With instant noodles, spam, rice cakes, kimchi, mushrooms, tofu, and cheese, it's a pot of tasty ingredients in a hot and savory broth that's absolutely delicious.
You can easily tweak the recipe and throw in your favorite ingredients because the broth is great with everything!
If you love pasta but don't want all that carbs, check out this mushroom pasta recipe that uses enoki as a substitute!
It's easy to make and you can't go wrong using ground beef, pasta sauce, seasonings, and grated cheese to create a delightful meal!
Try it the next time you want a simple low-carb meal that's still delicious with loads of nutrients in it!
Yield: 27
27 Amazing Enoki Mushroom Recipes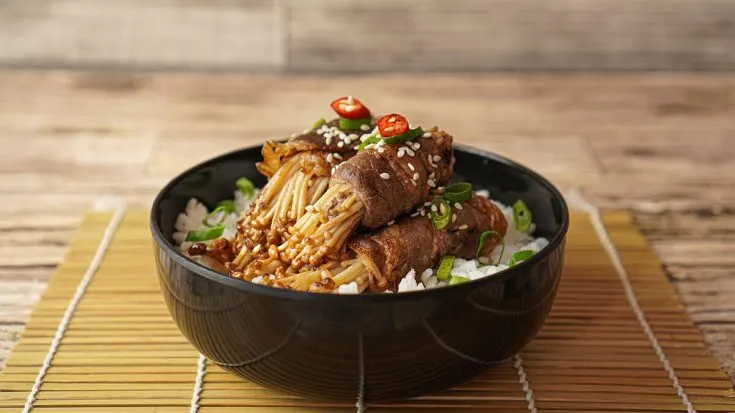 Try these enoki mushroom recipes and enjoy a delicious meal! Whether you like them fried, baked, or in a soup, there's always something for every occasion!
Instructions
Choose your favorite recipe.
Prepare all the required ingredients.
Whip up the tasty dish and enjoy an awesome meal!
Nutrition Information:
Yield:
27
Serving Size:
1
Amount Per Serving:
Calories:

280
Total Fat:

14g
Saturated Fat:

5g
Trans Fat:

0g
Unsaturated Fat:

8g
Cholesterol:

75mg
Sodium:

717mg
Carbohydrates:

25g
Fiber:

2g
Sugar:

3g
Protein:

14g
Nutrition information is only an estimate and can vary depending on ingredients used.
Which of the enoki mushroom recipes have you tried so far?
Let us know in the comments below!
For delicious main dishes that you can pair with these tasty mushrooms, check out Shin Ramen, Ham Hock, Cobia, Beef Shanks, Elk Steak, Wagyu Steak, and Shrimp Ramen recipes!
Or if you're looking for more mushroom recipes, don't miss out on King Oyster Mushroom, Lobster Mushroom, Lion's Mane, Chanterelle, Puffball Mushroom, and Chicken of the Woods!
Share on your favorite social media platform and tag us @GloriousRecipes – we can't wait to see what you have made!