Embark on a culinary adventure with lobster mushrooms, a fascinating ingredient that's neither a lobster nor a mushroom!
Lobster mushrooms are a type of fungus with a beautiful red hue, dense meaty texture, and taste reminiscent of their crustacean namesake.
With their distinct seafood notes, they are perfect for whipping up tasty dishes that will surely leave you in awe.
From pasta to chowders, we've got you covered with some of the best lobster mushroom recipes that you can easily try at home!
Whip up an awesome meal with this fantastic lobster mushroom pasta that tastes absolutely divine and is sure to whet your appetite!
It's a delectable combination of lobster mushrooms, prosciutto, carrot, celery, and onion, all simmered in a wonderful mix of white wine, milk, tomato paste, and vegetable stock.
Add gnocchi into the mix and you have a marvelous dish that's extremely delicious and filled with tons of incredible flavors!
You definitely need to give this delightful pasta dish a try!
Give the classic mac and cheese a slight twist with this terrific lobster mushroom recipe that you definitely don't want to miss out on!
With onion powder, garlic powder, soymilk, and cheddar used in the making of the cheese sauce, you're guaranteed plenty of amazing flavors that you're sure to love.
Tossed with lobster mushrooms and macaroni, this is a simple but hearty dish that's super comforting.
This is a great way to experience the flavor of the unique mushroom in a familiar dish!
This is one of our favorite lobster mushroom recipes and it makes an excellent dish that's sure to impress with both its looks and flavor!
Lobster mushrooms take on a secondary but important role here as they are ground into a powder that coats walleye filets before they are pan-fried until beautifully golden brown.
The mushroom powder adds tons of umami flavor that helps to make the fish extremely delicious.
It's a dish that's fancy yet simple to make and will surely be the highlight of any meal!
Enjoy splendid pasta with this recipe that combines some of our favorite ingredients in one dish to create something really special!
Lobster mushrooms, burrata, and tagliatelle come together in this brilliant dish with a simple sauce that helps to tie everything together.
It's incredibly easy to make and definitely a worthwhile addition to your pasta rotation with how delicious it is!
Give it a try and you'll not be disappointed with its exceptional flavor!
Grace your taste buds with this fantastic chowder that's amazingly delicious and super easy to whip up!
This chowder features potatoes, tomatoes, mushrooms, herbs, and aromatics such as garlic, celery, and onion, creating an absolutely mouthwatering delight.
It's extremely flavorsome and exceptionally tasty and comforting on a cold and chilly day!
Pair with some crackers to maximize the enjoyment of this heavenly dish!
Cook up a pot of warm soup with this mind-blowing Lobster Mushroom Bisque that's superbly tasty and is sure to delight your taste buds!
This soup is a lovely blend of sautéed onion, garlic, mushrooms, broth, white wine, and a delightful roux made by combining lobster mushroom-infused oil, flour, and coconut milk.
It's rich, creamy, and full of flavors that you're sure to love, making it a dish that's ideal as a starter in any meal.
It's really easy to make with either an Instant Pot or stove top so make sure to give it a try!
Amplify your next meal with this impressive lobster mushroom risotto that will surely wow you with its exceptional flavor!
It's a wonderful marriage of Arborio rice, aromatics, and mushrooms, all cooked with white wine and stock until all the flavorful liquid is absorbed and infused into the rice.
Parmesan cheese, parsley, and lemon zest help to bring depth to the flavor to make this a scrumptious dish that's perfect for a hearty meal.
It requires some patience to make but it's incredibly simple and straightforward, and you'll know it's all worth it once you've taken your first bite!
Expand your cooking repertoire with this outstanding farrotto that's essentially a risotto made with farro instead of short-grained rice!
There's no lack of seafood flavor with lobster stock, lobster meat, and lobster mushrooms used in the making of this mouthwatering dish.
The flavors are perfectly balanced and it's a highly palatable farrotto that will surely satisfy any appetite with how delicious it is.
It's definitely one of those lobster mushroom recipes that you'll want to keep handy!
Shake things up a little and try making these fantastic Lobster Mushroom Rolls that make for an awesome meal any time of the day!
Similar to classic lobster rolls, this glorious dish involves a mix of mayonnaise, celery, chives, green onions, lemon juice, lemon zest, and other lovely ingredients, but it uses lobster mushrooms instead as the main highlight.
Add toasted hot dog buns into the equation and you have impeccable rolls that you'll want to stuff yourself with!
You might just have a new favorite dish after taking your first bite!
This stunning dish is one that's delectable, easy to make, and definitely has a place in any fine dining restaurant's menu!
It's an assortment of creamed spinach, baked Vidalia onion filled with sautéed lobster mushrooms, garlic, and parsley, with a flavorsome sauce helping to tie everything together.
The sauce is made by combining flour, mushroom stock, diced bacon, pearl onions, and other lovely ingredients, and it complements the onion and mushrooms perfectly.
If you need a lobster mushroom recipe to impress, this is a top contender in our books!
Reward yourself with this terrific braised mushroom dish that's sure to be a crowd-pleaser with its incredible flavors!
Lobster mushrooms, bacon, leeks, tomatoes, and garlic come together in this lovely delight, braised in a mix of white wine and chicken stock.
It has superb depth and complexity in its flavor and makes for an amazing meal when paired with polenta or homemade bread.
You'll want to mop up all that delicious sauce because of how flavorful it is!
For an amazing vegetarian appetizer, you've got to check out this awesome ceviche that tastes out of this world!
It's a magnificent combination of sweet potatoes, corn kernels, and lobster mushrooms, with a flavorsome leche de tigre imparting plenty of delightful flavors to the dish.
All the ingredients come together really well to create a mouthwatering starter that's just irresistible!
Be prepared to receive lots of compliments because this ceviche is exceptionally tasty!
In what is one of our favorite lobster mushroom recipes, shredded mushrooms are seasoned and pan-fried to form absolutely delicious cakes!
Made by combining the mushrooms with green onions, chives, smoked paprika, flour, and other delightful ingredients, these cakes are super easy to make and taste incredible.
They are perfect for a tasty snack any time of the day but also make for an excellent side dish that can complement any main course!
There's nothing not to like about this quick and easy recipe!
This vegan lobster mushroom pasta recipe is a must-add to your meal rotation and a great way to experience the excellent flavor of the wonderful mushroom!
Featuring pasta tossed with sautéed mushrooms and a flavorsome sauce made by combining garlic-infused oil with heirloom tomatoes, basil, thyme, and red pepper flakes, this is a dish that's just irresistible.
It's the type of dish that everyone will be fighting for seconds and even non-vegans will fall in love with.
You'll love how delicious it is for something so simple to whip up!
Inject a little Chinese flair to your next meal with these Vegan Lobster Wontons that are perfect as a tasty side dish or mid-day snack!
The filling is a delectable mixture of lobster mushrooms, sugar, and cream cheese, and it's wrapped with wonton wrappers before being air-fried until beautifully golden brown and crispy.
These wontons are super easy to make and they taste fantastic with an incredibly satisfying crunch.
Pair with your favorite dipping sauce or try out the awesome Bitchin' sauce and Tiger sauce for something refreshing!
Get ready for a pot of comforting lobster mushroom soup that's amazingly delectable and exceptionally wholesome!
With aborted Entoloma mushrooms added as well, you have both lobster and shrimp of the woods combined to create a chowder with plenty of seafood taste.
Add potatoes, vegetables, white wine, and a whole host of other ingredients into the mix and you have a hearty soup that's really filling.
It makes for an awesome meal that's really easy to prepare as well!
If you need a remarkable appetizer or side dish to impress, you've got to check out this extraordinary Lobster Mushroom Pavé!
Fresh lobster mushrooms are shaved and combined with Parmigiano Reggiano, egg yolks, garlic, and thyme before being baked until nicely browned and fully cooked.
Dried lobster mushroom powder is used to dust the baking dish to reinforce the flavor and also to prevent the baked pavé from sticking to the dish.
It's extremely delicious and we have no doubts that this will quickly make its way to your list of favorite lobster mushroom recipes!
Dig into this splendid lobster mushroom pasta that's ridiculously easy to make and is sure to delight your senses!
Pappardelle is perfect here with its wide surface area as it's coated with a creamy Alfredo sauce that makes this an absolutely mouthwatering delight.
Sautéed mushrooms, garlic, Parmesan cheese, and parsley help to make it extra delicious and appetizing!
Everything comes together really quickly and it's great for an exceptional weeknight dinner!
At Glorious Recipes, we have our favorite Lobster Mushroom Wontons that we absolutely adore and they taste heavenly! Check out the recipe below!
Yield: 4
Lobster Mushroom Wontons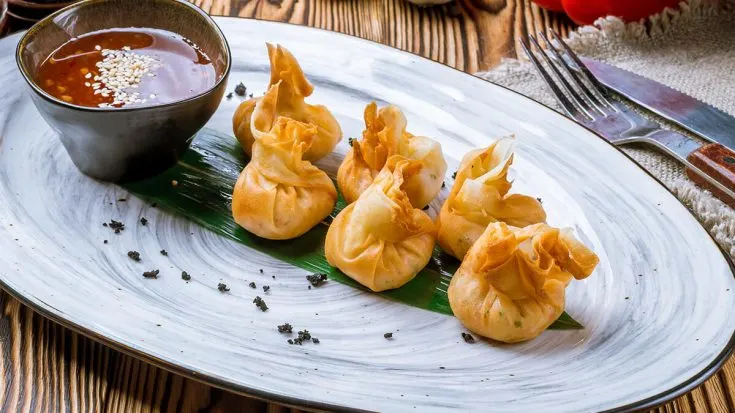 These Lobster Mushroom Wontons will make you salivate at the thought of them and they taste incredible!
Ingredients
3 medium lobster mushrooms, cleaned (roughly 2 cups)
2 tbsp butter
Broth
1 tbsp wakame
1 tbsp kombu
2 tbsp sea salt
1 sheet nori
Filling
½ cup non-dairy cream cheese
2 green onions, freshly chopped
1 tsp sugar
1 package wonton wrappers
Instructions
Break the mushrooms into small pieces. Add wakame, konbu,sea salt, and mushroom pieces to a large bowl and mix well. Cover with moistened nori sheet and soak for 30 mins.
Add butter to a skillet over low-medium heat. Remove the soaked mushrooms and sauté with butter for around 20 mins. Add more butter if required to prevent sticking to the skillet.
Add sautéed mushrooms, cream cheese, green onions, and sugar to a large bowl and mix well. Add 1 tablespoon of filling mixture to the center of a wonton wrapper, wet the outside, then seal it. Repeat until you have used all the filling. Brush a little neutral oil over the wontons.
Airfry the wontons at 370°F (185°C) for 18-20 mins, until golden brown and crispy. Flip halfway for even cooking.
Serve with your favorite dipping sauce! Enjoy!
Nutrition Information:
Yield:
4
Serving Size:
1
Amount Per Serving:
Calories:

258
Total Fat:

17g
Saturated Fat:

10g
Trans Fat:

0g
Unsaturated Fat:

5g
Cholesterol:

102mg
Sodium:

3786mg
Carbohydrates:

7g
Fiber:

0g
Sugar:

2g
Protein:

19g
Nutrition information is only an estimate and can vary depending on ingredients used.
Which of the lobster mushroom recipes have you tried so far?
Let us know in the comments below!
For more awesome mushroom recipes that you might like, check out the following:
King Oyster Mushroom
Lion's Mane
Chanterelle
Enoki Mushroom
Puffball Mushroom
Chicken of the Woods
Share on your favorite social media platform and tag us @GloriousRecipes – we can't wait to see what you have made!