Lion's mane is a mushroom with a unique appearance and has a mildly sweet and umami flavor that makes it perfect for whipping up a variety of tasty dishes!
It has long spines which give it a shaggy appearance and it's also known as bearded hedgehog and bearded tooth fungus.
Lion's mane mushroom is also a good source of vitamins and essential minerals that are great for the body and may help with heart and brain health.
Whether you like it roasted or fried, you're bound to love the delightful flavor of this incredible mushroom!
From crab cakes to mushroom steaks, we've got you covered with some of the best lion's mane recipes that you can easily try at home!
Indulge in these fantastic Pan Fried Lion's Mane Mushrooms that are amazingly delicious and incredibly addictive!
They are ridiculously easy to make and all you need to do is dip them in eggwash and dredge them in seasoned flour before pan-frying until they are beautifully golden brown and crispy.
Paprika, dried basil, onion powder, and garlic powder help to give depth to the flavor and make them exceptionally tasty.
Pair with a mix of mayonnaise and ketchup for an easy appetizer or try the wonderful Tiger sauce and Bitchin' sauce for something a little different!
These Lion's Mane Crab Cakes are vegan-friendly, absolutely delicious, and a great option to expand your side dish options!
The mushrooms are mixed with a whole host of ingredients such as panko breadcrumbs, aromatics, and Dijon mustard to form the patties, with JUST egg used as the binder to keep these crab cakes vegan.
Pan-fried until nicely browned, the crab cakes are served with a remoulade sauce that's made by combining vegan mayonnaise, ketchup, sweet relish, and other lovely ingredients.
It's a mouthwatering delight that's sure to steal the show in any meal!
If you love pulled pork but are looking for a vegan alternative, you've got to check out these excellent tacos that make use of the beloved mushrooms!
The taco fillings are a delectable combination of lentils, onions, garlic, and lion's mane mushrooms cooked in BBQ sauce, with other herbs and spices that help to make them extra tasty.
Everything is wrapped in warmed tortillas and they are just oh-so-yummy!
With how delicious these tacos are, this is definitely one of our favorite lion's mane recipes!
Add a little Asian flair to your next meal with these Spicy Cumin Lion's Mane Mushrooms that taste out of this world!
This dish involves coating the mushrooms with a spice mixture of cumin powder, cumin seeds, mushroom seasoning, chili powder, and flour before they are cooked until golden and crispy.
If you love bold flavors and spicy food, this dish is definitely up your alley and it tastes incredible for something so easy to make!
Give it a try and you'll not be disappointed by its wonderful flavor!
This mushroom noodle soup is super easy to whip up and makes for an exceptionally comforting meal any day of the week!
The soup base is made with a mix of garlic, ginger, scallion, tofu, mushrooms, hoisin sauce, soy sauce, and miso paste, ensuring plenty of great flavors with every sip.
Add noodles into the mix and you have a hearty meal that's sure to delight your taste buds with how delicious it is.
This umami-filled dish is an absolute must-try in our books and tastes especially good on cold and chilly days!
Enjoy an outstanding meal with this simple lion's mane recipe that you definitely don't want to miss out on!
Featuring creamy polenta topped with perfectly pan-seared mushroom steaks that have been basted with butter and made tasty with aromatics such as garlic, rosemary, and sage, this is a dish that's just irresistible.
A simple pan sauce is made by adding vermouth, heavy cream, and balsamic vinegar at the end and it adds tons of wonderful flavor to the mushrooms.
It might take some time to make but you'll know it's all worth it once you've taken your first bite of these delicious lion's mane steaks!
Treat yourself to a terrific dish that's absolutely delicious and makes for an incredible appetizer, side dish, or mid-day snack!
The bite-sized mushrooms are coated with a combination of granulated garlic, smoked paprika, panko breadcrumbs, and other lovely ingredients before they are deep-fried until crispy and beautifully golden brown.
Dip these tasty bites into a maple garlic sauce that's extremely flavorsome and you'll be enjoying a mouthwatering delight that's sure to be a hit with the crowd.
You'll find it difficult to stop yourself from gobbling everything down because they are just that delectable!
Get ready for Taco Tuesday with something a little different that's superbly tasty and exceptionally refreshing!
Coated with a delightful mix of spices that include chili powder, garlic powder, cumin, coriander powder, and dried oregano, you know you're guaranteed a flavorsome dish even before the mushrooms are baked in the oven.
A citrus marinade helps to add tons of complexity to the flavor of the dish and the tacos are paired with a citrus slaw that makes it a wholesome meal.
You'll love how incredibly delicious these tacos are!
This Filet Mignon is one of our favorite lion's mane recipes because it tastes absolutely divine and is sure to whet your appetite!
A flavorful broth made by combining carrots, beetroot, ginger, smoked paprika, and other lovely ingredients is used to rehydrate the dried mushrooms and it helps to provide loads of great flavors to the mushrooms.
The mushrooms are then seared in a pan along with garlic, rosemary, and thyme to add even more depth to the flavor and texture.
It's a fantastic dish that's easy to make yet fancy enough to impress!
Grace your taste buds with this fabulous Mushroom Risotto that's sure to satisfy any appetite because of how delicious it is!
Arborio rice cooked with onion, garlic, and chicken broth is combined with sautéed lion's mane mushrooms and Parmesan cheese to create this mouthwatering delight that'll definitely bring a smile to your face.
It's exceptionally delectable and if you haven't tried cooking risotto before, this is a great recipe to get started!
Simple and delicious, just how we like our recipes to be!
Level up your cooking skills with this vegan mushroom sushi that's sure to delight the senses of both vegans and non-vegans alike!
It's a lovely marriage of sushi rice, seaweed, lion's mane, sweet potato, and scallion, and you'll be surprised by how awesome this combination is.
Everything comes together really well to create an amazing dish that's thoroughly enjoyable!
You'll be popping these tasty bites into your mouth one after another because of how delicious they are and you might just have a new favorite dish after trying this!
Everyone loves a good burger and that's exactly what this recipe is all about!
Sandwiched between two burger buns are perfectly fried lion's mane patty, lettuce, onion, sriracha sauce, and vegan mayonnaise in this wonderful dish.
The mushroom tastes absolutely splendid thanks to the batter that's seasoned with cayenne powder, turmeric, and red pepper powder, making it exceptionally satisfying when fried until crispy.
There's nothing not to like about this simple lion's mane recipe that makes a top-notch burger!
Sign us up for these tasty nuggets that are easily one of those lion's mane recipes that you'll want to keep handy because of how incredible they taste!
Dipped into a batter made by combining garam masala, garlic powder, coriander, cumin, cayenne, water, and chickpea flour, the mushrooms are then deep-fried until golden.
With a crispy exterior and a sweet interior, these mushrooms are a mouthwatering treat that tastes absolutely divine.
Vegan nuggets have never tasted this good!
Amplify your next meal with this mushroom pasta that's super easy to make and an absolute must-try if you're a pasta lover!
It's a delightful combination of onion, garlic, thyme, lion's mane, and pasta, with heavy cream added to create a lovely sauce that helps to tie everything together.
This dish is completed by adding Parmesan cheese to make it extra creamy and delicious, and it's a great option to add to your pasta rotation.
Taking only 30 minutes from start to end, this is a dish that's perfect for an awesome weeknight meal!
Discover an exceptional Chinese appetizer with this awesome Lion's Mane Crab Rangoon that provides a great crunch and flavor!
This dish features wonton wrappers filled with a tantalizing mix of sautéed mushrooms, garlic, Worcestershire sauce, cream cheese, green onions, and lemon juice, and they taste absolutely heavenly.
Fried until golden brown and crispy, these tasty bites are incredibly appetizing and super satisfying.
Serve with sweet Thai chili for maximum enjoyment of this excellent dish!
For an amazing appetizer or side dish that's super easy to make and tastes incredible, check out this Roasted Lion's Mane Mushrooms and Sherried Shallots!
Roasted mushrooms are paired with shallots that have been cooked in sherry, thyme, and vinegar, creating a mouthwatering dish that's sweet, savory, and tangy.
It's an absolute delight and the great flavors from this wonderful combination are sure to please your taste buds.
Give this recipe a try and you'll be pleasantly surprised by how good it tastes!
Give your regular omelet a simple upgrade by adding lion's mane mushrooms into the mix!
This simple dish requires only 4 ingredients to whip up and it's as easy as it can get.
It's a terrific combination of egg, ham, cheese, and mushrooms to create this power-packed dish that's quick and easy to make, and you'll be savoring this tasty omelet before you even know it.
This is one of the easiest lion's mane recipes that you can try to experience the awesome flavor and texture of the unique mushroom!
Fire up your grill and try making these splendid roasted lion's mane mushrooms that are sure to captivate your taste buds!
The roasted mushrooms are paired with a mignonette sauce that's made with a combination of champagne vinegar, honey, shallot, and capers.
Every bite is bursting with incredible flavors that are well-balanced and you'll love how all the ingredients come together really nicely.
With how easy it is to make, it's a no-brainer to add this to your meal rotation!
At Glorious Recipes, we have our favorite Crab Rangoon With Lion's Mane that we absolutely adore and it tastes heavenly! Check out the recipe below!
Yield: 24
Crab Rangoon With Lion's Mane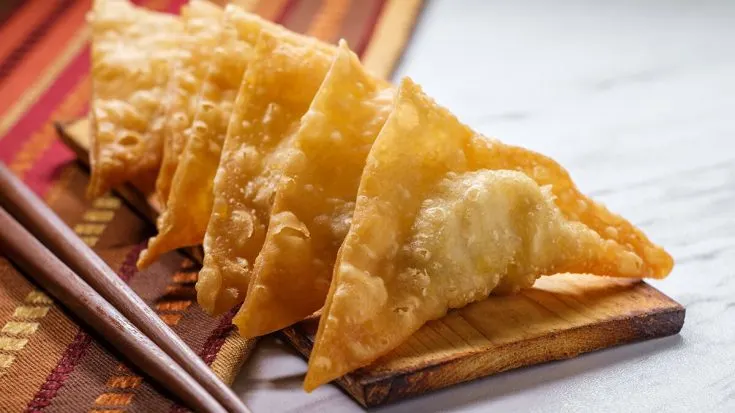 Crab Rangoon with Lion's Mane is a fantastic appetizer that's exceptionally tasty and flavorful! It's incredibly addictive with a satisfying crunch that's sure to be a hit with the family!
Ingredients
3 tbsp unsalted butter
1 small garlic clove, minced
2 cups lion's mane, chopped
½ teaspoon salt
1 green onion, finely chopped (only green part)
1 cup whipped cream cheese
½ tsp fresh lemon juice
½ tsp Worcestershire sauce
salt & black pepper, to taste
24 wonton wrappers
½ cup water
2 tsp flour
oil, enough for frying
Instructions
Add butter to a skillet over low-medium heat. Once butter has melted, add garlic and sauté until fragrant and just turning golden. Add mushrooms and salt. Continue sautéing for around 10 minutes or until the mushrooms become tender. Set the mixture aside.
Add green onions, cream cheese, lemon juice, and Worcestershire sauce to a bowl and stir to mix. Add cooled mushroom mixture and combine well. Season with salt and pepper to taste.
Add flour and water to a small bowl and combine well.
Add a spoonful of the mushroom mixture to the center of a wonton wrapper. Seal the wrapper with the flour mixture, shaping it into a triangular shape. Repeat for remaining wrappers.
Add oil to a deep-fryer or deep pan and heat until the temperature of the oil reaches 330°F (165°C). Make sure you have around 2-3 inches of oil. Fry the wontons in batches until golden brown and crispy. Set aside on a wire rack to drain the excess oil.
Serve with sweet Thai chili and enjoy!
Nutrition Information:
Yield:
6
Serving Size:
1
Amount Per Serving:
Calories:

264
Total Fat:

18g
Saturated Fat:

9g
Trans Fat:

0g
Unsaturated Fat:

7g
Cholesterol:

45mg
Sodium:

547mg
Carbohydrates:

21g
Fiber:

1g
Sugar:

1g
Protein:

5g
Nutrition information is only an estimate and can vary depending on ingredients used.
Which of the lion's mane recipes have you tried so far?
Let us know in the comments below!
For more awesome mushroom recipes that you might like, check out the following:
King Oyster Mushroom
Lobster Mushroom
Chanterelle
Enoki Mushroom
Puffball Mushroom
Chicken of the Woods
Share on your favorite social media platform and tag us @GloriousRecipes – we can't wait to see what you have made!