King oyster mushrooms, also known as king trumpet mushrooms, have a meaty texture and umami flavor that are perfect for bringing your dishes to royal heights!
Rich in a variety of vitamins and essential minerals that are great for your body, these mushrooms are ideal for improving the nutritional profile of any meal!
Whether you like them roasted, sautéed, or grilled, you're bound to enjoy the lovely taste of these wonderful mushrooms.
From tacos to salads, we've got you covered with some of the best king oyster mushroom recipes that you can easily try at home!
Treat yourself to a hearty meal with this vegan king oyster mushroom recipe that'll definitely whet your appetite!
Marinated in a homemade teriyaki sauce that combines soy sauce, sake, and sugar, the mushrooms are then pan-seared until nicely browned and slightly charred.
Served over white rice with a simple garnish of green onions and sesame seeds, this is a dish that's extremely delicious and flavorful.
The meaty texture of the mushrooms makes them the perfect meat substitute and they taste absolutely amazing!
Fire up your grill and try out these mushroom steaks that are super easy to make and taste absolutely fantastic!
There's no lack of flavor with a marinade that contains tamari sauce, sesame oil, ginger, chili, garlic, and lime juice, infusing plenty of incredible flavors into the mushrooms.
Grilled until fully cooked, these mushrooms have beautiful char marks that make them look extremely appetizing.
If you don't have a grill, you can pan-fry them in a skillet as well because this recipe is just that versatile!
Inject a little Korean flair to your next meal with these remarkable mushrooms that taste sensational and are sure to tantalize your taste buds!
With gochujang, mirin, soy sauce, sugar, sesame oil, garlic, and sesame seeds used in the making of the marinade, you know you're guaranteed tons of delightful flavors with this dish.
Every bite of the mushrooms is immensely enjoyable and there's an addictive kick that will make you come back for more.
With how delicious they are, this is definitely one of our favorite king oyster mushroom recipes!
Keep it simple with this splendid dish that's superbly tasty and requires only 6 ingredients to whip up!
Featuring mushrooms pan-seared in a skillet and seasoned with salt, pepper, and thyme, this is ridiculously easy to make for something that tastes this good.
It's finished off with a sprinkle of lemon juice to help brighten the flavor of the dish and it makes for an easy side dish that takes little effort to prepare.
Give it a try and you'll be pleasantly surprised by its wonderful flavor!
Sign us up for these excellent BBQ King Oyster Mushrooms that you definitely don't want to miss out on because of how delicious they are!
Shredded and roasted in the oven, these mushrooms are made flavorsome by brushing BBQ sauce while they are cooking so that all the awesome flavors are infused into them.
The homemade BBQ sauce is made with ingredients such as tomato paste, liquid smoke, cumin, cayenne powder, and soy sauce, and it helps to elevate this dish to another level.
These shredded mushrooms are great as a filling for tacos, salad bowls, or even sandwiches!
For easy-to-make and delicious mushrooms, you've got to check out this grilled king oyster mushroom recipe!
The mushrooms are made flavorful by marinating in a wonderful sauce that consists of Vietnamese sate sauce, oyster sauce, soy sauce, and five-spice powder before being grilled until cooked.
The marinade helps to add loads of delightful flavors, making these mushrooms a mouthwatering treat that you're sure to love.
Garnish with some green onions for maximum enjoyment of this lovely dish!
Cooking king oyster mushrooms is extremely easy and it can be as simple as popping them into the oven to get tasty roasted mushrooms!
To make them extra delicious, the mushrooms are first topped with butter, chicken stock, and olive oil, plus a little salt and pepper before roasting until crisp and cooked.
These mushrooms are effortless to make and with how delectable they are, we'll not be surprised if it becomes your go-to recipe for a quick side dish or snack!
Pair this with your other main courses for an easy but wholesome meal!
Enjoy an Asian delight with this simple stir-fry that'll definitely make you salivate with its fantastic aroma!
It's a delectable combination of mushrooms, garlic, ginger, chili peppers, spicy bean sauce, soy sauce, and sugar to create this exceptional dish filled with umami flavors.
The heat level is just nice and borderline addictive, and if you're a fan of spicy food, you're sure to fall in love with this awesome dish.
Pair it with steamed white rice for an easy vegan meal or serve it as a side dish to complement other main dishes!
This Middle Eastern-inspired dish is amazingly delicious and uses king oyster mushroom as a meat substitute to create an excellent vegan shawarma!
If warm pita bread topped with lettuce, onions, tomatoes, roasted mushrooms, and a splendid chili sauce sounds good to you, then you've got to try out this simple recipe as soon as possible.
It's straightforward to whip up and easily one of our favorite king oyster mushroom recipes because of how tasty it is!
This shawarma is loaded with great nutrition and heavenly flavors that everyone is bound to love!
Get ready for your next Taco Tuesday with these outstanding mushroom tacos that will surely delight your taste buds!
With a sauce that's made by combining dark soy sauce, onion powder, garlic powder, cumin, chili powder, pepper, and oil, the mushrooms taste absolutely fantastic with great depth to the flavor.
Add warm tortillas and your favorite toppings into the mix and you'll have mind-blowing tacos that will impress everyone!
It's the perfect blend of seasonings that makes this such a palatable dish!
Amplify your next meal with this lip-smacking sautéed King Oyster Mushroom with Garlic Sauce that's quick and easy to whip up!
Along with wood ear mushrooms, they are cooked with garlic, chilies, and an extremely flavorsome sauce that contains Shaoxing rice wine, soy sauce, black vinegar, sugar, water, and cornstarch.
Everything comes together really well and you'll be devouring all the mushrooms before you even know it because they are just that delectable!
This simple vegetarian dish is a great addition to any meal with its excellent flavor!
On days when you want a light meal that still tastes wonderful, try this terrific recipe that requires only 6 simple ingredients to make!
Featuring sautéed king oyster mushrooms smothered in a delightful sauce with maple syrup, sesame oil, and soy sauce combined, this is a dish that's superbly tasty and flavorful.
It's completed with a garnish of sesame seeds and green onions, creating an incredibly appetizing dish that you can easily pair with white rice for a simple meal.
With a well-balanced sweet and savory flavor, this is a delectable treat that you're sure to enjoy!
Bun chay is a Vietnamese noodle salad that features rice vermicelli, vegetables, and fresh herbs that give it an incredible refreshing flavor.
This variation adds the awesome king oyster mushroom to create something truly special and it's insanely delicious!
It's a lovely assortment of pickled cucumbers, carrots, bean sprouts, coriander, mint leaves, peanuts, sautéed mushrooms, and rice vermicelli noodles, with everything complementing each other really well.
The mushrooms are cooked with a whole host of aromatics and spices that give them so much flavor and you'll love how awesome they taste.
With how delicious they are, we have no doubts that this will quickly become one of your favorite king oyster mushroom recipes!
Discover an exceptional dish with this scrumptious salad that's sure to delight your taste buds with its incredible flavor!
This dish involves tossing blanched mushrooms with an extremely flavorsome dressing that's made by combining peppercorn-infused oil, five-spice powder, oyster sauce, soy sauce, sesame oil, sugar, and other lovely ingredients.
The mushrooms are superbly tasty and every mouthful will surely bring a smile to your face with how fantastic they taste.
It's an Asian mushroom salad that you definitely need to add to your meal rotation!
Impress your friends and family with these stunning King Oyster Mushroom Steaks that look as good as they taste!
Toasted almonds are mixed with olive oil, garlic, lemon zest, and salt to create an aillade that goes extremely well with the pan-seared mushrooms and the result is amazing.
Along with pesto sauce, this palate-pleasing gem is a dish that's casual enough to make yet fancy enough to impress.
You'll never look at king oyster mushrooms the same way again after trying this phenomenal dish!
For a hearty and comforting soup that's perfect on a cold and chilly day, you've got to check out this easy king oyster mushroom recipe!
Roasted mushrooms, beans, and cashew nuts are blended to create a fantastic soup base that's thick, creamy, and absolutely delicious!
It's topped with a fragrant leek purée that's made by blending a mix of leek, shallots, and oil, plus a few chopped mushrooms for garnish.
This soup is incredibly satisfying with a great taste that you just can't get enough of!
Cook up a pot of delicious cioppino that's amazingly delectable and made vegan-friendly with this superb recipe!
Traditionally made with fish and seafood, king oyster mushrooms are used instead in this variation with their thick rounds resembling scallops.
It's a tantalizing marriage of Roma tomatoes, garbanzo beans, vegetable broth, mushrooms, aromatics, and other spices to create a terrific stew that's incredibly tasty.
This hearty stew is extremely flavorsome and a great way to experience the wonderful flavor of king oyster mushrooms!
These king oyster mushroom scallops are filled with tons of umami flavors that everyone is sure to love and it's no surprise that this made it to our list of favorite king oyster mushroom recipes!
Cut into thick 1-inch rounds, these mushrooms are then marinated in a mixture of soy sauce, miso paste, sesame oil, garlic, ginger, rice vinegar, and sugar to make them extremely flavorsome.
They are then pan-seared until beautifully browned before vegetable broth is added to deglaze the pan and add even more delightful flavor to the dish.
It's a taste sensation that can't be beaten and a recipe that you definitely need to try!
If you're looking for an awesome pasta with king oyster mushrooms, this simple recipe definitely fits the bill!
Grilled mushrooms, sun-dried tomatoes, kale, and pasta come together in this mouthwatering dish that's made tasty with shallots, garlic, white wine, mustard, and other lovely ingredients.
Heavy cream is added to make the sauce creamy and helps to coat everything, creating an extremely flavorful pasta dish.
Topped with pine nuts and lemon juice, this is a superbly refreshing dish with amazing flavor and texture!
If you want a vegan pulled pork alternative, look no further than this brilliant recipe that uses king oyster mushroom instead!
Shredded and roasted in the oven with a seasoning combination of paprika, cayenne, garlic, salt, and oil, the mushrooms are then sautéed with BBQ sauce until they become exceptionally flavorsome.
These pulled mushrooms are incredibly versatile and can be used as a filling for sandwiches, salads, tacos, or even served as is!
There's nothing not to like about this quick and easy recipe!
At Glorious Recipes, we have our favorite King Oyster Mushrooms with Oyster Sauce that we absolutely adore and they taste heavenly! Check out the recipe below!
Yield: 2
King Oyster Mushrooms with Oyster Sauce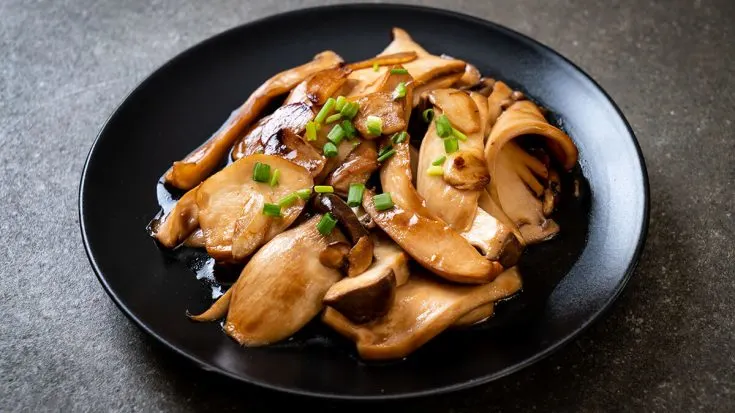 This sautéed King Oyster Mushrooms with Oyster Sauce is a simple dish that's filled with incredible flavors! You won't believe how easy it is to make!
Ingredients
1 tbsp olive oil
4 cloves garlic, chopped
4 king oyster mushrooms, sliced
2 tbsp oyster sauce
1 tbsp dark soy sauce
1 tsp sesame oil
green onions, freshly chopped (for garnish)
Instructions
Add oil to a skillet over medium heat. Add garlic and sauté for about a minute until fragrant. Take care not to burn the garlic.
Add the mushrooms and sauté until they have released their water and shrank in size, about 7-10 minutes. Add oyster sauce, dark soy sauce, and sesame oil. Keep cooking to combine and coat the mushrooms. Transfer to a serving plate.
Garnish with green onions and serve. Enjoy!
Nutrition Information:
Yield:
2
Serving Size:
1
Amount Per Serving:
Calories:

202
Total Fat:

10g
Saturated Fat:

1g
Trans Fat:

0g
Unsaturated Fat:

8g
Cholesterol:

0mg
Sodium:

987mg
Carbohydrates:

23g
Fiber:

7g
Sugar:

4g
Protein:

11g
Nutrition information is only an estimate and can vary depending on ingredients used.
Which of the king oyster mushroom recipes have you tried so far?
Let us know in the comments below!
For more awesome mushroom recipes that you might like, check out the following:
Lobster Mushroom
Lion's Mane
Chanterelle
Enoki Mushroom
Puffball Mushroom
Chicken of the Woods
Share on your favorite social media platform and tag us @GloriousRecipes – we can't wait to see what you have made!