Chicken cobbler is a fantastic crossover between a savory cobbler and a classic chicken pot pie!
This delightful dish combines tender chicken, nutritious vegetables, and a delectable golden crust to create a perfect symphony of flavors and textures.
It's ideal for a sumptuous and wholesome family meal any day of the week!
From viral Tiktok recipes to creative variations, we've got you covered with some of the best chicken cobbler recipes that you can easily try at home!
Enjoy a delightful meal with this amazing Creamy Chicken Cobbler recipe that you definitely don't want to miss out on!
Tender chicken thighs, leeks, onions, garlic, peas, and other lovely ingredients come together in this fantastic dish, topped with a cobbler mix and then baked until a beautiful golden brown top is achieved.
It's fragrant, flavorful, and extremely delicious.
Taking only half an hour to whip up, this dish is perfect for an awesome weeknight dinner!
In what is one of our favorite chicken cobbler recipes, cheddar biscuits are used to bring about awesome flavor and texture that you'll surely love!
It's a delectable combination of chicken breasts, vegetables, aromatics, herbs, and spices, plus tasty biscuits made by mixing flour, cheddar cheeses, heavy cream, and other ingredients.
This sumptuous and cheesy dish is absolutely mouthwatering and will surely be a hit with the family with how delicious it is.
You'll also love the fact that this is a one-pot recipe, making it incredibly easy to make and really convenient!
Keep it simple with this wonderful recipe that uses Red Lobster Cheddar Bay biscuit mix instead, making it really easy to cook up a delicious chicken cobbler!
With only 7 ingredients required, this is as easy as it gets and even beginner home cooks should have no trouble making this.
This dish is made by layering shredded chicken, frozen vegetables, biscuit mix, and a mix of chicken broth and cream of chicken soup, then baking until the top is nicely browned.
It's a breeze to make for something that tastes this good!
Get ready for an absolute treat with this Chicken, Mushroom, and Riesling Cobbler that's sure to whet your appetite!
Featuring a chicken filling made by combining sautéed shallots, garlic, mushrooms, chicken thigh, Riesling wine, chicken stock, Dijon mustard, and other lovely ingredients, this dish is exceptionally delicious.
Add a cobbler topping into the mix and you have a splendid dish that'll surely impress with both its looks and taste!
Give this awesome cobber a try and you'll definitely not be disappointed!
Shake things up and try making this outstanding Crouton Chicken Cobbler that's superbly tasty and simple to prepare!
Rotisserie chicken, broccoli, and roasted peppers are smothered with Alfredo sauce, sour cream, and Parmesan cheese in this scrumptious dish and it's completed by topping with croutons before being broiled in the oven until browned.
It looks and tastes amazing, and the croutons add a lovely texture that makes this thoroughly enjoyable.
This cobbler is perfect for a hearty meal any time of the day!
If you love your food hot and spicy, you've got to check out this amazing Buffalo Chicken Cobbler that's sure to tantalize your taste buds!
The filling of chicken and vegetables is spiced with Buffalo wing sauce to add a little heat that's incredibly addictive and a biscuit topping with crumbled blue cheese is used to elevate this dish to another level.
It's extremely delicious and everything comes together really well to create a mouthwatering delight that you just can't get enough of!
You might just have a new favorite dish after taking your first bite!
Discover an exceptional dish with this Cheesy Chicken and Vegetable Cobbler that's quick and effortless to make!
This simple dish involves combining a mixture of chicken, vegetables, and cream of tomato soup with a cheddar biscuit topping before baking until beautifully browned.
It tastes absolutely fantastic and it's a dish that's casual yet fancy enough to impress.
Taking only 40 minutes to prepare from start to end, this is great for putting quality food on the table when you're short of time!
Add a little Mexican flair to your next meal with this Creamy Green Chile Chicken Cobbler that's sure to delight your taste buds!
It's a lovely combination of shredded chicken, enchilada sauce, green chiles, cream of chicken soup, cream cheese, and other ingredients, with a biscuit crumb topping that adds incredible texture to this dish.
This cobbler is loaded with tons of amazing flavors that make it absolutely irresistible and a joy to eat!
With how delectable it is, this is definitely one of our favorite chicken cobbler recipes as well!
Take classic pot pie to new heights with this terrific chicken cobbler recipe that you absolutely have to try!
Shredded chicken is topped with frozen peas and carrots in this delightful casserole, with cheddar biscuit mix, cream of chicken soup, and chicken broth added before everything is baked in the oven.
It's a heavenly creation that's superbly delectable and makes for great comfort food that can satisfy any appetite.
This dish is a great way to refresh your meal options as well!
Amplify your next meal with this excellent Italian Chicken Cobbler with Cannellini Beans and Parmesan Biscuits!
It's a tantalizing medley of chicken thighs, sautéed aromatics, and beans, all spiced with various seasonings to make them extra tasty.
Topped with Parmesan biscuits, this is a mouthwatering delight that'll definitely bring a smile to your face with its remarkable flavors.
It's sure to be a family favorite with how delectable it is!
Sign us up for this brilliant Chicken and Parsnip Cobbler that tastes absolutely divine with flavors you'll love!
Sautéed chicken, porcini mushrooms, and vegetables are mixed with chicken stock before being topped with a combination of parsnip, flour, crème fraîche, and other delightful ingredients to create an exquisite culinary gem.
Baked until crispy and golden, this savory cobbler is amazingly delicious and you'll be devouring everything before you even know it.
Make sure to give this simple recipe a try!
This variation of the viral chicken cobbler recipe makes a splendid dish that's super easy to prepare and tastes extraordinary!
It's simple to whip up with the use of biscuit mix and frozen vegetables, and condiments such as Italian seasoning and Old Bay seasoning help to make this dish exceptionally delicious.
With a chicken and vegetable filling topped with a biscuit crust and crispy fried onions, this is a flavorsome cobbler that's just irresistible!
You'll be craving a second serving with how tasty it is!
Expand your cooking repertoire with this fabulous dish that's easily one of our favorite chicken cobbler recipes for awesome comfort food!
Chicken, rice, and chicken broth are combined with a homemade biscuit mixture and then baked until a delectable crust is formed to create a dish that's perfect for a hearty meal.
It's incredibly straightforward to make and you get to enjoy something extremely delicious with little hassle.
You can easily add your favorite vegetables in as well to make it even more wholesome!
Whip up a terrific meal with this Easy Chicken Cobbler that's sure to please with its simple but incredible flavors!
This cobbler is made by layering a combination of chicken meat, frozen vegetables, seasonings, cream of chicken soup, chicken broth, and finally a biscuit crust on top.
Onion powder and garlic powder help to add depth to the flavor of this dish and it's an absolutely delightful treat!
It's a superb marriage of ingredients that work extremely well together to create something really special!
If you're looking for a vegan-friendly chicken cobbler, you've got to check out this wonderful recipe that uses soy curls to mimic the texture of chicken!
It's an exceptional mix of soy curls, nutritional yeast, vegetables, and a whole host of spices and seasonings to make this dish incredibly tasty.
Topped with biscuit dough and baked until the topping is nicely browned, this is a moreish dish that'll surely please with its fantastic flavor and texture!
With how tasty it is, even non-vegans will fall in love with this amazing dish!
At Glorious Recipes, we have our favorite Simple Chicken Cobbler that we absolutely adore and it tastes heavenly! Check out the recipe below!
Yield: 1
Simple Chicken Cobbler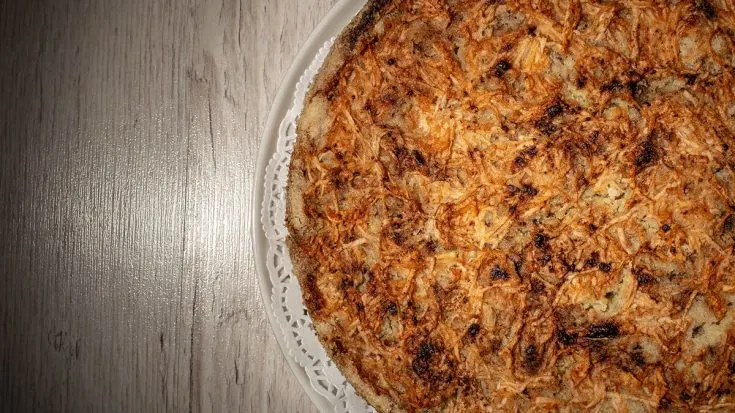 This Simple Chicken Cobbler is a mouthwatering dish that's incredibly delicious and hearty!
Total Time
1 hour
15 minutes
Ingredients
1 stick butter, unsalted and melted, around 4oz
1 rotisserie chicken, shredded, around 4 cups
1 tsp black pepper
½ tsp salt
16 oz mixed frozen vegetables
1 box Cheddar Bay Biscuit mix (with seasoning packet), 11 oz
2 cups milk
1 cup cheddar cheese, shredded
1 tbsp Italian seasoning
2 cups chicken stock
1 can cream of chicken soup, 10½ oz
1 tbsp Old Bay seasoning
2 cups crispy fried onions
Instructions
Preheat oven to 350°F (175°C).
Add melted butter to a casserole, then layer chicken on top. Season with salt and pepper, then add frozen vegetables.
In a separate bowl, add biscuit mix contents, milk, cheddar cheese, and Italian seasoning. Whisk to combine well, then pour the mixture over the vegetables. Don't mix the contents.
In another bowl, add chicken stock, chicken soup, and Old Bay seasoning. Whisk to combine well. Pour into the casserole but don't mix the contents.
Place the casserole on a baking dish. Bake for around 50 minutes, then top the mixture with crispy fried onions.
Continue baking for around 10 minutes or until the biscuit topping is golden brown and set. Let it cool a little before serving. Enjoy!
Nutrition Information:
Yield:
12
Serving Size:
1
Amount Per Serving:
Calories:

463
Total Fat:

28g
Saturated Fat:

11g
Trans Fat:

0g
Unsaturated Fat:

14g
Cholesterol:

131mg
Sodium:

1130mg
Carbohydrates:

24g
Fiber:

3g
Sugar:

6g
Protein:

28g
Nutrition information is only an estimate and can vary depending on ingredients used.
Which of the chicken cobbler recipes have you tried so far?
Let us know in the comments below!
For more awesome chicken recipes that you might like, check out the following:
Hot Honey Chicken
Chicken Heart
Thin Sliced Chicken Breast
Diced Chicken
Chicken Tenderloin
Chicken Breakfast
Chicken and Shrimp
Blackstone Chicken
Chicken Keema
Share on your favorite social media platform and tag us @GloriousRecipes – we can't wait to see what you have made!