Hot honey chicken is a culinary masterpiece that balances the intensity of spicy heat with the delightful sweetness of honey!
Imagine succulent chicken perfectly cooked and coated in a glaze that packs a spicy punch while soothing your palate with the golden nectar of honey.
Each bite is a rollercoaster of flavors, a harmonious dance between fiery heat and the comforting embrace of sweetness.
If you love spicy food, you'll surely love the wonderful flavor of hot honey chicken!
Whether you like it fried, grilled, or roasted, we've got you covered with some of the best hot honey chicken recipes that you can easily try at home!
Get ready for an extraordinary delight with this Hot Honey Chicken with Mango Salsa that's sure to whet your appetite!
With a glaze made with sriracha sauce, honey, chicken broth, and garlic, you're guaranteed extremely flavorful chicken that everyone will surely enjoy.
Add mango salsa and rice into the mix, and you'll have a wholesome meal with incredible flavors that are just absolutely irresistible!
You're definitely going to love this sweet, spicy, and refreshing treat!
In what is one of our favorite hot honey chicken recipes, crispy fried chicken is combined with fluffy buns to create something truly amazing!
This dish involves marinating chicken in buttermilk to tenderize it and then coating the meat with a mix of flour, smoked paprika, garlic powder, panko breadcrumbs, and other ingredients before deep-frying until beautifully golden brown and crisp.
Paired with a hot honey sauce that's made with a tantalizing combination of cayenne pepper, honey, butter, garlic powder, and smoked paprika, this is a mouthwatering sandwich that you just can't get enough of!
Make sure to get your buns toasted before serving for the ultimate dining experience!
Craving the crispiness of fried chicken but want to keep it healthy?
Make sure to try out this fantastic baked crunchy hot honey chicken recipe that makes a superbly tasty dish that's incredibly easy to whip up!
Made tasty with adobo seasoning and chili powder, then dredged in a mix of flour, eggs, hot sauce, panko breadcrumbs, and a variety of spices, the chicken breasts are then baked until fully cooked and crispy.
Brushed with a flavorsome hot honey sauce, this chicken is incredibly delicious and a great addition to any meal!
Inject a little Korean flair to your next meal with this hot honey garlic chicken that's amazingly delectable and super addictive!
Marinated in a mixture of garlic powder, soy sauce, black pepper, and cornflour, the chicken thighs are then fried until superbly crispy.
They are then coated with a splendid hot honey sauce that uses gochujang, or Korean chili paste, adding tons of tantalizing flavors to the fried chicken!
Serve with your favorite side dishes to turn it into an easy but awesome feast!
Discover an exceptional dish with this Grilled Hot Honey Chicken that tastes fantastic and is a must-add to your meal rotation!
There's no lack of flavor as the chicken is marinated in a tantalizing combination of hot honey, garlic, lemon juice, lemon zest, and olive oil.
Grilled until nicely cooked and then paired with a salad that consists of corn, cilantro, sour cream, green onions, and other lovely ingredients, this is a scrumptious treat that's gloriously tasty!
Give it a try and you'll not be disappointed with its incredible flavors!
Enjoy a sumptuous treat with this crispy chicken that's packed chockful of wonderful flavors that make it an easy crowd-pleaser!
Imagine chicken marinated in hot honey and a variety of spices, coated with flour, breadcrumbs, dried herbs, and other lovely ingredients, all baked until crispy and delectable.
That's what you get with this simple recipe and the crispy chicken is combined with a flavorsome sauce made with hot honey, smoked paprika, chili powder, garlic powder, and cayenne powder to make it extra tasty!
With how delicious it is, it's no wonder why this is one of our favorite baked hot honey chicken recipes!
Everyone loves a good slow cooker recipe because it's hassle-free and convenient, and that's exactly what this recipe brings to the table!
This hot honey chicken is ridiculously easy to whip up and all you need to do is add chicken, honey, ketchup, and spices to your slow cooker or crockpot and let it cook low and slow.
The liquid from cooking the chicken is not wasted and is used to make a simple sauce that adds plenty of great flavor to the meat.
You can go about your daily routine and come back to perfectly cooked, tender chicken waiting for you!
Grace your taste buds with these Hot Honey Chicken Meatballs that are hearty, flavorful, and incredibly delicious!
These meatballs are made with a tantalizing combination of ground chicken, breadcrumbs, grated cheese, oregano, and a variety of spices, ensuring plenty of depth and complexity to the flavor.
They are pan-fried until cooked and then topped with a hot honey sauce that helps elevate them to the next level!
You can pair these meatballs with your choice of carbs to enjoy a comforting meal any day of the week!
Impress your friends and family by making these Hot Honey Chicken Biscuits that taste exceptional and are an absolute show-stopper!
Fried chicken tenders are combined with freshly baked buttermilk biscuits and drizzled with a flavorsome hot honey sauce to create this palatable delight and it's sure to make everyone fight for seconds.
The impeccable flavors and textures make this a superbly satisfying dish and it's a decadent indulgence that you'll definitely keep coming back to!
Be prepared to be showered with plenty of compliments because these hot honey chicken tenders are just that good!
Fire up your grill and try making these outstanding chicken thighs that are tender, moist, and extremely flavorful!
The meat is brushed with a homemade hot honey sauce that consists of red chilies, honey, fish sauce, apple cider vinegar, red pepper flakes, and ground cayenne before being grilled until cooked and delicious.
You'll be amazed by how wonderful the chicken thighs taste for something seemingly so simple to prepare!
It's one of those hot honey chicken recipes that you'll definitely want to keep handy for your next grilling session!
This easy hot honey chicken recipe makes a splendid dip that combines some of our favorite ingredients in one dish!
Shredded chicken breast, hot sauce, honey, cream cheese, shredded cheese, bacon, Worcestershire sauce, and aromatics come together to create this extremely flavorful and cheesy dip that tastes absolutely divine.
Everything is combined and baked until an awesome melted cheesy goodness is achieved and it's as easy as it gets!
Chips and toasted bread go superbly well with this dip so make sure to try it soon!
Amplify your next meal with these terrific Hot Honey Chicken Bowls that are simple to prepare and come with tons of amazing flavors!
This dish features a delectable combination of zucchini, bell peppers, squash, and chicken breasts, all baked in the oven and drizzled with a delightful hot honey sauce.
The chicken and vegetables are made tasty with smoked paprika, onion powder, and garlic powder so there's plenty of depth in this dish!
Serve them over rice for a wholesome and nutrient-dense meal that tastes heavenly!
Sign us up for this marvelous Harissa Honey Chicken that tastes stupendous and it only requires 6 main ingredients to get going!
Chicken thighs are marinated in a lovely mixture of olive oil, honey, harissa, garlic, and paprika to infuse wonderful flavors into the meat before being roasted in the oven until nicely cooked.
The roasting juices are mixed with honey and brushed onto the meat to ensure none of those delightful flavors are wasted.
The sweetness of the honey is well-balanced with the heat from the harissa, making it a mouthwatering dish that you definitely need to try!
Jazz up your chicken wings with one of our favorite hot honey chicken recipes that makes a scrumptious dish you won't want to miss out on!
These chicken wings are seasoned with a mix of spices that include smoked paprika, onion powder, ginger powder, and garlic powder, then baked until beautifully golden brown.
A hot honey glaze for the chicken wings is made simply by simmering butter, hot sauce, and honey, and it adds plenty of flavor to the meat!
Easy to make and delicious, just how we like our recipes to be!
Reward yourself with this brilliant chicken sandwich that's superbly tasty and sure to captivate your taste buds!
Succulent and crispy hot honey chicken thigh is combined with toasted brioche buns, pickles, and a flavorful slaw to create this palatable delight that you'll definitely fall in love with.
The meat is fried until crispy and provides a satisfaction level like no other when brushed with a flavorsome hot honey sauce!
Every bite is bursting with incredible flavors and we just know you're going to love it!
Get ready to be amazed by this wonderful dish that combines the rich flavors of succulent chicken with the tantalizing crispiness of perfectly roasted Brussels sprouts!
The chicken meat is exceptionally delicious with a hot honey mustard sauce that balances the heat of the honey and the tang of the mustard to create an unforgettable flavor profile that's nothing short of enchanting.
Every bite provides a symphony of flavors that's incredibly enjoyable, making it an absolutely delightful treat everyone is sure to love!
It's also a simple sheet pan recipe that makes it ideal for an awesome weeknight dinner!
Embrace the spicy flavors of Korean cuisine with this Sticky Gochujang-Honey Chicken that'll have you coming back for seconds!
Featuring succulent and tender chicken, perfectly marinated and glazed with a rich mixture of gochujang, honey, and aromatic spices, all roasted to golden perfection, this is a dish that's simply irresistible.
Gojuchang infuses the chicken with its fiery kick and deep, savory notes and it's balanced with the delicate sweetness of honey to create a harmony of flavors that dances on your palate.
If you're a fan of Korean food, you'll love the rich and bold flavors present in this outstanding dish!
These Hot Honey Chicken Thighs are sizzling with flavor and promise an explosion of sweet, savory, and spicy goodness!
This dish features roasted chicken thighs and fingerling potatoes drizzled with a flavorsome and tantalizing hot honey sauce, plus a topping of feta cheese and dill.
It's a blend of flavors that's simply divine and you won't believe how straightforward it is to make this awesome dish!
We have no doubts that this will quickly become one of your favorite hot honey chicken recipes!
Take chicken tenders to new heights with these Pretzel Crusted Chicken Fingers that are exceptionally addictive and gloriously delicious!
Dredged in beaten eggs and crushed pretzel crumbs, the chicken tenders are baked until crispy with a mouthwatering golden crust before being drizzled with a hot honey sauce that consists of honey and jalapeño pepper.
Served with a homemade honey-mustard dip, these chicken tenders taste absolutely out of this world and you'll have a hard time stopping yourself from munching on these delectable treats!
Everything comes together really well and you'll be glad to have discovered this gem of a recipe!
Expand your grilling options with this excellent Spicy Honey-Lime Chicken that provides an explosion of flavors you're sure to love!
The highlight of this dish is the marinade that's made with a terrific combination of honey, soy sauce, sriracha sauce, lime juice, and aromatics, infusing the chicken with layers of taste that are just unforgettable.
It strikes the perfect balance between sweet, savory, and spicy, and it's sure to make you come back for more!
Make sure to give this a try the next time you fire up your grill!
If you're a fan of Momofuku noodles, you'll definitely want to check out this fantastic hot honey chicken recipe that makes an incredibly delectable noodle dish!
Featuring a lovely combination of Momofuku noodles, chicken thighs, broccoli, cashew, garlic, and their signature Chili Crunch Hot Honey, this is a mouthwatering delight that'll make you salivate at the smell of it!
Everything comes together really quickly and you'll be enjoying a bowl of hearty noodles in no time at all.
Plus, it makes for great comfort food on a cold and chilly day as well!
These hot honey chicken wraps are supremely delicious with baked chicken tenders, lettuce, and blue cheese, all wrapped in tortillas!
Every bite of the chicken tenders is extremely satisfying with a superb crunch and they are made extra tasty by brushing them with a mix of buffalo wing sauce, honey, and butter to add tons of tantalizing flavors.
Combined with the other ingredients and a little ranch dressing, these wraps make for a great meal any time of the day!
Don't miss out on the opportunity to reward your taste buds with these scrumptious chicken wraps!
At Glorious Recipes, we have our favorite Hot Honey Chicken Wings that we absolutely adore and they taste heavenly! Check out the recipe below!
Yield: 4
Hot Honey Chicken Wings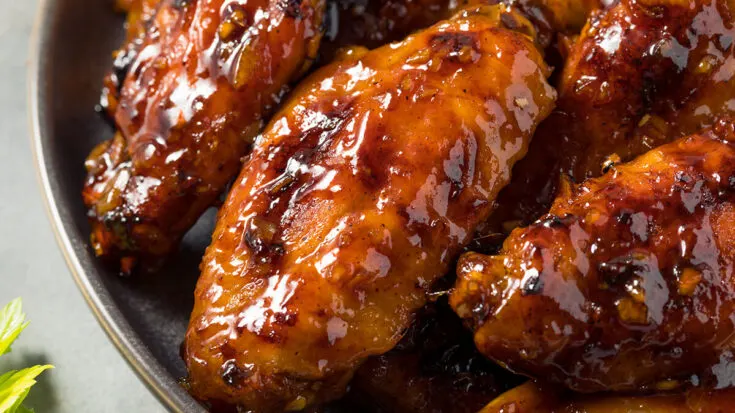 Savor delicious Hot Honey Chicken Wings with this simple recipe that'll satisfy all your sweet and spicy cravings!
Total Time
1 hour
30 minutes
Ingredients
2⅕ lbs chicken wings
½ tsp salt
2 tbsp olive oil
1 tbsp garlic powder
1 tbsp onion powder
1 tbsp ginger powder
1 tbsp smoked paprika
1 tsp marjoram
1 tsp black pepper
2 tsp baking powder
Hot Honey Sauce
¼ cup unsalted butter
¼ cup hot sauce
⅓ cup honey
Instructions
Prepare the chicken wings but cutting them at the joints and then patting them dry with paper towels.
Add all the spices (from garlic powder to black pepper) to a small bowl and mix well. Sprinkle salt on the chicken wings to season them, then pour olive oil over to coat. Sprinkle the mixed seasoning and toss to combine well. Refrigerate the wings for at least an hour to marinate them.
Preheat oven to 390°F (or 200°C).
Remove wings from the refrigerator and toss with baking powder until well-coated. Line a baking dish with foil and set up a wire rack over. Add the wings to the wire rack and cook for 20 minutes before flipping. Cook for 20 minutes more or until crispy and golden brown.
While the wings are cooking, make the hot honey sauce. Melt butter in a saucepan over medium heat. Reduce heat to low and add hot sauce and honey. Simmer for around 5 minutes until the mixture thickens. Remove the saucepan from heat.
Once the wings are cooked, toss them in the hot honey sauce to coat them. Serve and enjoy!
Nutrition Information:
Yield:
4
Serving Size:
1
Amount Per Serving:
Calories:

1090
Total Fat:

79g
Saturated Fat:

30g
Trans Fat:

1g
Unsaturated Fat:

44g
Cholesterol:

235mg
Sodium:

1526mg
Carbohydrates:

54g
Fiber:

3g
Sugar:

24g
Protein:

43g
Nutrition information is only an estimate and can vary depending on ingredients used.
Which of the hot honey chicken recipes have you tried so far?
Let us know in the comments below!
For more awesome chicken recipes that you might like, check out the following:
Chicken Cobbler
Chicken Heart
Thin Sliced Chicken Breast
Diced Chicken
Chicken Tenderloin
Chicken Breakfast
Chicken and Shrimp
Blackstone Chicken
Chicken Keema
Share on your favorite social media platform and tag us @GloriousRecipes – we can't wait to see what you have made!