Chicken tenderloins are one of the most delicious and versatile lean meat that you can use to make awesome meals!
Whether you like them grilled, baked, or fried, they are tender and juicy when cooked, making them a popular choice when it comes to a sumptuous chicken dinner.
From tasty chicken tenders to bacon-wrapped tenderloins, we've got you covered with some of the best chicken tenderloin recipes that you can easily try at home!
Enjoy a fantastic meal with these chicken tenders that are absolutely delicious and just irresistible!
Dredged in a seasoned flour mixture, the chicken tenderloins are pan-fried until golden brown and then smothered in a well-balanced sweet and savory sauce made with minced garlic, soy sauce, honey, and apple cider vinegar.
Finished with a garnish of freshly chopped parsley, they are incredibly flavorful and you can turn them into a wholesome meal by pairing them with a side of rice and veggies.
Requiring only 20 minutes to make, it's a quick and easy chicken tenderloin recipe that you just can't miss out on!
In what is one of our favorite chicken tenderloin recipes, this garlic butter version is sure to be a crowd-pleaser with its amazing flavor!
There's no doubt that garlic butter enhances any food it touches and it's no different here with these chicken tenders.
Additional depth in flavor is provided by a blend of paprika, cayenne powder, and Italian seasoning to make this a really delectable dish that everyone can enjoy.
With how easy it is to make and how awesome it tastes, there's no reason not to give this delightful dish a try!
Air-fried chicken tenderloins make for an easy and convenient dish to whip up and you'll end up with juicy and tender meat every time!
There's no lack of flavor here with a combination of olive oil, paprika, garlic powder, and Italian seasoning providing plenty of great taste with every bite.
Cooked in the air fryer until done, you'll be enjoying tasty chicken meat in no time at all!
It's ridiculously easy to make and you'll definitely be coming back for more!
If you love Chick-fil-A's chicken tenders, this copycat recipe is sure to satisfy your craving for that delicious meat!
Marinated in dill pickle juice, the chicken tenderloins are then coated in a flour mixture that includes paprika, sugar, cayenne pepper, milk, and egg.
They are then deep-fried until golden brown and crispy, and you'll have a hard time trying to keep your hands away from them once done.
Pair them with your favorite dipping sauce or try out the amazing Tiger sauce and Bitchin' sauce to enhance the dish further!
This fried chicken tenderloin recipe will quickly become one of your favorites because these chicken strips are just that delicious!
It's straightforward to make as well and all you need to do is soak the tenderloins in buttermilk before coating them in a flour mixture with ranch seasoning.
Fried until they turn golden brown, these crispy bites are extremely flavorful and a decadent indulgence that is hard to resist.
Garnish with dried parsley and serve with your favorite dipping sauce or eat them as they are!
These Sweet and Spicy Stick Chicken Tenders are flavor bombs that you definitely need to add to your protein rotation!
The highlight of this dish is of course the sweet and spicy sauce that's extremely flavorful and it's made with a simple combination of BBQ sauce, hot sauce, corn syrup, brown sugar, and water.
Once the chicken tenderloins are baked in either the oven or air fryer, they are dipped in the sauce to fully coat every inch of the meat.
There's an addictive kick with every bite and you'll definitely be impressed by the rich and bold flavor!
For a simple grilled chicken tenderloin recipe that you can use for your next grilling session, you've got to check out these bacon-wrapped chicken tenders that taste absolutely fantastic!
Seasoned with a blend of spices that include Italian seasoning, onion powder, garlic powder, and paprika, these tenderloins are loaded with great flavors when fully grilled to perfection.
Wrapped in bacon with a sprinkle of brown sugar and chili powder, they are bursting with superb sweet and savory flavors that are just so delightful.
Give this a try for your next meal and you'll definitely not regret it!
Treat yourself to an exceptional appetizer or side dish with these Honey BBQ Chicken Strips that are amazingly delicious and super easy to make!
Buttermilk-marinated tenderloins are dredged in a combination of a seasoned flour mixture and a separate mixture of buttermilk and hot sauce before they are fried until golden brown.
They are then dipped in a simple sauce made with BBQ sauce, apple cider vinegar, and honey, before being fully cooked by baking in the oven.
If you love it spicy, add some hot sauce into the mix before you cook them in the oven!
Grace your taste buds with these incredibly delicious Crispy Coconut Chicken Tenders that are sure to whet your appetite!
Coated with coconut flakes and panko breadcrumbs, these tasty bites have an amazing texture and mouthfeel that makes it a super satisfying dish.
These chicken tenderloins can be baked or fried depending on your preference, although we'll suggest baking for a healthier option.
Pair them with warm chili sauce for maximum flavor and enjoy a wonderful dish!
You can't go wrong with a teriyaki dish and this is one of the best-tasting chicken tenderloin recipes that you definitely need to try!
Marinated in an awesome mixture of soy sauce, brown sugar, rice wine vinegar, garlic, honey, and ginger, the meat oozes umami flavors that are just irresistible.
Skewers are used to thread through the pieces of meat before they are grilled until fully cooked.
With a simple garnish of sesame seeds and green onions, this delightful dish is complete and ready to be served!
This copycat Cracker Barrel grilled chicken tenderloin recipe is a godsend for those that love the restaurant's classic dish and now you can make it yourself at home!
It's a quick and easy recipe that puts a great chicken dish on the table with only 4 ingredients required!
All you need to do is marinate the chicken tenderloins in a mixture of lime juice, honey, and Italian dressing before cooking them until done.
You'll be enjoying a tasty dish that you can easily pair with your favorite carbs for a complete meal!
Spice things up a little and try out this terrific recipe that uses a blend of seasonings to make delicious air-fried chicken tenderloins!
It's a brilliant mix of herbs and spices that include basil, thyme, oregano, onion powder, and other delightful ingredients which gives the chicken plenty of complexity in flavor and makes the meat super tasty.
Tossed with the seasonings and air-fried until cooked, it's an incredibly quick and easy recipe that even beginner home cooks can follow!
With how simple it is to make, there's nothing not to like about this awesome dish!
Make restaurant-quality chicken in the comfort of your home at a fraction of the price!
One of the easiest copycat chicken tenderloin recipes on the list, this simple Qdoba Chicken recipe delivers delectable meat that tastes as good as the real thing!
Marinated in a mixture of oil, garlic, adobo sauce, and oregano, the tenderloins are guaranteed to have plenty of great flavors once fully cooked.
The meat is given a quick pan-fry on the skillet and you'll end up with juicy, tender, and extremely flavorsome chicken that smells good, looks great, and tastes amazing!
This is one of the healthier chicken tenderloin recipes because the meat is baked instead of fried but fret not because it tastes awesome either way!
These breaded chicken tenderloins are incredibly delicious and the coating is made with a lovely combination of common ingredients that includes panko breadcrumbs, Parmesan cheese, and a whole host of spices that make them super flavorful.
They can be served as a great appetizer, side dish, or even as a mid-day snack to munch on any day of the week!
When you want a healthy chicken meal, definitely give this baked chicken tenderloin recipe a try!
Honey and soy sauce make for a classic combo that can elevate the taste of any protein to another level and this simple recipe definitely doesn't disappoint!
Along with minced garlic and oil, the tenderloins are marinated in the mixture to let all that wonderful flavors soak into the meat.
They are then cooked on a skillet and deglazed with chicken broth before a final garnish of green onions is added to complete the dish.
It's super easy to make and takes less than 10 minutes to cook, making it a great addition to any weeknight dinner!
This is one of our favorite fried chicken tenderloin recipes when we want to make extra crispy chicken that tastes absolutely delicious!
The secret to getting the exterior extra crispy is to dry brine the tenderloins with salt, patting them super dry before coating, and using only egg whites during the breading process.
There are no fancy ingredients required and once every nook and cranny of the chicken is coated with the seasoned flour mixture, they are deep-fried until a beautiful golden brown color is achieved.
It's a guilty indulgence that pairs exceptionally well with any of your favorite dipping sauces for an amazing treat!
Get ready for amazingly delicious chicken tenders with this fantastic recipe that's a must-add to any meal rotation!
It's super easy to make with homemade Shake and Bake seasoning because it's really just a blend of common spices and panko breadcrumbs that you probably already have in your kitchen!
Just add all the lovely ingredients in a bag and shake to coat the chicken before baking them until fully cooked.
For a simple but wholesome meal, you can even add vegetables such as frozen cauliflower to bake alongside the chicken!
Spicy food lovers, this Crispy Buffalo Chicken Tenders recipe is for you!
With an addictive kick from the hot sauce, these tenderloins taste absolutely delicious and you'll be reaching out for a second serving once you've had your first taste of the meat!
There's hot sauce in both the flour coating and the buffalo sauce that's drizzled over the fried chicken so your spicy cravings are guaranteed to be satisfied.
It's a taste explosion in your mouth with every bite and you just can't miss out on this incredible dish!
Whip up an awesome meal with this excellent dish that combines chicken tenderloins and fragrant garlic Parmesan rice!
It's a simple one-skillet recipe, which means it's great for a weeknight feast, and there are plenty of delightful flavors that come together really well.
The rice is cooked with chicken broth, garlic, and white wine, absorbing all that flavors to make it really tasty, and it's topped with Parmesan cheese and chicken tenders to form a sumptuous dish.
Garnish with freshly chopped parsley and enjoy this delectable meal!
Treat yourself to a tropical-inspired meal with this fantastic Hawaiian Chicken with Coconut Rice that'll definitely tantalize your taste buds!
The chicken tenderloin marinade is made with a combination of pineapple juice, ketchup, soy sauce, and other lovely ingredients that give so much flavor to the meat.
When paired with fragrant coconut rice, it becomes an incredible dish that's loaded with great flavors and can easily be enjoyed by the whole family.
Don't miss out on this amazing dish and try it soon!
Inject a little Chinese flair to your next meal with this superb lemon chicken that tastes better than all your take-outs!
The lemon sauce has a sweet and tangy flavor that's well-balanced and pairs extremely well with fried chicken.
With a garnish of green onions, sesame seeds, and lemon slices, this fantastic dish is complete and can be served with a side of Jasmine steamed rice for a hearty and delicious meal!
This TGI Friday's copycat recipe is one of our favorite chicken tenderloin recipes because they taste absolutely incredible!
Boneless chicken tenderloins are breaded and fried until crispy and golden brown before they are tossed in a tasty whisky sauce that's made with a combination of lovely ingredients.
They are exceptionally delectable with the glaze making the chicken extremely flavorful and you'll be tempted to reach out for more to satisfy your appetite!
Finish with a garnish of sesame seeds and parsley for maximum enjoyment!
Savor a terrific meal with this Creamy Lemon Chicken that's quick and easy to make!
The chicken tenderloins are coated with a simple flour mixture and pan-fried in the skillet before they are added to an incredibly tasty lemon sauce made with garlic, butter, cream, and the juice and zest of lemon.
It's a hearty and comforting delight that can be paired with any other dish to make it even more sumptuous.
This dish can be made in under 30 minutes, making it perfect for an awesome weeknight meal!
Spruce up your next meal with this fantastic baked chicken tenderloin recipe that's loaded with a fragrant garlic Parmesan flavor!
Dredged in a flour-egg-flour batter, the chicken breast tenderloins are baked and then broiled until golden brown and crispy.
It's a simple recipe that delivers juicy and succulent meat that's extremely flavorful with all the seasonings in the batter.
This mouth-watering delight is an awesome addition to any meal for some tasty protein!
Feast on these delicious chicken tenders coated with crispy and golden fried onions that make for an amazing side dish or main dish!
It's a flavor explosion with every bite and the best part is that it only takes 30 minutes to whip up this amazing dish, perfect for an easy weeknight meal!
With a flavorsome batter that includes Worcestershire sauce, garlic, and ground mustard, there's plenty of punch beneath those tasty fried onions.
It's definitely a must-try for all chicken lovers!
With only 4 ingredients required, this is one of the easiest chicken tenderloin recipes that you can try for a crowd-pleasing dish!
Dredged in a whisked mixture of egg and milk, the tenderloins are then coated with Doritos crumbs that have been pulsed in a food processor before being baked until fully cooked.
You'll end up with crispy chicken that has a satisfying crunch with every bite and they taste absolutely fantastic!
It's a kid-friendly dish that the whole family will definitely enjoy any day of the week!
If you're looking for an easy and hassle-free slow-cooker or crockpot chicken tenderloin recipe, you've got to check out this splendid dish!
Slow-cooked with an incredible mixture of orange peel, orange juice, soy sauce, garlic, and ginger, the chicken is extremely flavorsome and super delicious.
The zesty and aromatic blend of the orange-ginger sauce definitely elevates the dish to another level with a well-balanced sweet and tangy flavor.
With how simple it is to whip up this terrific dish, you're sure to come back for more!
Keep it simple with these amazing breaded chicken tenderloins that are ridiculously easy to make!
All you need to do is season the meat with a little salt and pepper before dipping them in this order – flour, eggwash, and finally breadcrumbs.
Sauté the breaded chicken tenderloins in a skillet until golden brown and nicely crisp for an excellent dose of protein that is way healthier than fried tenders but tastes just as good!
Serve with a side of carbs and greens for a hearty and awesome meal!
These Keto Chicken Tenders are a must-add to your meal rotation for all those on a keto diet because they are super easy to make and taste amazingly delicious!
Juicy and tender on the inside, and delectably crispy on the outside, these chicken tenders are just irresistible and they are also gluten-free!
Whether you fry them or bake them, they'll be a fantastic treat either way with loads of seasonings to make them extra flavorsome.
Give it a try and you'll be pleasantly surprised by how tasty chicken tenders can be!
Give an instant upgrade to your sandwich or salad with these incredible Curry Chicken Tenderloins that are super tasty and absolutely delish!
It's also an air fryer recipe, making it really easy and convenient to whip up in an instant, and with curry powder, garlic powder, and paprika used to season the meat, you are sure to have extremely flavorful chicken.
The strong and bold flavors of the chicken complement a bed of greens or bread really well and you'll definitely be making it more than once because it tastes just that good!
Pair it with some homemade bread for a lovely sandwich that you can snack on any time of the day!
You'll have a really easy time making a delicious meal with this simple Instant Pot chicken tenderloin recipe!
Ready in just 15 minutes, this dish is perfect for a simple weeknight dinner when you just want to put food on the table but still enjoy a tasty meal.
Seasoned with a simple blend of spices and cooked in the Instant Pot with chicken broth, you'll be enjoying succulent and tender chicken in no time at all.
Pair with any of your favorite sauces for a simple but delightful protein!
Get your crockpot out and make these fantastic chicken tenders that are absolutely delicious with a simple gravy to provide that extra punch in flavor!
The gravy is made with a combination of french onion soup, gravy mix, and cream of mushroom soup mixed and cooked in the slow cooker, resulting in a wonderful blend of flavors that goes really well with the chicken and egg noodles.
It's a great way of adding variety to your meals and with how easy it is to make this awesome dish, it's perfect for a simple family dinner that everyone will surely enjoy!
Recreate the exotic flavors of Thai cuisine with these Grilled Thai Chicken Tenders that you definitely must try because they are a mouth-watering delight!
Marinated in a mixture of fish sauce, curry paste, soy sauce, and other delightful ingredients, the chicken is extremely flavorful and you are guaranteed a symphony of incredible taste with every bite.
Paired with a delectable chunky peanut sauce, these chicken skewers taste absolutely divine and make for a really satisfying meal.
Do yourself a favor and give this a try because you'll not want to miss out on this fantastic dish!
These sweet and savory chicken tenders are astonishingly easy to make and with only 4 ingredients required, you'll definitely want to add it to your cooking repertoire!
The chicken tenderloin marinade consists of honey, pineapple juice, and Italian dressing, and this simple combination is sufficient to add tons of flavor to the meat.
Bake, grill, or pan-sear the meat after marinating and you'll be enjoying a tasty protein that can easily be paired with rice, vegetables, or bread for an amazing meal!
Bursting with incredible flavors, these Honey Mustard Chicken Tenders are a great option for an awesome lunch or dinner any day of the week!
The tartness and tanginess of yellow mustard combine with the sweetness of honey, along with soy sauce and garlic powder, to create an amazing blend that adds loads of depth to the flavor of the chicken.
It's a great dish that's sure to be a hit with everyone and with the simple steps of marinating and cooking, it's definitely a must-add to any meal rotation!
At Glorious Recipes, we have our favorite Crispy Baked Chicken Tenderloins that we absolutely adore and they taste heavenly! Check out the recipe below!
Yield: 6
Crispy Baked Chicken Tenderloins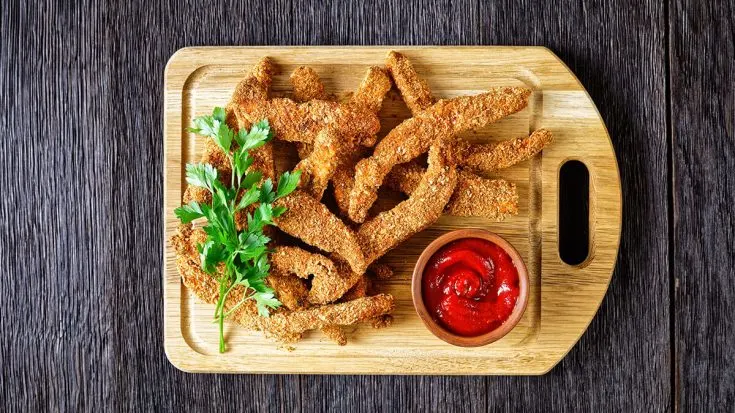 Indulge in these amazingly delicious chicken tenderloins that are baked to perfection with a crispy exterior that is just irresistible!
Ingredients
2 lbs chicken tenderloin
⅓ cup all-purpose flour
2 large eggs
1⅓ cups panko breadcrumbs
⅔ cup finely shredded parmesan cheese
1 tsp garlic powder
1 tsp paprika
1 tsp Italian seasoning
2 tbsp olive oil
salt, to taste
black pepper, to taste
Instructions
Preheat oven to 425°F (220°C). Set up a wire rack on a baking sheet and spray the rack with cooking spray (for resting battered meat later).
Set up 3 separate dishes. In the first dish, add flour. In the second dish, whisk eggs. In the third dish, add breadcrumbs, cheese, seasonings, and olive oil, then mix well to ensure the ingredients are combined evenly.
Chop the tenderloins into pieces, then season with salt and pepper. Dredge the chopped tenderloins in the following order - flour, eggwash, then breadcrumb mixture. Shake off any excess before proceeding to the next dish. You can gently press the meat in the breadcrumb mixture so that the coating adheres better.
Transfer the coated meat to the wire rack. Once all the pieces are done, bake in the oven for around 15 to 20 minutes, or until the internal temperature of the chicken reaches 165°F (75°C).
Serve with your favorite dipping sauce and enjoy!
Nutrition Information:
Yield:
6
Serving Size:
1
Amount Per Serving:
Calories:

474
Total Fat:

15g
Saturated Fat:

5g
Trans Fat:

0g
Unsaturated Fat:

9g
Cholesterol:

197mg
Sodium:

560mg
Carbohydrates:

24g
Fiber:

2g
Sugar:

2g
Protein:

56g
Nutrition information is only an estimate and can vary depending on ingredients used.
Which of the chicken tenderloin recipes have you tried so far?
Let us know in the comments below!
For more awesome chicken recipes that you might like, check out the following:
Hot Honey Chicken
Chicken Cobbler
Chicken Heart
Thin Sliced Chicken Breast
Diced Chicken
Chicken Breakfast
Chicken and Shrimp
Blackstone Chicken
Chicken Keema
Share on your favorite social media platform and tag us @GloriousRecipes – we can't wait to see what you have made!