Meat-lovers will definitely be satisfied with chicken and shrimp meals that are delicious with double the protein and flavors!
Whether you're on a high-protein and low-carb diet or just love the simple taste of shrimp and chicken, these recipes are bound to make it into your favorites list.
From simple pasta to Applebee's and Olive Garden copycats, we've got you covered with some of the best chicken and shrimp recipes that you can easily try at home!
Pasta lovers can rejoice because this amazing Cajun chicken and shrimp pasta is just out of this world!
Shrimp and chicken breasts are smothered in a creamy Cajun Alfredo sauce that's silky smooth and loaded with great flavors that define this pasta dish.
Pair with a wide pasta such as fettuccine to maximize the surface area and mop up the tasty sauce with every single bite!
You definitely got to try out this recipe because it's just so irresistible!
Add some Spanish flair to your next meal with this incredible chicken and shrimp recipe!
The rice is extremely flavorful with great depth and complexity to the taste, thanks to the addition of saffron that really elevates the dish to the next level.
It's complemented with chicken thighs, shrimp, peas, and other aromatics to give the entire dish a great texture, color, and flavor.
This paella is so simple to make, tastes exceptional, and is easily one of our favorite chicken and shrimp recipes!
A copycat recipe for the popular dish from Olive Garden, this recipe definitely does not disappoint!
With the addition of breadcrumbs, this pasta is delightfully refreshing with a great texture that's super enjoyable.
The taste is well-balanced without any of the ingredients overwhelming the rest and it's a great dish to make for a delicious weeknight dinner.
It's quick and easy to make so be sure to add it to your dinner rotation!
For another popular copycat recipe, check out this delicious Outback Steakhouse's Chicken and Shrimp!
The proteins are sautéed in white wine and spices, giving them loads of wonderful flavors that pair really well with the sauce.
They are combined with al dente pasta and the creamy sauce that has been spiced with garlic and onion powder is poured over to complete the dish.
It's straightforward to make and tastes superb!
This chicken and shrimp stir-fry is great for those who are on a keto, paleo, or low-carb diet.
It takes no time to make at all and tastes wonderful, making it a great midweek meal option.
The proteins and broccoli are cooked along with aromatics such as garlic, onion, and ginger, imparting great flavors and making them really tasty.
With the addition of coconut aminos and stevia, they taste even better!
Pair them with some cauliflower rice to complete a low-carb meal!
Enjoy a delectable meal with this fantastic Jack Daniel's Chicken and Shrimp recipe that you're bound to love!
The main highlight of this dish is the sauce which is extremely flavorful with a little kick and it's made with Jack Daniel's Honey Whiskey, garlic, honey, soy sauce, sugar, ketchup, and sriracha sauce.
It's very versatile and you can even make a bigger batch to drizzle over salads and meat, or use it for future meals!
Serve with a side of carbs such as mashed potatoes for a wholesome and sumptuous meal!
Savor some New Orleans cuisine with this delicious sausage, chicken, and shrimp gumbo that's the perfect comfort food to warm you right up on a chilly evening!
The broth is well-seasoned with Creole seasoning and other herbs and spices to provide plenty of depth to the flavor and it's enhanced with a variety of aromatics and vegetables to make it even sweeter and more delicious.
Add in the proteins and you have a tasty and nutritious meal on hand that's great for a wholesome meal.
Serve with some rice or homemade bread for maximum enjoyment!
If you love chicken, shrimp, cheese, and a creamy sauce, you'll love this fantastic dish that'll definitely satisfy your appetite!
Chicken breasts coated with panko breadcrumbs are baked in the oven till crispy and then smothered in a creamy shrimp sauce with grated Fontina cheese to create a mouth-watering delight.
It's a delicious and high-protein meal loaded with great flavors that everyone will enjoy!
Try out this baked chicken and shrimp recipe and you'll fall in love with it after your first bite!
If you've tried P.F. Chang's, you'll know how delicious their Singapore Street Noodles are.
This copycat recipe aims to replicate that tasty dish and flavor so you can satisfy your craving any time of the day!
The rice noodles are coated with a delicious curry sauce and the chicken, shrimp, and vegetables combine to add nutrition to this amazing dish.
It's a simple chicken and shrimp recipe to inject some Asian flair into your next meal!
For a restaurant-quality meal made in the comfort of your own home, check out this copycat recipe to make Applebee's popular dish!
Marinated in Cajun seasoning, sugar, and salt, the proteins are packed chock-full of flavors and turn out to be super delicious when cooked.
They are made even tastier when seared in garlic butter and then finished off in the oven until fully cooked.
It's a quick and easy chicken and shrimp recipe to follow and you'll end up with a tasty meal in no time!
Try out this sheet-pan chicken and shrimp fajitas recipe when you need a quick and delicious meal!
It's a pretty meal with colors coming from the different bell peppers, and along with the proteins, they are well-seasoned with a taco seasoning mix, ensuring plenty of wonderful flavors.
There's no manual cooking required as the oven will do all the work for you.
Once baked, serve with your favorite toppings, and enjoy!
Treat yourself to this incredible dish that you'll definitely want to make over and over again because it's just that delicious!
Saffron-scented orzo combines with grilled shrimp and chicken that have been marinated to create an amazing dish that also includes grilled corn, mushroom, and bell peppers.
The best part is that you can easily make this in under 30 minutes for a quick and satisfying weeknight dinner!
It's a wholesome meal that's super tasty and is a must-add to your meal rotation!
Impress your friends and family with this delightful dish that not only tastes great but also comes with a spectacular presentation!
The proteins are sautéed with teriyaki sauce, giving them plenty of flavors and a wonderful taste with nicely charred bits.
Rice is cooked together with aromatics, soy sauce, and pepper before being added to pineapple halves and topped with cooked teriyaki chicken and shrimp.
Everything combines to create one of the best-looking chicken and shrimp recipes, perfect for any special occasion!
A one-pot slow-cooker chicken and shrimp recipe is excellent for busy nights when you have little time to spare but still want to enjoy some tasty food.
This jambalaya recipe ticks all the right boxes and you definitely need to check it out because it tastes so good!
With sausage, chicken, and shrimp providing the protein, plus a whole host of herbs, spices, veggies, and rice, this dish is an amazing treat that can easily double up as great comfort food.
Try it out and you'll be surprised at how good it tastes!
Introduce a little Jamaican flair to your next meal with this jerk chicken and shrimp pasta that'll definitely tantalize your taste buds!
Both the proteins are well-seasoned with herbs and spices that guarantee lots of flavors and they are cooked and seared till delicious.
They are paired with pasta and a creamy sauce that really complements the entire dish.
It's a combination that's just so mouth-watering and you'll be wanting a second serving after the first bite!
For a simple yet tasty meal, check out this fantastic hibachi chicken and shrimp that's easy to make and tastes amazing!
The chicken meat is marinated in a soy sauce mixture that includes sugar, garlic, ginger, and cayenne, ensuring tons of flavors get locked in and it's then sautéed together with onions before zucchini and shrimp are added.
They are paired with rice to create a wholesome meal that's easily enjoyed by anyone!
Skip the Chinese takeout and make your own tasty Chinese lo mein!
Marinated in soy sauce, oyster sauce, black pepper, and rice wine vinegar, the chicken meat is extremely tasty with the classic flavors of Chinese food.
The noodles, vegetables, and shrimp are stir-fried before everything is tossed in a flavorful sauce to finish off the dish.
It's a simple recipe that whips up a great-tasting meal for a quick and easy lunch or dinner!
Bring some Louisiana flavors to your next meal with this incredible Cajun Jambalaya Pasta that's extremely delicious!
The vegetables and spices ensure this dish is loaded with wonderful flavors and they combine really well with the sausage, chicken, and shrimp to create a delightful pasta dish.
It's great with any of your favorite pasta and you can mix things up by rotating the pasta type if you're planning on making this regularly!
With such exceptional flavors, it's easily one of our favorite chicken and shrimp recipes!
Make delicious pad thai with chicken and shrimp by following this handy recipe that'll satisfy your Asian craving!
The best thing is that it can be whipped up in less than 30 minutes and everything is cooked in the instant pot!
No overnight marination is required as the proteins are flash-marinated before they are sautéed and the noodles are also cooked in the instant pot before everything is tossed in a tasty sauce.
It's easy to make and great for a midweek meal!
Dig into this tasty chicken and shrimp pasta with a refreshing lemon cream sauce that's just so irresistible!
It's quick and easy to make, and it'll definitely make it to your favorites list with how delicious it tastes.
The proteins, pasta, and asparagus come together to create a wholesome meal and it's made exceptional by the lemon cream sauce that brings the dish to the next level.
With how easy it is to whip up this delightful dish, we suspect you'll be making this on a regular basis!
At Glorious Recipes, we have our favorite Sausage, Chicken and Shrimp Jambalaya that we absolutely adore and it tastes heavenly! Check out the recipe below!
Yield: 8
Sausage, Chicken and Shrimp Jambalaya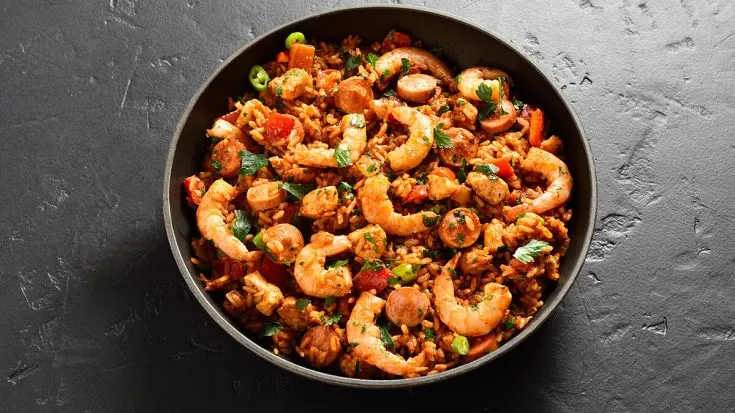 Enjoy delicious Sausage, Chicken and Shrimp Jambalaya with this simple one-pan recipe that's great for a wholesome meal!
Ingredients
2 tbsp extra virgin olive oil
1½ lbs chicken breasts or thighs
1 lb andouille sausage, sliced into ¼-inch pieces
2 celery ribs, diced
1 large onion, chopped
1⁄2 red bell pepper, diced
1⁄2 green bell pepper, diced
1⁄2 tsp dried thyme
1⁄4 tsp sweet paprika
1⁄4 tsp dried oregano
1⁄2 tsp salt
1⁄4 tsp cayenne pepper (optional)
1½ cups long grain rice
1 can diced tomatoes (14 oz), with juice
2 cups chicken broth or stock
2 tbsp parsley, freshly chopped
3 scallion, finely chopped
8 oz medium shrimp, peeled and deveined
Instructions
Preheat oven to 350°F (or 177°C)
Brown chicken with oil in a skillet. Remove, drain, and set aside,
Add sausage, celery, onion, bell peppers, thyme, paprika, oregano, salt, and cayenne (if using) to skillet and sauté for 5 minutes or until onions become translucent.
Add rice, diced tomatoes, and chicken broth, then bring to a boil.
Transfer the mixture to an oven-proof casserole or baking dish, then add chicken on top. Cover with foil and bake for 45 minutes until both rice and chicken are cooked.
Stir in parsley, scallion, and shrimp. Cover and cook for a further 5 - 8 minutes until the shrimp are fully cooked.
Serve and enjoy!
Nutrition Information:
Yield:
8
Serving Size:
1
Amount Per Serving:
Calories:

502
Total Fat:

26g
Saturated Fat:

8g
Trans Fat:

0g
Unsaturated Fat:

15g
Cholesterol:

190mg
Sodium:

1304mg
Carbohydrates:

19g
Fiber:

1g
Sugar:

7g
Protein:

46g
Nutrition information is only an estimate and can vary depending on ingredients used.
Which of the chicken and shrimp recipes have you tried so far?
Let us know in the comments below!
For more seafood recipes, check out Salmon and Shrimp, Langostino, Yellowtail, Smoked Cod, Tilefish, Salmon Bites, and Canned Oysters for more ideas!
Or check out Chicken Cobbler, Chicken Heart, Diced Chicken, Chicken Tenderloin, Chicken Breakfast, Chicken Keema, and Blackstone Chicken for more chicken recipes!
Share on your favorite social media platform and tag us @GloriousRecipes – we can't wait to see what you have made!