Get ready to experience a creamy and luscious delight with whipped cottage cheese!
Classic cottage cheese is taken to new heights by whipping or blending until you achieve a fluffy and airy texture that's just exceptional.
You get the same awesome flavor but with an upgraded mouthfeel that makes it feel luxurious and elegant.
Whether you like it sweet or savory, we've got you covered with some of the best whipped cottage cheese recipes that you can easily try at home!
Enjoy a terrific breakfast toast with this fantastic whipped cottage cheese recipe that will surely whet your appetite!
It's a delectable combination of toasted bread, whipped cheese, pistachios, and honey with a sprinkle of cinnamon powder to complete this awesome dish.
The textures and flavors of the various ingredients combine extremely well together and you'll be devouring everything before you even know it!
You'll find it difficult to limit yourself to just one serving because of how delicious it is!
For the perfect game day dip that you can indulge in, check out this amazing recipe that makes a low-carb and high-protein dip!
Cottage cheese, onion powder, garlic powder, cayenne powder, salt, and pepper are first blended until smooth and creamy before chives, dill, and fried shallots are added to inject a flavor boost that helps to make the dip extra tasty.
It tastes absolutely phenomenal for something so easy to make and it's definitely one of our favorite whipped cottage cheese recipes!
Serve with crackers for a simple but tasty snack!
Keep it simple with this awesome toast that makes for an outstanding breakfast to start your day right!
Toasted bread is topped with whipped cottage cheese and homemade chia seed jam and the two complement each other extremely well to create a sweet and creamy delight.
It's super easy to whip up and you can easily substitute the chia seed jam with any other flavors that you have on hand!
This recipe is a great way to refresh your breakfast options!
Dig into this splendid Mango Whipped Cottage Cheese that takes little effort to make but tastes exceptional!
It's ridiculously easy to whip up and all you need to do is blend a mix of cottage cheese and mango chunks.
Add your favorite toppings and you'll be enjoying a toothsome snack or breakfast in no time at all!
Nuts, seeds, and fruits all make great options to give this superb dish a little boost!
Treat yourself to a wonderful breakfast bowl with this amazing recipe that you definitely don't want to miss out on!
It's a lovely marriage of cottage cheese, berries, and sweeteners, all blended until a rich, creamy, and velvety mixture is achieved.
This is a fabulous base for your breakfast bowl and you can layer it on with toppings such as cacao nibs, berries, seeds, and nuts!
With so many toppings that you can experiment with, you can eat this every day and not get tired of it!
This Whipped Cottage Cheese Lemon Mousse is the perfect high-protein snack or dessert that only requires a few simple ingredients!
Made by blending a mix of cottage cheese, lemon juice, lemon zest, and maple syrup, this is a quick and easy sweet treat that you can indulge in without feeling guilty.
With a well-balanced sweet and tangy flavor, this mousse is incredibly addictive and so delicious!
It makes for a great dessert without all that overwhelming sweetness!
Spruce up your next meal with this beautiful Dragon Fruit Whipped Cottage Cheese that looks good and tastes even better!
Dragon fruit powder is used to impart the gorgeous pink hue and all the great health benefits of dragon fruit, and it's blended with cottage cheese and maple syrup to create this fantastic dessert.
It's tasty enough that you can enjoy it on its own but you can enhance it further by adding any of your favorite toppings!
Give it a try and you'll definitely not be disappointed by how good it tastes!
For a hearty and sumptuous breakfast, you've got to check out this terrific breakfast bowl that's one of our favorite whipped cottage cheese recipes as well!
Crispy bacon, sautéed mushrooms, herbed whipped cottage cheese, charred tomatoes, and rocket leaves come together to create an amazing dish that's unbelievably delicious.
It's a breakfast fit for a king and it's sure to provide all the fuel you need to get your day going.
Packed with great flavors and nutrients, this is a dish that you have to add to your breakfast rotation!
Sourdough, whipped cottage cheese, and raspberry chia jam make for an awesome combination you never knew!
This amazing dish will make you fall in love with cottage cheese even if you weren't a fan of it before and it's really easy to make as well.
It's a sweet and creamy delight and it's incredibly mouthwatering, making it a breakfast you'll definitely look forward to.
Finish off with a sprinkle of lemon zest to complete this fabulous toast!
Amplify your next breakfast with this stunning recipe that makes a superbly tasty breakfast bowl that's filled with great flavors!
It's the ultimate indulgence with cottage cheese and almond butter combined to create a mouthwatering creamy delight.
If you're looking for a keto whipped cottage cheese recipe, you can consume it as is for a splendid meal but you can easily add any of your favorite toppings to jazz it up a little.
Make sure to give this high-protein breakfast bowl a try!
Savor a delicious meal with this excellent Savory Whipped Cottage Cheese and Tomatoes Bowl!
A blended mix of cottage cheese, feta cheese, and olive oil forms the base of this exceptional dish and it's topped with a marinated assortment of baby tomatoes, basil, and parsley.
It tastes absolutely amazing when served with pita chips and it's a dish that even non-vegetarians will enjoy.
This simple but delectable dish is a must-try in our books!
Reward yourself with an incredibly palatable toast that combines some of our favorite ingredients in one dish!
Featuring crusty toasted bread topped with fluffy cottage cheese, caramelized apples, and pumpkin seeds, this is a breakfast that'll definitely bring a smile to your face with its exceptional flavor.
This nectarous dish will make you want to jump out of your bed every single morning!
With how delicious it is, we have no doubts that this will quickly become one of your favorite whipped cottage cheese recipes!
If you're a chocolate and cheese lover, you've got to check out this superb recipe that makes an absolute treat!
It's a delightful combination of cottage cheese, cocoa powder, sweeteners, and a little salt, all blended into a rich, creamy, and fluffy mix that's just irresistible.
This chocolate whipped cottage cheese tastes fantastic on its own but it's even better with toppings such as cocoa nibs, coconut flakes, and toasted nuts!
Quick and easy to make, just how we like our recipes to be!
Expand your dipping options with this sensational Buffalo Whipped Cottage Cheese Dip that's perfect for adding a flavor boost to almost anything!
This dip is made simply by blending a mix of cottage cheese, cream cheese, Greek yogurt, lemon juice, hot sauce, and salt.
It's incredibly creamy with a slight kick that's exceptionally addictive and you can enjoy it with endless options!
Take your pick from crackers, chips, biscuits, or even vegetables!
For an amazing whipped cottage cheese dessert, this simple recipe will be all you need!
It's super easy to make and involves blending a mix of pumpkin purée, cottage cheese, vanilla extract, pumpkin pie spice, and maple syrup.
Topped with coconut flakes, granola, and nuts, this is an incredibly tasty treat that you just can't get enough of!
This is also perfect for a heavenly breakfast or mid-day snack!
At Glorious Recipes, we have our favorite Whipped Cottage Cheese Toast With Honey that we absolutely adore and it tastes heavenly! Check out the recipe below!
Yield: 1
Whipped Cottage Cheese Toast With Honey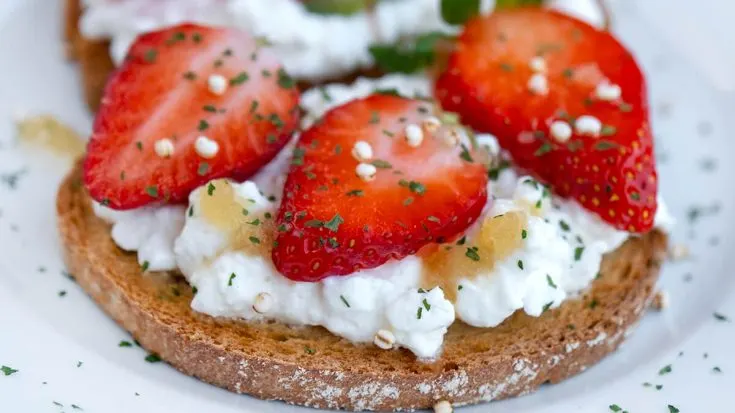 Enjoy a fabulous breakfast with this delicious Whipped Cottage Cheese Toast! Drizzle on a little honey and top with some strawberries for something special!
Ingredients
⅓ cup cottage cheese
1 slice sourdough bread, toasted
honey, to drizzle
strawberries, sliced
Instructions
Add cottage cheese to a blender and process until you get a fluffy and creamy mixture.
Spread a layer of whipped cottage cheese on toasted bread, drizzle honey, and top with strawberries. Serve and enjoy!
Notes
You can easily substitute strawberries for any of your favorite fruits!
Nutrition Information:
Yield:
1
Serving Size:
1
Amount Per Serving:
Calories:

163
Total Fat:

3g
Saturated Fat:

1g
Trans Fat:

0g
Unsaturated Fat:

1g
Cholesterol:

12mg
Sodium:

263mg
Carbohydrates:

27g
Fiber:

2g
Sugar:

24g
Protein:

9g
Nutrition information is only an estimate and can vary depending on ingredients used.
Which of the whipped cottage cheese recipes have you tried so far?
Let us know in the comments below!
For more awesome recipes that you might like, check out the following:
Potato Tacos
Fonio
Protein Bowl
Oaxaca Cheese
Triscuit
Loaded Tea
German Sausage
Zojirushi Bread Maker
Lemon Cucumber
Recipes With Half-And-Half
Share on your favorite social media platform and tag us @GloriousRecipes – we can't wait to see what you have made!