There are many ways to cook cobia fish from pan-searing to baking and with our cobia recipes, you'll never run out of delicious fish to enjoy!
It goes by many names and is also known as ling, black kingfish, black salmon, lemonfish, and black bonito.
Cobia has a mild and buttery taste with firm white meat, making it a good option to be used in many fish recipes.
It's a very versatile fish and you can enjoy it on its own as a main course, eat it with tacos, or even pair it with a side of carbs such as rice or pasta!
Cobia Recipes
Here are 15 of the best cobia recipes that you can try at home and we've also included our own favorite recipe in the recipe card below!
Enjoy delicious pan-seared cobia with this simple recipe that's guaranteed to tantalize your taste buds!
Cobia is pan-seared and oven-cooked, with mango salsa and Thai chili paste added to deliver an extremely flavorful and tasty dish that you just can't get enough of.
The fish is also well-coated with various spices and Cajun seasoning to ensure maximum flavor and an umami bomb with every single bite.
Lime juice helps to keep the taste refreshing and balance out the heat from the chili paste.
You definitely need to add this delectable dish to your dinner rotation!
For a simple recipe that even a beginner home cook can easily make, check out this cobia recipe that requires minimal ingredients.
Other than the fish, the star of this recipe is a homemade sage and thyme compound butter that gives depth to the flavor and makes the fish so delicious.
You'll only need to mix butter, chopped sage and thyme, salt, pepper, and lemon juice to make the compound butter.
After that, it's all about pan-searing the cobia fillets and cooking the meat in the oven.
Serve with a side of veggies or some carbs to make it a wholesome meal!
If you love fish tacos, you'll need to check out this amazing blackened cobia recipe with blackberry balsamic salsa!
Cobia fillets are seasoned with a variety of herbs and spices, which makes them super flavorsome and they're paired with a sweet blackberry salsa that elevates the dish to the next level.
Fill heated tortillas with the blackened fish and salsa, then add some purple cabbage and cilantro before popping them into your mouth.
You'll feel the flavors bursting throughout and you're definitely going to make this more than once!
Make this simple pan-seared dish that tastes absolutely delicious for your next meal and it only requires less than 30 minutes.
It's a straightforward cobia recipe and you start by pan-searing cobia fish in a skillet before setting it aside while the sauce is made.
With a combination of butter, garlic, chicken broth, capers, saffron, and lemon zest, the mixture is boiled and reduced until it becomes an extremely flavorful and tasty sauce.
Serve with some carbs and greens before placing the fish on top and drizzling the sauce all over for a fantastic meal!
This amazing cobia dish seems like it belongs on a restaurant's menu but yet it's a simple recipe that everyone can make at home.
Cobia fillets are seasoned and brushed with mustard before being topped with shredded potatoes and baked till cooked.
The sauce is a mixture of orange, lime, and lemon juices, combined with white wine, shallots, garlic, butter, tarragon, honey, salt, and pepper.
Everything comes together really well to deliver an exceptional dish and when paired with a side of greens, it becomes a super wholesome and nutritious meal!
Get ready for Taco Tuesday with this quick and easy cobia fish tacos recipe that'll whet your taste buds!
Tender cobia meat marinated in a mixture of oil, smoked paprika, garlic, chili powder, cumin, salt, and pepper ensures every bite will be as flavorful as it can be.
Onions and cilantro provide additional depth to the flavor for a truly Mexican taste while cabbage gives a nice crunchy texture to the tacos.
Served in soft tortilla skin along with avocado and spicy yogurt sauce, the tacos taste super awesome and are so flavor-packed that you just can't resist eating one more!
Dig into this delicious sweet and spicy dish that's perfect for a quick and tasty meal!
Make some delightful salsa with tropical mangoes to provide the sweetness that balances out the spiciness of cayenne pepper.
Onions and chopped cilantro give so much fragrance to the salsa, making it a wonderful pairing for the fish fillet.
Cobia fish is cooked simply by pan-searing in a skillet and squeezing a lime at the end to keep the taste refreshing.
Scoop some mango salsa on top of the fish and serve with a side of carbs!
Enjoy restaurant-quality fish right in the comfort of your home and at a fraction of the price with this fantastic recipe that's straight from a head chef!
Sage-infused sweet potato and maple syrup puree add so much flavor to this dish and the sweetness fully complements the cobia.
The fish is pan-seared and basted with butter until it turns a nice brown and locks in all the moisture.
It's topped with walnut, capers, and parsley with lemon juice added to keep the whole dish tasting really refreshing.
This dish oozes class and elegance and it tastes amazing!
Check out this jerked cobia recipe that's accompanied by a superb pineapple chutney which you'll definitely love!
Cobia fillets are marinated in a blended mixture containing soy sauce, rum, fish sauce, scotch bonnet peppers, and other spices and herbs for two hours to let the fish soak in all the flavors before being baked in the oven.
The pineapple chutney is a mix of sweet and spicy with the tropical sweetness of pineapples, raisins, brown sugar, and the heat coming from scotch bonnet peppers.
Serve the chutney on top of the fish and garnish with chopped cilantro to finish it off!
Make a classic favorite with this cobia fish and chips recipe that's bound to be popular with the family!
The fish fillets are coated in flour, egg, then crushed cornflakes and breadcrumbs to achieve a super crispy texture when fried.
A refreshing yogurt dip that goes super well with the fish is made with Greek yogurt, chopped mint, lemon juice, and salt.
Pair it with a side of chips or fries made with carrot or sweet potato strips for a filling and delicious meal!
Try this awesome cobia escabeche that's easy to make, tastes really wonderful, and is perfect for a comforting weeknight dinner.
The fish is cooked in an acidic tomato sauce that's made with sherry vinegar, sugar, tomatoes, plus aromatics and herbs that make it really fragrant and flavorful.
It's then baked in the oven for around 20 minutes till cooked and served together with the tomato mixture.
The taste is amazing and you'll definitely enjoy this hearty meal!
Cobia can also be used in a salad to make a wholesome meal and in this grill recipe, it's combined with corn, watermelon, and poblano chili pepper to create a sweet and savory dish with a mild heat.
Once the grill is fired up, the seasoned fish fillet, poblano chili pepper, and corn are cooked over heat till nice and slightly charred.
The ingredients are then prepared accordingly, with the fish flaked, corn shucked and cut, and poblano peeled with stem and seeds removed.
Add cut watermelon and plantain chips to complete the dish before serving!
Reward your taste buds with this exceptional Cobia Ceviche that you definitely don't want to miss out on!
Asian pear granita, made by freezing a mixture of Asian pears, orange juice, ginger, and syrup, is combined with a cobia slices marinated in a blend of lime juice, orange juice, jalapeños, and other lovely ingredients to create this incredible appetizer that's extremely tasty.
Every bite is filled with so much flavor and it's definitely a cobia recipe that you need to try!
For a simple and low-effort recipe that still tastes awesome, try this Mediterranean baked fish which uses common ingredients that are easy to find.
It's easy to make as the oven will do all the work for you, plus you don't even need to flip the fish midway so you can do other things while the fish cooks!
All you need to do is place the fish, tomatoes, and artichokes in a baking dish, drizzle with vinaigrette, then bake it till cooked.
Top with some feta cheese and enjoy this tasty dish!
When it comes to cooking fresh fish, sometimes it's good to keep it simple so that you can retain and enjoy the sweetness of the meat.
In this easy recipe that you can make in less than 30 minutes, the fish is seasoned with salt, pepper, and oregano, then pan-seared.
A simple sauce is made with tomatoes, capers, wine, and butter, which is then poured over the fish fillet.
Finish off by squeezing some lemon juice and garnish with parsley before serving!
At Glorious Recipes, we have our favorite Lemon Butter Cobia recipe that we find to be absolutely delicious! Check out the recipe below!
Yield: 2
Lemon Butter Cobia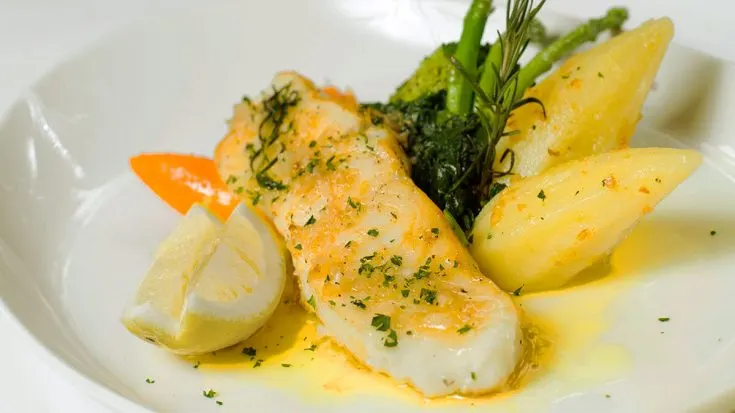 This amazing Lemon Butter Cobia is extremely flavorful and tastes super delicious! It's a simple recipe that you can make with any white fish!
Ingredients
2 cobia fillets, 5oz each with skin and bones removed
2 tbsp flour
2 tbsp oil
4 tbsp butter, unsalted
1 tbsp lemon juice
salt (to taste)
black pepper (to taste)
lemon wedges (for garnish)
freshly chopped parsley (for garnish)
Instructions
Add butter to skillet over medium heat. Melt and stir butter for about 3 minutes until it smells nutty and turns golden brown. Remove and pour into a bowl. Add lemon juice to the melted butter. Add salt and pepper to taste. Adjust accordingly (more lemon juice or salt and pepper) then set aside.
Use a paper towel and pat dry cobia fillet. Season with salt and pepper, then add flour and rub evenly. Do the same for the other side.
Add oil to skillet over high heat. Once the oil is hot enough and starting to smoke, add fish and cook till edges are golden, about 1½ minutes. Carefully flip and cook through. Fish should be flaky when forked. Transfer to serving plates.
Add around 1 tbsp of lemon butter to fish and garnish with lemon wedges and freshly chopped parsley. Serve and enjoy!
Nutrition Information:
Yield:
2
Serving Size:
1
Amount Per Serving:
Calories:

665
Total Fat:

55g
Saturated Fat:

19g
Trans Fat:

0g
Unsaturated Fat:

32g
Cholesterol:

150mg
Sodium:

384mg
Carbohydrates:

11g
Fiber:

2g
Sugar:

1g
Protein:

33g
Nutrition information is only an estimate and can vary depending on ingredients used.
Which of the cobia recipes have you tried so far?
Let us know in the comments below!
For more seafood recipes, check out the following:
Albacore Tuna
Langostino
Yellowtail
Salmon and Shrimp
Smoked Cod
Tilefish
Blackfish
Share on your favorite social media platform and tag us @GloriousRecipes – we can't wait to see what you have made!