Wahoo, also known as ono in Hawaii, is a fish with a mild and sweet flavor that makes it easily enjoyable for everyone!
It doesn't have a gamey or fishy smell and is especially great for those who are particular with the types of fish they eat.
It's not an oily fish and is low in saturated fat while being a good source of vitamin B and other essential minerals.
The flesh is delicate and flaky and can be prepared in numerous ways to whip up a wide variety of tasty dishes!
Whether you prefer it grilled, fried, or seared, you're bound to love the delightful flavor of wahoo fish!
From tacos to wahoo steaks, we've got you covered with some of the best wahoo recipes that you can easily try at home!
Savor a fabulous meal with this Seared Wahoo with Mango Salsa that's crazy delicious and really easy to whip up!
Featuring wahoo fillets pan-seared to perfection and topped with a salsa that consists of mango chunks, onions, jalapeños, cilantro, bell peppers, and other lovely ingredients, this is a mouthwatering treat that you just can't get enough of.
Filled with bright colors and flavors, this dish is incredibly appetizing and tastes absolutely fantastic for something so simple to make!
Pair it with your favorite carbs and veggies to turn it into a wholesome meal!
This is one of our favorite wahoo recipes for good reason; its perfect blend of flavors and ease of preparation make it a go-to choice for any occasion!
Grilled wahoo is combined with a mix of fire roasted tomatoes, garlic, and olives to create a scrumptious delight that you're sure to love.
The simple sauce adds tons of incredible flavors to the wahoo steak and helps to elevate it to a whole new level!
Give it a try and you'll definitely not be disappointed!
Shake things up a little and try making this splendid Wahoo Salad that's great for an awesome brunch or as an easy crowd-pleaser at any gathering!
It's exceptionally straightforward to whip up and features a combination of baked wahoo fish, mayonnaise, Old Bay seasoning, celery, sweet onions, and dill weeds.
The chunky flakes really help to add to the texture and make it thoroughly enjoyable when served with toasted bread or crackers.
This is also a great way to use up any leftover wahoo that you might have remaining from a previous meal!
Get ready for Taco Tuesday with this fried wahoo recipe that creates one of the most delicious tacos you'll ever taste!
This dish features tortillas with wahoo strips fried until crispy, then topped with Mexican creme and pico de gallo, adding loads of amazing flavors.
Pineapples, tomatoes, onions, cilantro, and jalapeños all help to impart their distinctive fragrance to make these tacos superbly tasty!
You might just have a new favorite taco after taking your first bite because they are just that good!
Go healthy with this outstanding wahoo dish that tastes fantastic and makes for an excellent meal any time of the day!
Perfectly pan-seared wahoo fillets are topped with a salad made with a delectable combination of bell peppers, onions, black beans, spinach, garlic, parsley, olive oil, and lemon juice in this light and refreshing dish.
Not only is it extremely delicious, but this wonderful dish is also loaded with tons of nutrients that are great for the body!
Who says healthy food needs to be bland and tasteless?
In what is one of our favorite grilled wahoo recipes, the white fish is combined with some of our beloved ingredients to create an incredibly delectable burrito!
With pineapple salsa, ancho chili powder, garlic powder, coriander, cumin, and other lovely ingredients, you know you're guaranteed an extremely flavorful dish at the end.
The burrito is formed with a combination of grilled wahoo fillets, rice, chipotle peppers, avocados, corn, and black beans, creating a superb blend of flavors and textures.
You can eat this every day and not get tired of it!
For a remarkable fish-salad sandwich that's amazingly delicious, you've got to check out these Toasty Wahoo Melts!
Grilled wahoo fish is combined with Dijon mustard, mayonnaise, onions, and celery to create a fantastic filling for the sandwich, and it's complemented by a topping of bacon and Swiss cheese.
Add toasted sourdough bread into the mix and you'll have a superb treat that's perfect for an awesome meal on the go!
Whether you're making it for a brunch or picnic, you're sure to enjoy the taste of this marvelous sandwich!
Sign us up for this excellent dish that's filled with bright flavors that make it perfect for any special occasion!
This dish involves a delightful honey soy marinade that infuses plenty of amazing flavors into the fish, and a wonderful salsa consisting of pineapples, red onions, jalapeños, red chilies, cilantro, ginger, and lime juice.
Everything comes together really well to create a flavorful and palatable treat that's sure to garner universal praise!
It's a dish that's full of complexity and depth, we just know you're going to love it!
Keep it simple with this Brown Butter and Garlic Wahoo that's incredibly easy to whip up and requires only 4 main ingredients to get going!
All you need to do is add butter, garlic, and lemon slices to a skillet and let them cook slowly until the butter has browned.
The wahoo steak is then perfectly seared in the brown butter to add a terrific texture and flavor that's just irresistible!
Serve it with your favorite sides and enjoy an easy but tasty meal any day of the week!
Spruce up your next meal with these Blackened Wahoo Steaks that are incredibly appetizing and taste absolutely heavenly!
Wahoo steaks coated with Old Bay seasoning are seared until they develop a beautiful crust and they are paired with roasted endives in this splendid dish filled with terrific flavors.
The blackened wahoo steaks rest on top of pea shoots for a classy presentation and they definitely taste as good as they look!
With how delectable it is, we have no doubts that this will quickly become one of your favorite pan-seared wahoo recipes!
If you have an immersion circulator or sous vide machine, you've got to check out this outstanding recipe that guarantees perfectly cooked wahoo every time!
Seasoned simply with salt and pepper, the fish is first cooked for 30 minutes before being topped with a flavorsome salsa that's made with pineapples, mangoes, red onions, mint, and other spices.
You end up with an extremely delicious fish that tastes superbly refreshing and it's sure to bring a smile to your face after the first bite!
It's simple to prepare and tastes amazing, making it a must-try dish!
Grace your taste buds with this wahoo dish that's astonishingly delicious and sure to make your tongue dance in joy!
Marinated in a mixture of curry powder, teriyaki sauce, Chinese rice wine, sesame oil, and olive oil, the wahoo fish is extremely flavorful when cooked.
It's topped with a mango-strawberry chutney that adds so much depth to the flavor of the dish and it's sure to impress with its wide range of flavors!
If you need a dish to impress, this is definitely a top contender in our books!
This pan-fried wahoo recipe is a great addition to your meal rotation with its exceptional flavor that'll surely delight you!
Featuring wahoo steaks coated with Old Bay seasoning and Creole seasoning, pan-fried until beautifully golden brown, plus a creamy sauce made with garlic, leeks, heavy cream, white wine, and other lovely ingredients, this is a scrumptious treat that you definitely don't want to miss out on.
It's a hearty dish that you can easily serve with your favorite side dishes for a wholesome meal that the entire family can enjoy.
Make sure to give this recipe a try and your taste buds will thank you!
This is one of those wahoo recipes that you'll want to keep handy because it makes an excellent Wahoo Poke that's superbly tasty!
It's also really easy to prepare and involves marinating wahoo cubes in a mixture of soy sauce, sesame oil, rice vinegar, wasabi peas, and other lovely ingredients.
Served on taro chips with various toppings, this is a show-stopping dish that's as delicious as it is beautiful!
Just be prepared to be showered with plenty of compliments when you make this for your guests!
Wahoo sashimi tastes superb on its own but you can jazz it up by making this terrific ceviche that you can serve as an impressive appetizer for an awesome dining experience!
This dish is a delectable combination of fresh wahoo slices, ponzu sauce, sesame oil, lime juice, mangoes, pickled ginger, jalapeños, and cilantro, rendering plenty of wonderful flavors that you're sure to enjoy.
The natural sweetness of the fish is complemented by the fragrance of the other ingredients, creating a mouthwatering dish that makes for an amazing appetizer!
You won't believe how delicious it is for something seemingly so simple to whip up!
Discover a sensational dish with this Grilled Wahoo with Soy and Garlic that tastes absolutely stupendous and is sure to captivate your taste buds!
The fish is marinated in a combination of soy sauce, white wine, sesame oil, garlic, and ginger, ensuring tons of incredible flavors that will make you develop a craving for this dish.
Grilled until fully cooked, then topped with a soy-sesame sauce, this tasty dish is great as a seafood centerpiece for a sumptuous feast!
There's nothing not to like about this brilliant dish!
At Glorious Recipes, we have our favorite Pan-Seared Wahoo With Mango Salsa that we absolutely adore and it tastes heavenly! Check out the recipe below!
Yield: 2
Pan-Seared Wahoo With Mango Salsa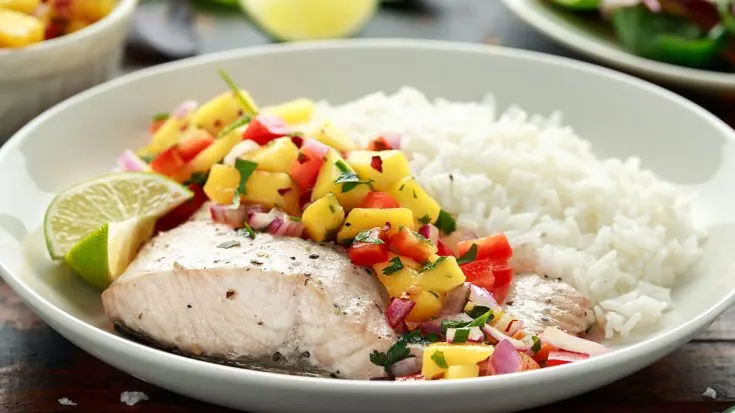 Enjoy a fantastic pan-seared wahoo with a flavorful mango salsa that adds plenty of bright flavors to make it superbly delicious!
Ingredients
2 wahoo fillets
1 tbsp olive oil
salt, adjust to taste
pepper, adjust to taste
Mango Salsa
1¼ cups mango, cut into chunks
1 green onion, diced
½ small red onion, diced
½ red bell pepper, diced
½ jalapeño, diced
¼ cup cilantro, freshly chopped
juice of ½ lime
juice of ½ lemon
¼ tsp salt
Instructions
Make the mango salsa by adding all the ingredients to a bowl and mix well to combine. Refrigerate for at least an hour.
Use paper towels to pat dry the wahoo fillets. Season with salt and pepper on both sides.
Add oil to a skillet over medium-high heat. Once it's hot enough, add the fillets and cook untouched for about 4 minutes. Flip and cook for another 4 minutes, or until the fillets are fully cooked.
Transfer to serving plates and top with mango salsa. Serve and enjoy!
Notes
You can adjust the salsa proportions to your liking. Add more lime and lemon juice if you like it tangy!
Nutrition Information:
Yield:
2
Serving Size:
1
Amount Per Serving:
Calories:

513
Total Fat:

23g
Saturated Fat:

5g
Trans Fat:

0g
Unsaturated Fat:

16g
Cholesterol:

66mg
Sodium:

804mg
Carbohydrates:

55g
Fiber:

4g
Sugar:

46g
Protein:

23g
Nutrition information is only an estimate and can vary depending on ingredients used.
Which of the wahoo recipes have you tried so far?
Let us know in the comments below!
For more awesome fish recipes that you might like, check out the following:
Bluegill
Sablefish
Porgy
Coho Salmon
Albacore Tuna
Whole Tilapia
Salmon Bites
Yellowtail
Cobia
Blackfish
Share on your favorite social media platform and tag us @GloriousRecipes – we can't wait to see what you have made!