Albacore tuna is a delicious fish with firm flesh and a mild flavor that's sure to delight your taste buds!
It's also an excellent source of omega-3 fatty acids, protein, and other essential nutrients that are great for your body.
Whether you want to add a touch of luxury to your next meal or enjoy a healthy dish, albacore tuna is perfect for the job!
From poke bowls to seared tuna, we've got you covered with some of the best albacore tuna recipes that you can easily try at home!
Savor a delicious meal with one of the most fantastic seared albacore tuna recipes and it's bound to whet your appetite!
With a crusty exterior thanks to an amazing blend of herbs and spices, and a tender and moist interior, this tuna tastes exceptional.
It's incredibly easy to make and you'll be enjoying tasty seafood on your table in no time at all!
Serve with a side of your favorite carbs and veggies to make it a complete meal!
Experience excellent Asian flavors with this tuna bowl paired with an extremely flavorful kimchi-miso sauce!
The sauce is made with a combination of white miso, sesame oil, kimchi, honey, garlic, and other delightful ingredients, ensuring plenty of great flavors that come together really well.
It's a wholesome dish with rice, mushrooms, bok choy, kimchi, and seared albacore tuna loin all forming the components of this incredible bowl.
With how delicious it is, this tuna bowl is definitely a must-add to your meal rotation!
Enjoy a delectable meal with this amazing seared albacore tuna recipe that makes an awesome fish to bring a smile to your face!
The highlight of this dish is the albacore tuna marinade made by blending soy sauce, vinegar, sugar, garlic, ginger, green onion, and wasabi, infusing plenty of bold flavors into the fish.
With the tuna perfectly seared in the skillet, it's sliced and served with the sauce for a mouthwatering dish that everyone can enjoy.
It only takes 20 minutes to whip this up, making it perfect for quick weeknight dinners!
This is one of the easiest albacore tuna recipes, but don't be fooled because these prosciutto-wrapped tuna loins are exceptionally tasty!
It's as simple as wrapping the tuna with prosciutto and pan-searing them until they are crispy on the outside and still tender on the inside.
Paired with a fantastic dipping sauce made by combining sesame oil, soy sauce, ginger, garlic, and sesame seeds, this is a delightful dish that you'll definitely enjoy.
There's nothing not to like about this albacore tuna recipe that's quick and easy to make!
Treat yourself to a terrific meal with this Lime Ginger Albacore Tuna that's amazingly delicious and so easy to make with only a few ingredients!
Marinated in a mixture of soy sauce, olive oil, lime juice, and ginger, the fish is then cooked on a skillet until browned on both sides.
Garnished with lemon slices, this is a simple dish with bright and refreshing flavors that are easy on the palate and make for an awesome main course.
Turn it into a wholesome meal by pairing it with a side of carbs and veggies!
Discover a splendid dish with this Albacore Tuna and White Bean Salad that's loaded with nutrients and tastes incredibly good!
It's a delightful combination of tuna, cannelloni beans, aromatics, and lettuce, drizzled with a refreshing vinaigrette made with Dijon mustard, honey, lemon juice, and other lovely ingredients.
This salad is healthy with a great taste that's perfect for a yummy brunch, and you'll definitely love how easy it is to whip this up.
Top with toasted bread crumbs before serving for maximum enjoyment of this superb salad!
This is another one of our favorite seared albacore tuna recipes and it makes such tasty tuna steaks with so little effort!
Coated with sesame seeds, the tuna is perfectly seared in a skillet until the sesame seeds on the outside become toasted while the inside meat is lightly cooked but still remains rare at the center.
Paired with a refreshing lemon ponzu sauce, this is an absolute delight to eat and it's great for a lovely meal any day of the week!
Serve with your favorite greens and a side of rice to turn it into a hearty meal!
Grace your taste buds with a fantastic pasta dish that's superbly tasty and it's sure to make you salivate at the thought of it!
With a pesto sauce made by blending basil, cilantro, pine nuts, spinach, and many other awesome ingredients, you have an amazing base to work with that's extremely flavorful and you just can't go wrong with it.
Add cooked pasta and tuna into the mix, plus a little Parmesan cheese, salt, and pepper, and you'll have an incredible dish that you can serve for an unforgettable meal!
This canned albacore tuna recipe is a great way to enjoy a simple, convenient, and quick meal that tastes exceptional!
Sign us up for this outstanding albacore tuna poke bowl that's incredibly delicious and filled with some of our favorite ingredients!
Marinated in a mixture of sesame oil, soy sauce, lime juice, chili flakes, sesame seeds, and green onions, the tuna is extremely flavorsome with fantastic flavors that combine well together.
Fill a bowl with rice, vegetables, tuna, and a drizzle of sriracha mayo sauce to create an excellent poke bowl that's just irresistible!
It's super easy to make and you'll definitely want to give it a try!
Impress your friends and family with this fantastic dish that's amazingly delicious, really easy to make, and looks fancy enough for special occasions!
The albacore tuna fillet is given a quick sear on all sides and the middle is left rare, creating a terrific texture with a crisp exterior and tender interior.
It's sliced and paired with an extremely flavorful chimichurri that's made with a delightful combination of garlic, parsley, shallot, tomato, paprika, lemon zest, and other lovely ingredients.
You won't believe how something so simple can taste so good and it's definitely one of our favorite albacore tuna recipes!
Keep it simple with this amazing recipe that makes a really tasty tuna dish with a clean presentation as though it came straight from a fine-dining restaurant's kitchen!
Perfectly pan-seared tuna is placed on top of a bed of delicious potato purée and roasted asparagus, creating an irresistible dish that's sure to impress.
It's ridiculously easy to make for something that looks and tastes so good, making this a must-try albacore tuna recipe that you just can't miss out on!
You might just have a new favorite dish after you've taken your first bite at it!
On days when you want a light but delicious meal, you've got to try out this exceptional Avocado Tuna Melt that's oh-so-yummy!
It's made easy with the use of canned albacore tuna and when you combine it with avocado, tomato, lettuce, cheese, and bread, you get a flavorful sandwich that's perfect for a hearty lunch or snack!
No mayonnaise is used in this recipe, making it a healthier choice every time and the light flavors make this a sandwich that you can enjoy any day of the week!
Make this for your next lunch or picnic and you'll definitely have a great time!
Make a sumptuous salad filled with incredible ingredients and fantastic flavors with this quick and easy Mediterranean Albacore Tuna Salad recipe!
It's a delightful combination of tuna, tomatoes, cucumber, artichokes, olives, feta cheese, and other ingredients, creating an extremely flavorful salad that'll make you want to devour it immediately.
This salad is healthy and nutrient-dense, and it's simple to whip up as all you need to do is combine and toss the ingredients together.
With its wonderful taste, it's a no-brainer to add it to your salad rotation!
Stuffed mushrooms are always welcome in our meals because they taste so good and you don't need fancy ingredients to make a tasty dish!
In this terrific recipe, portabella mushrooms are stuffed with a mixture of bell peppers, celery, tuna, and mayonnaise, then topped with Provolone cheese before everything is baked in the oven.
The flavors come together really well and the mushrooms make for an amazing meal, and whether you serve it as a main course or side dish, everyone will definitely be showering you with praises.
The simple ingredients and delightful flavors make this an easy crowd-pleaser!
Inject a little Japanese flair to your next meal with this excellent Albacore Tuna Sushi that's superbly tasty and a joy to eat!
The sushi filling is a lovely combination of tuna, cucumber, and carrot, and they are paired with a mixture of lemon juice, mayonnaise, and hummus to give additional punch to the flavor with every bite.
It's a delightful dish with bright flavors and if you love sushi, you'll definitely love this.
Dip in soy sauce and eat with wasabi for maximum enjoyment of this fantastic tuna sushi!
Spruce up your next meal with this exceptional salad niçoise recipe that's loaded with nutritious ingredients and fantastic flavors!
Pan-seared tuna, potatoes, green beans, olives, and arugula come together to create a splendid dish drizzled with a homemade dressing that adds a savory and tangy flavor to the salad.
It's incredibly tasty and all the ingredients are filled with nutrients that are great for the body, making it the perfect healthy meal that you can enjoy any time of the day!
Give it a try and you'll definitely not regret it!
At Glorious Recipes, we have our favorite Seared Albacore Tuna with Sesame Crust that we absolutely adore and it tastes heavenly! Check out the recipe below!
Yield: 1
Seared Albacore Tuna With Sesame Crust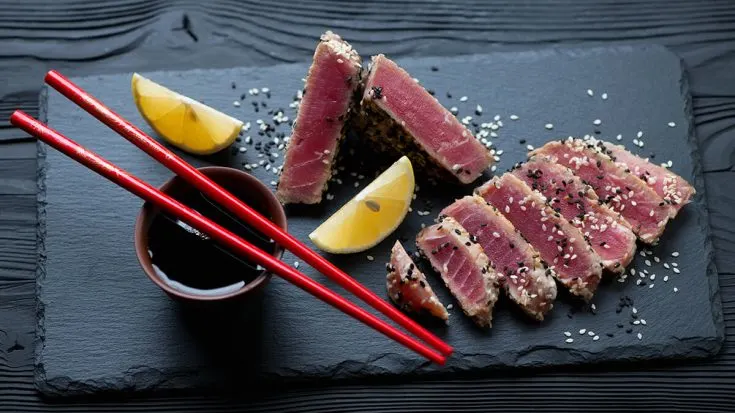 Savor delicious albacore tuna that's perfectly seared with a sesame crust to enjoy an incredible meal!
Ingredients
1 lb albacore tuna loin
½ cup sesame seeds
½ tsp cornstarch
Marinade
½ cup soy sauce
¼ cup green onions, freshly chopped
2 tbsp lemon juice
1 tsp ginger, freshly grated
1 tsp sesame oil
Instructions
Combine marinade ingredients together in a bowl. Add tuna and let it marinate for up to 2 hours, flipping the fish if necessary to allow the flavors to infuse all sides of the meat.
Place skillet on high heat or fire up your grill. We want a high temperature for searing the tuna. While the skillet or grill is getting heated up, add sesame seeds to a shallow dish. Remove the tuna from the marinade, brush off the green onions, and reserve the marinade. Place the tuna in the shallow dish and coat all sides with sesame seeds. Give a gentle press so that the seeds stick.
Once the skillet or grill is hot enough, add tuna and sear each side for 1-2 minutes. Adjust the cooking time to your desired doneness.
Add reserved marinade to a small saucepan and heat till it comes to a boil. Add cornstarch and stir continuously while it simmers for 4 minutes, or until the sauce has thickened.
Slice tuna and serve on a plate, with the sauce drizzled over. Enjoy!
Nutrition Information:
Yield:
2
Serving Size:
1
Amount Per Serving:
Calories:

535
Total Fat:

25g
Saturated Fat:

4g
Trans Fat:

0g
Unsaturated Fat:

19g
Cholesterol:

95mg
Sodium:

4366mg
Carbohydrates:

14g
Fiber:

5g
Sugar:

1g
Protein:

65g
Nutrition information is only an estimate and can vary depending on ingredients used.
Which of the albacore tuna recipes have you tried so far?
Let us know in the comments below!
For more awesome fish recipes that you might like, check out the following:
Sablefish
Porgy
Coho Salmon
Whole Tilapia
Salmon Bites
Yellowtail
Tilefish
Cobia
Blackfish
Smoked Cod
Share on your favorite social media platform and tag us @GloriousRecipes – we can't wait to see what you have made!