Bluegill, also known as coppernose or bream, is a popular panfish with firm and flaky flesh that tastes fantastic!
It boasts a delicate sweetness with no strong fishy aroma, making it an appealing option even for those who are sensitive to fishy scents.
With its amazing flavor and texture, this petite and delectable fish promises a wonderful taste experience that's as delightful as it is diverse.
From pan-fried delicacies to delicious tacos, we've got you covered with some of the best bluegill recipes that you can easily try at home!
Fire up your grill and try making this terrific Garlic and Lime Grilled Whole Bluegill that's superbly tasty and really easy to whip up!
Marinated in a mixture of jalapeño pepper, chili powder, garlic, lime juice, olive oil, cilantro, and green onions, this fish is loaded with tons of amazing flavors and is extremely palatable.
It's then grilled to perfection and can easily pair with any of your favorite carbs or veggies to turn it into a wholesome meal!
With how delicious it is, this grilled bluegill recipe is an absolute must-try in our books!
Cooking bluegill is easy with this simple recipe that requires only 4 ingredients to get going!
Dredged in melted butter and coated with a mix of panko breadcrumbs and Cajun seasoning, the fillets are then baked in the oven until a beautiful golden brown color is achieved.
You won't believe how crispy, flavorful, and incredibly satisfying they are for something that seems so easy to prepare!
They are perfect for a quick and easy meal because they don't require much time and effort to make!
Enjoy an exceptional dish with one of our favorite bluegill recipes that makes incredibly appetizing and tasty fish!
This dish involves dredging the fillets in a mixture of cornmeal and tapioca flour before being fried until super crispy and delicious.
Paired with an aioli made from egg, lemon juice, Dijon mustard, red wine vinegar, and oil, this is an absolutely mouthwatering delight!
You can't ask for more when you have a great batter and a flavorsome dipping sauce!
Get ready for Taco Tuesdays with this outstanding dish that's amazingly delectable and sure to be a hit with the crowd!
The fish fillets are made flavorsome by marinating in a simple mixture of onion powder, garlic powder, lemon pepper, lime juice, and salt, then grilled until perfectly cooked.
They are then combined with taco toppings such as salsa, guacamole, and cilantro with warm tortillas to create an easy but tasty meal anyone can enjoy!
Healthy and delicious, just how we like our recipes to be!
Discover your next favorite comfort food with this excellent Bluegill Chowder that's sure to whet your appetite!
It has an extremely flavorful stock base made with corn hobs, carrots, onions, celery, and peppercorn, simmered until all the flavors meld, and it's made wholesome with the addition of potatoes, corn kernels, bacon, and bluefish fillets.
Heavy cream helps to thicken the chowder to create an incredibly addictive soup that you just can't get enough of!
You'll be sipping every last drop of this hearty chowder because it's just that delicious!
Don't sleep on this Old Fashioned Fried Bluegill recipe because while it's simple to make, the taste is anything but simple!
Coated with a mixture of seasoned flour and cornmeal, the fish are then deep-fried until golden brown and exceptionally crispy.
A little Cajun seasoning, salt, and pepper added to the flour mixture is sufficient to elevate the flavor of the fish to another level!
With how tasty they are, you'll be devouring everything before you even know it!
Keep it simple with this fantastic recipe that makes remarkably delectable fish and the best part is that it only requires 2 ingredients!
It's ridiculously easy to prepare and all you need to do is marinate the fish fillets with blush wine vinaigrette before broiling in the oven until nicely caramelized.
The fillets will come out beautifully blackened and you'll be salivating at the sight of this wonderful dish!
It's straightforward to whip up and you can serve it with your favorite side dishes such as rice, pasta, and vegetables for a complete meal!
Tasty bluegills are a breeze to whip up when you use an air fryer since it does all the cooking for you and all you need is a little patience!
In this simple recipe, bluegill fillets are sprinkled with a little Creole seasoning before being air-fried with their skin and scales on.
By leaving the skin and scales intact, the fillets won't curl up during the cooking process and you end up with delicious fish with minimal effort!
That means less time preparing and more time eating!
It's one of the easiest bluegill recipes so make sure to give this a try!
Expand your cooking repertoire with this Parmesan-Crusted Bluegill that's quick and easy to make!
Fish fillets coated with a delectable mix of breadcrumbs, Parmesan cheese, and basil are baked in the oven until golden and crisp, creating a heavenly combination of flavors and textures that work well together.
The satisfying crunch and cheesy delight make this an easy scrumptious treat that's perfect any day of the week!
If you need an awesome fish dish, this is definitely one to consider!
Spruce up your next meal with this outstanding Dandelion Bluegill that's wonderfully tasty and sure to delight your senses!
Featuring pan-seared bluegill fillets and a mixture of dandelions, orange juice, honey, and raisin, all drizzled with a simple vinaigrette, this is a mouthwatering treat that you're sure to enjoy.
Every bite is so delicious and it's a taste sensation that's hard to beat with all the ingredients combining extremely well.
You'll definitely want to add this to your meal rotation because it tastes so good!
Treat yourself to a terrific meal with this Bluegill Po' Boy that's loaded with incredible flavors and textures!
Seasoned with a mix of garlic powder, cayenne pepper, thyme, salt, and pepper, the fish fillets are then marinated in milk before being dredged in cornmeal and flour to ensure a flavorful batter.
They are deep-fried until crispy and assembled with French bread, lettuce, mayonnaise, and hot sauce to create an extraordinary treat.
It's a brilliant dish that can freshen up your meal options with quality food!
Savor a delicious Crisy Bluegill Sandwich with this simple recipe that you definitely don't want to miss out on!
Dredged in seasoned flour and then deep-fried until crispy and beautifully golden brown, the fish fillets are combined with toasted hoagie buns, lettuce, tomatoes, and tartar sauce to create a divine-tasting sandwich.
With fresh vegetables and comforting fried fish, the flavors are well-balanced and allow you to indulge in this mouthwatering dish without feeling too much guilt.
It's a stunning dish that's really easy to make!
At Glorious Recipes, we have our favorite Baked Breaded Bluegill that we absolutely adore and it tastes heavenly! Check out the recipe below!
Yield: 6
Baked Breaded Bluegill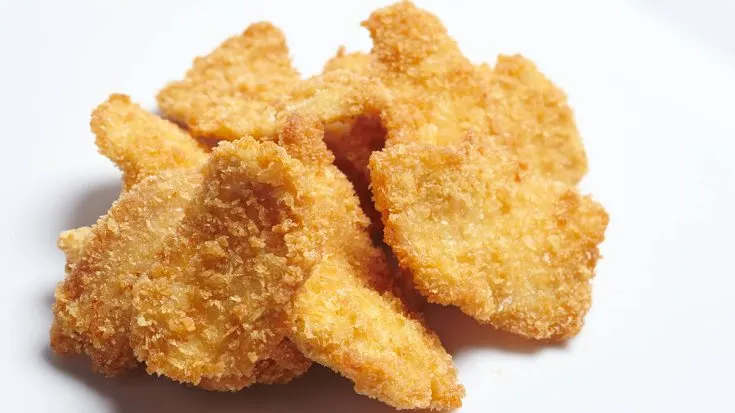 Enjoy healthy and delicious breaded bluegill fillets that are incredibly simple to make and only require 4 ingredients!
Ingredients
½ stick butter
¾ cup panko breadcrumbs
1 tsp Cajun seasoning
6 bluegill fillets
Instructions
Preheat oven to 350°F (175°C). Line a baking dish with greased foil or parchment paper.
Add butter to a microwave-friendly bowl and melt in the microwave using 20-second increments. Let it cool to room temperature. Soak bluegill fillets in the cooled butter for a few minutes.
In a shallow dish, add panko breadcrumbs and Cajun seasoning. Mix well to combine evenly.
Dredge buttered fillets in seasoned breadcrumbs and then transfer them to the baking dish one by one. Make sure you get maximum exposure to the breadcrumbs for best results.
Bake in the oven for around 15 minutes or until the fillets are fully cooked through with flaky white flesh. Broil for an additional 2 minutes.
Serve with your favorite dipping sauce. Enjoy!
Nutrition Information:
Yield:
2
Serving Size:
1
Amount Per Serving:
Calories:

364
Total Fat:

25g
Saturated Fat:

15g
Trans Fat:

1g
Unsaturated Fat:

8g
Cholesterol:

61mg
Sodium:

1017mg
Carbohydrates:

30g
Fiber:

2g
Sugar:

3g
Protein:

6g
Nutrition information is only an estimate and can vary depending on ingredients used.
Which of the bluegill recipes have you tried so far?
Let us know in the comments below!
For more awesome fish recipes that you might like, check out the following:
Sablefish
Porgy
Coho Salmon
Albacore Tuna
Whole Tilapia
Salmon Bites
Yellowtail
Cobia
Blackfish
Smoked Cod
Share on your favorite social media platform and tag us @GloriousRecipes – we can't wait to see what you have made!