If you love the taste of lobsters but are on a budget, you've got to check out langostinos instead.
They taste like lobsters at a fraction of the price, with the same texture and flavor that you've come to love and associate with lobsters.
Langostino vs Lobster
Langostino refers to different types of seafood in different countries but in the United States, the langostino that we are familiar with is actually a squat lobster.
It's neither a true lobster nor a shrimp, and is a crustacean that's closer to crab instead!
Nevertheless, it's a great and inexpensive substitute for lobster meat and an awesome ingredient to be used in many seafood recipes.
From lobster rolls to delicious pasta, we've got you covered with some of the best langostino recipes that you can try at home!
Give the classic lobster roll a twist with this simple recipe that uses langostino lobster tails instead for the filling and it's absolutely delicious!
Sautéed in butter, lemon juice, and capers, the langostino tails are full of natural sweetness with a buttery flavor, and when paired with perfectly toasted buns, they combine to transform into a heavenly treat that's just irresistible.
It's incredibly easy to make and it's a meal that's fancy enough to warrant serving on a special occasion.
Or if you're a seafood lover like us, you'll want to be making this regularly because it's just that tasty!
If you're on a low-carb diet, you'll definitely need to check out this fantastic zucchini linguine with langostinos!
Zucchinis are spiralized into zoodles and serve as a substitute for regular pasta in this amazing recipe and they are cooked in tasty lobster juice with the addition of white wine and the fragrance of various aromatics and herbs.
Finish off by topping with grated Parmesan cheese and a garnish of freshly chopped parsley for maximum enjoyment of this exceptional dish!
Nothing warms you right up like a bowl of warm and hearty langostino lobster bisque on a cold and rainy night!
This seafood bisque is amazingly delicious and is a must-try especially if you've always wanted to make a lobster bisque but don't know where to start.
It's made from a blended veggie base of onions, carrots, and celery, and then seasoned with a whole host of spices and herbs which add so much depth to the flavor.
The best thing about this recipe is that you don't even need to thaw your frozen langostino tails and you can just pop them in at the end to warm them up!
Serve with some homemade bread for a satisfying and wholesome meal!
Let the star ingredient shine in this simple recipe that cooks langostino tails in a garlic herb sauce that's super tasty!
Buttery, garlicky, and herby, it's a classic combination that never fails to deliver great-tasting food and it's no different in this dish.
You can taste the sweetness of langostino being elevated through the roof with garlic and parsley imparting their fragrance into the flavor.
It's super versatile and you can serve it with pasta, rice, or pop them into toasted buns for an easy lobster roll substitute!
Serve this fantastic appetizer at your next fancy party because it oozes class and it's also a crowdpleaser with no raw food involved, unlike regular ceviche!
The langostino tails are cured and marinated in lime juice with onion, peppers, cilantro, and garlic added, giving them plenty of flavors.
Serve with a side of something crunchy like plantain chips or tostadas to fully enjoy this wonderful appetizer!
Don't forget to slurp up the remaining lime juice that's extremely flavorful and super tasty!
The awesome thing about langostinos is that it has so much natural seafood sweetness and it's really easy to make great-tasting dishes without complicated ingredients.
In this simple langostino recipe, the langostino tails are cooked in lime juice and white wine with a light seasoning of red pepper flakes.
Pair that with al dente angel hair pasta and you have yourself a delightful pasta meal that's super delicious!
Garnish with freshly chopped parsley for that lovely color to amp up the presentation!
Indulge in this modified Lobster Thermidor recipe to create a Langostino Thermidor that's equally delicious and satisfying!
A regular Lobster Thermidor would be stuffed back into the lobster shell, complete with a golden brown cheese crust that is super mouth-watering.
Using frozen and cooked langostino tails that you get from the grocery store, this modified recipe cuts out on the presentation but retains the big flavor that you get from this delectable dish!
Langostino meat is cooked in a rich wine sauce and it's baked with a Gruyère cheese gratin that just tantalizes your taste buds.
Try this amazing Thermidor once and you'll be hooked!
Mac and cheese is a classic comfort food and you can elevate it to the next level simply by adding langostino!
In this wonderful recipe, a creamy cheese base is made with brie, cream cheese, Parmesan, and cheddar, creating an extremely flavorful and decadent sauce.
Langostino tails are briefly cooked with garlic and lemon zest to add additional fragrance to the flavor.
All that is combined and baked in the oven until the cheese is browned and it's an indulgence that you just can't resist!
Spruce up your next special occasion with this luxurious langostino risotto that tastes superb and heavenly!
It's a dish that feels fancy but it's really simple to make.
Arborio rice is slowly cooked till creamy with wine and stock to let it fully absorb all the wonderful flavors that we've come to love in risotto.
Parmesan cheese and langostino tails are added at the end and folded in to finish off this exceptional dish before serving with a garnish of mixed herbs.
It's so delicious and easily one of our favorite langostino recipes!
If you want a simple weeknight dinner that's delicious and easy to make, this langostino pasta recipe definitely fits the bill!
Garlic, onions, and white wine help to impart loads of aromatic flavors to this pasta dish, and spinach is added to give color and provide even more nutritional value.
Langostino and lemon juice are added at the end and become the highlight of this delightful dish.
It's a very flexible recipe and any pasta works here to create a really tasty meal!
Enjoy a twist on a New Orleans classic with this fantastic Langostino Étouffée that replaces crawfish which is traditionally used in this dish!
A simple roux is made that delivers so much extra depth to the flavor and it's accompanied by aromatics, veggies, herbs, and spices to add even more layers to the final taste.
Succulent langostino tails are added at the end to immerse in the wonderful sauce, along with some lemon juice, scallion, and parsley.
Complete this dish by serving over fragrant white rice and enjoy a delicious meal!
If you crave a plate of amazing seafood pasta, you've got to check out this wonderful shrimp and langostino lobster linguine!
The seafood is cooked together with bacon, onion, and garlic, which combine to provide loads of aromatic flavors along with white wine to give a subtle but complex flavor to the final dish.
Peas help to provide the greens and add nutrition to the pasta, with pesto sauce adding even more layers of herby flavors to the taste.
Everything comes together to create a delectable pasta that's perfect for a weeknight dinner!
Dig into this tasty langostino cobb salad that's perfect for a keto diet with loads of protein and greens!
There's no shortage of nutrition with delicate langostinos, mouth-watering bacon, eggs, and cheddar cheese providing the bulk of the proteins in this salad.
You get your share of veggies and fruits with lettuce, cucumbers, cherry tomatoes, avocado, bell pepper, and radishes.
Serve with a side of seafood dressing that pairs superbly well and enjoy this delicious salad!
Savor a plate of creamy lemon pepper pasta with this incredible langostino recipe that you'll definitely keep coming back to!
It's quick and easy to make, and all you need to do to make the wonderful sauce is combine cream, lemon zest, lemon juice, salt, pepper, and cheese until it thickens.
Add cooked pasta and langostino tails into the mix and cook through for a few minutes and viola, you're done!
The creamy sauce goes really well with the seafood and it's an easy enough meal to warrant a spot in your dinner rotation!
Treat yourself to this delightful pasta in lemon caper cream sauce that's just so delicious!
Lemons and capers go hand-in-hand and combine really well together but the addition of garlic and cream truly brings it to the next level.
It's an amazing sauce that fully complements the langostino and a garnish of parsley over your favorite pasta completes this wonderful dish.
Try this easy langostino recipe for your next weeknight dinner!
For pasta that's full of complex and aromatic flavors, check out this amazing garlic chive pesto pasta that's super tasty!
With fresh basil and toasted pine nuts, the pesto sauce is loaded with herby and nutty flavors and tastes superb.
Langostino and vegetables are cooked in garlic and squash, giving them a lot of fragrance and flavors that combine really well with the pesto sauce.
Along with al dente pasta, everything comes together to create a delicious pasta that can be easily enjoyed by everyone!
If you're feeling adventurous and want to whip up something new, try this fantastic langostino and polenta dish!
Polenta is essentially a type of cornmeal porridge and pairs really well with many other ingredients to create delicious meals.
Langostinos are cooked in garlic butter and white wine to give them plenty of flavors and they are added to the polenta before serving.
It's a quick and easy langostino recipe that you can make for a tasty meal!
Grace your taste buds with this wonderful garlic herb butter langostino pasta that's wholesome and nutritious, complete with kale and pesto sauce!
Kale provides the greens in this tasty dish and pesto sauce helps to give loads of depth to the flavor, creating a fantastic pasta that's just mouth-watering.
Langostino tails are cooked in garlic butter to infuse all the aroma into the meat and it's a great-tasting pasta that you definitely need to try.
Turn succulent langostinos into amazing panko bites with this incredible but simple langostino recipe that you definitely cannot miss out on!
Langostinos are coated in a buttery mixture of cilantro, garlic, and white wine to give plenty of flavors and they are then sprinkled with panko breadcrumbs and Parmesan cheese before baking.
The oven will do all the work for you and when they turn golden brown, it's time to serve these amazing bites!
Pair with some Tiger sauce, Bitchin' sauce, or your favorite dipping sauce for maximum enjoyment!
Seafood tastes amazing with anything Cajun and this recipe is one that you need to try because it's simple and delicious!
Langostino tails are sauteed with garlic and Cajun seasoning, giving them loads of wonderful flavors and they are then smothered in a black pepper cream sauce containing Romano cheese to really amp up the taste.
Fettucine works really well with its wider surface area to mop up the sauce and everything combines to create a really tasty pasta dish.
Garnish with freshly chopped chives to enjoy this wonderful pasta!
Introduce some Mediterranean flair to your next pasta meal with this amazing recipe that you will surely enjoy!
With bow-tie pasta, pancetta, sundried tomatoes, and aromatics, the regular seafood pasta is given a makeover with some pazazz that really elevates the dish.
It is deceptively simple to make with loads of flavors that are really satisfying and is easily one of our favorite langostino recipes!
In this fabulous recipe, langostinos are smothered in an amazing sherry cream sauce that's perfectly balanced between sweet and smoky!
Sherry, tomato sauce, thyme, and heavy cream combine to create a wonderful sauce and smoked paprika is added to deliver the subtle smokiness that totally transforms the flavor.
It pairs really well with the langostinos and they make a tasty combination that's super enjoyable!
At Glorious Recipes, we have our favorite Langostino Mac and Cheese recipe that we absolutely adore and it tastes superb! Check out the recipe below!
Yield: 6
Langostino Mac and Cheese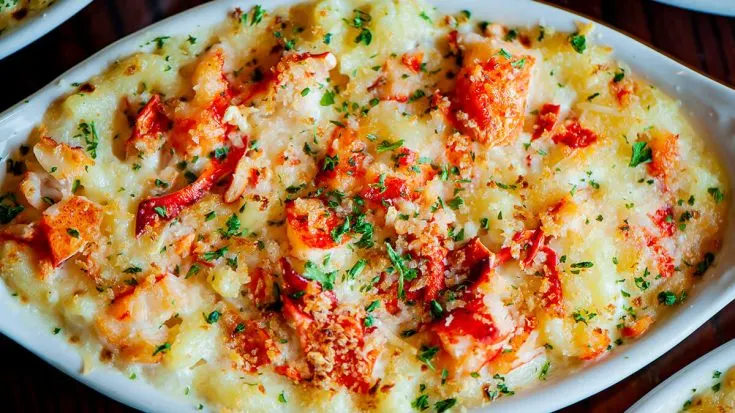 Enjoy delicious Langostino Mac and Cheese that's loaded with flavors and just irresistible!
Total Time
1 hour
10 minutes
Ingredients
12 oz Langostino tails, thawed
2 tbsp unsalted butter
2 cups whole milk
1 tsp dry mustard
¼ tsp cayenne pepper
¼ tsp nutmeg, freshly grated
1 cup cottage cheese
8 oz sharp Cheddar cheese, grated
8 oz white American cheese, grated
½ lb macaroni, uncooked
salt, to taste
black pepper, to taste
Instructions
Preheat oven to 375°F (190°C). Meanwhile, using 1 tbsp of butter, grease a 9x9 baking dish.
Add milk, mustard, cayenne, nutmeg, and cottage cheese, plus a light seasoning of salt and pepper into a blender and purée it. Transfer to a bowl, then add Cheddar cheese, American cheese, and macaroni. Combine well. Transfer to the baking dish, cover tightly with foil, and bake for 30 minutes on the top rack.
Uncover the baking dish, gently add in langostino tails, and dot with remaining butter. Bake uncovered for 15-30 minutes until the top is nicely browned. Let it cool for 20 minutes before serving.
Nutrition Information:
Yield:
6
Serving Size:
1
Amount Per Serving:
Calories:

453
Total Fat:

30g
Saturated Fat:

17g
Trans Fat:

1g
Unsaturated Fat:

9g
Cholesterol:

91mg
Sodium:

1007mg
Carbohydrates:

22g
Fiber:

1g
Sugar:

8g
Protein:

24g
Nutrition information is only an estimate and can vary depending on ingredients used.
Which of the langostino recipes have you tried so far?
Let us know in the comments below!
For more seafood recipes, check out the following:
Calamari Steak
Bay Scallops
Razor Clams
Chicken and Shrimp
Salmon and Shrimp
Yellowtail
Smoked Cod
Tilefish
Salmon Bites
Canned Oysters
Share on your favorite social media platform and tag us @GloriousRecipes – we can't wait to see what you have made!