Mini bundt cakes are one of the most delicious and adorable desserts that you can have and there are so many flavors to choose from!
The moist and fluffy texture makes them the ideal sweet treat to round out any meal and with their petite size, they are perfect for both gatherings as well as intimate occasions without overdoing it.
From decadent chocolate cakes to tangy lemon cakes, we've got you covered with some of the best mini bundt cake recipes that you can easily try at home!
In what is one of the most delicious mini chocolate bundt cake recipes, these little treats are definitely the ultimate indulgence for all chocolate lovers!
Made with cocoa powder and other wonderful ingredients, there is a strong chocolate taste that'll capture the hearts and mouths of anyone who tries this delectable dessert.
The soft and fluffy cakes have a delicate texture that melts in your mouth and each one is covered with a silky and velvety chocolate ganache that drips down the edges and adds an additional dimension of decadence.
With their great taste and adorable looks, these mini bundt cakes will surely impress your guests!
Enjoy a fantastic dessert with these mini cinnamon bundts that are amazingly delicious!
Spiced with the warm and comforting flavor of cinnamon, these fluffy cakes are a sweet delight the whole year round and you'll be hard-pressed to stop at one serving because they are just that tasty!
The cakes are given a light dusting of powdered sugar to coat the exterior and then filled with an incredibly addictive dulce de leche that elevates the dessert to another level.
Try it for your next meal and you'll definitely not regret it!
These Cara Cara Orange Mini Bundt Cakes are crazy delicious and they look absolutely stunning as well!
The cakes are made with a combination of orange juice, orange peel, angel cake mix, chocolate pudding mix, egg, milk, and oil, and they are baked to perfection to get a light and fluffy texture.
Drizzled with an extremely flavorful cream cheese frosting and an orange glaze that tastes incredibly divine, these mini cakes make for an amazing dessert.
Decorate with edible flowers and slices of dehydrated orange to complete this remarkable sweet treat!
Treat yourself to a delicious dessert with these fantastic Mini Almond Bundt Cakes that are sure to satisfy any sweet tooth!
The addition of almond extract to the cake batter gives it a light and delightful almond taste that enhances the flavor, making it an awesome treat all day long.
The cakes are drizzled with a delectable frosting made with powdered sugar, vanilla extract, butter, and heavy whipping cream, and then completed with a topping of sliced almonds.
It's the perfect combination of sweet and crunchy and you'll definitely be having more than one of these cute and tasty sweet treats!
If you're looking for a dessert that looks good and tastes even better, you've got to check out this incredible mini bundt pound cake recipe!
Baked with brown sugar, these cakes are filled with a warm flavor that makes them super enjoyable and they have a great texture that's dense yet fluffy.
Once fully baked, they are drizzled with icing made with spiced rum, sugar, and vanilla extract, and decorated with a combination of sparkling sugar, sugar pearls, and many other lovely ingredients.
It's one of the most beautiful mini bundt cake recipes that you can try and they make for amazing gifts that are sure to impress your friends and family!
Indulge in these sweet and tangy Mini Lemon Bundt Cakes that are amazingly delicious and super addictive!
The zing of lemons adds so much to the flavors of these cakes and the resulting tart taste is simply stunning for something so easy to make.
The mini bundt cakes are made even tastier when drizzled with an incredible lemon glaze that's made with lemon juice, lemon zest, and icing sugar.
Your mouth will begin to water once you smell the aroma of these delightful mini cakes and with their fantastic taste, it's definitely one of our favorite mini bundt cake recipes!
Peppermint and hot chocolate make for a classic combo that has stood the test of time, and it's no wonder why these mini chocolate bundt cakes are so delicious!
All the beloved ingredients are included in this superb recipe that combines peppermint candies, chocolate chips, marshmallows, and a flavorful cake to create an impeccable holiday dessert.
It's elevated with a minty glaze that brings it to another level and is sure to be the go-to sweet treat for all those who love the refreshing taste of peppermint.
These cakes are an indulgence for the senses and a true celebration of flavor and texture, so don't wait and make these impressive cakes that can be served all year round!
Give the classic lemon cakes a twist with these terrific Blueberry Lemon Mini Bundt Cakes that'll definitely whet your appetite!
The combination of lemon and blueberries brings about a perfect balance of sweet and sour that is simply divine and each bite is bursting with an incredible citrus flavor that you just can't get enough of.
Paired with a simple glaze that's made with sugar and lemon juice, these cakes have that addictive tangy flavor that'll make you think about reaching out for the next serving when you're only having your first bite!
There's nothing not to like about this mini bundt cake recipe with how moist and delicious the cakes are!
Red velvet is a classic flavor that can do no wrong and these mini bundt cakes are perfect for your next gathering!
Moist, fluffy, and delicious cakes are mixed in with chocolate chips, plus a cream cheese frosting that adds just the right amount of tang to create an amazing dessert that's sure to please everyone!
These petite little treats are bursting with rich and velvety flavors, and the deep red color is just mesmerizing.
Whether it's a special occasion or just to satisfy your sweet cravings, these mini red velvet bundt cakes will definitely be up for the job!
You've got to try these Triple Chocolate Mini Bundt Cakes because they are just incredibly amazing!
It's a no-bake recipe, plus these cakes are vegan, soy-free, and gluten-free!
With an awesome chocolate filling made by blending melted chocolate, dates, cashews, coconut cream, coconut oil, and syrup, these mini bundt cakes are super tasty and can definitely satisfy anyone's chocolate cravings.
Top with dark chocolates and blueberries before serving for maximum enjoyment of this fantastic dessert!
Grace your taste buds with these adorable Mini Carrot Bundt Cakes that are absolutely delicious and a dessert you just can't miss out on!
There's no lack of flavor here with cinnamon, allspice, and nutmeg spicing things up, making it an incredibly flavorsome and moist cake!
Topped with a cream cheese frosting that uses browned butter, you'll be enjoying a heavenly sweet treat in no time at all!
This mini bundt cake recipe is a great way to enjoy classic carrot cake in a petite format so you won't overindulge!
These Mini Pineapple Upside-Down Bundt Cakes are amazingly delicious and they look so pretty with a topping of pineapple slices and cherries!
It's a superb dessert with a tropical flavor and it's ridiculously easy to make!
Start by sprinkling brown sugar into a mini bundt cake pan, then top with pineapple slices before filling the pan with cake batter.
Once it's baked to perfection, turn it upside down with a serving plate and top it with cherries and whipped cream for a tasty treat!
For a refreshing take on a seasonal classic dessert, check out these wonderful Apple Cider Donut Mini Bundt Cakes!
Featuring apple cider, applesauce, vanilla extract, cinnamon, nutmeg, and many other delightful ingredients, the cakes are extremely flavorsome and an absolute joy with every bite.
They are made even tastier with a cinnamon sugar coating that gives a nice spiced sugar flavor and adds so much depth to the flavor.
It's one of the easiest mini bundt cake recipes and although it features fall flavors, these cakes are super delicious any time of the year!
Chocolate, strawberry, and vanilla are some of the most popular dessert flavors and if you have a hard time choosing between those 3, why not combine all of them into one with these amazing Mini Neapolitan Bundt Cakes?
The cakes are made with 3 different batters to achieve the different colors and flavors, with cocoa powder added to give a chocolatey and dark color, while both strawberry jam and strawberry extract help to give the strawberry-flavored batter.
The batters are alternated in a mini bundt cake pan before they are baked in the oven until done.
A sprinkle of powdered sugar is all it takes to complete this delightful dessert!
Enjoy a sweet, colorful, and fun dessert with these mini bundt cakes that taste as good as they look!
These mini cakes are soft, fluffy, and moist, and with a simple glaze made with sugar, milk, and vanilla extract, it's the ultimate sugar rush that's just irresistible.
The whimsical appearance is all thanks to rainbow sprinkles, adding a touch of color to the dessert and lifting moods even before anyone has taken a bite.
It's perfect for both kids and adults alike, and everyone will be fighting for a piece of these incredibly delicious cakes!
Don't miss out on the classic fall flavors of pumpkin with these absolutely delicious mini bundt cakes!
With pumpkin pie spice and pureed pumpkin included in the cake batter, there is no lack of pumpkin flavor in this incredible dessert and they make for a wonderful end to any meal.
Dusted with powdered sugar, it's a simple but super tasty mini cake that's perfect for any party or even just to satisfy your sweet cravings.
These mini cakes are quick to make so don't wait any longer and give them a try soon!
Nothing quite compares to an alcoholic dessert if you love both rum and cake, and these Mini Rum Bundt Cakes are quite the flavor bomb for sure!
The batter is made with a delightful combination of flour, cinnamon, walnuts, pecans, rum, sour cream, vanilla extract, and many other wonderful ingredients that give it loads of depth and complexity in flavor, and it's incredibly delicious once fully baked.
Brushed with a rum glaze and topped with a citrus drizzle, these little bites are irresistible and they taste heavenly.
It's amazingly delectable and definitely one of our favorite mini bundt cake recipes for all occasions!
Everyone loves a good mojito to relax on a chill evening, and you can make it even better by baking these fantastic Mini Pineapple Lime Mojito Cakes that taste just out of this world!
They are soft and moist with an incredibly bright and refreshing look that makes you want to gobble them up all day long!
With chopped pineapples as a mix-in for the batter, you'll be tasting the citrusy tang with every bite and these petite sweet treats are enhanced with an awesome glaze made with lime juice, rum, and sugar.
These cakes are the perfect dessert or snack to go along with a glass of mojito cocktail for the maximum tropical flavor!
For the perfect mix of fall and winter flavors in an adorable dessert, you've got to check out this amazing mini bundt cake recipe!
Made with a lovely combination of nutmeg, cinnamon, ginger, cloves, and other simple ingredients, these cakes are guaranteed to be a hit when it comes to holiday gatherings.
They are moist, dense, and most importantly, incredibly delicious for something so easy to make!
Complete this amazing dessert with a simple vanilla icing and add sprinkles for a beautiful presentation to match the great taste!
Stick with a classic flavor and enjoy an incredible indulgence with these tasty Mini Strawberry Bundt Cakes!
You can't go wrong with a strawberry-flavored dessert, and these cute little sweet treats definitely don't disappoint with how delicious they are!
Every bite is bursting with a sweet and fruity flavor that's just so addictive and the strawberry glaze brings pure delight with its incredible taste.
Top with fresh strawberries before serving and everyone will definitely be impressed by both the looks and taste of this lovely dessert!
If you're looking for more alcoholic dessert, these Kahlua Chocolate Cakes are definitely not to be missed!
A little instant espresso is used to add depth to the flavor of the cakes and it makes a world of difference with this small addition.
Dipped in an extremely flavorful Kahlua glaze, these cakes are incredibly rich and delicious with a great texture that's sure to whet your appetite.
Top with heart-shaped chocolates and you have the perfect Valentine's Day dessert that's sure to please!
Who can resist the classic combo of chocolate and peanut butter?
These mini cakes are the perfect gooey dessert with a fudge that's bound to satisfy all chocolate lovers and they have a fantastic moist and light texture that's just irresistible.
It's ridiculously easy to make and all you need are 6 main ingredients to make this tasty sweet treat that's akin to a combination of a mini bundt and a lava cake.
With how delicious these cakes are, it's definitely a must-add to your dessert rotation!
Give an instant upgrade to regular cakes with this amazing mini bundt cake recipe that makes superb toffee-flavored sweet treats!
The highlight of these cakes is the extremely flavorful glaze that's made with a combination of evaporated milk, brandy, brown sugar, and other delightful ingredients.
When it hardens and set, you have super addictive sticky toffee mini cakes that you can enjoy any time of the day and they make for an excellent gift as well!
Make a batch to give out during the holiday season and be prepared to be showered with compliments because they are just that delicious!
If you're not a big fan of frosting on your cakes, you've got to check out these Snickerdoodle Cakes that use a cinnamon sugar coating instead!
The cakes are made with a delightful mixture of flour, butter, nutmeg, cinnamon, sugar, eggs, and other common ingredients, creating a dessert that's loaded with a tasty buttery flavor.
Once baked, they are brushed with butter before being rolled in sugar and cinnamon to complete this amazing sweet treat.
They are super easy to make and a great addition to any dessert rotation!
Level up your baking game with these excellent Boston Cream Mini Bundts that easily make it to our list of favorite mini bundt cake recipes because they are incredibly tasty!
There's everything to love about these petite sweet treats that are coated in chocolate and filled with extremely delicious pastry cream.
Everything comes together really nicely and they combine to create a terrific dessert that you'll have a difficult time stopping at just one serving.
These cakes are an absolute must-try for all cake lovers and you might just have a new favorite after you've taken the first bite!
Chocolate chip cakes are always a safe choice when it comes to dessert because you just know everyone is going to love them!
The cakes are topped with a melted chocolate glaze that tempts you and they are made even more decadent with a topping of additional chocolate chips.
They are incredibly delicious and with their mini sizes, you'll be popping a few of these babies all in one sitting!
It's also a quick and easy recipe that'll have you serving these adorable and tasty treats in no time at all, making it the perfect choice for any gathering!
If you love marble cakes, you'll love these Marble Mini Bundt Cakes, which are essentially a cute and tasty version of the classic sweet treat!
It's a combination of rich chocolatey and fragrant vanilla flavors packed into a buttery and moist cake that's incredibly delicious.
The marble effect is achieved by alternating the chocolate batter and vanilla batter when piping into the mini bundt pan, and once it's baked to perfection, you'll have an excellent marble cake ready to be served!
These mini bundts are exceptionally delicious and they are the perfect blend of sweet and savory with a touch of espresso to make them super fragrant!
With a tender and moist texture, and a rich and chocolatey flavor, these cakes are absolutely mouth-watering and they smell so good when they come out fresh from the oven.
The highlight of these sweet treats is the salted caramel drizzle that adds a little saltiness that really elevates the whole dessert to the next level.
You'll be reaching for seconds with how good these cakes smell and taste!
This Mini Banana Bundt Cake recipe is a must-try in our books because of how incredibly delicious and addictive these cakes are!
Moist, tender, and loaded with the warm flavors of ripe bananas, there's nothing not to love about these tasty cakes that make for an amazing snack or dessert any time of the day!
There's something special about the simplicity of these banana cakes that taste so good on their own without needing any frosting or icing.
Leave them overnight before serving them for the best taste and maximum enjoyment!
If you love sweet and tangy cakes that are incredibly easy to make, check out these Pink Lemonade Mini Bundt Cakes!
The cake batter is made with a combination of flour, egg whites, buttermilk, pink lemonade concentrate, and other ingredients, ensuring plenty of great taste with every bite.
Once baked to perfection, the cakes are drizzled with an amazing pink lemonade glaze that provides a super appetizing tart flavor that everyone will surely enjoy.
It's a quick and easy recipe that even beginners can try their hands on!
Spruce up your next breakfast with these fantastic Mini Cranberry Bundt Cakes that are amazingly delicious and incredibly easy to make!
Loaded with cranberries and orange juice in the batter, these mini cakes are filled with a sweet and tangy flavor that's delightful and brightens up the mood with every bite.
The cakes are baked in the oven and finished off with a dusting of powdered sugar to complete this wonderful sweet treat.
These mini bundt cakes are a great way to add some variety to your breakfast!
Get ready to be dazzled by the incredibly delicious taste and beautiful presentation of these Vanilla Bean Mini Bundt Cakes that you absolutely must try!
With a moist and fluffy texture, plus a double drizzle of vanilla and chocolate icing, this sweet treat is just irresistible.
The cakes are topped with toffee bits to add additional crunch to the dessert, creating an awesome mouthfeel to complement the great taste.
It's the perfect dessert for any occasion and definitely one of our favorite mini bundt cake recipes!
At Glorious Recipes, we have our favorite Chocolate Mini Bundt Cake that we absolutely adore and it tastes heavenly! Check out the recipe below!
Yield: 6
Chocolate Mini Bundt Cake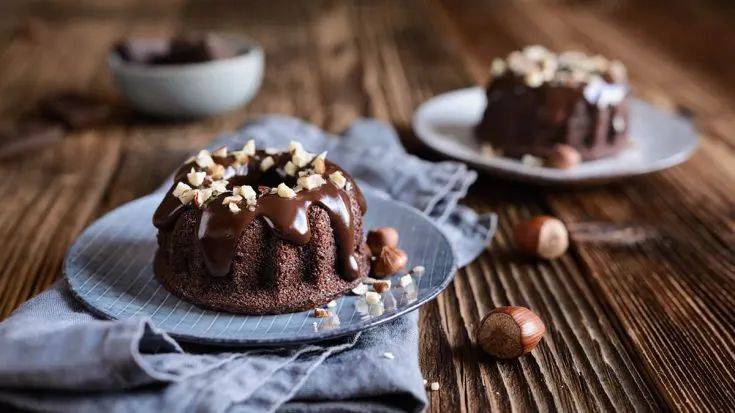 Enjoy a decadent indulgence with this Chocolate Mini Bundt Cake that tastes absolutely divine!
Ingredients
For the cake
1 cup all-purpose flour
⅜ cup cocoa powder, unsweetened
⅞ cup sugar
½ tsp baking powder
1 tsp baking soda
½ tsp salt
¼ cup oil
½ cup milk
½ tsp vanilla extract
1 extra-large egg, room temperature
⅜ cup freshly brewed hot coffee
¼ cup mini chocolate chips (optional)
chopped hazelnuts (topping)
For the chocolate glaze
½ can sweetened condensed milk (or 7oz)
½ cup semi-sweet chocolate chips
Instructions
Preheat the oven to 350°F (or 175°C).
Add condensed milk and chocolate chips into a microwave-safe bowl. Microwave for 30 seconds on high heat. Microwave additional 10 - 15 seconds at a time if required until a smooth mixture is achieved when stirred. Let it cool while we make the batter.
Add the dry ingredients (flour, cocoa powder, sugar, baking powder, baking soda, salt) together and mix with a mixer.
Using a separate bowl, mix the wet ingredients (oil, milk, vanilla extract, egg) together. Incorporate the wet mixture into dry ingredients slowly in batches.
Mix the ingredients on low setting. Add coffee and stir well. Scrap the bottom with a spatula. If using chocolate chips, add them at this point.
Grease the mini bundt pan with butter or shortening and dust with cocoa powder. Flip and do a few taps to shake out the excess powder. Then spoon or pipe the batter into the pan until it is around ⅔ full.
Bake in the oven for around 22 minutes. Test with a toothpick, it should come out clean when inserted into the middle of the cakes. Remove the pan and let it rest on a cooling rack for around 10 minutes until the cakes become firm enough to be removed. Use a table knife or spatula to help with the removal of the cakes and let them cool.
Spoon glaze over the cakes and top with chopped hazelnuts before serving. Enjoy!
Nutrition Information:
Yield:
6
Serving Size:
1
Amount Per Serving:
Calories:

558
Total Fat:

30g
Saturated Fat:

6g
Trans Fat:

0g
Unsaturated Fat:

22g
Cholesterol:

42mg
Sodium:

477mg
Carbohydrates:

69g
Fiber:

5g
Sugar:

45g
Protein:

9g
Nutrition information is only an estimate and can vary depending on ingredients used.
Which of the mini bundt cake recipes have you tried so far?
Let us know in the comments below!
For more awesome dessert recipes, check out the following:
Asian Pear
Mulberry
Sour Cherry
Entremet
Dash Waffle Maker
Dash Ice Cream Maker
Ninja CREAMi
Yonanas
Crepini
Share on your favorite social media platform and tag us @GloriousRecipes – we can't wait to see what you have made!